New York Mets' 2013 All-Prospect Team
Elsa/Getty Images

With the minor league season wrapping up, it's time to pick out the New York Mets' 2013 all-prospect team. Some of these prospects have been in the minor leagues for the entire season, while others have already gotten a major league promotion. Catcher, first base, second base, third base, shortstop, three outfielders, three starting pitchers and a reliever will be covered.
Here is the Mets' 2013 all-prospect team.
Begin Slideshow

»
Season Stats (Combined): .305/.390/.448, 38 2B, 8 HR, 80 RBI, 60 R, 1 SB
Being that Travis d'Arnaud was mostly injured for much of the season and eventually got promoted to the Mets in August, the Mets' best prospect catcher for this season should be Kevin Plawecki.
Between Single-A Savannah and Single-A St. Lucie, Plawecki contributed a very solid offensive season with a .305 average, eight home runs and 80 RBI. He also contributed 38 doubles and a .390 OBP. These are great numbers for a catcher, generally speaking, and if Plawecki eventually develops more power, he could become a great all-around player.
With d'Arnaud now up with the Mets for good, Plawecki may eventually be blocked once he gets up to Triple-A. However, Plawecki by then could become a useful trade chip, and it will be fascinating to see how that will unfold.
Plawecki will likely begin 2014 with Double-A Binghamton.
Season Stats: .274/.436/.503, 22 2B, 21 HR, 82 RBI, 56 R
Despite not being directly related to former Mets center fielder Lenny Dykstra, Allan Dykstra put together a very good season for Double-A Binghamton. Dykstra hit .274, with 21 home runs, 82 RBI, a .436 OBP and a .503 slugging percentage. He also drew 102 walks in 372 at-bats, which is an amazing walk rate. Dykstra clearly has a lot of patience at the plate and it has helped increase his value that much more.
With the logjam that the Mets have on the major league level at first base, Dykstra could provide a relief in a few seasons if the Mets do not decide to trade him. Dykstra could begin 2014 at Triple-A Las Vegas, which he would be very deserving of. All in all, Dykstra quietly put together a great season and should get looked at more closely in the future.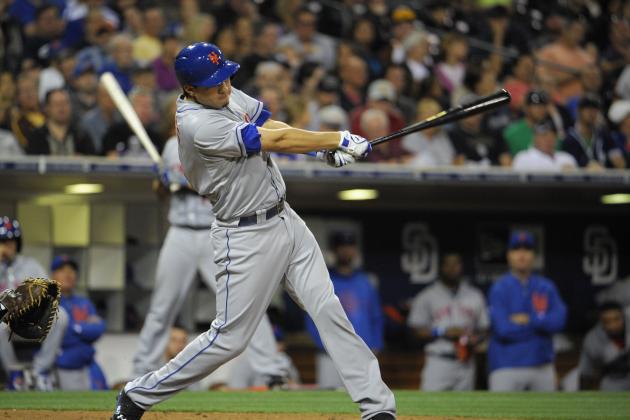 Denis Poroy/Getty Images

Season Stats (Minor League): .321/.357/.531, 36 2B, 4 3B, 15 HR, 86 RBI, 69 R, 1 SB
Before getting promoted to the Mets in August, Wilmer Flores was having a very good season for Triple-A Las Vegas. A primary third baseman, Flores mostly played second base with Triple-A Las Vegas. He hit .321, with 15 home runs, 86 RBI and a .531 slugging percentage.
Flores was long deserving of a major league promotion, but it took until shortly after David Wright's trip to the disabled list in early August for the promotion itself to finally happen. Flores has struggled offensively at the major league level, with just a .219 average, one home run and 11 RBI in 73 at-bats.
Flores' future is unknown. He could be on the Mets in 2014, but there is also a good chance he gets traded because of the fact that he will be blocked at third base once Wright is healthy. He may not have a spot at second base either if the Mets decide to keep Daniel Murphy.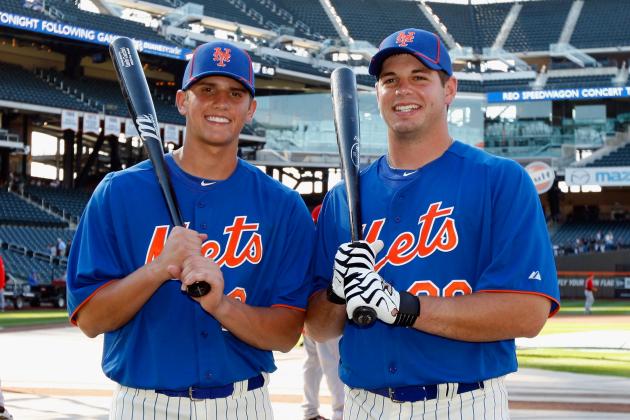 Mike Stobe/Getty Images

Season Stats: .273/.319/.314, 8 2B, 0 HR, 14 RBI, 18 R, 2 SB
Gavin Cecchini's first full season with Single-A Brooklyn was good, but not particularly great. Cecchini had 53 hits in 194 at-bats, but his eight doubles were his only extra-base hits. He also drew just 14 walks in that span, which is something he will need to improve upon in the future.
With the uncertainty of Ruben Tejada's future after a lost 2013, Cecchini could very well become the Mets' shortstop of the future, but it will be years until he is major league ready. A promotion to Single-A St. Lucie in 2014 would make a lot of sense, but don't expect to see Cecchini on the Mets until 2016 at the earliest.
Season Stats: .260/.295/.427, 14 2B, 9 HR, 41 RBI, 27 R, 1 SB
None of the Mets' third base prospects really stood out this season, especially when considering more natural third basemen like Wilmer Flores and Josh Satin spent a lot more time at second base.
The best of the Mets' third base prospects would have to be Aderlin Rodriguez of Single-A St. Lucie. Despite a very low .295 OBP, Rodriguez batted .260 with nine home runs and 41 RBI in 246 at-bats.
Rodriguez, this season, showed a decent bat and decent power, but he will need to do a lot more in 2014 for his value to be significantly increased. The fact that David Wright will almost certainly spend the rest of his career with the Mets is an indication that third base will be blocked at the major league level for years to come. As a result, third base prospects will either have to learn new positions or get traded away.
The Star-Ledger-USA TODAY Sports

Season Stats: .273/.397/.359, 16 2B, 6 3B, 2 HR, 40 RBI, 62 R, 9 SB
Despite not having a particularly good season overall, Brandon Nimmo's 2013 season with Single-A Savannah is still one of the best among Mets outfield prospects. He batted .273 with two home runs and 40 RBI in 395 at-bats.
Nimmo did not show much power or a particularly large amount of run production, but he drew a lot of walks (71) and got on base at an almost .400 rate. Nimmo may not turn out to be the slugging savior of the future, but he could certainly become a useful hitter that can get on base and move runners over.
Nimmo will likely begin 2014 at either Single-A St. Lucie or Double-A Binghamton.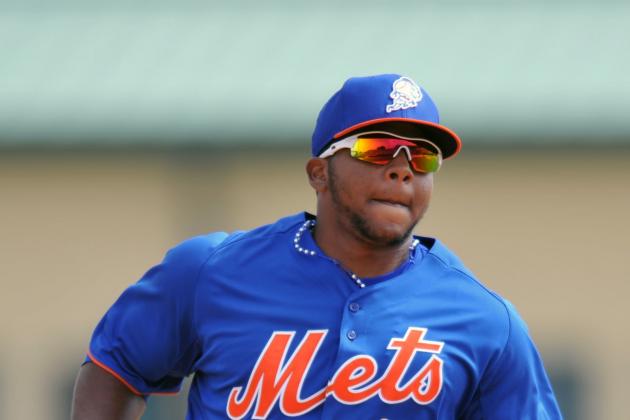 Steve Mitchell-USA TODAY Sports

Season Stats: .326/.403/.547, 21 2B, 2 3B, 16 HR, 73 RBI, 63 R, 24 SB
Before his eventual suspension for being part of the Biogenesis scandal, Cesar Puello had put together a great season and certainly one of the best among Mets' offensive prospects.
Puello hit .326 with 16 home runs, 73 RBI, 24 stolen bases and a .403 OBP. He was getting on base, stealing bases, hitting the ball well and even showing a good amount of power.
Whether Puello keeps up this kind of production in the future after his suspension ends will be interesting to see. It's possible that Puello is naturally this talented, but it's also possible that performance-enhancing drugs had a significant impact on his numbers.
Puello will probably be given an opportunity to play in Triple-A Las Vegas to start the 2014 season, and if he plays particularly well there, his major league debut could possibly come next year as well.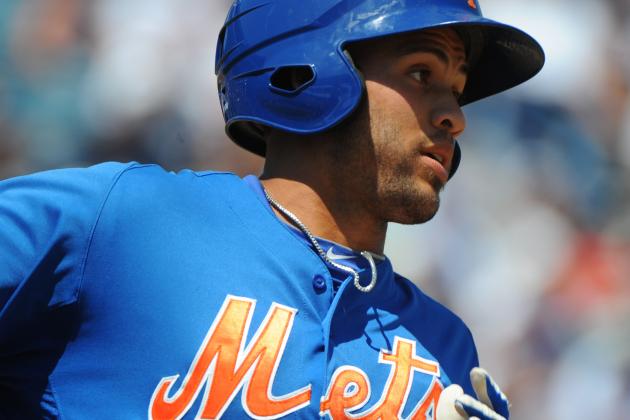 Al Messerschmidt/Getty Images

Season Stats: .252/.348/.400, 11 2B, 4 3B, 10 HR, 54 RBI, 49 R, 16 SB
The son of former slugger Greg Vaughn, Cory Vaughn had a very solid season of his own this year. He batted .252 with 10 home runs and 54 RBI in 330 at-bats. Vaughn also showed some speed on the bases with 16 steals, which shows that he could possibly become a future consistent 20-20 threat.
With the state of the Mets outfield in such a flux, Vaughn could eventually take one of the starting spots if he continues to hit well. If he ever develops the same power that his father once had, Vaughn could turn into a special player.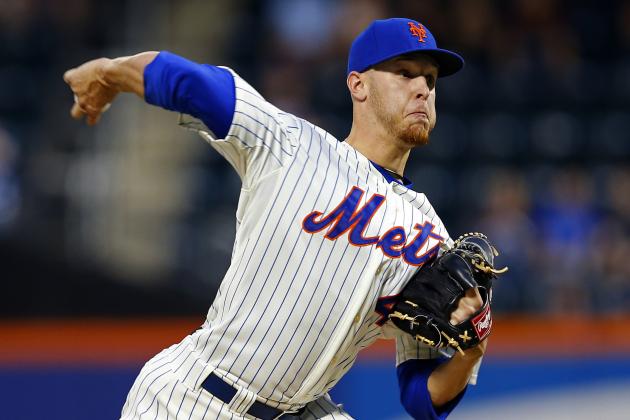 Rich Schultz/Getty Images

Season Stats (Minor League): 13 GS, 4-2, 3.93 ERA, 27 BB, 73 K, 68.2 IP
The Mets top overall prospect at the beginning of the 2013 season, Zack Wheeler really came into his own this year and pitched very well at Triple-A Las Vegas before getting promoted to the major leagues in June.
Wheeler is now 7-4 with a 3.38 ERA in 15 major league starts and is well on his way to becoming a mainstay in the Mets rotation for years to come.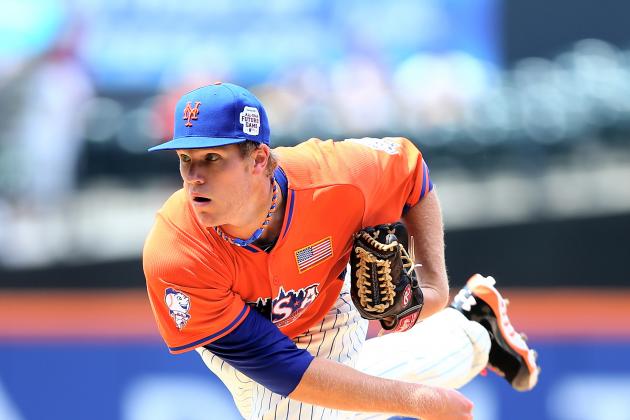 Elsa/Getty Images

Season Stats: 23 GS, 9-4, 3.06 ERA, 28 BB, 133 K, 117.2 IP
One of the most electrifying pitchers in the Mets farm system is Noah Syndergaard, who is now arguably the Mets' top pitching prospect.
Syndergaard had a very successful season, with a 6-1 record and a 3.00 ERA in 11 starts with Double-A Binghamton. He allowed just 28 walks and had 133 strikeouts, which shows how dominant he was on the mound.
Syndergaard will probably begin 2014 with Triple-A Las Vegas. Hopefully, he will be able to follow the same path as Zack Wheeler this season and make his major league debut next June. Time will tell if and when that may occur.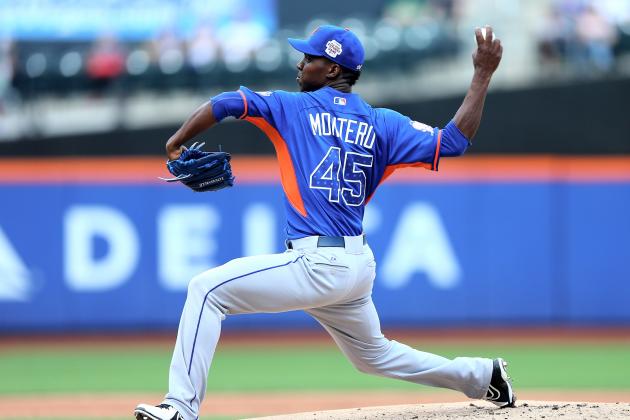 Elsa/Getty Images

Season Stats: 27 GS, 12-7, 2.78 ERA, 35 BB, 150 K, 155.2 IP
Yet another noticeable bright spot among Mets minor league starting pitchers was Rafael Montero. Montero split the season between Double-A Binghamton and Triple-A Las Vegas. He was dominating Double-A with a 7-3 record and a 2.43 ERA before his promotion but struggled a bit at first in Triple-A before settling in. Montero's Triple-A numbers include a 5-4 record and a 3.05 ERA.
Like Syndergaard, Montero also displayed a lot of great control across the season. He allowed 35 walks and finished with 150 strikeouts. His 7.2/1 strikeout/walk ratio at Double-A was staggering.
The Mets now have a really promising young starting rotation to build on for the future. It will include Matt Harvey, Zack Wheeler, Noah Syndergaard and Jon Niese. But who would the fifth starter be by 2015 or so? Montero could be the answer for that because he has a lot of potential himself. Montero may not throw nearly as hard as Harvey, Wheeler or Syndergaard, but if he has good command on all his pitches, Montero can be just as effective.
Montero will probably start the 2014 season with Triple-A Las Vegas, but it's very possible that he could get promoted to the major leagues at some point next year.
Season Stats: 53 G, 4-3, 2.09 ERA, 38 SV, 16 BB, 60 K
Jeff Walters was the closer for Double-A Binghamton. His 38 saves led the Eastern League by a very large margin. Not too many other Mets minor league closers really stood out, so Walters was not a difficult choice here. Thirty-eight saves at any level is an accomplishment in itself, and Walters could really use this season as a building block for the future.
Speaking of the future, Walters should likely begin 2014 with Triple-A Las Vegas and getting eventually called up to the Mets later next season could be possible as well. The Mets seem committed to keeping Bobby Parnell as their closer, so there probably would not exactly be any such competition if and when Walters gets promoted to the Mets.