WWE Night of Champions 2013: GSM's Pick, Preview and Potential for Each Match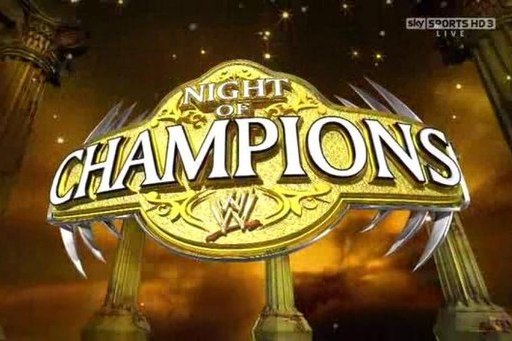 WWE Night of Champions (Courtesy of vk.com)
In mere hours on Sunday night, WWE will present its seventh annual Night of Champions pay-per-view event, live from the Joe Louis Arena in Detroit at 8 p.m. ET.
WWE has been on a strong streak as of late when it comes to producing stellar pay-per-views, so expectations for this event are higher than ever before. Of course, it's the one night of the year where every active championship in WWE must be defended.
After capturing his first WWE Championship at SummerSlam, Daniel Bryan had his reign prematurely ended at the hands of an opportunistic Randy Orton. The Viper has gotten the best of Bryan at every turn since that night, but will he walk out of Night of Champions with his title intact?
The bad blood between CM Punk and Paul Heyman has been brewing for months, and it comes to a head tonight in a Handicap Elimination match, also involving Curtis Axel. Will Heyman get the upper hand over Punk yet again, or will Punk be able the shut the mouth of his former friend once and for all?
Alberto Del Rio has been on an absolute roll since recapturing the World Heavyweight Championship back in June, but he recently met his match in Rob Van Dam. Can RVD put an end to Del Rio's reign, or will Del Rio once again prove why he is the world champ?
Here, I will provide my personal preview, prediction and potential of every match on the advertised card.
Begin Slideshow

»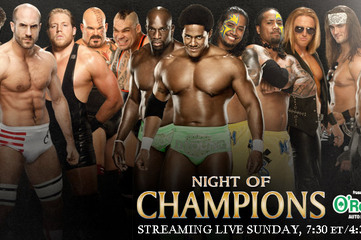 Tag Team Turmoil No. 1 Contender's Match (Courtesy of WWE.com)
Preview: Since capturing the WWE Tag Team Championships back at May's Extreme Rules pay-per-view, Seth Rollins and Roman Reigns have been running rampant on the tag team division. With successful title defenses against the likes of Randy Orton and Daniel Bryan, Team Hell No, and The Usos, nothing has seemed to stop their reign of terror up to this point. However, five teams will collide in a rare tag team turmoil match, where the winners will receive a shot at the straps later in the evening at Night of Champions.
Prediction: While there may be many possibilities in this match, there is actually fewer than you think. 3MB is absolute joke, so we can easily write them off as winners of this bout right now. The same can be said for Tons of Funk, so don't expect them to emerge victorious, either. The Real Americans are a solid team, but they have zero momentum at the moment, and I highly doubt a heel team would contend against The Shield.
It all comes down to The Usos and The Prime Time Players. The Usos have history with Rollins and Reigns and just recently collided with them on SmackDown, but they have already contended for the gold, so I would rather see The Prime Players earn the title shot. They have been on a hot streak in recent weeks, but I don't see them capturing the gold tonight.
Potential: To my knowledge, the last time we saw a tag team turmoil match was at 2010's Night of Champions event, which also involved The Usos interestingly enough. That match was all right, and I think this bout will be much of the same. If the right teams are in the ring at the same time, then it might be able to exceed expectations.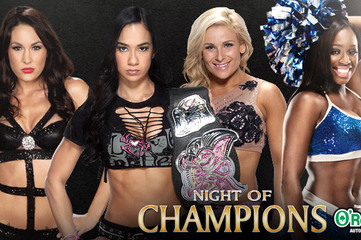 Brie Bella vs. Divas Champion AJ Lee vs. Natalya vs. Naomi (Courtesy of WWE.com)
Preview: AJ Lee captured her first Divas Championship back at June's WWE Payback pay-per-view and has been the queen bee of the Divas division ever since. However, she took her hatred of the other women wrestlers to an all-new level when she dropped a bombshell of a promo on the August 26 edition of Raw. She specifically targeted the cast of Total Divas and referred to them as a disgrace to the business.
A Triple Threat match pitting Naomi, Natalya and Brie Bella against each other was held the following week to determine a new No. 1 contender to the Divas title, but due to AJ's interference, no winner was named. However, it was announced later in the show that AJ will defend her strap against all three lovely ladies in a Fatal 4-Way at Night of Champions.
Prediction: AJ has been champion for only three months and I think there is a lot left WWE can do with her reign before it ultimately ends, but I have a bad feeling it may be coming to an abrupt halt on this show. It was recently reported that one of the cast members of Total Divas may win the title in order for the celebration to the show's season finale, but I certainly hope not.
The Bella Twins are extremely obnoxious and don't deserve to be Divas Champion. Naomi would fit the bill nicely, but she is still a bit green in the ring, so her time isn't now. I wouldn't mind if Natalya won the title, but as previously stated, I strongly believe it's too soon to take the title off AJ.
Potential: AJ and Natalya are two of the best workers in the division, so if they do most of the in-ring work, this match may be somewhat entertaining. Brie Bella should stay out of the equation as much as possible, and Naomi can hit her signature spots as well. Fatal 4-Way matches involving Divas are usually train wrecks, but I have hope that it could have the potential to be better than expected if given enough time.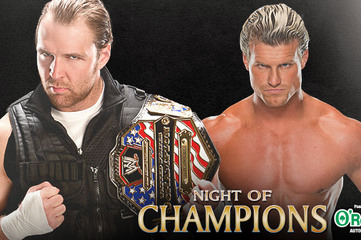 United States Champion Dean Ambrose vs. Dolph Ziggler (Courtesy of WWE.com)
Preview: Following the controversial attacks of Triple H at SummerSlam, Dolph Ziggler told WWE.com that he "never trusted the guy" in an exclusive interview. This put Ziggler in hot water with HHH and the rest of his administration, which is why Ziggler has won minimal matches in recent weeks.
Ziggler has had his beef with The Shield over the last month, but more specifically with Dean Ambrose, who has cost him a number of matches lately. Ziggler defeated Ambrose via disqualification on Friday's edition of SmackDown to earn a shot at the star-spangled prize on tonight's show.
Prediction: Remember when Ziggler won the World Heavyweight Championship the night after WrestleMania 29 and garnered one of the loudest reactions in recent memory? Yeah, me neither. It is sad to see how far Ziggler has fallen over the last few months.
I'm not sure why exactly he is being treated as poorly as he is, but I don't see his losing streak coming to an end on this show. Ambrose has the potential to be a great U.S. Champion, but he hardly ever defends his belt, which is a true shame. Ziggler shouldn't be reduced to the mid-card, so Ambrose will successfully retain here.
Potential: The two had a pretty good matchup during their initial encounter on SmackDown, but it was quite clear that they were holding back for their eventual rematch. Ambrose and Ziggler are two of the best in-ring workers in the company today, so I have no doubts that they will provide a barn burner of a match here. Expect this bout to potentially steal the show if given enough time to shine.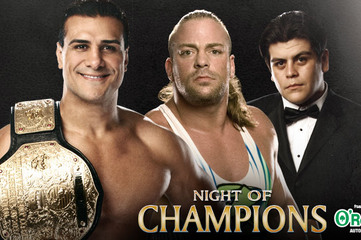 World Heavyweight Champion Alberto Del Rio vs. Rob Van Dam (Courtesy of WWE.com)
Preview: On the July 26 edition of SmackDown, World Heavyweight Champion Alberto Del Rio handed Rob Van Dam his first official loss in singles competition since his return to WWE. This sparked a feud between the two, leading to RVD defeating Del Rio in a non-title match on the August 5 edition of Raw. This came after Ricardo Rodriguez inadvertently cost Del Rio the matchup, which lead to Del Rio viciously attacking his former friend and severing his ties with him.
The night after SummerSlam, Rodriguez formed an alliance with RVD and promised that he would be the one that would end the ruthless reign of Del Rio. The ECW original defeated Del Rio in a non-title match the following week and has gotten the better of the Mexican aristocrat at every turn since then.
Prediction: It's great to see RVD involved in a world title feud, but it is a complete shame that very few people care. Personally, I think Del Rio has been doing a great job as world champion since June, but he has been booked properly for as long as I can remember. It has been rumored amongst fans that RVD might not be sticking around past September, but that has yet to be confirmed.
With that being said, I find it hard to believe that Del Rio be dropping the belt here. Some are saying that Rodriguez will double-cross RVD in this match and realign himself with Del Rio, but that would be an illogical move since Del Rio has brutally beaten Rodriguez in recent weeks and no longer needs him by his side.
Potential: RVD and Del Rio have meshed well together in the past, so this match should be worth watching. However, none of their matches up to this point have been all that exciting, but that could easily change on this show. Both competitors are more than capable of holding their own in the ring, so I look forward to what they can produce tonight.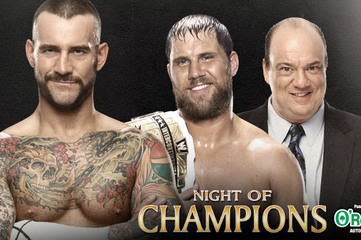 CM Punk vs. Curtis Axel and Paul Heyman (Courtesy of WWE.com)
Preview: Following his return at WWE Payback, CM Punk told Paul Heyman that his managerial services were no longer required. This caused Heyman to let Brock Lesnar loose on Punk, ending their alliance in the process. Heyman pretended to be friendly with Punk in the weeks that followed, but ultimately turned on him at the Money in the Bank pay-per-view.
At SummerSlam, Punk was finally able to get his hands on Heyman, but not after Lesnar nailed The Voice of the Voiceless with a furocious F-5 for the win. The bad blood between Punk and Heyman has continued to brew to this very day, with Heyman enlisting Intercontinental Champion Curtis Axel to do his dirty work for him. The creative genius behind ECW has publicly stated that if Punk manages to get a hold of Heyman, the WWE Universe will never see Heyman again.
Prediction: Punk hasn't won a pay-per-view match since June, so I think it is high time he earns one, but the question is if tonight is the night for that to happen. As much as I have enjoyed this feud, it should come to an end on this show, and Punk finally defeating Heyman would make the most sense.
However, I don't want Heyman to be removed from television, so I see Heyman and Axel emerging victorious one way or another. I have heard people say that Triple H's administration might get involved in this match and cost Punk the win, so that is what I hope happens in this bout.
Potential: Obviously, this won't be a five star classic with Heyman being involved, but I expect it to be rather entertaining. Punk and Axel are capable of having a great match together, so that alone should make this match a joy to watch. Heyman's antics when it comes to avoiding Punk are always enjoyable, so this bout should be one of the more suspenseful ones on the card.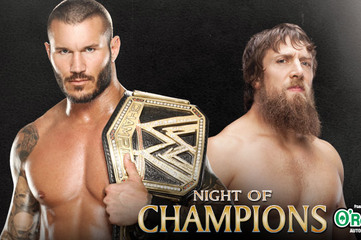 WWE Champion Randy Orton vs. Daniel Bryan (Courtesy of WWE.com)
Preview: Moments after capturing his first WWE Championship from John Cena at last month's SummerSlam event, Daniel Bryan was shockingly double-crossed by special guest referee Triple H. This allowed Randy Orton to cash in his Money in the Bank briefcase on Bryan and capture the WWE title.
Bryan has since rebelled against the system in an attempt to prove to the higher ups that he is indeed worthy of holding the most prestigious prize. Orton has the WWE management in his back pocket, which means The Dazzler is going up against all odds at Night of Champions.
Prediction: I'm all for the heels gaining momentum, but the fact Bryan was laid out by Orton on seven consecutive shows (Raw, SmackDown and SummerSlam included) is simply ridiculous. It was nice that Bryan got the better of Orton on two separate occasions this past week, but I don't think it was enough for viewers to think that he has a chance of beating The Viper tonight.
It is too soon in this feud for Bryan to win back the championship (although I wouldn't be surprised if it happens), so Orton retaining here via dirty tactics would make the most sense.
Preview: The series of matches between these two a few months back were fantastic, so I expect nothing short of excellence in their match tonight. The feud up to this point has left a lot to be desired, but the matches Orton and Bryan will have in coming months will surely make up for it. Look for this to be a potential match of the night candidate.
The theme of Night of Champions since its inception has always been that every active championship in the WWE must be defended. As of now, however, Curtis Axel's Intercontinental Championship currently isn't on the line, but I wouldn't be surprised if he is forced to defend it against Kofi Kingston in an impromptu match.
A non-title match has been held at the event every year since 2010, so expect WWE to kill time with a potential filler contest. Fandango and The Miz have been feuding for the last month, so seeing them face off would be the best bet for tonight.
Personally, I've always enjoyed the Night of Champions concept and hope that this year's installment will be equally enjoyable as its predecessors. The card looks strong on paper and has the potential to be a stellar show if booked correctly.
Thanks for reading and make sure to comment with your thoughts and predictions on the show. It is a night of defenders, challengers and champions, so be sure not to miss tonight's packed pay-per-view.
GSM out.
Read more prediction pieces for past WWE pay-per-views here.
Graham Mirmina, a.k.a. Graham "GSM" Matthews, is a journalism major at Endicott College. Visit his website at Next Era Wrestling and "like" his official Facebook page to continue the conversation on all things wrestling.