College Football Polls 2013 Week 3: 5 Who Should Be In, 5 Who Should Be Out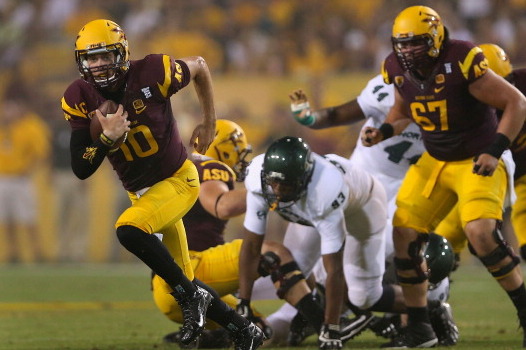 Christian Petersen/Getty Images
Taylor Kelly and the Sun Devils sure look like a top 25 team
The college football season is officially in full swing after a second week of games that saw upsets, blowouts and impressive victories by national championship contenders.
Several teams with solid Week 1 victories were exposed as having a lot of work to do, while others bounced back from a frustrating start to the season to give their fans hope.
It's still early, but we've already seen three top teams in the SEC East lose and the USC Trojans drop an embarrassing game to Washington State in which the Cougars failed to score an offensive touchdown.
On the other hand, Miami and Clemson have both flexed their muscles, while the LSU Tigers have quietly put together one of the more impressive starts to the season by any team.
With the Top 25 now based on actual games and not educated guesses (as it was before the season began), it's time to take a look at the Week 3 polls (AP and coaches) and come up with five teams who should be in and five who should be out.
Begin Slideshow

»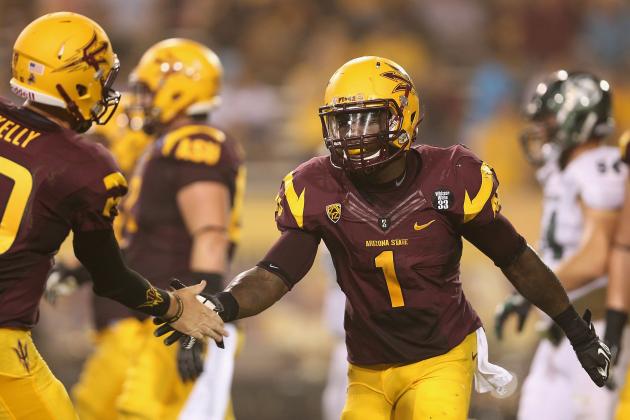 Christian Petersen/Getty Images
RB Marion Grice is the unheralded version of De'Anthony Thomas
When discussing who might win the South Division in the Pac-12 conference, three teams came to mind in the offseason: Arizona State, UCLA and USC.
While the Trojans clearly do not belong in the discussion any longer, the Sun Devils made a great case in their opening game for why they should be the favorites in the division.
You can't ever get too excited about a 55-0 victory over Sacramento State, but the way quarterback Taylor Kelly and company handled business could be a sign of things to come.
Kelly threw for 300 yards and five touchdowns, and the defense held the Hornets to just 167 yards of total offense. With the way FBS teams have been struggling against FCS opponents thus far, it was a nice victory to start the 2013 campaign for Arizona State.
Next week's game against Wisconsin will reveal a lot more about this team, but for now, the Sun Devils are deserving of a Top 25 ranking.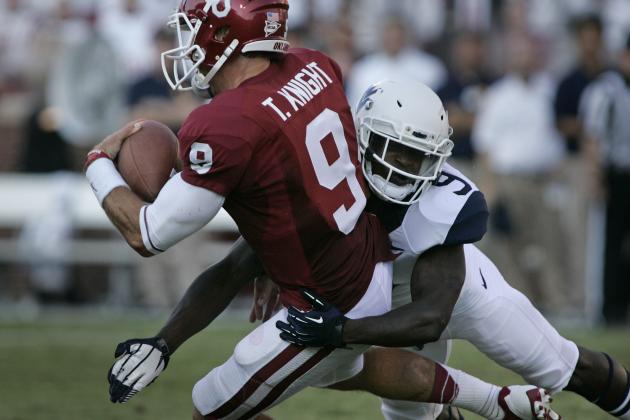 Brett Deering/Getty Images
Trevor Knight and the OU offense were not particularly impressive on Saturday
The Oklahoma Sooners are a Top 15 team in both polls, yet it's hard to make a case for why they deserve to be there.
A ho-hum 34-0 win over Louisiana Monroe in Week 1 didn't reveal much either way, but Saturday's 16-7 victory over West Virginia probably wasn't what Sooner fans wanted to see from their team.
With excitement building over freshman quarterback Trevor Knight, a home game against West Virginia should have led to an offensive explosion. After all, the Mountaineers defense was, to put it nicely, suspect last season.
Instead, the result was just 16 points on the scoreboard. Fortunately, the defense came through enough to earn Oklahoma the victory.
It could be that West Virginia has improved a ton on the defensive side of the ball. But it's more likely that the Sooners offense needs a lot of work if it hopes to carry this team to a Big 12 title.
The Sooners aren't going to drop in the rankings until they lose a game, but based on the first two games of the season, you can't argue with any sort of confidence that they look like a Top 25 team.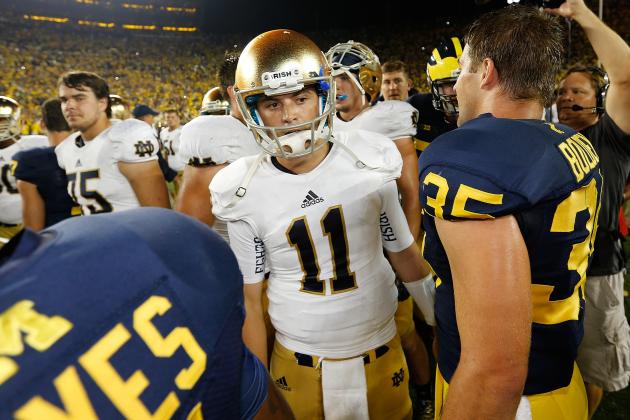 Gregory Shamus/Getty Images
Notre Dame QB Tommy Rees
At the end of the season, a 41-30 loss in the Big House probably won't look too bad. But right now, Notre Dame fans around the nation are lamenting what could have been, while everyone else is scoffing and using the annual argument that the Fighting Irish were ranked too high to begin the season.
That may be true, but we saw two Top 25 teams Saturday night whether naysayers want to admit it or not.
Michigan is clearly a team that will challenge for a league title, and had it not been for a couple of untimely pass interference calls, Notre Dame may have walked away with a victory.
Unfortunately, it's woulda, coulda, shoulda, and that doesn't mean a whole lot. But Notre Dame appears to have something going on offense and we know the talent exists on defense, even it played poorly last night.
Despite the loss, it's safe to say that Notre Dame is very deserving of its Top 25 ranking.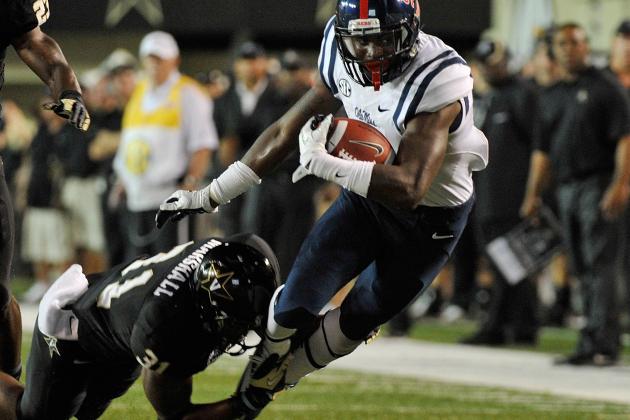 Frederick Breedon/Getty Images
Ole Miss WR Laquon Treadwell
The Ole Miss Rebels do not appear to be a team deserving of a Top 25 ranking just yet.
Yes, the win over Vanderbilt on opening night was exciting and included a thrilling finish, but calling the Rebels a Top 25 team assumes that the Commodores are a good team as well. Neither of those things can be argued with any certainty at this point. And after a 31-13 win over SE Missouri State, can you really say Ole Miss belongs in the Top 25?
The game was 31-0 nothing at halftime, so it's not as if it was ever close.
This doesn't mean that Ole Miss can't be a Top 25 team. After all, the team can only beat the opponents on its schedule.
But the win over Vanderbilt doesn't mean much until we know just how good the Commodores are, and the Rebels can prove their worth in the coming weeks against Texas, Auburn and Alabama.
Beat those teams—or even take two of three—and "Hotty Toddy!" the Rebels will not only belong in the rankings, but they'll potentially have earned a Top 15 spot. For now, however, there are too many unknowns.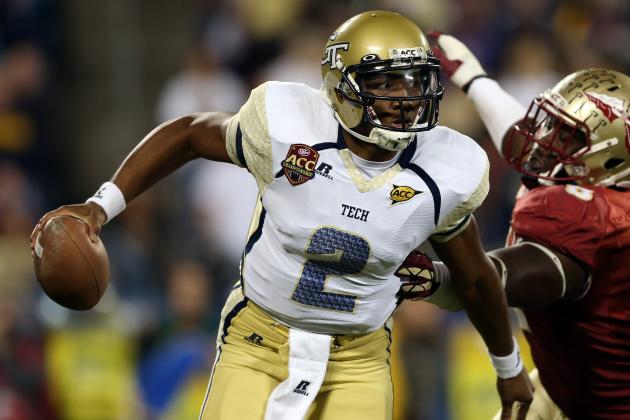 Streeter Lecka/Getty Images
Georgia Tech QB Vad Lee
Don't look now, but Georgia Tech is actually leading the country in points scored and in points allowed.
Ah, yes, but there's the tiny little detail that the Yellow Jackets have played just one game, and that was against mighty Elon.
Sometimes, having a bye week will earn you praise as other teams falter, and that could be the case here. But Georgia Tech appears to be a sneaky-good team that will jump up and bite one of the ACC's title contenders.
Vad Lee is a physical specimen at quarterback who provides a better passing threat than signal-callers in previous years, and the defense is physical and athletic.
Yes, Georgia Tech has a lot to prove. A win at Duke would be a nice start, and subsequent victories over North Carolina and Virginia Tech would be even better. But just on the surface, the Yellow Jackets look like one of the 25 best teams in the country.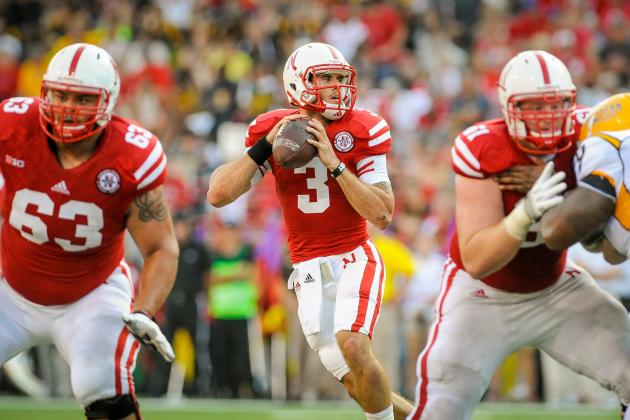 Eric Francis/Getty Images
Nebraska QB Taylor Martinez
Like Ole Miss, Nebraska has simply beaten the opponents on its schedule. Also like Ole Miss, the Cornhuskers have a lot to prove if they are to maintain a Top 25 ranking.
You could argue that plenty of ranked teams haven't notched impressive wins so far, and therefore no one without a major victory should be ranked. But it's the way the games play out that can tell you a lot about a team in the first few weeks of the season.
And the sight of Nebraska struggling to beat Wyoming lingers.
A 56-13 win over Southern Miss was a nice response, and it's often said that a team will improve the most from Week 1 to Week 2. However, this particular 2-0 start doesn't scream Top 25 by any measure. But next up is a date with UCLA, and should the Cornhuskers prevail in that contest, they'll be a Top 15 team without a doubt.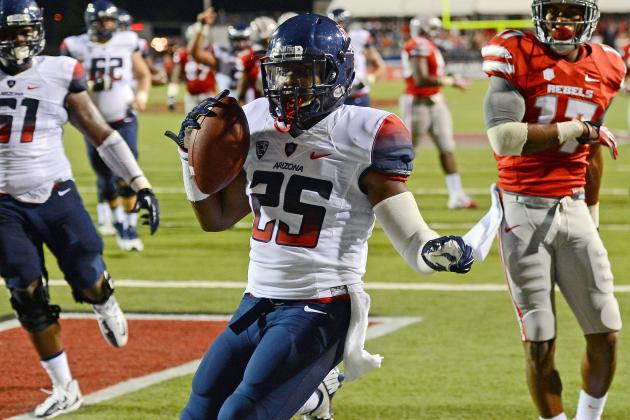 Ethan Miller/Getty Images
RB Ka'Deem Carey
The Arizona Wildcats may be off everyone's radar still, but that doesn't mean this isn't potentially a Top 25 team.
Through two games, the Wildcats have shown improved defense, steady if unspectacular quarterback play and a ground game that may end up as the second-best in the conference behind Oregon.
Without Ka'Deem Carey, the team won 34-0 in Week 1 over Northern Arizona. Carey returned Saturday and helped light up UNLV by rushing for 171 yards and two touchdowns on just 16 carries.
The Wildcats have a long ways to go, but the only ranked team they'll play on the road is Washington, and they get the nice break of missing Stanford.
So much of what we have to go off of in these rankings is the eye test, because most teams have skated by two subpar opponents at this point. The Wildcats looked like an improved team from last season, and if they can get mistake-free play from quarterback B.J. Denker, they'll be in the Top 25 throughout the year.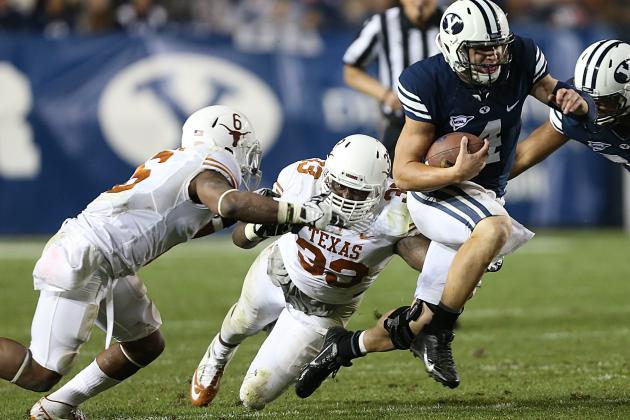 George Frey/Getty Images
Taysom Hill broke many burnt orange hearts last night
You have every reason to be impressed with the BYU Cougars right now. The team is coming off of a 40-21 victory over a ranked Texas team, and the Cougars piled up 679 yards of total offense, which included an otherworldly 550 on the ground.
Against a ranked team with lots of talent, that's about as impressive of a victory as you'll find.
So why is BYU on the "out" portion if this piece?
You need only travel back one week in time to find your answer. In the opening game of the season, the Cougars lost at Virginia.
Now, if you looked at both weeks in conjunction, you might come to the conclusions that Virginia is a pretty decent team and the Cougars improved quite a bit from the opening weekend. That second conclusion is obviously true, but Virginia was slaughtered Saturday by the Oregon Ducks, which makes BYU's loss a little uglier.
BYU rebounded from the loss in grand fashion and could definitely work its way into the rankings. But despite the win over Texas, the team doesn't have the two-game resume that merits a national ranking.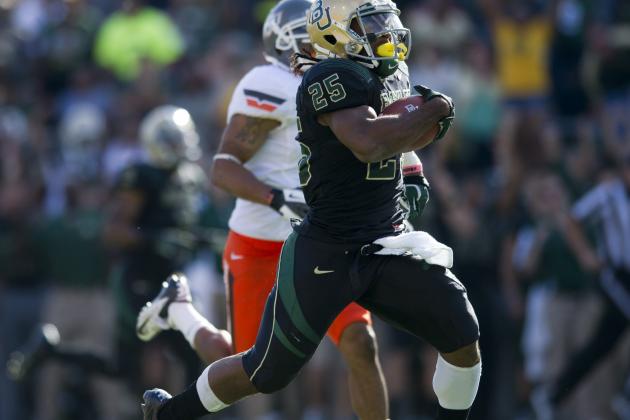 Cooper Neill/Getty Images
Baylor RB Lache Seastrunk
If you like offensive football, you may just want to set your DVR to record every Baylor game this season. The Bears can throw the ball, run the ball and, most importantly, put so many points on the scoreboard that it will make your head spin.
A pair of wins against Woffard and Buffalo isn't going to knock anyone off his or her feet, but the manner in which the Bears notched these victories is enough to make Mike Ditka roll around in his sleep at the lack of defense.
The Bears sit at No. 22 in both polls, but some people may raise an eyebrow at them getting some early-attention for a couple of wins against bad teams. The fact is that the Bears look like a Top 25 team and they're playing like one too.
Oh, and of their next five games, which one(s) will they lose? Because it doesn't seem like any game before the visit from Oklahoma will be particularly challenging. And if that were being played tomorrow, would you pick the Sooners or the Bears?
The Bears haven't beaten a great team yet, but they are playing like a squad with its sights set on capturing a Big 12 title.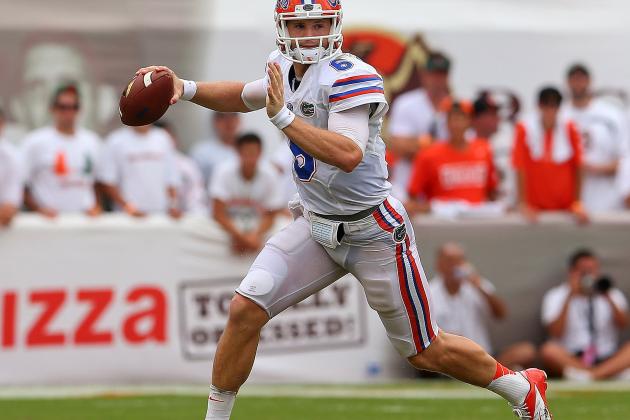 Mike Ehrmann/Getty Images
Florida QB Jeff Driskel
The Florida Gators do not look like a Top 25 team through two weeks of the college football season. While losing at Miami isn't something to be ashamed of, the loss exposed some major issues that could linger into the meat of the team's schedule.
Quarterback Jeff Driskel is tough as nails and can stand in the pocket and take a hit as well as anybody in the country. Unfortunately, he's also turnover-prone and can take the Gators right out of games.
The running game, which is supposed to be the strength of the offense, mustered just 122 yards against the Hurricanes.
Neither of those things will come as a surprise to Gator fans, but the defense has to be perfect for Florida to contend in the SEC East. Against Miami, it was very good, but not quite perfect. With the offense stuck in a rut, great defense can still equal a loss.
Looking at the rest of the schedule, it's difficult to see wins at LSU and South Carolina. Florida State is going to be extremely tough, and Georgia is no slouch either. With one loss already, a scenario exists where the Gators lose five games.
Unless the offense improves in a hurry, it could be a rough year in Gainesville.