Boston Bruins with the Most to Prove at 2013-14 Training Camp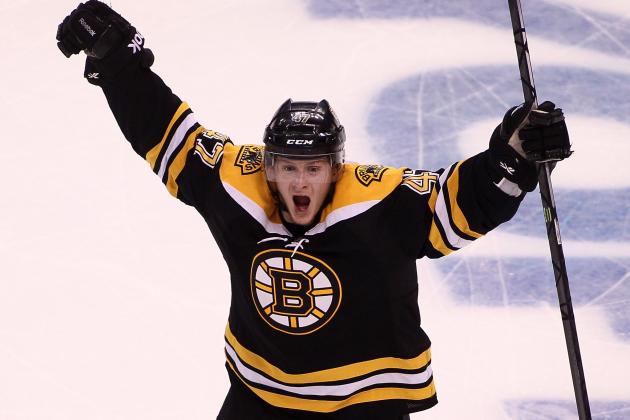 Alex Trautwig/Getty Images

The Boston Bruins will open training camp on Wednesday, Sept. 11, in preparation for their season opener on Oct. 3.
The defending Eastern Conference champions are short on available roster spots, so the competition will be heated. A great camp could be the difference between a breakout NHL season and a year in Providence for a few young players.
Here are the Bruins with the most to prove in camp.
Begin Slideshow

»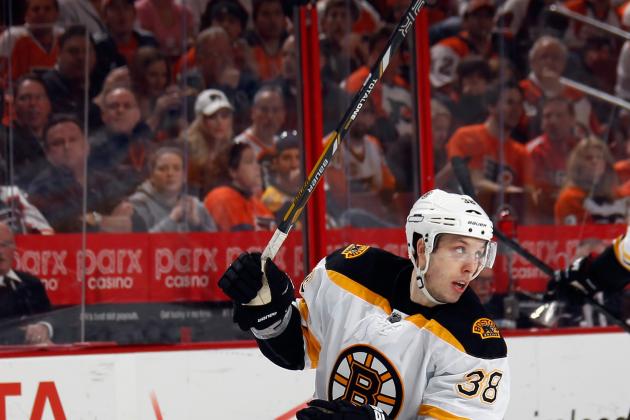 Bruce Bennett/Getty Images

Jordan Caron's disappointing career in Boston is coming to an end...unless he has a strong training camp.
The 2009 first-round pick signed a one-way deal this summer that puts his future in Boston at risk, according to CapGeek. If he fails to earn an NHL roster spot, he'll have to clear waivers to return to Providence, meaning that he'll either stick in Boston or pack his bags.
The defensive-minded winger has tried to establish himself at the NHL level in each of the last three seasons with no success.
For a first-round pick, Caron is dreadfully short on scoring ability. He has just 25 points in 88 career NHL games and hasn't fared much better in the AHL.
He is a solid penalty killer, but he has started to look like little more than a fourth-line player at the NHL level.
The hole left on the Bruins' third line by Rich Peverley has Caron's name on it if he can finally take the next step. However, higher-upside options like Reilly Smith, Matt Fraser and Ryan Spooner threaten to overtake him in camp.
Without an excellent preseason, Caron will be doomed to a reserve role in Boston or a plane ticket to a new home.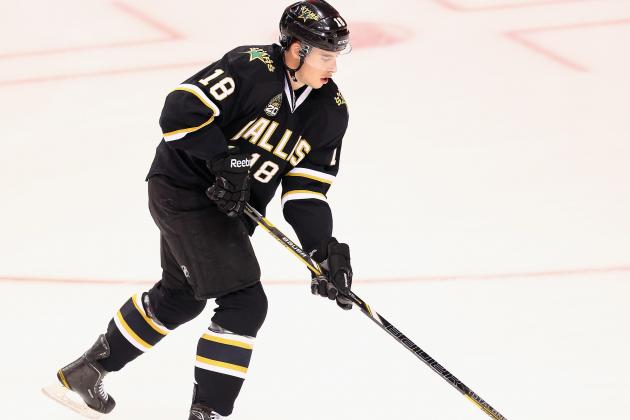 Ronald Martinez/Getty Images

Reilly Smith was a full-time NHL player in Dallas last season, but he'll need to impress in camp to avoid a return to the minor leagues.
The 22-year-old totaled a meager nine points in 36 big league games last season, but the former Miami RedHawks captain has much more offensive ability than Jordan Caron.
According to NHL.com's Corey Masisak, Smith is the favorite to win the open spot on the Bruins' third line. A strong skater with an eye for goal, he could be a nice complement to Chris Kelly and Carl Soderberg.
A natural right winger, Smith should have an advantage over competitors Ryan Spooner and Matt Fraser, who would likely have to change positions to play in Boston this year.
With NHL experience on his side, Smith should have a leg up in camp. However, a poor showing could see him competing for the Calder Cup instead of the Stanley Cup this season.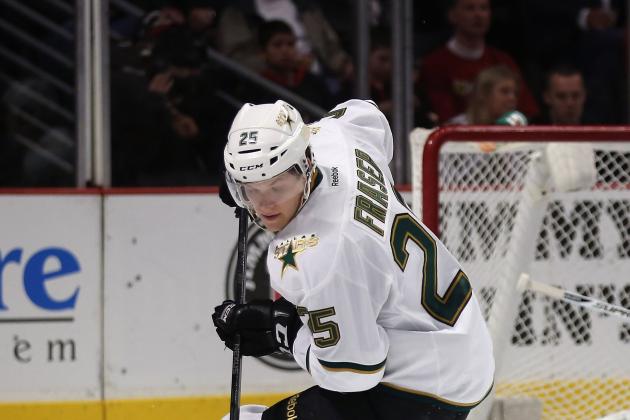 Jonathan Daniel/Getty Images

Undrafted out of juniors, Matt Fraser is used to proving himself. The AHL's most prolific goal scorer will have to do just that to finally make the jump to the NHL.
Fraser has scored more AHL goals than anyone else over the past two seasons, but he has yet to demonstrate his offensive skills in the big leagues. With just two points in 13 NHL games, Fraser is something of a dark horse to join the Bruins' third line.
Fraser loves to bang bodies, and he is probably Boston's best bet to provide depth scoring
He played primarily on the left side for the Texas Stars before coming to Boston with Reilly Smith in the Tyler Seguin trade. While he's capable of moving to the right side, he'll have an easier time making the team if Carl Soderberg centers the third line with Chris Kelly moving to right wing.
Fraser could be a breakout star, but he is also a risky option with an underdeveloped defensive game.
If he fails to make the team, he'll easily lead the Providence Bruins in goals, but he'd prefer to ply his trade in Boston.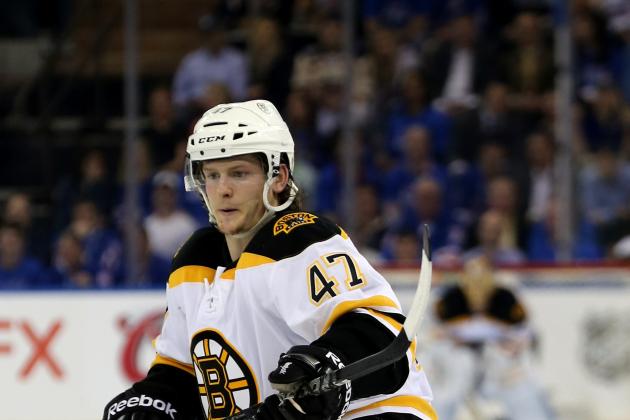 Bruce Bennett/Getty Images

Torey Krug's sensational postseason made him a fan favorite in Boston, and it ought to guarantee him a roster spot.
However, the pint-sized blueliner's role has yet to be determined.
The former Michigan State captain will have a tough time carving out a niche in the Bruins' deep defensive core. He'll battle fellow youngsters Dougie Hamilton and Matt Bartkowski for loose minutes, but the grizzled veterans should continue to get the brunt of the work.
Krug should see plenty of time on the power play due to his dynamic skating and lightning-quick release.
Despite his small stature, Krug is a solid player in his own zone, and he doesn't shy away from contact.
The first pairing is beyond his reach for now, but a strong camp could earn him top-four minutes. Otherwise, he could be little more than a special teams star.
He'll have to show that he can replicate his postseason brilliance and continue to be a game-changing force at the NHL level.