The first weekend of the NFL regular season never fails to surprise, but there are some matchups where the outcome seems inevitable.
Whether it's an opening-week showdown pitting a contender against a perennial bottom-feeder or simply a bad matchup, these teams are sure to roll to Week 1 victories.
Below, we'll take a closer look at the current odds for the remaining Week 1 games, breaking down a trio of guaranteed picks.
*Odds information according to Covers.com.
NFL Week 1 Odds

| | | | |
| --- | --- | --- | --- |
| Away Team | | Home Team | Over/Under |
| Cincinnati Bengals | vs | Chicago Bears (-3) | 41.5 |
| Miami Dolphins | vs | Cleveland Browns (-2) | 41 |
| Seattle Seahawks | vs | Carolina Panthers (+3) | 45 |
| Oakland Raiders | vs | Indianapolis Colts (-10) | 46.5 |
| Minnesota Vikings | vs | Detroit Lions (-4) | 46.5 |
| New England Patriots | vs | Buffalo Bills (+10) | 51 |
| Tennessee Titans | vs | Pittsburgh Steelers (-7) | 42 |
| Atlanta Falcons | vs | New Orleans Saints (-3) | 55 |
| Kansas City Chiefs | vs | Jacksonville Jaguars (+3.5) | 42.5 |
| Tampa Bay Buccaneers | vs | New York Jets (+3.5) | 39.5 |
| Arizona Cardinals | vs | St. Louis Rams (-3.5) | 41.5 |
| Green Bay Packers | vs | San Francisco 49ers (-4.5) | 49 |
| New York Giants | vs | Dallas Cowboys (-3) | 49.5 |
| Philadelphia Eagles | vs | Washington Redskins (-3.5) | 52 |
| Houston Texans | vs | San Diego Chargers (+3.5) | 44 |
Covers.com
New England Patriots Over Buffalo Bills (+10)
The New England Patriots have owned the AFC East during the Tom Brady era, winning 10 divisional titles since 2001 and nine of the past 10 overall. Meanwhile, the Buffalo Bills haven't won the division since 1995, finishing with a losing record in each of the past eight seasons.
Which team will cover the spread in Week 1?
Therefore, look for the Pats to steamroll the Bills on the road on Sunday afternoon. After all, New England has won the last three meetings with Buffalo, winning by an average of over 19 points per game.
Although some weapons have been lost, Brady is still there and the the successful system is still in place. And no offense was more explosive than the Patriots' during the 2012 regular season. On the other hand, few defenses surrendered as many yards and points as the Bills', who ranked 22nd in yards allowed and 26th in points allowed.
In the end, this is just a one-sided rivalry that New England will continue to own in 2013.
Indianapolis Colts (-10) Over Oakland Raiders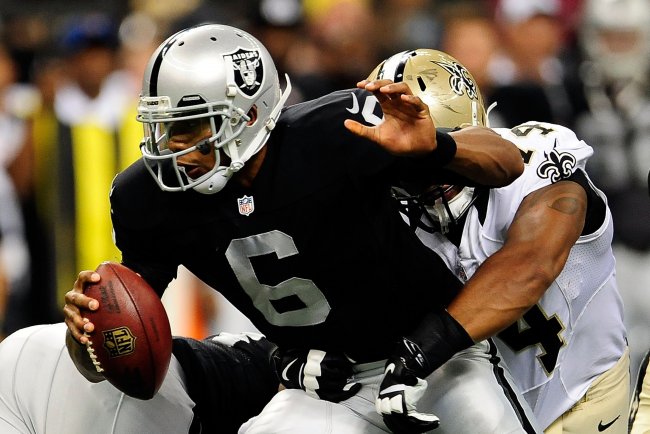 Stacy Revere/Getty Images
The Oakland Raiders are huge underdogs on the road in Indianapolis on Sunday, and for obvious reasons. The Colts are a playoff team, while the Raiders haven't sniffed the postseason since 2002. In addition, Oakland is a dismal 1-9 in its last 10 season openers going back to 2003.
Indy is a 10-point favorite and should be able to cover the spread relatively easily with the inexperienced Terrelle Pryor set to start at quarterback for the Silver and Black. Pryor started only one game in 2012 and has just 30 total passing attempts for his NFL career.
Plus, the Colts have been stellar at home to open the Andrew Luck era, going 7-1 inside Lucas Oil Stadium in his rookie season a year ago.
Houston Texans Over San Diego Chargers (+3.5)
If there's one road team that is a lock to win on Monday night, it's the Houston Texans, who will take on the San Diego Chargers in the second of two prime-time showdowns.
Over/Under 44 points scored in this MNF matchup?
Keep in mind that Houston has won its past three season openers by an average of 19 points.
On top of that, the Texans boast a reliable rushing attack led by fantasy stud Arian Foster, who has rushed for 1,200-plus yards and 10 or more touchdowns in each of the past three seasons.
In addition to dominating on the ground, this is a Texans team that travels well. Houston went 6-2 on the road a year ago, while the Bolts struggled in front of their home crowd, dropping five of eight home games in 2012.
One more statistic to consider: San Diego went 0-5 against teams with a winning record last season.
Follow Bleacher Report Featured Columnist Patrick Clarke on Twitter.