The Hottest and Coldest Players in College Football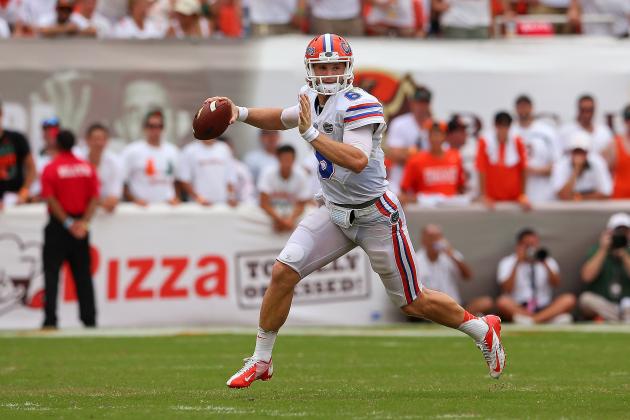 Mike Ehrmann/Getty Images

Two weeks of college football are officially in the books, which means that America's hottest and coldest players can no longer be deemed "one-game wonders" or "one-game letdowns."
The second game of the season doubles a player's sample size, stretching his good or bad performance that much closer to being a trend than a fluke (even though there's not enough evidence to make a conclusion).
Some players who struggled in Week 1 atoned for that performance in Week 2, while some who excelled came back down to earth.
But some players looked extra hot or extra cold this past weekend, and their performance doesn't seem poised to change.
Begin Slideshow

»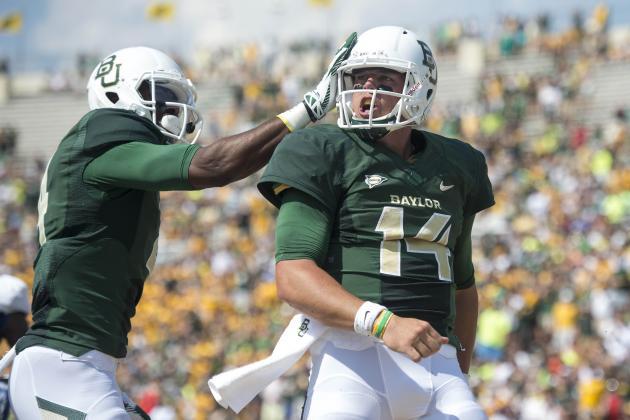 Jerome Miron-USA TODAY Sports

When fellow Big 12 teams like Kansas State were losing to FCS opponents in Week 1, Petty was leading Baylor to a romp over Wofford. Then, when a Buffalo team that gave Ohio State some trouble arrived in Waco, it was more of the same.
Put his two performances together, and Petty has 650 yards, four touchdowns and zero interceptions on the season. What's more—much more—he's completed 80 percent of his passes (32-of-40) and is averaging 16.25 yards per attempt.
As the rest of its conference struggles, Baylor looks more and more like a legitimate threat to crash the BCS. If that's the case, and Petty keeps up this pace, the Bears could produce a Heisman candidate.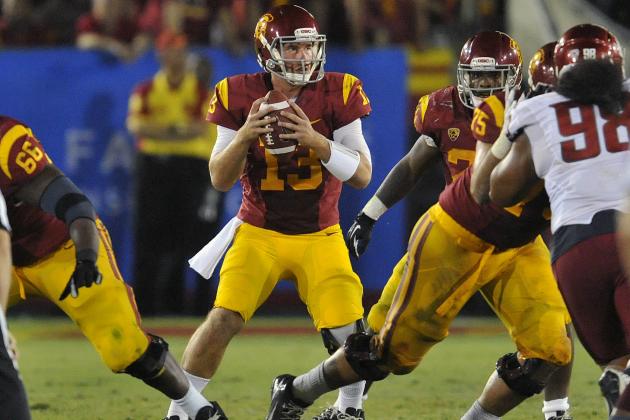 Gary A. Vasquez-USA TODAY Sports

The USC Trojans, blessed with receiving options like Marqise Lee, Nelson Agholor and Xavier Grimble, somehow have one of the worst passing games in America.
Lane Kiffin's play-calling his been odd—to say the least—but part of that might have to do with a lack of trust in quaterbacks Cody Kessler and Max Wittek. Either way, though, the team's sheer insistence on not going vertical is unprecedented.
Kessler and Wittek each played one half in Week 2 and finished the game with 54 combined yards—against Washington State. Oh, how the mighty have fallen.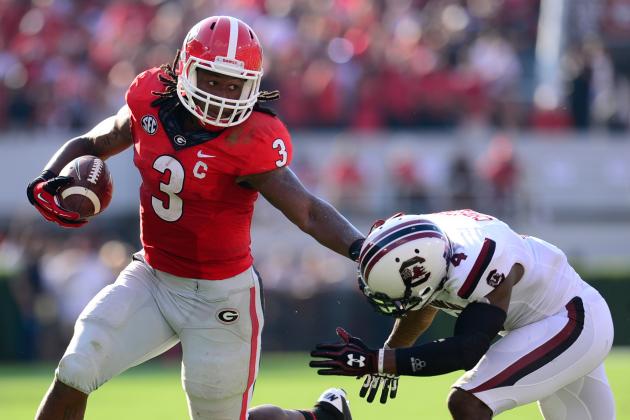 Dale Zanine-USA TODAY Sports

After two weeks, Gurley sits seventh in the national rushing rankings. But unlike the six players ahead of him, he's enjoyed that success against two Top 10 opponents.
Gurley has also racked up his 288 yards on "only" 42 carries, an average of 6.9 yards per rush. Of the five running backs ahead of him in total yardage, only one, Paul James of Rutgers, has a higher per-carry average.
As impressive as the stats are, though, numbers don't even do Gurley justice. Watching him bowl over defenders on national championship-caliber teams is argument enough. He's an absolute monster.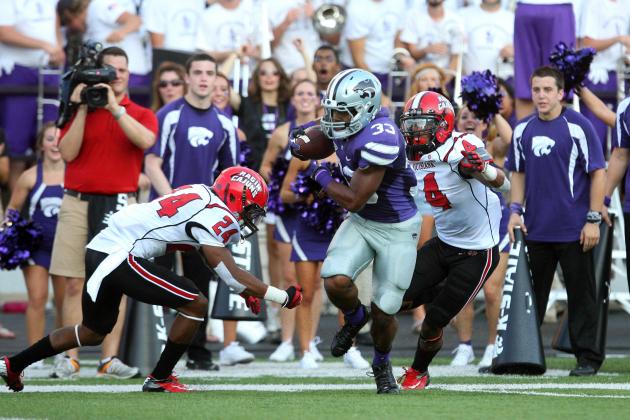 Scott Sewell-USA TODAY Sports

Hubert plowed home two touchdowns against Louisiana-Lafayette, but those Week 2 scores are not enough to overshadow his yardage struggles.
Through two games this season—one against an FCS squad (albeit a good one), and one against a Sun Belt opponent—Hubert has just 79 yards on 28 carries. Behind what was supposed to be a great offensive line, he's averaging just 2.8 yards every time he rushes the ball.
Last season, Hubert averaged 5.0 yards per carry on 189 rushes, finishing the year over 940 yards for the second consecutive season. He was supposed to be become Kansas State's go-to option in the post-Collin Klein era, but the early returns have been a letdown.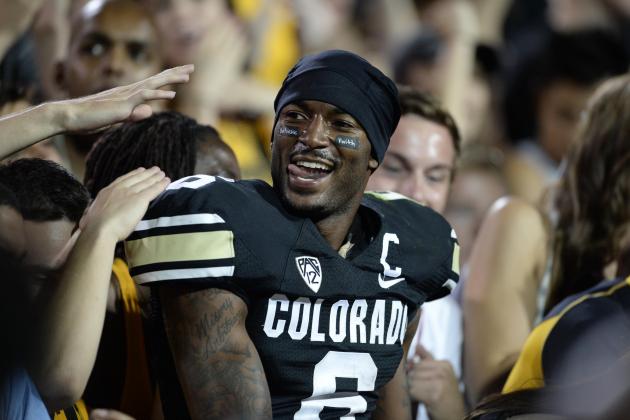 Ron Chenoy-USA TODAY Sports

Sure, it's come against Colorado State and Central Arkansas. Who cares? Colorado football was in desperate need of something—anything—good to happen, and Richardson has answered the call.
He currently leads the nation with 417 receiving yards after topping 200 for the second consecutive game on Sunday. He put up nearly identical numbers in both contests, going for 10 catches, 208 yards and two touchdowns in Week 1, then 11 catches, 209 yards and two touchdowns in Week 2.
Things will get tougher in Pac-12 play, but for now, Colorado has a bona fide Biletnikoff candidate on its hands.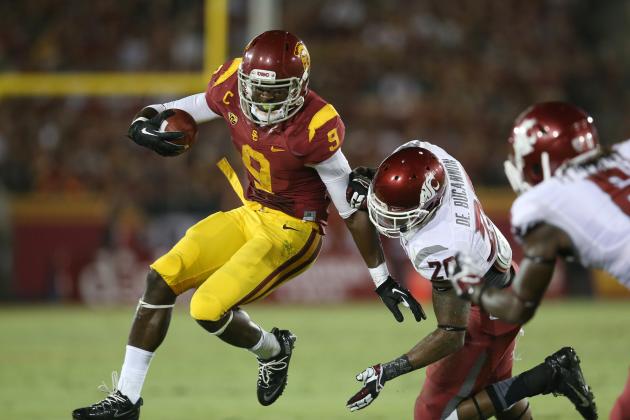 Stephen Dunn/Getty Images

This is an unfair (though logical) extension of USC's struggle at quarterback, but man, Marqise Lee is cold.
Fresh off a 118-catch, 1,721-yard sophomore campaign, Lee's junior year continued its fizzle on Saturday night against Washington State. He managed to scrape together eight catches for 104 yards against Hawaii, but in Week 2, he tallied just seven catches for 27 yards.
Lee is one of the fastest, most explosive players in America, but in USC's non-vertical passing game, he's been put in situations where it's impossible to succeed. Now he's starting to look out of touch, like he's already sick of this season, and that does not bode well for the immediate future.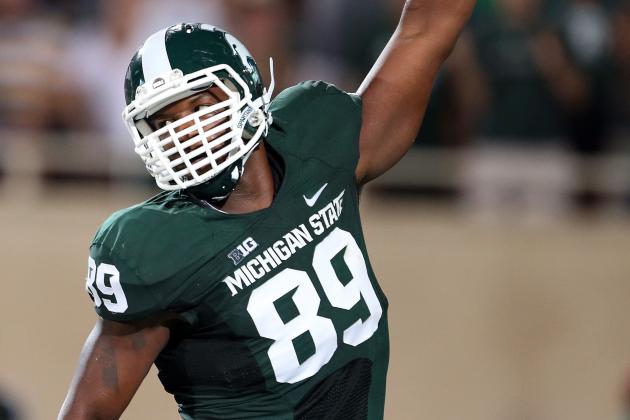 Mike Carter-USA TODAY Sports

Calhoun, a sophomore defensive end from New Jersey, stole the show once again in East Lansing this week, scoring two defensive touchdowns and propelling Michigan State to a 21-6 victory over South Florida.
Those two touchdowns bumped his season total to three and the Spartans' defensive total to four. Meanwhile, on the other side of the ball, the offense is still stuck at just two short rushing touchdowns.
Can Calhoun keep up this blistering scoring pace? Probably not. But the defense as a whole might be able to. And if things don't change under center for Sparty, that's exactly what they need to do.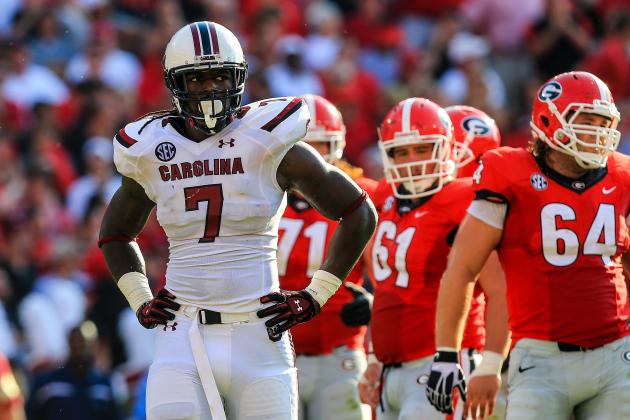 Daniel Shirey-USA TODAY Sports

Clowney hasn't actually been "cold," but he's failed to reach the (impossible) precedent that was set for him this offseason. And that at least bears mentioning.
Even when he's not on the stat sheet, Clowney affects the game. Opposing teams literally run away from him and change their offensive game plan based on his presence.
But he's been frustrated through two games (even though he notched a sack against Georgia) and vented to the media in a postgame interview. He's playing fine, but something needs to change in Columbia to get Clowney on track.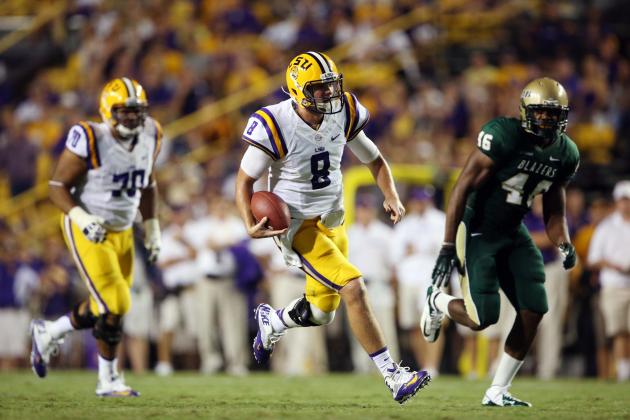 Crystal LoGiudice-USA TODAY Spor

Cam Cameron's new offense is working wonders for Mettenberger, who is finally scratching the surface of his considerable potential.
He played better than his numbers indicate in a Week 1 win against TCU, especially considering the talent of his opponent's secondary. Then, on Saturday against an overmatched UAB squad, he played the finest game of his career, finishing with 282 yards and five touchdowns on just 19 passes.
Mettenberger is the keystone player in Baton Rogue, and if he can continue to look like a future NFL quarterback (in a former NFL system), there's no telling where LSU will end up this season.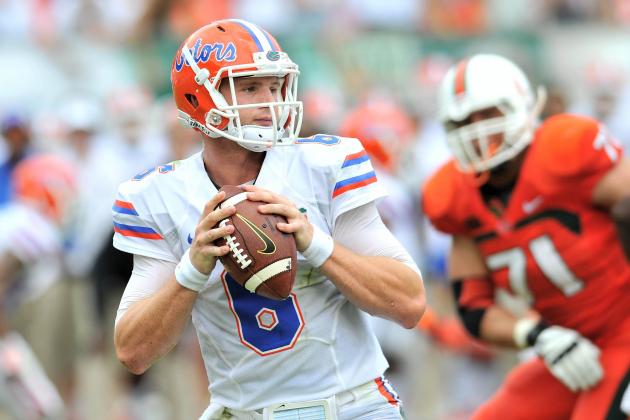 Steve Mitchell-USA TODAY Sports

Jeff Driskel stunk up the joint against Miami on Saturday, deflating the hopes of Gators fans everywhere and putting his head back on the chopping block of public opinion.
He did finish with 291 passing yards and two total touchdowns, but three untimely turnovers made his performance a tough one to bear. He threw two costly interceptions—both in the red zone—and lost a fumble inside Florida's 20.
Those three giveaways squandered a great effort from his defense, which held Miami to 1-for-11 on third-down conversions and generally played well. 2013 was supposed to be a new year, but it looks like more of the same in Gainesville.