Packers vs. 49ers: Fantasy Projections for Premier Week 1 Matchup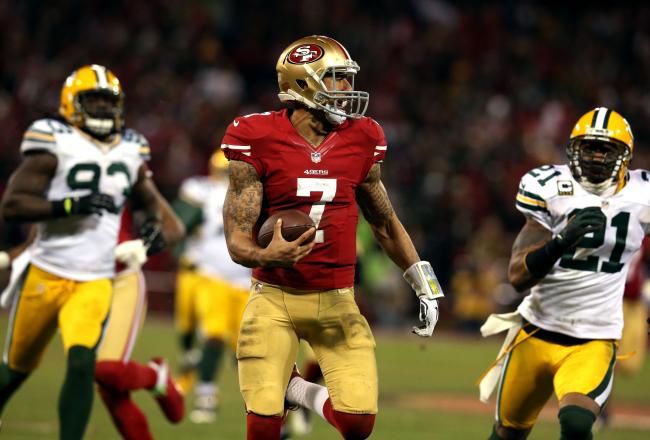 Stephen Dunn/Getty Images
There are plenty of exciting matchups on the Week 1 slate, but none of them measure up to the playoff rematch between the Green Bay Packers and San Francisco 49ers. While this game has major implications in the NFC, it will also play a big role in the success of fantasy football owners.
The Packers and Niners both feature myriad fantasy options, so all eyes will be glued to the screen when Green Bay and San Fran lock horns. With so many top players involved, this could very well be a make-or-break game as far as Week 1 fantasy matchups are concerned.
Here is an in-depth look at every at every fantasy-relevant player competing in the Packers vs. 49ers game, complete with full projections of how they will perform.
Quarterbacks
Aaron Rodgers (GB)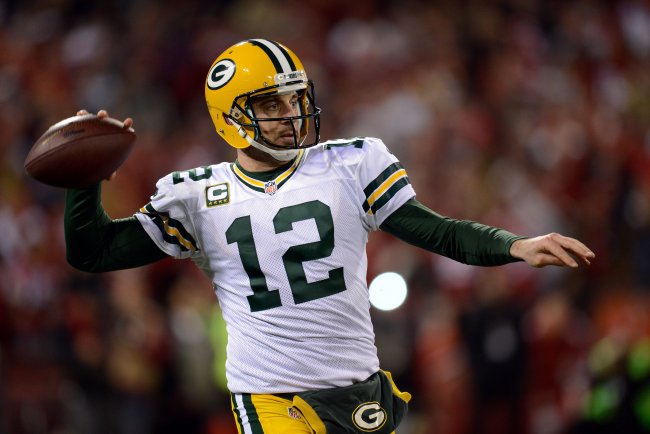 Thearon W. Henderson/Getty Images
Packers quarterback Aaron Rodgers is arguably the best passer in the league, so he needs to be in your lineup no matter what, but he hasn't had the greatest amount of success against the 49ers in recent years. Rodgers faced the Niners twice last season, as they met in the playoffs, and he threw for 560 yards, four touchdowns and two interceptions total.
Those aren't terrible numbers, but they aren't elite either. Rodgers will have a decent game since Green Bay will probably have to throw late, but you'll need your other players to step up and contribute, as he won't win you the week on his own.
Projection: 285 passing yards, two touchdowns, one interception, 20 rushing yards
Colin Kaepernick (SF)
It was evident as soon as Kaepernick took over as the 49ers' starting quarterback last season that he was something special, but his true coming-out party happened to be against the Packers in the playoffs. That fact may have been what caused Jason La Canfora of CBS Sports to start Kaepernick over Peyton Manning in his fantasy league this week, though that may have been a huge mistake.
Just remembered I benched Peyton Manning on my NFL Today fantasy team in place of Colin Kaepernick. So, um, I've got that going for me

— Jason La Canfora (@JasonLaCanfora) September 6, 2013
Even though Kaepernick won't put up Manning-esque numbers, he should be in for a big game. Kaepernick threw for 263 yards and two touchdowns and added another 181 yards and two touchdowns on the ground against Green Bay in the playoffs. A repeat performance may be asking a bit too much, but the Packers defense can't contain him.
Projection: 230 passing yards, two touchdowns, one interception, 105 rushing yards, one rushing touchdown
Running Backs
Eddie Lacy (GB)
It is always unclear what type of role rookies will play heading into the regular season, but Packers running back Eddie Lacy is a pretty good bet to carry the ball early and often. The Packers have wanted to implement a power running game for quite some time, and Lacy is the guy to do it. According to NFL Network, fantasy expert Michael Fabiano likes Lacy's chances of putting up huge numbers in 2013:
.@Michael_Fabiano predicts Eddie Lacy will be the Fantasy Rookie of the Year in 2013 #NFLFantasyLive

— NFL Network (@nflnetwork) September 5, 2013
While that may ultimately be the case, Lacy's ceiling is quite low for Sunday's game. The Niners were among the best rush defenses in the game last season as they allowed just over 92 rushing yards per game and seven rushing touchdowns overall, so Lacy will be welcomed quite rudely to the NFL.
Projection: 55 rushing yards, no touchdowns, two receptions for 15 yards
Frank Gore (SF)
Niners running back Frank Gore wasn't exactly the sexiest fantasy pick heading into this season, but he should provide solid value as a No. 2 running back. With so much attention being paid to Kaepernick, expect Gore to turn in another productive campaign. He happens to have an ideal matchup to start as well, since Gore thrives against the Green Bay defense, according to Eric Branch of the San Francisco Chronicle:
#49ers RB Frank Gore has had five 100-yard games in past 29 contests. He's 2-for-2 in that span vs. #Packers.

— Eric Branch (@Eric_Branch) September 6, 2013
With the 49ers somewhat lacking in terms of weapons in the passing game, Gore is likely to be featured quite heavily on Sunday. The Niners have several quality backs that will rotate in, so Gore's potential is capped to a certain degree, but he'll be worth starting on Sunday nonetheless.
Projection: 93 rushing yards, one touchdown, four receptions for 32 yards
Wide Receivers
Randall Cobb (GB)
Packers receiver Randall Cobb enjoyed a breakout campaign last season as he caught 80 balls and nearly broke the 1,000-yard barrier, but even bigger things are expected out of him this year. Cobb stands to get more targets with Greg Jennings out of the picture, which bodes well, as he was one of the most proficient pass-catchers in the league last season, according to ESPN Stats & Info:
@Rcobb18 caught 78% of his targets in 2012, second-highest rate among qualified WRs. Join @espnfantasy football: http://t.co/VFVE1z027i

— ESPN Stats & Info (@ESPNStatsInfo) September 2, 2013
While the Niners shut down Cobb to the tune of just 24 yards in the playoffs last season, Cobb caught nine balls against San Fran to open the 2012 campaign. Since Cobb doesn't need a lot of space in order to make plays, he is likely to serve as Rodgers' safety valve on Sunday when he needs to get rid of the ball.
Projection: Seven receptions for 108 yards and one touchdown
Anquan Boldin (SF)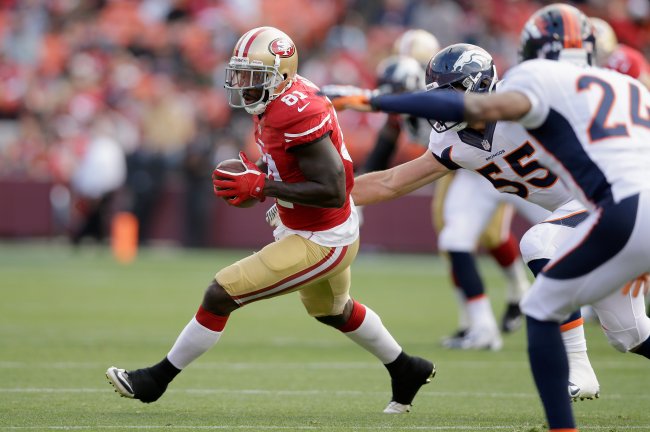 Ezra Shaw/Getty Images
It is very difficult to predict how Anquan Boldin will fare this season now that he has made the jump from the Baltimore Ravens to the Niners. Boldin was decent during the 2012 regular season, as he was a solid No. 3 fantasy receiver throughout the year, but he truly blew up in the playoffs, becoming the Ravens MVP aside from quarterback Joe Flacco.
The 49ers are hoping that the playoff version of Boldin shows up during the regular season as their receiving corps is decimated by injuries. Boldin is unquestionably San Francisco's No. 1 receiver, and he'll have to play like it. Boldin isn't nearly as explosive as Michael Crabtree, but a high volume of targets will allow him to put up solid numbers against the Packers.
Projection: Six receptions for 85 yards and one touchdown
Jordy Nelson (GB)
Jordy Nelson suffered through an injury-plagued 2012 season, but he is one of the most skilled wideouts in the game when he is on the field. The Packers are hoping to see Nelson in action for all 16 games this year as he adds a great amount of depth for the receiving corps. It appears all systems are go to start the season for Nelson as ESPN's Adam Schefter is reporting that he will play against the Niners:
Packers WR Jordy Nelson, Giants WR Victor Cruz expected to play Sunday.

— Adam Schefter (@AdamSchefter) September 6, 2013
Nelson had five catches in each of his two games against the 49ers last season, and he failed to make any big plays. Much of Nelson's production comes from reeling in deep balls, but the 49ers don't allow those types of big plays. Rodgers is going to take his shots against San Fran's secondary, but Nelson won't have a particularly big game.
Projection: Six receptions for 77 yards and no touchdowns
Quinton Patton (SF)
With so much uncertainty at the wide receiver position, it's possible that rookie Quinton Patton could play a big role for the 49ers this season. He isn't technically listed as a starter, but it's fairly safe to say that he is Kaepernick's No. 2 option as far as wide receivers are concerned. That alone has him on the radar of Yahoo! fantasy expert Brad Evans:
WR Quinton Patton one of the hottest early pickups in fantasy. Boldin born in Jurassic. VD inconsistent. Shocker special potential there.

— Brad Evans (@YahooNoise) August 30, 2013
Patton really came on in San Fran's final two preseason games as he caught a touchdown in each. He seems to be peaking at the right time, but it's important to remember that he's a rookie fourth-round pick. Look for Patton to flash some big-play ability, but he ultimately won't be worth starting at this juncture in the season.
Projection: Three receptions for 37 yards and no touchdowns
James Jones (GB)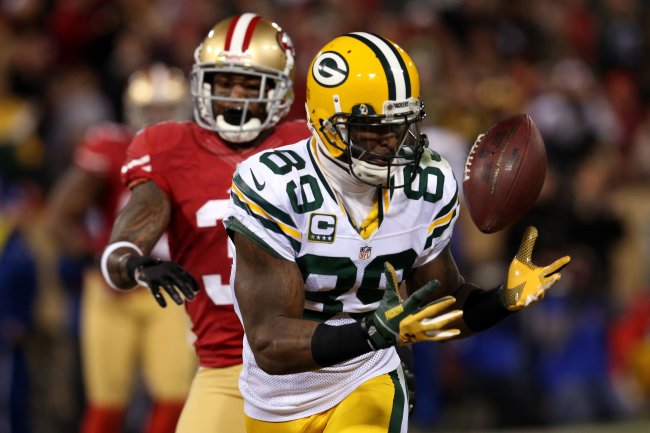 Stephen Dunn/Getty Images
He may be the forgotten player in Green Bay's receiving corps, but it wouldn't be wise to sleep on James Jones this season. Jones was Rodgers' go-to target in the red zone last year as he led the Packers with 14 touchdown receptions. Jones' yardage total wasn't huge at 784 yards, but he definitely has plenty of fantasy value as a guy who knows how to find the end zone.
The Packers didn't play particularly well against the Niners as a team last season, but Jones had plenty of success against them. Jones caught four balls for better than 80 yards and a touchdown in each of their two meetings, so he knows how to crack the code. Jones' yardage total may be down a bit against the 49ers in this one, but it's a safe bet that he'll find pay dirt yet again.
Projection: Four receptions for 65 yards and one touchdown
Tight Ends
Jermichael Finley (GB)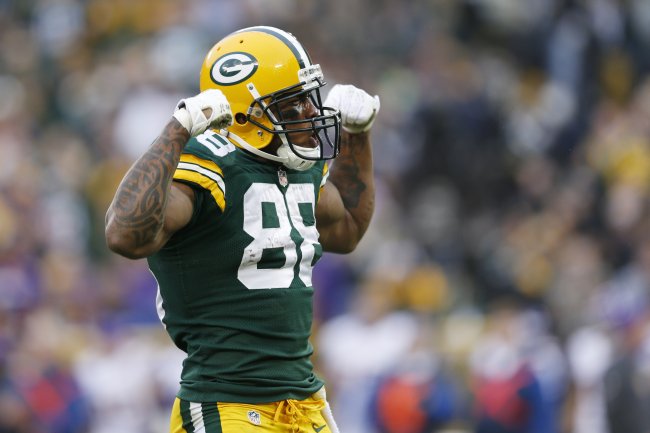 Joe Robbins/Getty Images
Jermichael Finley is one of the most maddening players in fantasy football as the big, athletic tight end seems as though he should blow up in an explosive offense such as the Packers'. Finley has been very average over the past couple seasons, though, as he puts up decent yardage totals but doesn't score nearly enough touchdowns.
There are only so many touchdowns to go around, but Finley should be far more dangerous in the red zone. Finley caught just two scores last year, although one of them came in Week 1 against the Niners. Finley averaged well under 10 yards per catch against San Fran last season, so the 49ers know how to keep him in check. Look for that to continue on Sunday.
Projection: Four receptions for 44 yards and no touchdowns
Vernon Davis (SF)
Vernon Davis' 2012 season was a major disappointment, as he ended up with just 548 receiving yards on the season, but there is reason for optimism in 2013. For one, Kaepernick doesn't have many other options, so Davis is bound to see an increase in targets.
Also, Davis has been working with the wide receivers, so the 49ers are obviously trying to figure out as many ways to get him the ball as possible. Even Davis himself believes that he is in for a big year due to his newfound synergy with Kaepernick, according to Pro Football Talk:
Vernon Davis: Me and Kaepernick are on a different level this season http://t.co/QCJWbGu8sH

— ProFootballTalk (@ProFootballTalk) September 6, 2013
Davis struggled with Kaepernick under center last season, but something seemed to click in the playoffs as Davis turned in two 100-yard performances. Davis only averaged 43.5 yards per game in two meetings with the Packers this year, but now that he is in line to be a focal point of the offense, he should have a very productive game.
Projection: Six receptions for 93 yards and one touchdown
Kickers
Mason Crosby (GB)
Mason Crosby is easily one of the most dangerous kickers to own in fantasy football this year, as his job could be on the line every week. Crosby lost his confidence last season after he made just 21 of 33 attempts, but head coach Mike McCarthy stuck with him. Time will tell if that was the right choice, but Crosby should get some chances to kick field goals against a tough Niner defense.
Crosby only attempted one field goal against the 49ers last season, and he happened to make it. Hopefully, starting off with a clean slate this year will allow him to fare even better on Sunday.
Projection: Two field goals made, two extra points made
Which player will have the best fantasy performance in Week 1?
Phil Dawson (SF)
The Niners had some kicking problems of their own last season as David Akers struggled through a difficult campaign. Rather than allowing Akers to work out the kinks, though, San Fran decided to go in a different direction by bringing in Phil Dawson. While Dawson has been fairly anonymous as the Cleveland Browns' kicker for so many years, his consistency is extremely impressive.
San Fran is a team that kicks a lot of field goals, so Dawson should have a great season. Since the 49ers are likely to find the end zone quite a few times in this game, though, he'll probably be relegated to extra-point duty.
Projection: One field goal made, four extra points made
Defense/Special Teams
Green Bay Packers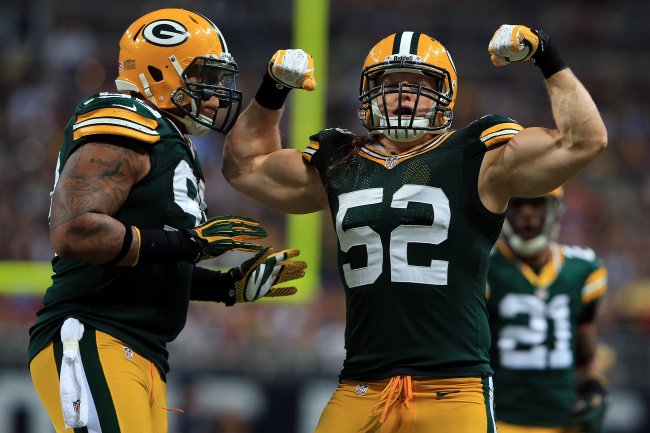 Doug Pensinger/Getty Images
The Packers used to boast one of the best fantasy defenses in the league due to their penchant for causing turnovers and scoring touchdowns of their own. Green Bay's defense happens to give up a lot of points these days, though, so fantasy owners will have to take the good with the bad.
Most leagues don't penalize defenses for yards allowed, so that won't hold the Packers back in this game, but the Niners did drop 75 points on Green Bay in two games last season. With another scoring fest likely, the Packers defense is best off on the bench this week if you have other options.
Projection: 31 points allowed, one interception, two sacks
San Francisco 49ers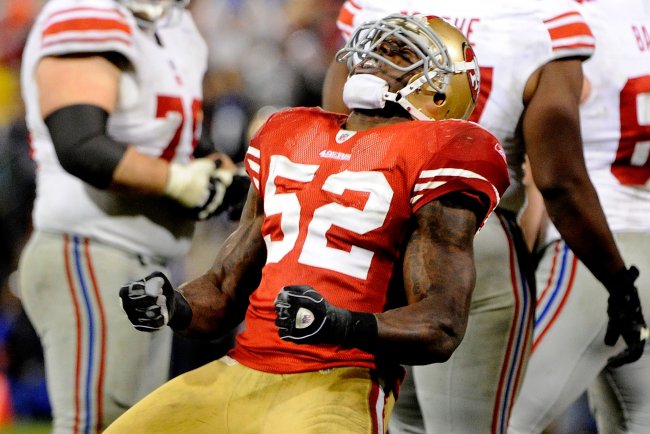 Thearon W. Henderson/Getty Images
The 49ers are arguably the best fantasy defense in the game, and even though they'll be facing a high-powered offense in the form of the Packers, they are very much worth starting. There are very few defenses that transcend matchups, but the Niners are one of them. Even if San Francisco gives up some points on Sunday, it will more than make up for that by forcing turnovers and getting to the quarterback.
If San Francisco is able to build a lead, it will take aim at Rodgers as the game progresses since he'll be forced to throw with great regularity. Expect the 49ers defense to turn in another fine performance, which will be very helpful in your search for a victory in Week 1.
Projection: 20 points allowed, one interception, one fumble recovery, five sacks
Follow @MikeChiari on Twitter
This article is
What is the duplicate article?
Why is this article offensive?
Where is this article plagiarized from?
Why is this article poorly edited?