NHL 14: Top Features That Make Latest Edition of Video Game a Must-Own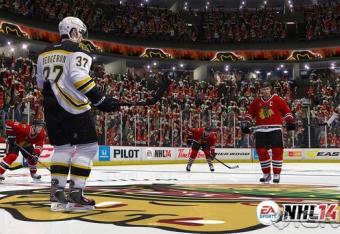 Courtesy: IGN

One of the most difficult things for sports video game franchises is finding ways to make each new version of the game enticing. That shouldn't be a major concern for NHL 14, which takes another step forward with the latest release.
In the sports realm, there are ways to download updated rosters. So if it appears a game doesn't deliver enough upgrades, gamers can simply get a fresh batch of rosters and continue to play with last year's version. It provides incentive to improve the game, which EA Sports did for NHL 14.
Let's take a closer look at three features that make the popular title worth owning once again this year.
NHL 94 Anniversary Mode
Although there were versions of the franchise before NHL 94, it was really the first version to put the NHL series on the map. It was a simple yet addictive game that kept gamers coming back for more at a time when the league itself was more popular in the U.S.
Now, 20 years later, the latest edition of the game includes a mode that lets gamers, including those who never played the original version, relive its throwback greatness. It combines today's players with the old style of gaming.
The mode will also help show how much things have changed over the years. From the very basic past to the more complex modern games, things have been overhauled since NHL 94 and that will show through in this mode.
Be a Pro Live the Life Mode
Be a Pro modes are always a nice alternative to normal seasons or team careers. Getting a chance to climb the ranks from unknown player to superstar is something that gave sports franchises even more shelf life for gamers.
What's your favorite new or updated feature?
One missing element in past versions of the NHL Be a Pro mode was a comprehensive way to dive deeper beyond simply playing games. NHL 14 changes that through the addition of Live the Life, which deals with things outside of rink.
From picking what your player will do during downtime to interviews that impact your stance with teammates, fans and more, it makes things more unique. Anything other than simply playing games is a welcome addition.
New Deke Controls
A major problem with recent versions of the game was the complexity of the dekes. They were highlight-reel plays when completed but were very difficult to pull off. So using them became less appealing over time.
The new one-touch dekes should go a long way in changing that. Since it should now be much easier to use dekes to create space in the offensive zone, it really adds to the gameplay. The system brings another dynamic to the table.
Like in the past, it won't be a fool-proof method since certain players don't have the puck control necessary to make the moves. But that's actually a positive to stop the new controls from being overused. It strikes the right balance without making things too complicated.
This article is
What is the duplicate article?
Why is this article offensive?
Where is this article plagiarized from?
Why is this article poorly edited?