Early Barcelona Squad Grades for Neymar, Messi & Co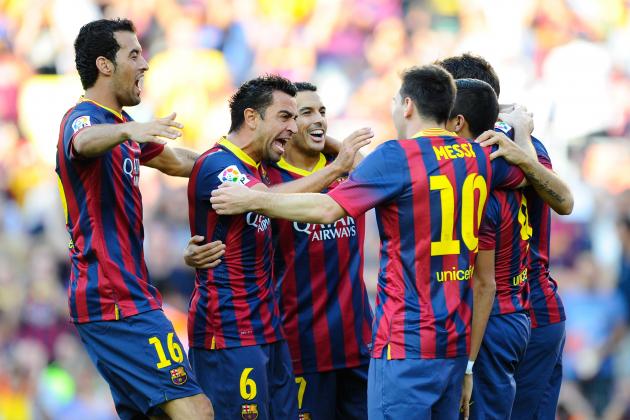 David Ramos/Getty Images
Barcelona's first team have begun La Liga 2013/14 in sparkling fashion
Barcelona have begun their 2013/14 La Liga campaign in some style.
Any doubts as to the appointment of Gerardo Martino have been quickly dispelled with the Argentine already having the team playing in his own image.
The high pressing game that was very evident in the Pep Guardiola era has returned, and Martino's sensible rotation policy has been well received in all quarters.
A record opening day 7-0 victory over Levante was the perfect introduction, quickly followed by Martino's first trophy via a hard-fought away goals victory in the Supercopa against Atletico Madrid.
It showed everyone that this team has guts as well as guile.
A single goal victory away at Malaga and a too-close-for-comfort win in the Mestalla with Valencia making a real game of it after Barca raced into a three goal lead, has seen the Blaugrana top the La Liga table with a three-from-three win record.
Let's take a look at how the players have begun the season.
Begin Slideshow

»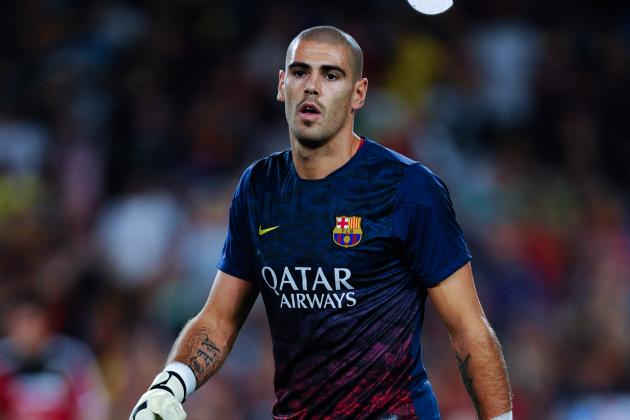 David Ramos/Getty Images
Victor Valdes has started the campaign on point.
For a player who is destined to leave at the end of the season, Victor Valdes is certainly going about putting himself in the shop window in the best possible way.
When called upon, he has been up to the task every time. A double save at the death during the match against Malaga, after a relatively pedestrian 90 minutes, are evidence of his concentration and importance to the team.
The two goals conceded at Valencia were as a result of a top-class finish and defensive error, and as such can't be pinned on Valdes.
Without a doubt, a more than satisfactory start to the campaign for Barca's No. 1.
Grade: A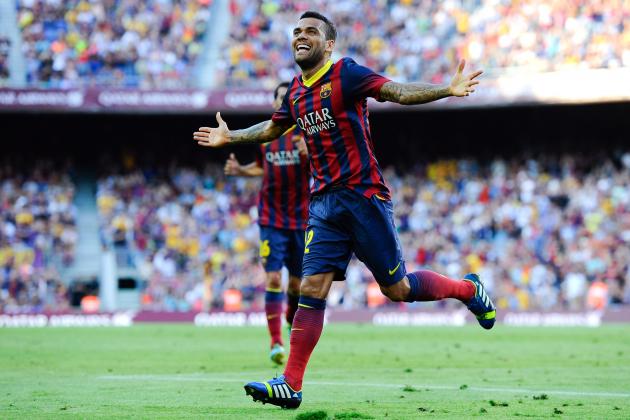 David Ramos/Getty Images
Dani Alves has offered much in an attacking sense.
Dani Alves has started the season well, both in an attacking and defensive sense.
A goal on opening day, assists aplenty and his usual industry tell us that all is well with the Brazilian.
Barcelona's No. 22—worn in deference to his friend and former colleague Eric Abidal—has been all action, all season.
Perhaps the knowledge of having Martin Montoya breathing down his neck for a first team berth is spurring the right back on to produce a high level of performance.
Now if he could just cut out the diving...
Grade: B+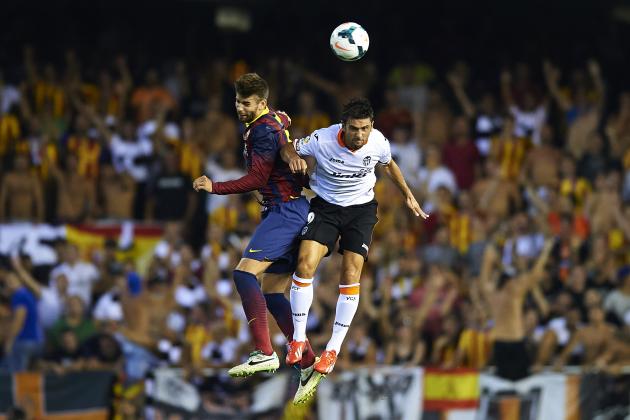 Manuel Queimadelos Alonso/Getty Images
Gerard Pique's concentration has been found wanting at times
Gerard Pique is lucky that Gerardo Martino didn't spend heavily on a central defender this summer.
When Carles Puyol is fit again, a new signing may well have seen the elegant Catalan benched, his poor form carrying over into this season.
Whatever the issue, Pique is yet to rediscover his concentration or best form. Witness Helder Postiga's second goal for Valencia.
Pique was in no man's land, heading thin air and a number of feet behind Postiga, leaving one of the smallest men on the field, Andres Iniesta, to challenge in vain.
Similarly, if we track David Villa's goal for Atletico Madrid from the start of the move, Pique's movement and awareness are comical.
For a defender of such high class, there can be no excuse for such a lax work ethic. Must do better.
Grade: C
David Ramos/Getty Images
Javier Mascherano's composure at centre-back has been welcome, his contribution worthwhile.
By contrast to Pique, Javier Mascherano has been a god-send in the other central defensive position.
Routinely sweeping up the danger and making the position his own, there has been little to reproach the Argentine for this season.
The odd powerful surge upfield, coupled with delicious cross-field 60 yarders, have been a feature of his attacking play, whilst remaining resolute in his defensive duties.
A real plus point for Gerardo Martino.
Grade: B+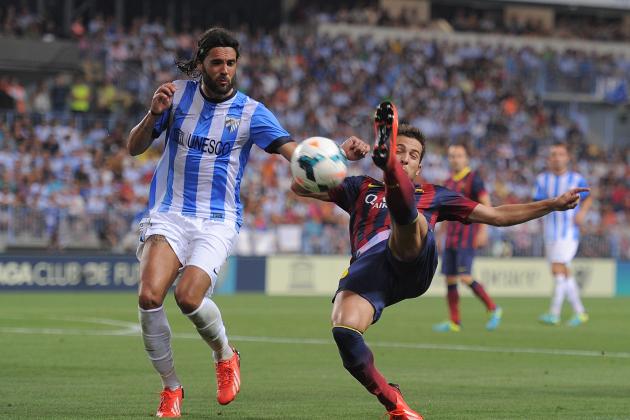 Denis Doyle/Getty Images
Jordi Alba has been disappointing by his own standards
One of the surprises of this season has been Jordi Alba's loss of form. In truth, the left-back has looked nothing like his old self.
Where once we would see constant rampaging runs down the left side, these are now curtailed in it's early stages.
Is this a ploy by Gerardo Martino to introduce a more pragmatic line of defence—if Dani Alves goes, Alba stays and vice-versa?
Whether or not Alba has been issued with a different directive this season, a performance such as that which he produced in the Spain vs. Finland game is well overdue.
Grade: C+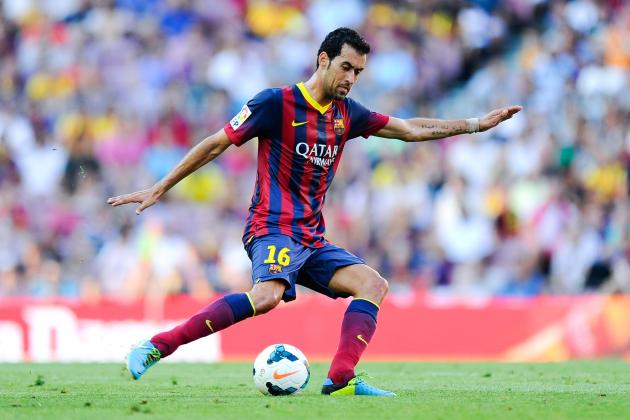 David Ramos/Getty Images
Sergio Busquets has been a key component in Barcelona's early successes
Just where would Barcelona be without Sergio Busquets? An essential presence in front of the Barca back four.
Only rested for the away trip to Malaga, Busquets was restored to the line up for the second leg of the Supercopa, where, as usual, his contribution was first-class.
A real unsung hero in today's game, Busquets has provided ample evidence already this season of just how important he is to the side.
Grade: A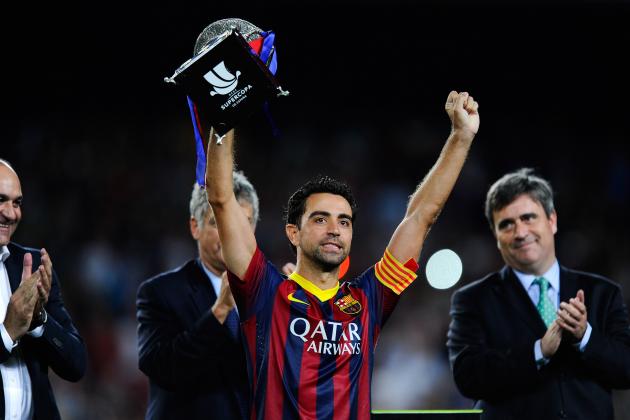 David Ramos/Getty Images
Xavi Hernandez should have appreciated the rest afforded him by Gerardo Martino
One of the most reliable midfielders in world football, age may be slowing him down, but Xavi Hernandez's football brain is still as sharp as ever.
After celebrating his 15 year anniversary since his debut for the first team, Xavi spoke to reporters after the demolition of Levante (per FCBarcelona.com):
The boss doesn't want the midfielders to drop and build the play up from the back, that's what the full backs do.

He wants us to be in the influential zone of the pitch, he wants us to give the assists and to be closer to the area.

It's clearly advice the player has heeded; he is as influential as ever on the football pitch.
With a clear rotation policy in place by Gerardo Martino, Xavi should benefit handsomely right across the season, hopefully arriving at the business end in peak condition, rather than the fatigued player we saw at the end of the last campaign.
Grade: A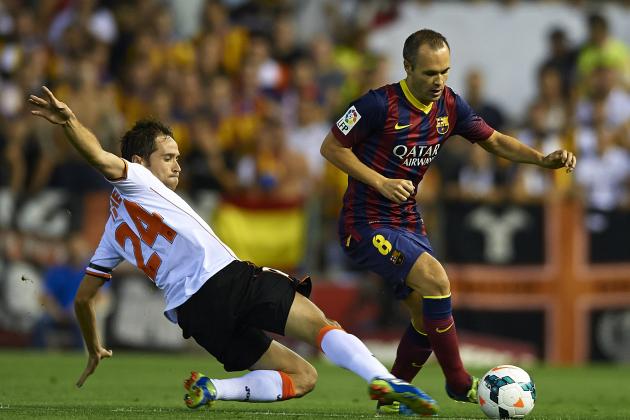 Manuel Queimadelos Alonso/Getty Images
Andres Iniesta's delightful passing range has been in evidence
The little magician is already up to his old tricks. When Andres Iniesta is on form there is simply no-one to touch him.
Starting the season on the subs bench, there has been no stopping him since. The telepathy with Xavi is already there, the intricate pass and move well rehearsed and produced.
His work down the left side, dovetailing with Neymar, has been particularly pleasing on the eye.
Simple, classy and masterful.
Grade: A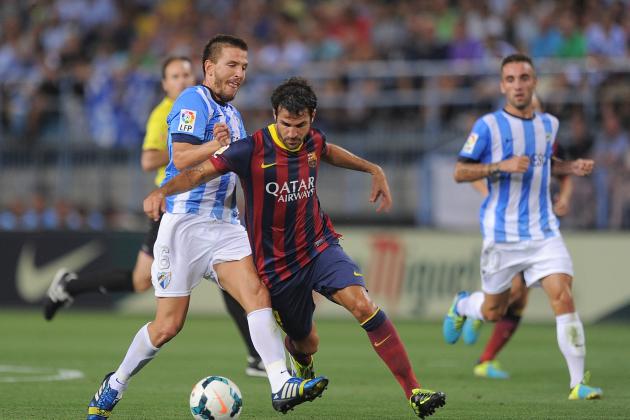 Denis Doyle/Getty Images
Cesc Fabregas has been simply brilliant when called upon
Cesc Fabregas has been a revelation this season. A contribution par excellence, with assists and interplay as good as it gets.
Most of the goals scored in the 7-0 rout of Levante were as a direct result of Fabregas' vision and accuracy, and the standard of his performances have ensured that Lionel Messi and Xavi Hernandez have not been missed.
Fabregas has played both the attacking midfield and false nine roles with aplomb and has replicated his form for his country too.
How must Manchester United be feeling at not securing his signature?
Grade: A+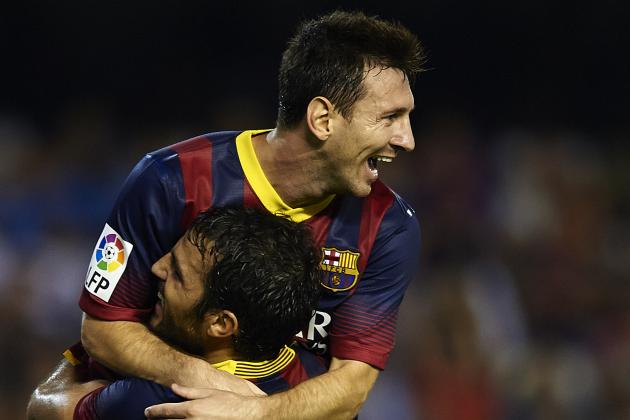 Manuel Queimadelos Alonso/Getty Images
A hat-trick against Valencia and five goals already tell us Lionel Messi is already in the groove.
Despite being injured, Lionel Messi still managed to top the La Liga goalscoring charts before the international break.
Two goals in the first match of the season, and a quick-fire hat trick at the Mestalla, portray his continued excellence in this area.
Perhaps the worry for Gerardo Martino is a lack of goals and directness when Messi is rested/injured.
Taken off in the first leg of the Supercopa as a precaution, Messi was allowed time to recover and missed the Malaga game.
Adriano's strike was worthy of winning any game. However, you can't help but feel with Messi on the pitch, Barca would have had the match wrapped up well before Victor Valdes saved them from dropping points in the dying seconds.
Of further concern is Messi's recent susceptibility to injury, completing just a couple of games since he limped out of the Champions League game against Paris St. Germain back in April.
Grade: A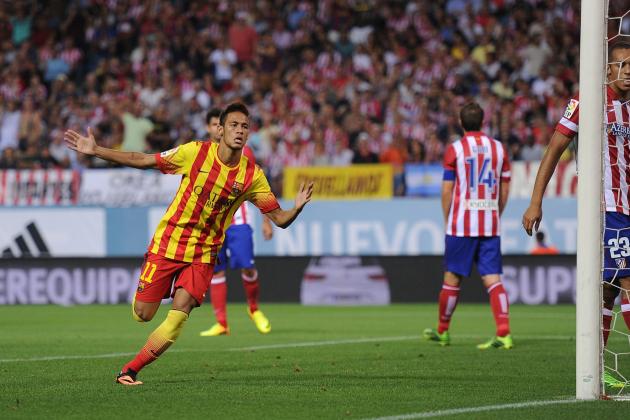 Denis Doyle/Getty Images
Neymar's introduction to Barcelona has been an unequivocal success so far
Neymar has enjoyed a sparkling start to his Barcelona career.
Despite unimaginable levels of pressure, the youngster has gone about his business in the correct way, valuing the team ethic over individual success.
A constant, and sometimes over-the-top defensive presence whenever he has had possession of the ball, gives a clue to the threat he poses down the left side.
It's to his immense credit that despite the continuous and blatant fouls, he has shown a maturity to get up and get on with the game.
His passing has generally been on point, and a willingness to work hard has already endeared him to the Camp Nou faithful.
His first competitive goal for the club, the header in the first leg of the Supercopa, turned out to be the difference against a tough Atletico Madrid side.
Grade: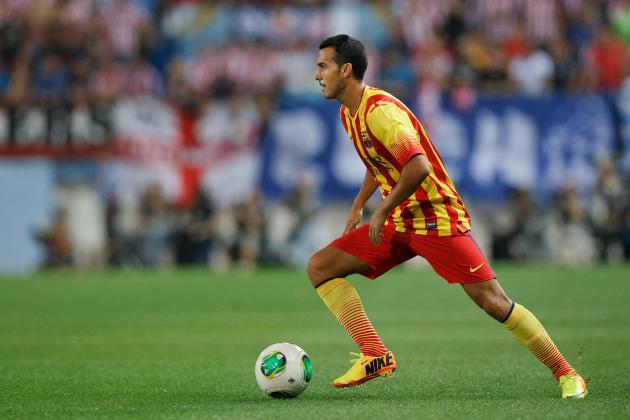 Gonzalo Arroyo Moreno/Getty Images
Pedro Rodriguez hasn't had the most sparkling start to the season
Pedro Rodriguez has had a bit of an indifferent start to this campaign.
A two-goal blast in the season opener should've been a sign of things to come however the Spaniard has gone off the boil again, in much the same way as he did during last season.
Whether he can recapture his best form of 2010/11 is anyone's guess. Clearly the player has the attributes to be amongst the best strikers in La Liga.
Hardworking, unselfish and with an eye for goal, when on form he should be one of the first names on the team sheet.
Yet the constant vying with Cristian Tello and Alexis Sanchez for the spot on the right side give an indication of the work he has to do to impress Gerardo Martino.
Grade: C+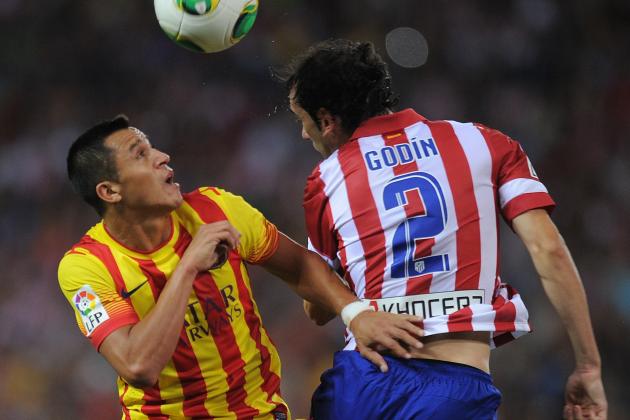 Denis Doyle/Getty Images
Alexis Sanchez has worked hard to impress Gerard Martino this season.
Alexis Sanchez is another that can flatter to deceive.
He has been supremely hard working but has failed to trouble the goalkeepers since the second minute of the season when he scored the opening goal of Barca's La Liga campaign.
He offers a different skill-set to Pedro and Tello but is often hamstrung by his reluctance to play the simple ball.
How many times have we seen the Chilean try to beat a player not once, not twice but three times?
Clearly, the chance to make the right wing spot his own is certainly up for grabs but Sanchez must improve his all-round game and goals-to-games ratio to be considered and automatic pick.
Grade: C+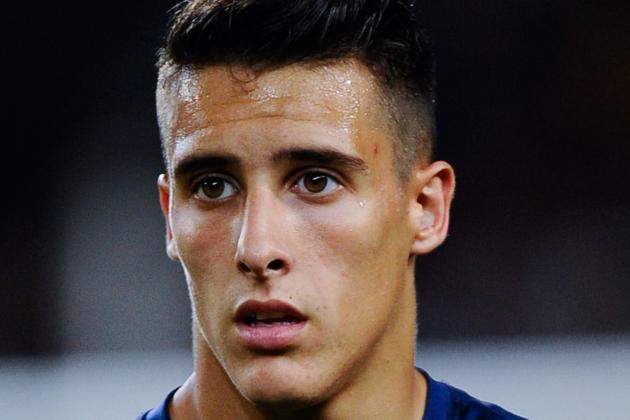 David Ramos/Getty Images
Cristian Tello hasn't had much of a chance to impress this season
Cristian Tello is the third musketeer along the right side, and has been third choice in the position so far, registering just two shots on goal (per ESPN).
One would imagine that doesn't sit too well with a player that has recently renewed his contract with a view to maximising his playing time.
Tello has age on his side, and perhaps should be patient in playing a waiting game, then take his chance when afforded the opportunity.
There is no question he has the pace to beat any opposition defender on his day, the question marks lie in his first touch—often heavy—and his final ball.
Hopefully we will see Cristian Tello fulfil his obvious potential over the course of the season.
Grade: C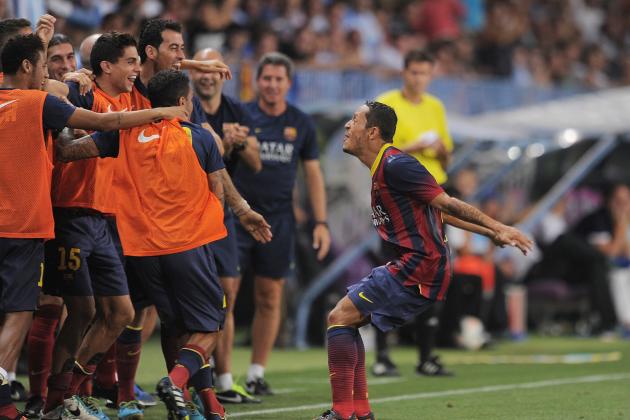 Denis Doyle/Getty Images
Adriano's stunning winner at Malaga has been his most notable contribution so far
Adriano Correia is one of the reasons Gerardo Martino decided not to use the summer transfer window to buy another defender.
Said Martino, per Yahoo Sport:
Just to make my position clear regarding centre-backs, I know what the club was doing before I came here and what they wanted, even with Tito here.

What I say is that as long as (Carles) Puyol is fine - and he will be because his recovery is going well - with Gerard Pique, Javier Mascherano, Marc Bartra, Adriano or Sergio Busquets as centre-backs, we are fine.

If we have an injury, there is always the winter transfer window.
A stunning winner against Malaga remains the Brazilian's highlight so far, having been injured in the same game and not enjoying any minutes since.
Grade: C+