10 of the Scariest Athletes Ever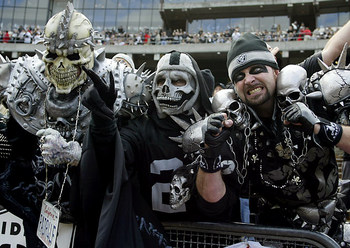 This Slide show is dedicated to the players that use a tactic beyond practice, and fundamentals. Fear. Intimidation and Fear are two words that can make good players great.
When one player has an intimidation factor over the other, it is all over. People that use intimidation are fearless. They are going to come out and punch you right in the mouth and know that you wont retaliate as hard.
Note that this list is not in order, for I could not put my finger on one player that is the most intimidating.
Leave me a comment with your list!
Kimbo Slice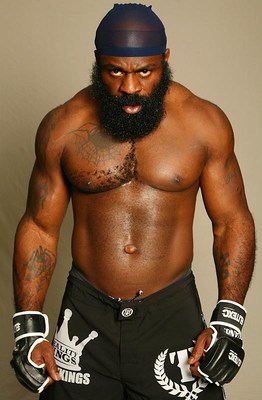 Just the picture gives me the chills. If there was one person that I had to be in the ring with, the last person I would choose would be Kimbo Slice. Kimbo looks like he wants to kill someone everytime you see his face.
The Beard hides what his face really looks like, and the darkness of the beard makes his eyes look whiter than they normally are. The Tattoos show his fearlessness. Just the name, KIMBO, makes someone think "I do NOT want to meet this man."
Joey Porter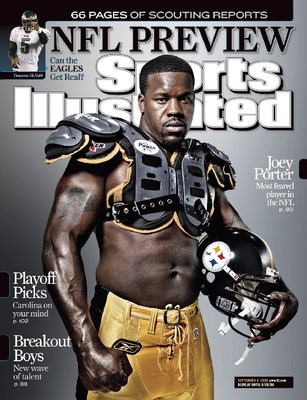 Porter was elected the most feared player in the NFL, beating out Ray Lewis by just a hair. Porter doesnt just sack the Quarterback, he crushes the quarterback. When he was in Pittsburgh, Steeler Fans loved him, because of his intensity and crazed rage.
Sports Illustrated did a piece on Porter and talked about his Pitt bulls, and his muscles. Porter is now in Miami, having his best season last season with 17.5 sacks, second in the league. Joey's mouth can be pretty big, but he almost always backs it up with his play.
Ray Lewis
Ray Lewis, the name strikes fear to running backs. Lewis has been one of the most dominant forces in the middle of Baltimore's defense. Since he entered the league, he has always been an ideal leader.
He has been the motivational heart of Baltimore. From the minute he steps on the field, he is intimidating you. He Scares you from the first play to the final whistle.
The only time he isn't scary, is when he is dancing coming out of the tunnel. From then on, there are only a handful of people scarier.
Brandon Carter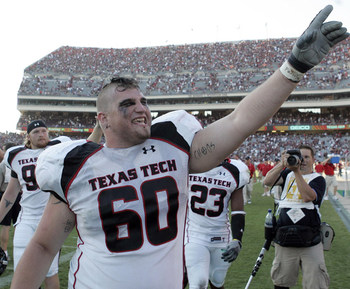 Weighing in at 6'7" 354 pounds, Carter is a force on the Texas Tech offensive line. He puts the war paint on his face, just to try to put that intimidation factor on the defensive line.
There are some players that take intimidation so far, that we can conclude them as freaks. Carter might be in that conversation. I'm sure Carter would make a great Oakland Raider. He would fit in with those insane fans.
Shaquille O'Neal
Shaq. He is 7'1" 325lbs. One of the biggest forces in the NBA Today. O'Neal knows that he is large, and in charge and no one can stop him. The NBA and NCAA started enforcing a technical foul for hanging on the rim too long because Shaq broke two hoops in his career by hanging on.
Shaquile is terrifying every time you see him, other than when he is rapping, or dancing. Shaquille was a toss up with Dwight Howard, but Shaq's weight put him over. He was even scarier when he was in Los Angeles with Kobe.
Mike Tyson
Mike Tyson, argue-ably the scariest boxer of all-time. He bit some one's ear off for God's Sake. The facial tattoo really brings out the fear. He would punish people in the ring. He would just beat and pound on them.
If you looked into his eyes while fighting, you would only see them for maybe a tenth of a second before you got a face full of glove. Tyson inflected fear in the ring and would never back down from a fight.
Dennis Rodman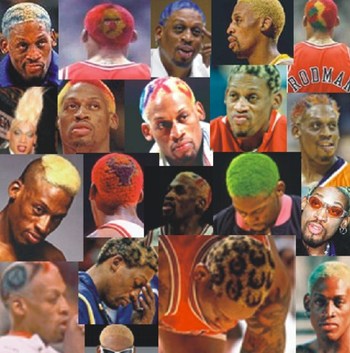 Tell me a more intimidating Basketball player than that man. His hair is as many colors as a rainbow, and his tattoos are ridiculous. His appearance could not be much more fearful.
Rodman was another one classified under freak. Rodman was just a creepy weird guy that intimidated the hell out of people. His rebounding was ferocious. When he played on a team with Michael Jordan, the Bulls were beasts.
Greg Oden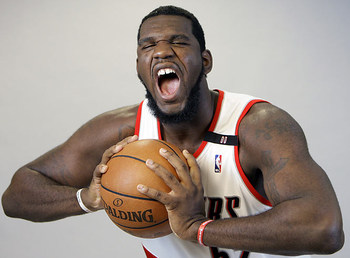 The Trailblazers have his Birthday listed as January 22, 1988. But let's face it, he looks in his late 30's. He stands at a toppling 7'0" 285 pounds. Oden was a monster in college, and probably intimidated NBA players in college.
Just look at his picture. Maybe its the Gap in his teeth that makes him scarier than any other 7'0" Center. The Tattoos and size scare any opponent who is smart.
Bernard Hopkins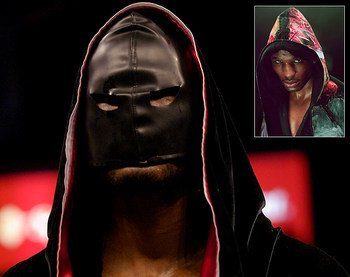 Bernard Hopkins, not a very scary name, a very scary person. It takes a pretty scary person to be the Middleweight champion of the world for 10 years. He had one of the scaries nicknames you could imagine, the executioner.
I would never even think about fighting anyone with a nickname like the executioner. He went 49-5, winning 32 fights by knockout. Hopkins scared the living spirit out of people.
Christian Okoye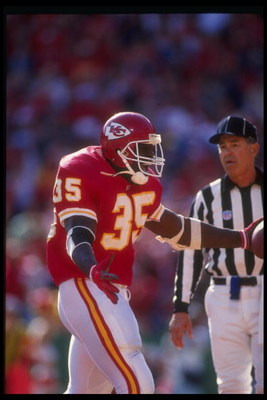 Christian Okoye was one of the most powerful running backs ever to play the game of football. Okoye and the chiefs pounded people in the middle. Okoye was not fast or agile, just powerful. Another great nickname, The Nigerian Nightmare.
That is almost as bad as the Executioner. Okoye would not only run you over, but embarrass you. that is the way football should be played. Okoye, another terrifying figure.
Keep Reading