Texas vs. BYU: 10 Things We Learned in Longhorns' Loss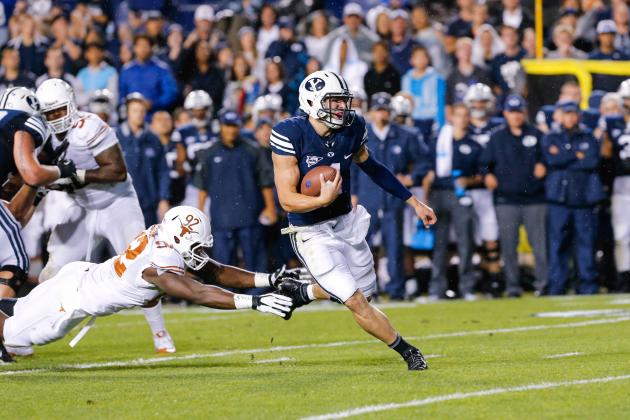 Chris Nicoll-USA TODAY Sports
Taysom Hill and the Cougars embarrassed Texas in Provo.
The Texas Longhorns' aspirations for their 2013 season took a major hit in Saturday's 40-21 loss to the BYU Cougars. The loss taught us a lot about the 2013 'Horns—chiefly to not expect much.
BYU's Taysom Hill became the latest mobile quarterback to torch Texas, running for 259 yards and three touchdowns despite completing under 35 percent of his passes.
The rest of the Cougars added another 291 yards in the upset, racking up more yards against Texas than any other team in their history.
Meanwhile, the Longhorns averaged just 3.4 yards per carry and lost both starting quarterback David Ash and slot receiver Daje Johnson to injury.
In short, the two-hour lightning delay was when Texas' night peaked.
The loss will cause fans to once again taper their expectations for the once-promising 2013 season, as well as call for head coach Mack Brown's head with renewed vigor.
One thing's for sure: This team has more problems than just the quarterback and head coach.
This and more in the 10 things we learned from this embarrassing loss.
Begin Slideshow

»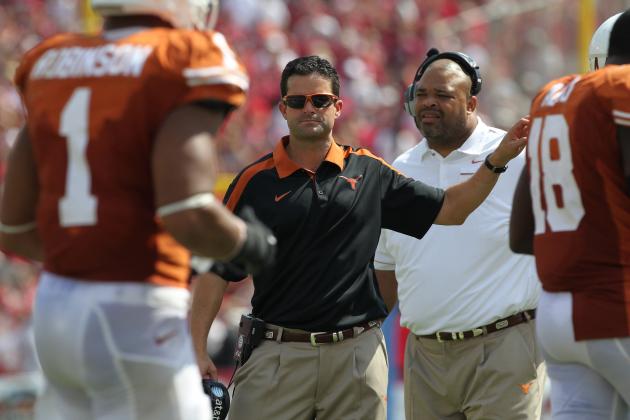 Matthew Emmons-USA TODAY Sports
Manny Diaz is not cut out to be Texas' defensive coordinator.
After Manny Diaz's 2011 debut season at Texas, fans were raving. He had coached one of the best units in school history, finishing 11th in the nation in total defense. Once the offense was fixed, this team was set to dominate.
Turns out that was a smokescreen. Diaz followed up in 2012 with a defense that was among the worst in school history, adding insult to injury by giving up almost 700 yards in a 63-21 loss to Oklahoma.
The pathetic showing against BYU was worse. Diaz's defense, which is more experienced across the board than it was last season, gave up a program-worst 550 rushing yards. Quarterback Taysom Hill, a year removed from an ACL tear, cruised to 259 of those yards on only 18 carries.
It all makes sense when you recognize one fact—that Diaz's only good season came when he had the players that Will Muschamp recruited and coached up.
He is a big part of the problem and will remain so until his tenure is cut short.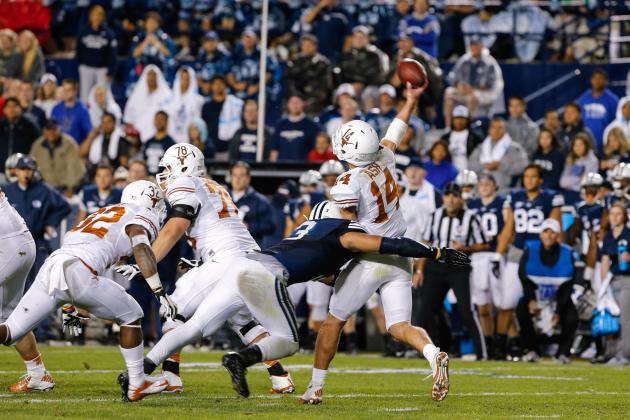 Chris Nicoll-USA TODAY Sports
The Texas offensive line was no match for the BYU defensive front.
The Longhorns were dominated by the BYU defensive front. With five returning starters, that is inexcusable.
Kyle Van Noy and Alani Fua did whatever they wanted, battering David Ash all night and helping to hold Texas to 3.4 yards per carry. All despite losing both DE Ezekiel Ansah and DT Romney Fuga to the NFL this past spring.
There is value in experience, but Texas does not have the personnel to dominate up front the way teams like Alabama do. Whether the coaches are playing favorites with these guys or Stacey Searels is just not up to the task, something needs to change.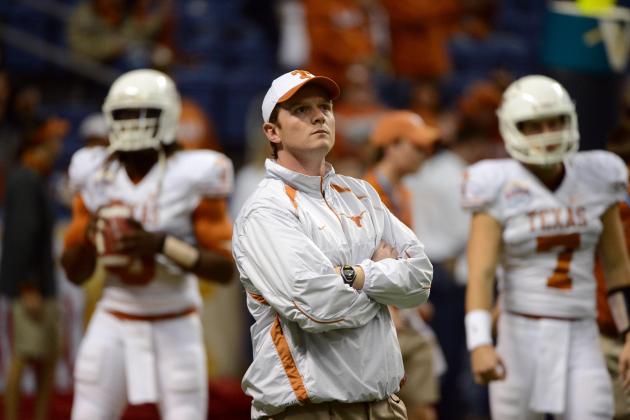 Brendan Maloney-USA TODAY Sports
Applewhite's up-tempo offense could never get going on Saturday.
Major Applewhite's offense may not plod the way Bryan Harsin's used to, but he is prone to similar futile play-calling.
It got his quarterback killed tonight.
Last week after the early struggles against New Mexico State, Applewhite admitted to "trying to force runs" against eight men in the box. He went and did the same thing tonight, with 18 of his offense's 39 rushes going for two yards or less.
Applewhite failed to use the outside space the Cougar defense was giving him and ended up putting David Ash in harm's way with ineffective option runs and quarterback keepers.
The offense is certainly more explosive, but it's clear that the up-tempo attack is not a cure-all.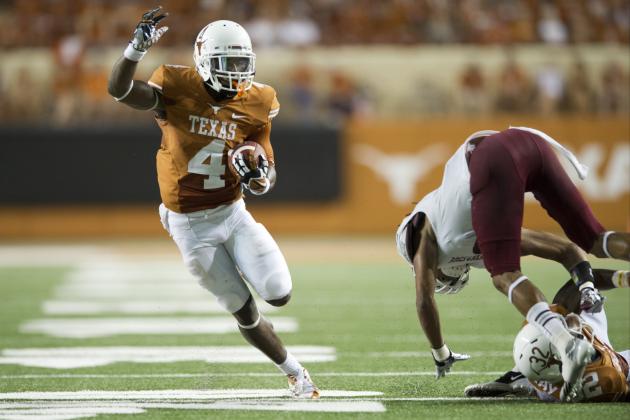 Cooper Neill/Getty Images
The Longhorns need Daje Johnson to make a quick recovery.
He may have only played for one series, but the Texas offense took on a different look without Daje Johnson. If this team is going to bounce back, it better hope his ankle injury is not too serious.
Texas has athletes all over the field, but none are as explosive as Johnson. He proved this last week, turning his nine touches into 129 yards and two breakaway touchdowns.
Without him, the Longhorns lack a player that can turn every play into a highlight, whether it be a check-down throw, a slant or an off-tackle run. He has to be accounted for on every play, and his presence alone opens opportunities up for his teammates.
Johnson's injury robbed Texas of its most versatile weapon.
If the defense continues with its matador impression, the 'Horns will need him to outscore if they have any hope against the likes of Baylor and Oklahoma State.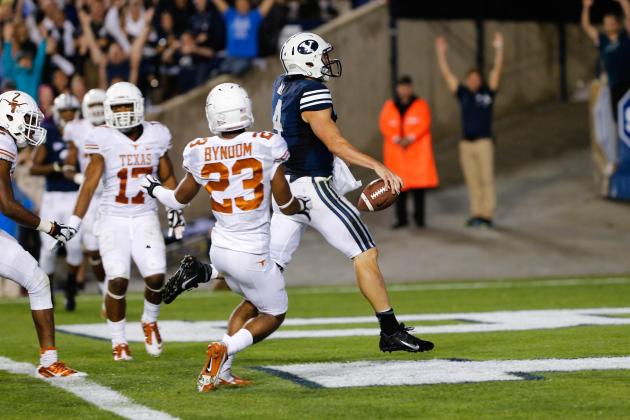 Chris Nicoll-USA TODAY Sports
The Cougars were able to overcome two turnovers thanks to Taysom Hill's 259 rushing yards.
The Longhorns won one thing on Saturday—the turnover battle. Turns out a porous run defense is more lethal to them these days.
In the past 10 seasons, Texas has only lost two games when it has outright won the turnover battle. Those losses being last season's 48-45 loss to West Virginia and this embarrassing rout at the hands of the Cougars.
The common factor between those two games? A 200-yard rusher. Even in this pass-happy era, stopping the run cannot take a back seat to other defensive priorities.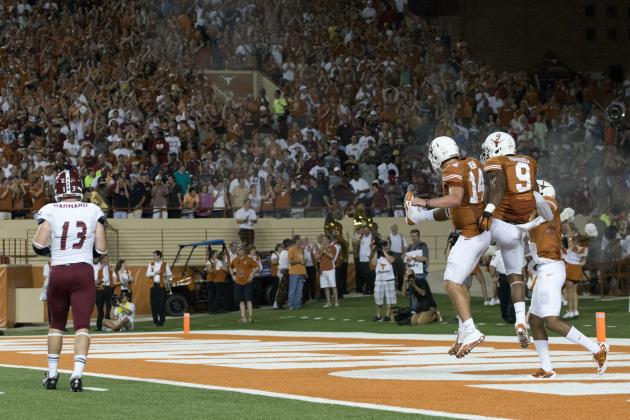 Cooper Neill/Getty Images
John Harris (9) deserves a much bigger role in this offense.
John Harris has three catches this season for 89 yards, leading the team in yards per reception. He has earned far more than those three catches.
Texas has played two games and has twice gotten off to slow starts in which Harris has come to the rescue. Down 7-0 to New Mexico State, the flex tight end took his first reception of the year 54 yards for a touchdown.
With his team down 10-7 against BYU, Harris came through again with a 30-yard reception to set up Joe Bergeron's touchdown run. Then we hardly heard from him again.
Harris is big, has reliable hands and has played with urgency when his team has needed it. Using blockers like Geoff Swaim and Greg Daniels has not worked, so why not use a player like Harris to give David Ash a big target over the middle?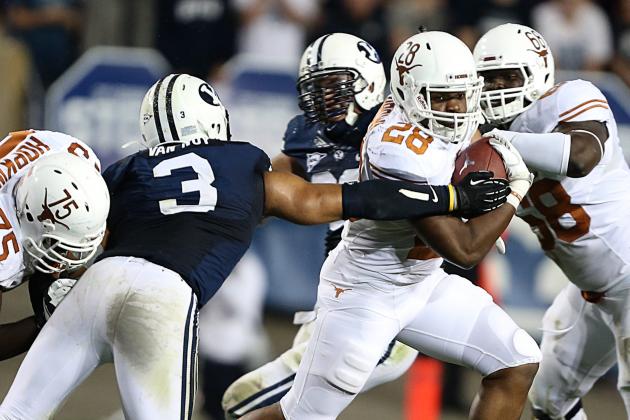 George Frey/Getty Images
Malcolm Brown received only three carries in the loss to the Cougars.
Junior running back Malcolm Brown has done something to irritate his coaches. There is no other way to explain why he continues to rot on the sideline.
In Applewhite's two previous games as offensive coordinator, Brown had seven carries. Even after taking a swing pass 74 yards to the house against New Mexico State, he was once again relegated to an after-thought role with three carries against the Cougars.
It is imperative that the Longhorns find a way to get Brown's talent on the field. They need players like him to soften the middle of the defense, and no defensive back is equipped to deal with his size and speed once he hits the open field.
A big reason BYU was so successful tonight was that they continued to pound Texas' front seven, and Brown is ideal for such a role. Give him his carries and watch everyone's yards pile up.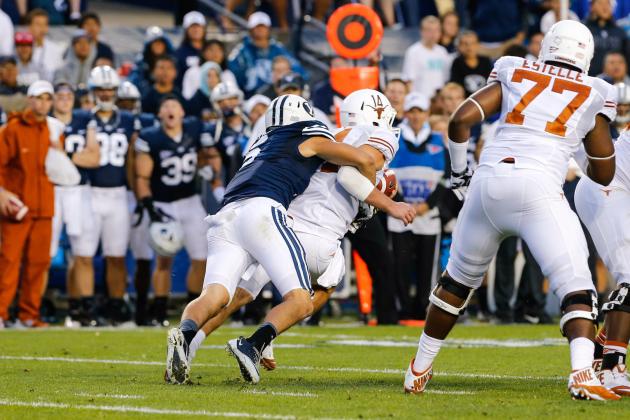 Chris Nicoll-USA TODAY Sports
In a small sample size, the 'Horns do not have the look of a Big 12 champion.
It is no mystery that Texas' goal for this season was to win the Big 12 and get back to the BCS. Right now, the Longhorns are not a team of that caliber.
It is a foregone conclusion that this Texas defense is terrible, especially against the run. The 'Horns have given up 654 rushing in two games this season, even though Jordan Hicks was back on the field.
Granted, teams can overcome a bad defense with a stellar offense. Unfortunately the Longhorns do not have one of those either, proving unable to keep pace with a BYU offense that barely squeaked out 16 points a week ago.
There is still room for improvement, and that is to be expected if this team has even a sliver of pride. But there is scant possibility that the Longhorns can keep up with the offenses of Baylor, Oklahoma State and Oklahoma in 2013.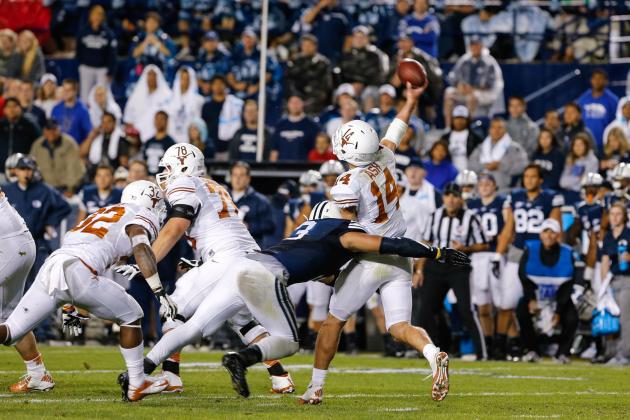 Chris Nicoll-USA TODAY Sports
Considering the pressure he was under, Ash hung tough against the Cougars.
In two of Texas' losses last season, a lion's share of the blame belonged to David Ash. Given the circumstances, he actually played well against the Cougars. And that is the scary part.
Down early and under pressure, we have seen Ash fold multiple times. But, even with Kyle Van Noy hammering him all night, Ash held his own against the Cougars. The junior completed 19 of his 34 passes for 251 yards, throwing two touchdowns to keep his team in it. Most of all, he did not turn the ball over.
So what gives? All that has been missing from this team these past three years has been consistent quarterback play. At least that is what fans want to believe.
When this team has struggled like it did against BYU, the blame reaches far beyond the man under center. Games like this are a total team failure, which is far worse than being deficient at quarterback.
The reality for the Texas program right now is that there's work to be done at every level. Blaming Ash is lazy at this point. That was made obvious in Provo.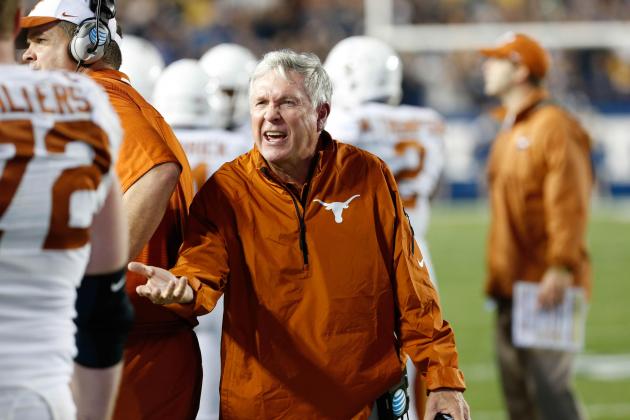 Chris Nicoll-USA TODAY Sports
Mack Brown's latest defeat reaches further than just the 2013 season.
For the past three seasons, Mack Brown has provided every excuse in the book for why his team has under-performed. But this was supposed to be the season, and it is already slipping through his fingers.
The youth excuse is out the window. Texas returns 19 starters this season. The injury bug? Jordan Hicks and Jackson Jeffcoat, who combined to miss all or part of 19 games in 2012, were out there for the defense that got steamrolled.
Cannot blame the quarterback either. He was hand-picked while players like Florida State's Jameis Winston were picked up elsewhere.
Yeah, there is no excuse for what took place against BYU. None other than maybe toughness or ability to motivate your team. If either of those gets trotted out, even Brown himself should know it is over.
Calling for a coach's head in Week 2 is premature, so let's consider this a call to action. There is more talent and more resources invested in this program than any other in the country. Four straight seasons of mediocrity should not even be considered possible.
It is time for Brown to turn those resources into victories again.
Fans, current players and potential recruits are getting tired of watching the state's most expensive train wreck.