The New England Patriots came through in heart-stopping fashion, downing the Buffalo Bills, 23-21. Check out final grades and analysis below.
Final:
New England - 23
Buffalo - 21
New England Patriots Grades

| | | |
| --- | --- | --- |
| Position Unit | 1st Half Grade | Final Grade |
| Pass Offense | C+ | B- |
| Run Offense | D+ | C+ |
| Run Defense | A | A |
| Pass Defense | B- | B |
| Special Teams | B+ | A |
| Coaching | B | B+ |
vs. Bills
Game analysis for the New England Patriots
Pass Offense: This is why Tom Brady is one of the greatest quarterbacks of all time. Despite having no rhythm with his receivers all day long, he comes up with a couple huge third-down conversions to win the game. Another chapter in the legend.
Run Offense: Shane Vereen may be the Patriots' unsung hero of the afternoon. With Ridley benched after his game-changing fumble, Vereen consistently shredded the Bills defense on shotgun draws. We'll see if a running back controversy emerges.
Run Defense: Easily the best unit of the game, as Spiller finished with just 41 yards on the day. The Bills had no success running the ball when they tried to kill the clock late in the fourth, giving Brady enough time to steal the win.
Pass Defense: Manuel diced the secondary on the opening drive of the second half, but he was largely stymied thereafter. The rookie's meager 5.6 yards per attempt underscores how well the Pats limited big plays.
Special Teams: After failing in a similar situation in Week 2 against the Cardinals last year, Gostkowski comes through with the game-winning 35-yard field goal. Can't ask for more than that.
Coaching: Belichick stuck to his principles in benching Ridley, and he was rewarded with Vereen's second-half excellence. On the Pats failed 4th-and-goal, Belichick made the right call in going for it, even if the execution failed.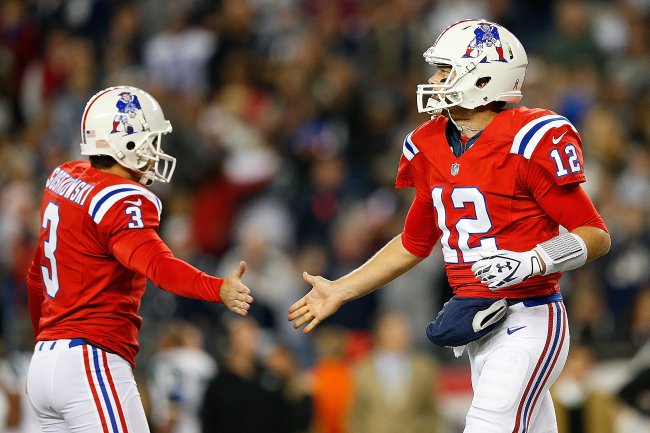 Jim Rogash/Getty Images
First-half analysis for the New England Patriots
Pass Offense: Tom Brady has shown a heavy reliance on Danny Amendola so far, with lots of short passes out of bunch formations. A pair of touchdowns to Julian Edelman have salvaged things thus far, but it's clearly a work in progress. One other demerit: The interior line has had trouble with blitzes.
Run Offense: Stevan Ridley's fumbling bugaboo has come back to bite the Pats. Buffalo's touchdown return off a Ridley fumble has kept the contest manageable. The Patriots may just ride Blount and Vereen for the rest of the afternoon.
Run Defense: For the most part, the Patriots have done an exemplary job containing C.J. Spiller. The Bills' explosive back has just 38 yards on 13 touches. It's a bit reminiscent of when the unit held Chris Johnson to four yards on opening day last year.
Pass Defense: EJ Manuel was relatively docile until two quick strikes got the Bills to within three. The pass rush has been mediocre, but with one cool wrinkle: Chandler Jones got nice pressure when he lined up as an interior lineman.
Special Teams: The snap on Stephen Gostkowski's 48-yard field goal was shaky, and rookie Ryan Allen shanked a punt, but otherwise solid overall. You have to wonder how long Blount's rumbling kick returns will last, however.
Coaching: Bill Belichick has stayed fairly conservative on offense, perhaps out of necessity. His biggest decision at halftime will be whether or not to reinsert Ridley into the game.