For the first time in history, the Saints beat the Falcons in a season-opener at the Superdome with an impressive two-way 23-17 victory. It took a goal-line stand, but the Saints managed to come away with a huge win against a divisional rival.
Final Score:
Check out our grades and full game analysis below!
New Orleans Saints Game Grades

| | | |
| --- | --- | --- |
| Positional Unit | 1st Half Grade | Final Grade |
| Pass Offense | A- | A- |
| Run Offense | D | C- |
| Pass Defense | B- | B |
| Run Defense | A | B+ |
| Special Teams | B | B |
| Coaching | B | B+ |
Bleacher Report
Postgame Analysis
Pass Offense: This was vintage Drew Brees: 74 percent completion rate, 10.2 YPA, 357 yards and two TDs. Brees did throw an interception, and the offensive line had trouble in the red zone with protection and penalties.
As a result, the Saints had to settle for three FGs, which nearly cost them the game at the end. But overall, their passing game proved it's as potent as ever with another impressive performance.
Hat tip to Darren Sproles, who proved to be a consistent security blanket for Brees and finished with six catches and 88 yards. Marques Colston and Jimmy Graham hauled in a touchdown each.
Run Offense: Pierre Thomas had a strong game (9 carries, 43 yards at a 4.8 YPC clip) but the rest of the rushing offense didn't muster much. Mark Ingram managed just 11 yards on nine carries.
Pass Defense: The Saints were impressive against one of the league's most potent passing attacks. Yes, the numbers look good for opposing QB Matt Ryan (25 of 38 for 304 yards, 2 TDs and 1 INT) but the Saints held last year's seventh-highest scoring team to just 17 points in their first game. Most importantly, they managed a big goal-line stand on their own 3 against the Falcons, with Kenny Vaccaro making a crucial fourth-down tip that Roman Harper intercepted on 4th down to seal the game. The defensive line managed consistent pressure and the coverage in the secondary did just enough to win the game.

Run Defense: The Saints rushing defense was solid again in the second half, with the exception of one big 50-yard rumble by Steven Jackson. Cherry-pick that out, and Jackson had just 27 yards on the day. While that was a big run by Jackson, the Falcons' game plan seemed to be to pound it with Jackson, and they just weren't able to do that consistently. Very impressive job by the Saints' D all-around.
Special Teams: Garrett Hartley was perfect on his three field goal attempts and Thomas Morstead managed a 49.3 yard punt return average. The kickoff unit was flagged for one holding penalty.
Coaching: The return of Sean Payton proved a huge boost for a Saints' team that desperately needed one after a letdown 2012 season. The Saints played impressive football, winning the turnover battle two to one and finding ways to pressure Ryan, sacking him three times.
His one major mistake, the playcall on fourth-and-short in the first half, didn't prove costly as the Saints defense managed to stop the Falcons on the ensuing drive. Otherwise, the Saints looked like the impressive New Orleans squad that their fans know and love, and that's in large part due to the return of Payton.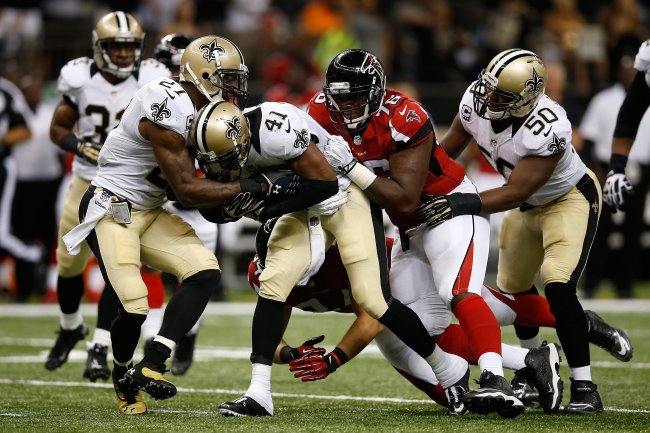 Chris Graythen/Getty Images
Halftime Analysis
Pass Offense: Drew Brees was in fine form in the first half, lofting a beautiful 25-yard touch pass into the hands of Marques Colston up the seam to draw the game even. Brees was ruthlessly efficient, completing 11 of his 15 first-half attempts at an impressive 11.6 YPA. Kenny Stills hauled in a catch-and-run 67 yarder to set up the Saints' second field goal, and Brees completed passes to seven different receivers in the first half.
Run Offense: Neither team was able to get much going in the run game, with the Saints mustering just 43 total rush yards (highlighted by 5 carries for 20 yards from Pierre Thomas). Mark Ingram had a disappointing half, averaging just 1.4 YPC on his five touches.
Pass Defense: The Saints, who had the 28th-rated pass defense in 2012 by Football Outsiders' efficiency ratings, didn't fare much better in the first quarter of Week 1. Matt Ryan and the Falcons marched down the field for a touchdown early in the first.
However, they managed to tighten up in key spots in the second quarter as the Saints surged back to take the lead. Jabari Greer forced a fumble on Julio Jones to set up a game-tying score, and the Saints managed a huge drive-killing sack on the Falcons' final scoring attempt late in the half.
Matt Ryan did manage 183 passing yards at a 68% completion rate, but the Saints' D kept him off the scoreboard for the most part.
Run Defense: The expectation heading into this game was that the Falcons would attempt to dominate time of possession through generous use of Steven Jackson on the ground, but the Saints' run D did a phenomenal job shutting Jackson down.
Jackson had just 20 total yards on seven rushes, and if not for Matt Ryan's 12-yard scramble the Falcons would have had just 19 first half rushing yards.
Special Teams: Garrett Hartley nailed both his field goal attempts, including a 48-yarder to put the Saints on the board early in the second. Thomas Morstead didn't have much work as a punter, but the one he did boot traveled 54 yards and netted 46. Returns were scarce, though Sproles managed a 23-yard kickoff return.
Coaching: A characteristically bold decision by Sean Payton to go for it on 4th and inches around midfield in the first quarter backfired when the Falcons stuffed an off-tackle run by Mark Ingram for a loss. The decision to go for it was smart, but the playcall was vanilla and predictable and played right into the Falcons' hands.
Still, Payton's return was marked by a number of his signature shots downfield, including three completions over 25 yards (highlighted by Colston's 25-yard TD and Stills' 67-yard rumbler). That explosive dynamic of Payton's offense opens up all three levels of the field and allows players like Darren Sproles and Jimmy Graham to have room to operate.