Washington State vs. USC: 10 Things We Learned in Trojans' Loss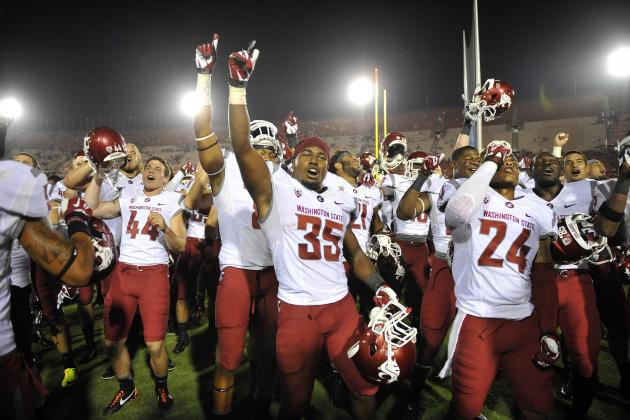 Gary A. Vasquez-USA TODAY Sports

In one of the most bizarre games of the Week 2 schedule, Washington State upset USC 10-7 in a sloppy game from start to finish.
Neither offense could get going, there were numerous penalties from both teams and it was the Cougars defense that made the biggest plays when it counted most to pull off the shocking victory.
But what did this game teach us?
Well, besides the fact that USC has major concerns and Washington State isn't as bad as most thought, there was a lot to take away from this poorly played game.
Begin Slideshow

»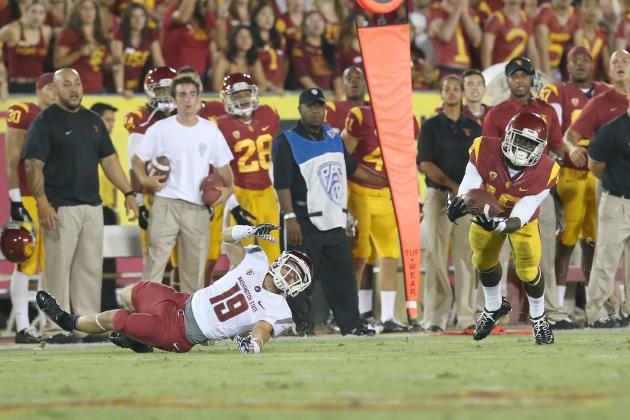 Stephen Dunn/Getty Images

Win or lose, USC shouldn't be a ranked team.
The Trojans barely knocked off Hawaii in the season opener and now lost to Washington State, a school that won three games last season.
USC began the season ranked simply off of its name, and was then given the benefit of the doubt in a close contest against the Warriors. However, this loss was beyond pathetic and proves that USC is no longer the powerhouse it used to be.
The talent is still there, but that's not amounting to much at the moment.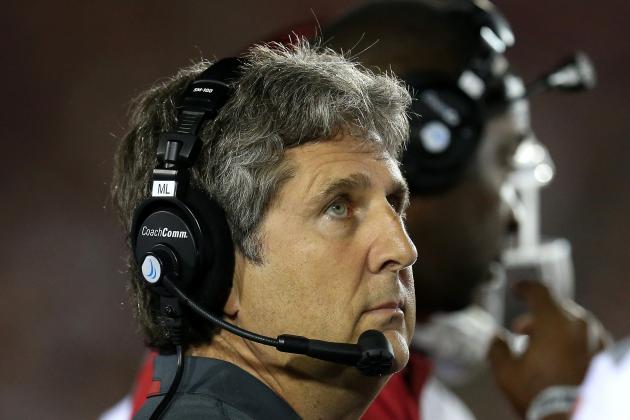 Stephen Dunn/Getty Images

Washington State isn't a Pac-12 contender by a long shot, but it is a team that can help determine who make it to the conference championship.
The defense was incredibly physical and all over the talented USC wide receivers. While a lack of production should be blamed on poor play-calling and lousy quarterback play, the Cougars also did a good job of holding their own. They were quick to the ball, made plays when they had to and did a solid job of tackling.
With Mike Leach at head coach, the offense should only improve. And remember, not every Pac-12 team has a defense as talented as USC's.
Washington State nearly upset Auburn and now beat USC. The rest of the Pac-12 shouldn't consider this team an easy win.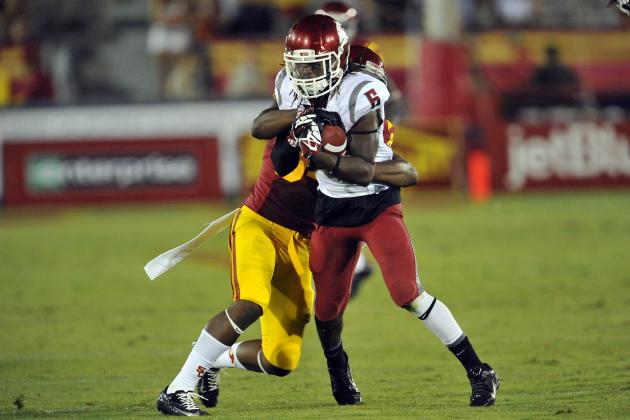 Gary A. Vasquez-USA TODAY Sports

Damante Horton made a name for himself in Washington State's victory.
The senior cornerback, who had four interceptions as a sophomore, had two picks in this game, including one that was returned 70 yards for a touchdown. Horton did a nice job of blanketing the USC wide receivers, but he also did a wonderful job of playing the ball and taking advantage of badly timed passes.
This was an ugly game, but it's the team that makes the most plays that usually wins. Horton game up with two difference-making plays and should be given the majority of the credit for this victory.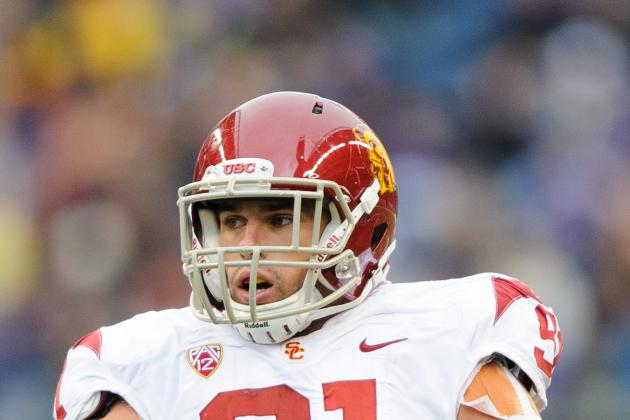 Steven Bisig-USA TODAY Sports

The one thing USC fans can be proud of is its defense.
The Trojans held Washington State to only 12 first downs, 222 total yards and forced three turnovers. The defensive pressure consistently got to quarterback Connor Halliday, and the secondary made plenty of plays on the ball.
The Cougars converted only five of 15 third-down attempts and were forced to punt six times.
This loss shouldn't be blamed on the defense, a unit that will give USC a fighting chance once heading into the heart of the Pac-12 schedule.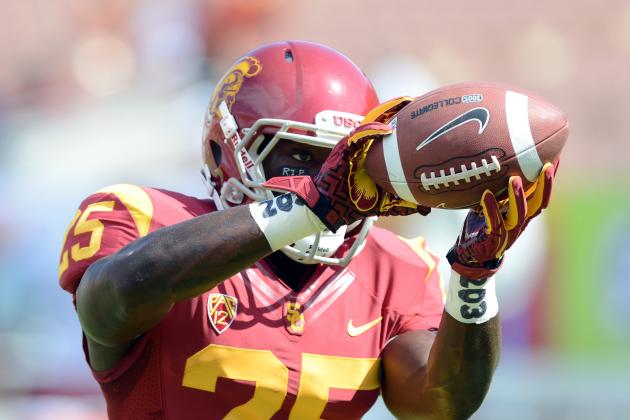 Harry How/Getty Images

Silas Redd, who?
The senior running back missed his second straight game due to a knee injury, but he wasn't missed in a losing effort. Running back Tre Madden was the only bright spot for the Trojans offense, carrying the ball 32 times for 151 yards. He consistently moved the chains and showed that he has what it takes to be the workhorse running back for this offense.
It would be nice to get Redd back in uniform, as he does have more than 2,500 rushing yards in his career. However, getting him back on the field isn't going to make or break USC's offense moving forward.
Quarterback is a different story.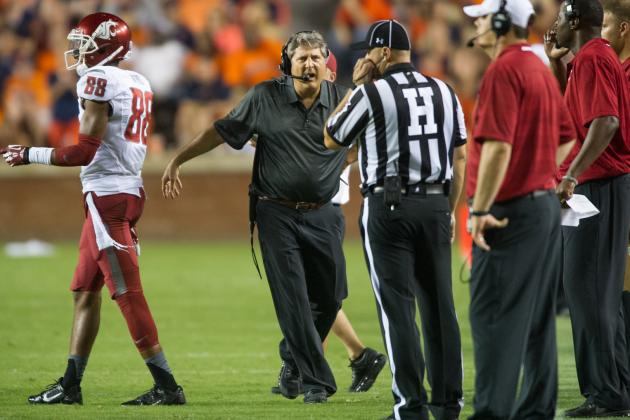 Michael Chang/Getty Images

Head coach Mike Leach is known as an offensive genius, but he doesn't believe in running backs. Last season, the Cougars ranked dead last in the country with only 252 rushing attempts.
In this game alone, Washington State ran the ball 22 times, which is 8.7 percent of last year's total. That's not an incredible number, but it's a clear sign that Leach has more confidence in his running backs and doesn't mind throwing them a bone every once in a while.
Running backs Marcus Mason and Teondray Caldwell are sure to see expanded roles within this offense.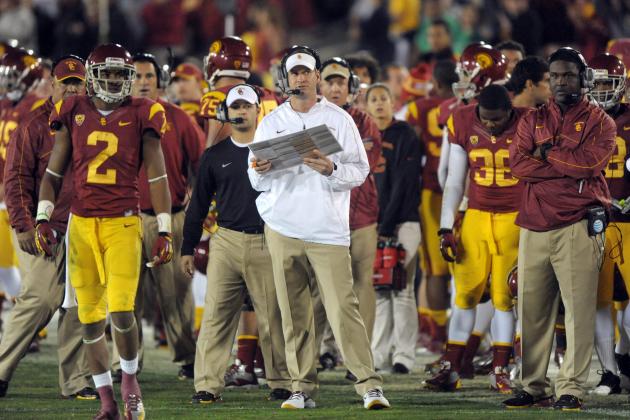 Kirby Lee-USA TODAY Sports

USC is used to being flashy and still has the players who are capable of scoring 50-plus points at the drop of a hat.
Unfortunately, that isn't going to happen this season.
The play-calling is horrendous, the quarterback play is at a JV level and there are no signs of it improving anytime soon. The defense has been terrific and is good enough to keep USC in games. However, the offense will continue to be sloppy and have a hard time scoring points.
Sometimes fans must stop living in the past and just accept the team for what it is.
The Trojans are going to win and lose games ugly, like it or not.
Gary A. Vasquez-USA TODAY Sports

USC didn't know who its starting quarterback was to begin the season.
Guess what?
There's still no concrete answer.
Cody Kessler and Max Wittek both saw playing time, and both threw costly interceptions. Neither made enough plays to separate themselves, as they combined for 54 passing yards on 11 completions.
Needless to say, USC needs some serious help at quarterback.
When was the last time that could be said?
Kirby Lee-USA TODAY Sports

Because of the quarterback situation, Marqise Lee is a lock to fall short of the Biletnikoff Award. He's easily the best wide receiver in the country, but he won't produce nearly the same numbers he did last season.
The offense doesn't push the ball down the field, and when Lee does get a chance to make a play, he's catching the ball at the line of scrimmage and asked to shake three defenders.
Lee is no longer a Heisman candidate and isn't even a candidate to repeat as the best player at his position. Sadly, it's not his fault.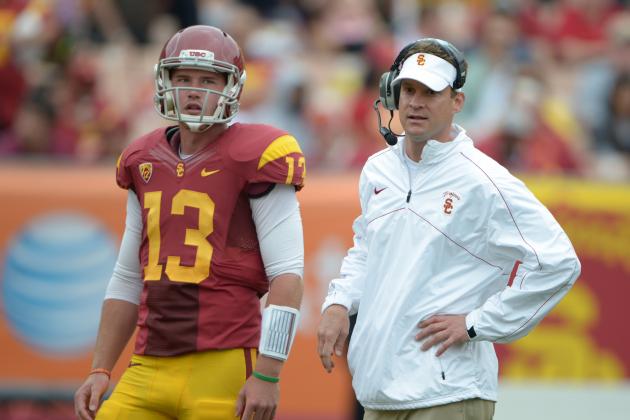 USA TODAY Sports

There's a real good chance Lane Kiffin could be fired at the end of the season. After last season's disaster and the shaky start to this season, it's clear there are some major issues going on with the coaching staff.
There is no excuse to struggle against Hawaii and now lose to Washington State. The offense can't get going, there are careless penalties and the players look scared out on the field. There's little to no energy, and the fans are simply fed up.
If you were on the fence with Kiffin's job security, you likely feel he must go at this point.