The Bills were on the receiving end of another final-possession loss from their "rival," the Patriots. Buffalo will look to regroup next Sunday at home against Carolina.
Updated grades and analysis of Buffalo's narrow loss are below.
FINAL Score:
New England: 23
Buffalo: 21
Buffalo Bills Grades

| | | |
| --- | --- | --- |
| Positional Unit | 1st Half Grade | Final Grade |
| Pass Offense | C- | C+ |
| Run Offense | D+ | D+ |
| Pass Defense | B- | C+ |
| Run Defense | C | C- |
| Special Teams | I | B- |
| Coaching | C- | C |
Buffalo Bills Week 1
Game analysis for the Buffalo Bills
Pass Offense: Manuel built on the end of the first half with a beautiful touch pass to Stevie Johnson for a score. The rookie quarterback looked more comfortable as the game progressed, even scrambling away from pressure for some good gains through the air and on the ground. The growing pains will come in bunches, but Manuel's play was a positive.
Run Offense: What was supposed to be the strongest part of the Bills' offensive focus was the worst part of their game. Spiller was downright brutal, consistently getting eaten up at the line, but Jackson was able to put a few solid carries together in the second half. The Bills' time of possession was severely lacking compared to the Patriots, and a huge factor for that was the horribly executed rushing attack.
Pass Defense: Third-and-long plays continue to haunt the pass defense. Coverage was tight all day, but sometimes tight coverage against upper-echelon quarterbacks isn't good enough on its own. The rush generated good pressure in the first half, but the second half was not nearly as good in that regard. Two sacks on the day and Brady's completion percentage was more Gabbert-like than Brady-like.
Run Defense: Looked OK in the first half, but Shane Vereen made the line look like swiss cheese in the second. Vereen finished the game with over 100 yards on only 14 rushes, good enough for 7.2 yards per carry. Mike Pettine's scheme was as aggressive as we thought, but several lineman over-committed, leading to big gashes by Vereen.
Special Teams: Shawn Powell had a nice punt to pin the Patriots back in the fourth quarter and Dan Carpenter was not noticeable, which is a good thing. T.J. Graham's boneheaded return with a 21-20 lead wasn't a game-changer, but it didn't help the field-position battle.
Coaching: That challenge still haunts, although it had no real effect on the game. It seemed like the coaches put the team in the best chance to win and the players just could not stop their opponent when it counted. Penalties were a HUGE issue, however, and discipline needs to be addressed before next week's game with Carolina.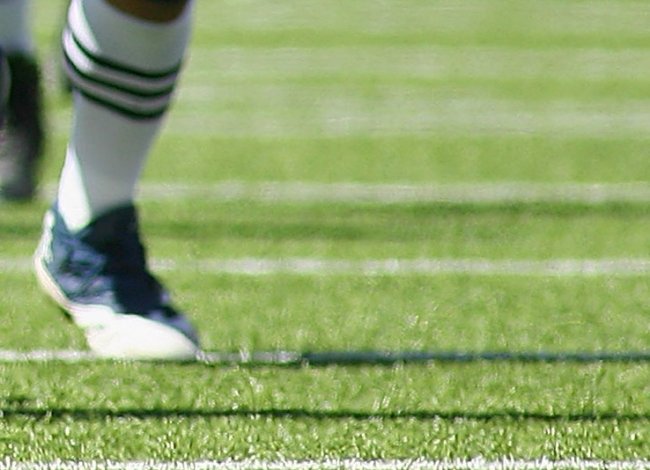 Rick Stewart/Getty Images
First-half analysis for the Buffalo Bills
Pass Offense: The blocking has been OK, but EJ Manuel had the training wheels on until that final-minute drive. Manuel looked sharp with a pass to Scott Chandler and then Robert Woods' first career touchdown reception. Chandler has looked a bit sluggish in his regular season return and has killed the Bills with penalties or drops on three separate occasions.
Run Offense: C.J. Spiller has had a half to forget. At the half, he has only 26 yards on nine carries, which is well short of his 2012 average of 6.0 yards-per-carry. Fred Jackson has been the better back on the afternoon, which makes sense considering the Patriots' gang-tackle mentality. Doug Marrone has promised to ride the hot hand, but Spiller has been prone to slow starts. The second-half rushing attack will be something to watch.
Pass Defense: It was the opposite of a bend-but-don't-break defense in the first half. The Bills pass defense has been good in coverage, forcing Brady into throwing tight passes to his receivers. Brady has been Brady just enough to deliver two touchdown strikes to the forgotten Julian Edelman. The defense has been put in tough spots due to turnovers, but Justin Rogers' pick at the end of the half could be a momentum-changer.
Run Defense: Big chunks of yardage continue to pile up against a usually porous run defense. The Patriots are averaging a little under five yards-per-carry, but their top two rushers are well over that mark. The defensive touchdown was a bit of a fluky play, but kudos to Searcy for finishing out the play.
Special Teams: The Patriots' kickers have all but eliminated the Bills' electric return game, leaving Leodis McKelvin and Marquise Goodwin without anything other than fair catches/kneels. Coverage has been good for the most part including a nice tackle on the opening kickoff by Searcy.
Coaching: What am I missing with that challenge early in the first? It's not hard to stump CBS anchor Dan Dierdorf, but Marrone's first challenge as an NFL head coach will be one he would like to forget.