South Carolina star defensive end Jadeveon Clowney recorded sack No. 1 of his 2013 season on Saturday night during the No. 6 Gamecocks' 41-30 loss at the hands of No. 11 Georgia.
One No. 1 is now within his grasp, but another seems further away than ever.
The latter is referencing the 2014 NFL draft, where the 6'6", 275-pound junior is expected to be one of, if not the most, sought-after college prospects. Coming into the season, the only player in the country with more hype than Clowney was Texas A&M quarterback Johnny Manziel.
To many NFL observers, Clowney was the consensus No. 1 pick for next April's draft. But through two weeks of action now in the books, I'm not sure anyone who has studied South Carolina's game tapes against North Carolina and Georgia would confidently promote that conclusion.
For one, CBS Sports' Andrew DeWitt didn't hesitate casting his doubts about Clowney's slotting as the first overall pick:
He won't be the No. 1 overall pick. RT @PriscoCBS: Anybody see Clowney? Anybody?

— Andrew DeWitt (@DeWittCBS) September 7, 2013
Jeff Schultz of The Atlanta Journal-Constitution agrees:
Aaron Murray draft stock: up. Jadeveon Clowney: notsomuch.

— Jeff Schultz (@JeffSchultzAJC) September 7, 2013
It's not as if Clowney has been a notoriously slow starter. As a true freshman in 2011, he recorded two sacks against Georgia in just the second game of his collegiate career. Against Vanderbilt in the 2012 season opener, Clowney added two more QB takedowns.
As noted by ESPN's Stats & Info, the mini-monster will soon break the school record for sacks:
With his 1st sack of the season, Jadeveon Clowney is 4th on So. Carolina's career list with 22.0, 7 shy of tying the school record (29.0)

— ESPN Stats & Info (@ESPNStatsInfo) September 7, 2013
No one doubts Clowney's talent. It's his effort and conditioning that are once again coming under fire after less-than-stellar showings in the first two games of his third season.
In both of South Carolina's games so far, Clowney has had trouble staying on the field.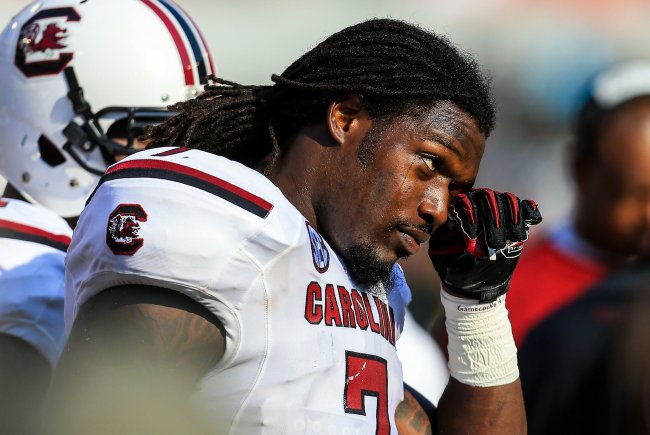 Daniel Shirey-USA TODAY Sports
It was easy to give the star defensive lineman a pass for Week 1—a regular rotation in the trenches and a few cramps here and there are much more commonplace than one player staying on the field for every snap in a nonconference game.
That being said, you could very well make the argument that Clowney's sheer presence on the field against the Tar Heels was a talking point in the outcome.
ESPN's Joe Schad posted this informative tweet for those convinced No. 7 is all hype:
Bryn Renner completed 52% with Jadeveon Clowney on the field and 75% when the DL was on the sideline last week. (ESPN Stats & Info)

— Joe Schad (@schadjoe) September 5, 2013
The talent could very well match the hype, but Clowney has to be on the field to live up to those expectations.
For the second straight week, he was seen on the sidelines as his teammates were in a precarious position against the Georgia offense. As noted by Josh Kendall of The State, Clowney wasn't on the field as Georgia scored to increase its lead to 17-3 in the first half:
Jadeveon Clowney was on the sideline for the final four plays of that drive.

— Josh Kendall (@JoshatTheState) September 7, 2013
While those issues were likely related to conditioning, Clowney later hobbled off the field with a foot injury.
Senior Bowl executive director Phil Savage was not impressed with the toughness Clowney showed in "nursing" his ailment during the late stages of South Carolina's loss:
While #SC's Jadaveon Clowney "nurses" foot injury, #UGa RB Todd Gurley has played through his issues and is emerging as #CFB superstar.

— Phil Savage (@SeniorBowlPhil) September 7, 2013
It's far too early to project anything concrete after just two weeks.
But after an offseason in which Clowney was talked about, hyped up and projected as the best defensive player in the nation before the new season began, his first two appearances back on the gridiron have been just a shade under disappointing.
The sack against Georgia was great, but as noted by Bleacher Report's Matt Miller, teams are starting to figure out ways to neutralize Clowney's presence.
Teams have learned how to scheme against Clowney & SC defense. Screens + run right.

— Matt Miller (@nfldraftscout) September 7, 2013
Not being on the field also neutralizes that presence.
What grade would you give Clowney's two-week performance?
Prospects in line for the No. 1 pick in next year's NFL draft now will fluctuate throughout the 2013 college football season. In most seasons, that jockeying is part of the process. First-round locks from nine months out could very well end up as mid-round player.
Clowney is far from the latter, but he's also inching farther away from being the top pick.
Follow B/R's Ethan Grant on Twitter.