Seattle Seahawks vs Carolina Panthers: Live Scores, Highlights, Analysis
People will call this game "ugly," but that's inaccurate. This was a very hard-fought football game between two very good defensive-minded football teams. Seattle comes out on top.
Seahawks 12, Carolina 7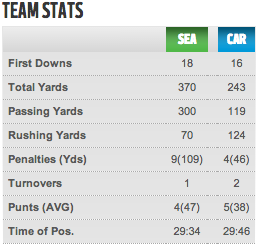 And here's the game stats.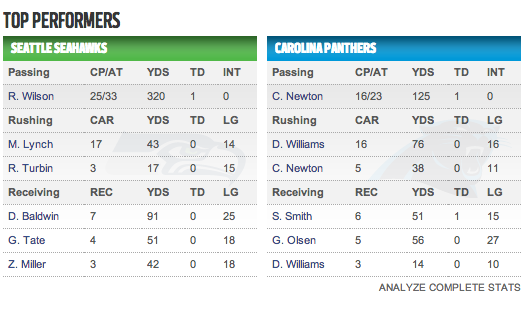 Let's wrap this up with a few stats.

And that's that final whistle. Seahawks get a precious road win versus a very tough Carolina team.
Fourth Quarter, 1:13 Remaining - Victory Formation for the Seahawks.
Fourth Quarter, 2:14 Remaining - Carolina uses its last timeout. Two-minute warning still to come. The Panthers cannot afford to give up another first down.
Regardless of how this game ends, Panthers are going to win quite a few games this year. That front seven is nasty.

— John Boyle (@johnpboyle) September 8, 2013
Fourth Quarter, 3:18 Remaining - Seahawks line up their smallest offensive weapon at FB and it leads to a big gain. Football is weird sometimes.
Don't forget, Panthers have only 2 timeouts after challenging Baldwin's catch on sideline. #Seahawks

— Tim Booth (@ByTimBooth) September 8, 2013
Fourth Quarter, 4:35 Remaining - Carolina needs to be worried about the Seahawks winding down the clock on every play. This game is going to evaporate on them if they cannot get a stop quickly.
Williams rushes inside the 10 and fumbles. Sherman causes and Seattle recovers with 5:25 to play.

— Bob Condotta (@bcondotta) September 8, 2013
#Seahawks now have 9 penalties for 109 yards.

— Liz Mathews 710 ESPN (@Liz_Mathews) September 8, 2013
Fourth Quarter, 8:46 Remaining - Refs doing their best to keep this interesting with back-to-back questionable calls giving the Panthers 30 free yards.

Fourth Quarter, 10:13 Remaining - Interesting call by Pete Carroll to go for two. Five-point lead so it's understandable, but now two FGs can win the game for Carolina.
Jermaine Kearse -- wow.

— Jerry Brewer (@JerryBrewer) September 8, 2013
Looked like the same play, but with Kearse on the outside instead of Williams.
4th Quarter, 10:21 Remaining - Stephen Williams on this team to be the big-play threat. Just dropped what he's on the team to provide.
Fourth Quarter, 13:11 Remaining - That drive did what Carolina needed. Seahawks have to go 95 yards to get a TD here. Carolina winning the field position battle.
Edit: That was good in theory, but a second penalty for running out of bounds removes much of the work done by the offense and special teams.
Edit of Edit: Refs changed the call, five-yard penalty and a re-punt.

End third quarter, Carolina ahead 7-6 but facing second and 20.

— Bob Condotta (@bcondotta) September 8, 2013

Seattle gets two short gains but will be forced to settle for a field goal of 40 yards.

— Bob Condotta (@bcondotta) September 8, 2013
Wilson makes ultimate no-no-no-no-yes! play.

— Art Thiel (@Art_Thiel) September 8, 2013
Third Quarter, 4:30 remaining - Russell Wilson throws up a prayer and Doug Baldwin catches it. Play is being challenged, but the replay looks like it was a catch.
Third Quarter, 6:36 Remaining - Panthers punt on 4th-and-1. If Seattle scores here that decision will be questioned. Defense playing well, but so is the Carolina running game.
Third Quarter, 9:00 remaining - The Seahawks with no pass rush today. They're making it too easy on Newton, and he's taking advantage.
Seahawks S Chris Maragos emerges from pile with the ball after punt hit Panthers player. KJ Wright flagged for taunting

— Brian McIntyre (@brian_mcintyre) September 8, 2013
I'm not sure how pulling a player off the pile is taunting, but that's the call.
Third Quarter, 13:56 remaining - Panthers have started jumping the short routes. Seahawks need to start running some double moves or a pick-six might be coming.

After the Russell Wilson fumble, we're at halftime.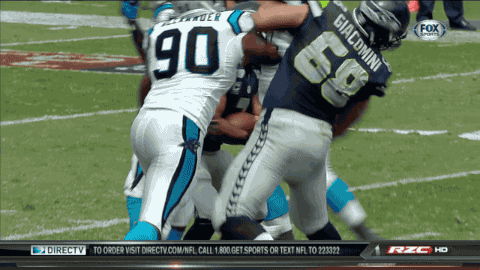 Second Quarter, 1:23 remaining - Frank Alexander was just thrown out of the game. That's a huge loss for Carolina.
Panthers take the lead 7-3 with 3:13 left in 2Q.

— Liz Mathews 710 ESPN (@Liz_Mathews) September 8, 2013
Second Quarters, 6:40 remaining - Seahawks have no answer for Greg Olsen.
Great throw by Cam Newton to Greg Olsen, who found soft spot in the zone. Followed by effective screen to Williams. Panthers are driving

— Brian McIntyre (@brian_mcintyre) September 8, 2013
This article is
What is the duplicate article?
Why is this article offensive?
Where is this article plagiarized from?
Why is this article poorly edited?