Texas vs. BYU: Live Score and Highlights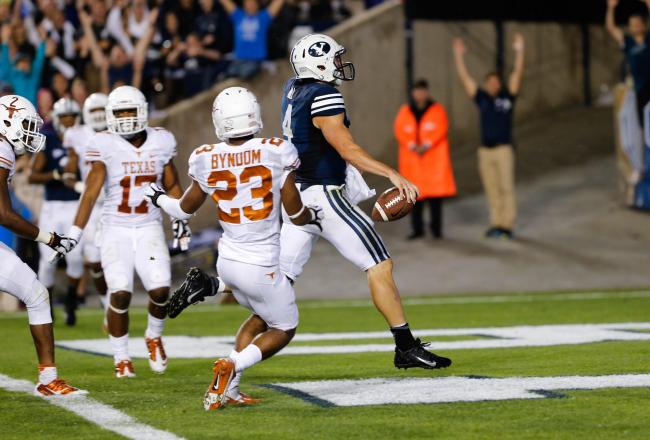 Taysom Hill led the Cougars to a 40-21 rout of the No. 15 Longhorns.
Chris Nicoll-USA TODAY Sports
Texas 21, BYU 40—Final
The Texas Longhorns were crushed by the BYU Cougars, allowing a program-worst 550 yards rushing.
Taysom Hill was the star for the Cougars, gashing the 'Horns for 259 yards and three touchdowns. On the other side of the ball, Kyle Van Noy and Co. tormented David Ash all night.
Ash and all-purpose star Daje Johnson both left the game with injuries in the loss.
For stats and the full box score, check out NCAA.com.
My bedtime story to you all. If you're a Longhorn just remember it can only get better. If you're a Cougar, be proud of your team. And if you're an Aggie, enjoy your wins while the NCAA lets you keep them. Good night and thanks for following my post, regardless of the reason.
Texas 21, BYU 40—Final
One day I will have a son, and he will ask me where his cheeseburger comes from. I will proceed to show him this game film.
Game. Over.
Chris Nicoll-USA TODAY Sports
Really hope Jamaal Williams didn't injure his spine on that play. Backs are not meant to bend that way, especially when you have set a career-high in a major upset win.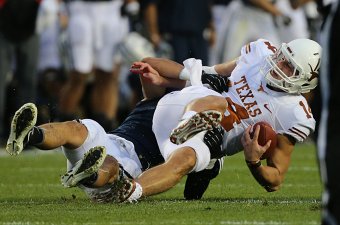 George Frey/Getty Images
One Fua you, and one Fua you too!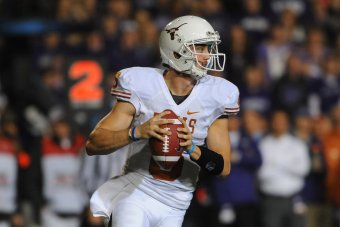 Denny Medley-USA TODAY Sports
David Ash sprinting to the locker room with Texas trainers. #TEXvsBYU

— Max Olson (@max_olson) September 8, 2013
It was only a matter of time before Ash got hurt with that play-calling. Case McCoy is in, and the pointless QB debate along with him.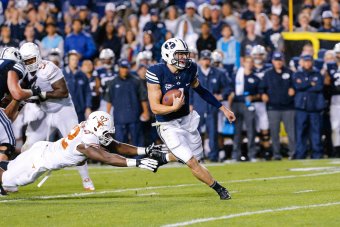 Chris Nicoll-USA TODAY Sports
And that's 500 rushing yards for the Cougars. There is still 10 minutes left.
To call off the dogs here, does BYU throw the ball? #TEXvsBYU

— Darth Texan (@DarthTexan) September 8, 2013
Well, they are founded upon Christian values.
Before tonight, Texas record for most rushing yards allowed was 452 (Rice, 1997). BYU has 485 entering 4th. #TEXvsBYU

— ESPN Texas (@ESPNTexas) September 8, 2013
This. This pretty much says it all for the Longhorns.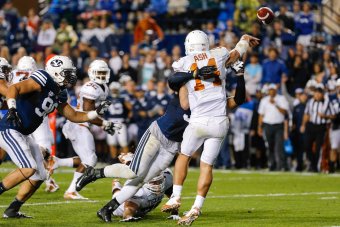 Chris Nicoll-USA TODAY Sports
One more quarter before time mercifully ends this game for the Longhorns.
The most glaring difference between these teams is that BYU's Hill is getting whatever he wants on the option, and David Ash is getting routinely crushed. Translation: The Texas offensive line is not good enough.
BYU sets a school single-game record with 485 rushing yards. Still in the 3rd quarter. #TEXvsBYU

— ESPN Texas (@ESPNTexas) September 8, 2013
Texas 21, BYU 40
Justin Sorensen kicks his fourth field goal of the night. The middle of the Longhorn defense is as ragged as my puppy's favorite chew toy. I'd post a picture but she just swallowed it.
BYU just set a school record with 479 rushing yards. Lasike's third down carry is under review to decide if the Cougars should go up by 19 or 23.
Texas 21, BYU 37
Sorensen kicks another field goal to increase BYU's lead to 16. Taysom Hill has crossed the 200-yard mark for the night. What a game for a player coming off of an ACL injury.
Texas 21, BYU 34
Mike Davis hauls in his second receiving touchdown of the night. Johnathan Gray's 37-yard run to the outside is the key play of the drive. Notice I said "to the outside" and not "up the middle."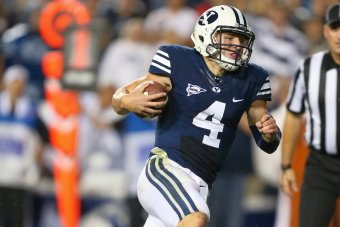 George Frey/Getty Images
Texas 14, BYU 34
Taysom Hill scores his third touchdown of the night on a 26-yard run. At least Mack Brown has plenty of hair he can pull out.

Texas plays the same starting 11 on defense to start the 2nd half. #TEXvsBYU

— ESPN Texas (@ESPNTexas) September 8, 2013
They'll get better, we swear!
Ash: "That guy is VanNoying." Between him and Fua, I swear BYU is doing this on purpose. Working on something for Lasike and Manumaleuna.
BYU ran 59 plays in the first half and people wonder why the defense can't stop the run. The offense needs to help out the D this half with some long drives.
Mack Brown on how to stop BYU QB Taysom Hill: "Tackle him." Hill has 168 yards and two touchdowns.
BYU has 62 passing yards and that might be about all they need tonight. #TEXvsBYU

— Max Olson (@max_olson) September 8, 2013
Key Stats from the First Half:
BYU: 336 rushing yards, 8.2 yards per carry, 1 Kyle Van Noy
Texas: 59 rushing yards, 2 personal foul penalties, 4 three-and-outs, 0 Daje Johnson
Texas 14, BYU 27
The Cougars close out a dominant half with a gimme from Justin Sorensen.
The Mack Brown downfall highlight reel continues to run. Texas fans should hope Whaley is taking a dive because they can't afford any more inexperience along the front seven.
Two 15-yard penalties for Texas' Bryson Echols. Bus should have "forgotten" him at the hotel.
Chris Nicoll-USA TODAY Sports
Kyle Van Noy is starting to take over this game and you tell a running back to block him?!
Since that roughing the kicker penalty, Texas has given up two touchdowns and gone three and out.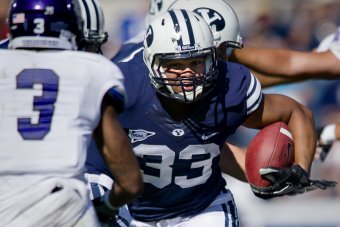 Douglas C. Pizac-USA TODAY Sports
Texas 14, BYU 24
Paul Lasike bulldozes his way to a 10-yard touchdown. Texas wishes he still played rugby.
This article is
What is the duplicate article?
Why is this article offensive?
Where is this article plagiarized from?
Why is this article poorly edited?

Texas Longhorns Football: Like this team?