Arkansas State vs. Auburn: Live Score and Highlights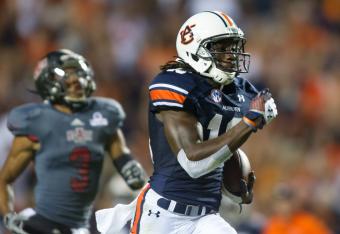 Michael Chang/Getty Images
Auburn 38, Arkansas State 9—Final

The Auburn Tigers defeated the Arkansas State Red Wolves at Jordan-Hare Stadium to improve its 2013 record to 2-0.
We provided live scoring updates and analysis throughout the game, so feel free to check out what happened.
Leave your postgame thoughts in the comments section below!
The clock hits triple-zeros, and Auburn has won the nonconference clash 38-9.
Thanks for hanging around throughout the game, and check back later for what we learned about the Tigers.
Auburn 38, Arkansas State 9
It's over-er.
Cameron Artis-Payne bullies his way into the end zone for a touchdown, and we're just waiting for the final whistle in Auburn.
Speaking of grown men...Carl Lawson with a sack and forced fumble for Auburn.

— Barrett Sallee (@BarrettSallee) September 8, 2013
Opens mouth, inserts foot.
Auburn forces its first turnover of the game by pressuring, smacking Red Wolves QB Alex Kennedy in the back and recovering the fumble.
Less than four minutes remaining until the Tigers officially move to 2-0 on the season.
Auburn has allowed 90 yards rushing so far. Four Arkansas State players gained 100-plus last week against Ark-Pine Bluff.

— John Zenor (@jzenor) September 8, 2013
Arkansas State's ground game has been held in check by Auburn.
Of course, the Tigers have had trouble stopping the pass.
Tre Mason has 12 carries for 100 yards and one touchdown. Cameron Artis-Payne with 72 on 14 carries. Tigers 267 rushing yards.

— Brandon Marcello (@bmarcello) September 8, 2013
Auburn's rushing attack has been pretty good so far and should get to 300 yards before the game is over.
Auburn 31, Arkansas State 9
Cody Parkey nails his first field-goal attempt of the day from 35 yards, and the Auburn lead is 22.
Time is running out on the Red Wolves, and a comeback is far, far from likely.
BTW did it look to anybody else on Tre Mason's run that his lead blocker, Nick Marshall, was a step faster?

— John Zenor (@jzenor) September 8, 2013
Tre Mason is fast. Nick Marshall is faster?
A little puzzled by Arkansas State's decision to punt there, since they were in plus-territory.
Auburn's offense may have found its rhythm on its last drive, so the Tigers can put the game away on this drive with another touchdown.
The first Tiger ejected under the NCAA's new policy on helmet-to-helmet hits is linebacker Kris Frost, much to fans' chagrin. Tons of boos.

— WarEagleExtra (@wareagleextra) September 8, 2013
Kris Frost has been ejected from the game for targeting—the first of such penalties against Auburn this season.
Stat Update
Adam Kennedy: 23-of-31, 212 YDS; 6 CAR, 29 YDS
David Oku: 15 CAR, 50 YDS
J.D. McKissic: 2 REC, 45 YDS
Nick Marshall: 8-of-14, 145 YDS, 2 TD; 8 CAR, 67 YDS
Tre Mason: 10 CAR, 88 YDS, 1 TD
Corey Grant: 6 CAR, 36 YDS, 1 TD
Sammie Coates: 1 REC, 68 YDS, 1 TD
Auburn has good running backs.

— WarEagleSportsRadio (@WarEagleRadio) September 8, 2013
Hashtag analysis.
Auburn 28, Arkansas State 9
The fast-paced attack returned and paid dividends for Auburn, and the offense is finally showing some life again. Even though the unit slowed down a little bit, Tre Mason scampers for six from 11 yards out, and the lead is pushed to 19 points.
This is more of what was expected from the Tigers.
Another impressive series from the Auburn defensive line.
At this rate, the Tigers offense just needs to get a few first downs and chew the clock, but that's easier said than done right now.
Save for the long touchdown pass, Auburn's offense hasn't really been clicking since the first two drives.
But the Tigers' defense, on the other hand, is limiting the damage from Arkansas State's attack.
Auburn 21, Arkansas State 9
The Red Wolves aren't dead yet; Auburn is leaving Arky State in this game.
Another field goal from Davis cuts the lead to 12.
Lots of students apparently thought it was over and left at halftime.

— Phillip Marshall (@PMARSHONAU) September 8, 2013
Auburn QB Nick Marshall potentially just let the Red Wolves back into the game, and some of the student section isn't there to watch the game unfold.
#Auburn student section also gets a victory on that defensive stop. The ASU field goal ball was successfully thrown out of the stadium.

— Justin Ferguson (@JFergusonAU) September 8, 2013
Don't hear that every day, now do ya?
Red Wolves kicker Brian Davis cuts into the Tigers' lead with a 21-yard field goal. Auburn holds a 21-6 advantage with 9:58 to go in the 3Q.

— WarEagleExtra (@wareagleextra) September 8, 2013
Auburn 21, Arkansas State 6
Arkansas State head coach Bryan Harsin made the right move taking the points in that situation.
Instead of an 18-point game, the Red Wolves cut the deficit to 15 points, and it's a two-possession game.
That was a nifty pump-fake from Alex Marshall. It totally froze the Auburn defenders in the area, and he turned a scramble into a 28-yard gain.
Can Arkansas State turn this drive into points?
I think the Arkansas State return man forgot he's supposed to run behind his blockers, not sprint past them into oncoming defenders.
Nick Marshall's 68-yard TD pass to Sammie Coates was Auburn's first 60-plus yard pass since Cam-to-Darvin in the 2010 SECCG.

— Justin Lee (@byjustinlee) September 8, 2013
Auburn hadn't completed a long touchdown pass in quite some time, apparently.
Corey Grant's 17-yard touchdown run, which put the Tigers up 11 points, courtesy of ESPN.
Auburn has shut down the Arky State run game, that gained 511 yards last week. The Red Wolves have 21 carries for 39 yards.

— Phillip Marshall (@PMARSHONAU) September 8, 2013
Now, to stop the air attack...
Stat Update
Adam Kennedy: 17-of-22, 162 YDS
David Oku: 11 CAR, 31 YDS
J.D. McKissic: 2 REC, 45 YDS
Nick Marshall: 7-of-11, 138 YDS, 2 TD; 5 CAR, 60 YDS
Corey Grant: 2 CAR, 20 YDS, 1 TD
Marcus Davis: 2 REC, 20 YDS, 1 TD
Sammie Coates: 1 REC, 68 YDS, 1 TD
Momentum is on Auburn's side, and Arkansas State will not score before halftime.
Good work by the Tigers defense later in the second quarter, tightening up and not allowing the Red Wolves to waltz down the field.
This article is
What is the duplicate article?
Why is this article offensive?
Where is this article plagiarized from?
Why is this article poorly edited?

Auburn Football: Like this team?