Bellator 98: Alexander Shlemenko vs. Brett Cooper 2 Live Cageside Results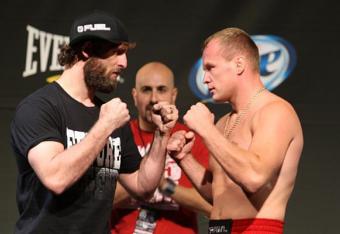 Credit: Keith Mills

Bellator's Season 9 Middleweight Tournament is kicking off, and we're here bringing you all the live results from cageside at the Mohegan Sun Casino in Uncasville, Connecticut. Topping everything off is a middleweight title fight between Alexander Shlemenko and Brett Cooper!
Brett Cooper vs. Alexander Shlemenko Official Decision
Alexander Shlemenko defeats Brett Cooper via Unanimous Decision (48-47, 48-47, 48-47)
Shlemenko, unsurprisingly, keeps his belt, but has to put far more effort into it than almost anybody would've expected. Great fight to cap off a really strong card.
Signing off, folks.
Check out my Twitter, @srondina, if you want any updates from the post-fight press conference.
Brett Cooper vs. Alexander Shlemenko Round 5
Final round.
Shlemenko once again comes out swinging, and finds a huge knee. He follows that up with a spinning kick that lands, but does little damage. Cooper goes for a takedown but can't finish.
Cooper whiffs a right and takes a hard left for it. Shlemenko continues getting the better of these late-round exchanges, and wobbles Cooper against the cage. He recovers quickly, but starts eating some body kicks and, again, goes for a doomed takedown attempt.
Shlemenko lands with some confidence, but continues trying to land his backfist for no reason.
Shlemenko lands a takedown of his own, and finds himself in side control. Cooper turns out of it, gets back to his feet, but continues finding hands and again lands a takedown. Cooper shrugs him off, but doesn't have the energy to do much more. He lands a right, but can't put up a token resistance to Shlemenko's hands or takedowns.
Shlemenko starts doing his impression of Mo Lawal, but the horn sounds before he can get the finish.
Quite a barnburner here. While many (including myself) completely dismissed Cooper's chances, he showed a remarkable amount of guts.
10-9 Alexander Shlemenko
Brett Cooper vs. Alexander Shlemenko Round 4
Shlemenko comes out hard early, and lands a massive punch.
Cooper, inexplicably, survives but continues eating knees and punches for his impudence. The Russian has things where he wants them, and Cooper's spirit is starting to wilt under his pressure.
While he musters up the energy to land some punches, Shlemenko grabs hold of his leg and lands a crazy knee to the ribs. Shlemenko again throws a backfist, Cooper responds with a takedown, and the two throw against the cage. Shlemenko eats another, but shrugs it off. Cooper again lands a volley, but once again, Shlemenko mocks him after what should be serious damage.
Shlemenko clinches. The two break and Cooper eats some huge lefts that stun him. Shlemenko again has him hurt, but Cooper goes back to a takedown attempt to survive. Cooper is sporting a newly-broken nose, but is remarkably hearty all things considered.
The two wing haymakers at each other as the ten-second clap sounds. Nothing lands, though, and Shlemenko takes yet another round.
10-9 Alexander Shlemenko
Brett Cooper vs. Alexander Shlemenko Round 3
Next round. Cooper again opens with leg kicks. Shlemenko catches one and trips Cooper, but he quickly hops back up. Shlemenko clearly has morein the tank, as he presses things to the cage.
Still, Cooper keeps finding homes for huge, winging punches. Shlemenko, though, presses Cooper to the cage and starts landing more and more lefts. Cooper lands a hard straight right, but Shlemenko taunts it off as Cooper, again, can't recognize when a fighter is hurt.
Shlemenko lands a big knee, followed by a big left. Cooper continues showing his steely chin, and finds lands a nice uppercut. He shoots for a takedown, but can't follow through.
Shlemenko lands a hard right against the fence, and whiffs on yet another backfist.
Cooper again goes for a takedown, and musters up the energy to finish a double. He quickly takes Shlemenko's back, but he spins out of it and returns to his feet.
Shlemenko once again presses the action, and lands a hard right followed by a body kick. He clinches as the bell sounds, and easily takes this round with his superior standup.
10-9 Alexander Shlemenko
Brett Cooper vs. Alexander Shlemenko Round 2
Shlemenko comes out spry, winging punches, but eating some kicks for his effort. Still, he seems to have his groove back as he asserts himself as the better fighter.
Cooper eats some hands against the cage, but Cooper shows off his solid chin.
Shlemenko seems to respect Cooper's hands quite a bit more after being rocked, and he begins finding homes for some of his hands. Shlemenko again goes for a backfist, but eats a hand and sports a fresh new cut over his left eyebrow. Shelemenko is wounded, and Cooper charges into a takedown, finishing it against the cage.
He fails to land much, and Shlemenko breaks away and returns to striking, still looking for that spinning backfist. Cooper finds a nice uppercut that clips Shlemenko, but the Russian walks right through it. Cooper seems to be starting to tire, while Shlemenko plods forward, throwing big punches.
He lands a superman punch that forces Cooper to the cage. Cooper, though, lands a haymaker of a left that has Shlemenko stumbling horribly. Cooper seems completely gassed, though, as he can't follow up to having Shlemenko dead to rights.
The round ends with Cooper pressing him to the cage out of an unnecessary desperation. Still a solid round for him, though.
10-9 Brett Cooper
Brett Cooper vs. Alexander Shlemenko Round 1
The main event is upon us.
Cooper opens with some kicks, but eats a stiff right. He tries for another, but Shlemenko catches it, takes him down and immediately lets him back up. Cooper shows a bit of fear when it comes to Shlemenko's hands, as he covers up at the slightest hint of a punch.
Shlemenko presses, lands a knee and gets points with some punches. Cooper continues to look for kicks, but Shlemenko responds with a biting kick to the body. Cooper shrugs it off, but Shlemenko is clearly targeting the right half of Cooper's ribcage now.
Shlemenko finds a light spinning backfist, but Cooper survives it. Shlemenko lands a great right followed by a combination. Cooper tries hard for a takedown, but Shlemenko sprawls it nicely. They break, but Cooper eats some hands for his efforts.
Shlemenko is clearly in control, but eats a big right while he was on the offensive. Cooper, unwisely, doesn't continue with punches, and has a kick caught which allows Shlemenko to recover.
Shlemenko gets back to his comfort zone, and continues throwing or feinting backfists. The round ends with both fighters doing some work.
10-9 Alexander Shlemenko
Mikkel Parlo vs. Brian Rogers Official Decision
Mikkel Parlo defeats Brian Rogers via unanimous decision (30-27, 30-26, 30-26)
A somewhat disappointing effort from Rogers, who either gassed or seemed to simply quit. Either way, he came seconds away from scoring another huge knockout and you have to wonder what's next for Rogers from here.
Mikkel Parlo vs. Brian Rogers Round 3
Do or die time for Rogers. Again, he starts out looking like the stronger, fresher fighter, but keeps eating strikes in the clinch and on the break. Parlo continues to land the better strikes, and torques Rogers into a takedown.
Rogers again seems completely content to eat strikes from the bottom, as Parlo steps into side control and back to half-guard without even offering up a token level of resistance. Parlo seems to be looking for openings a bit more aggressively this time, but doesn't land much that is particularly threatening.
Parlo steps off, and Rogers completely misses a potential leglock attempt. Parlo clinches and works things to the cage. Rogers breaks away and lands a scary body kick, but is clinched and taken down again.
With thirty seconds left, Parlo finally starts opening up, and lands a flurry of punches and knees. With just seconds left, he lands a massive knee that sends Rogers flat on his back. Parlo goes for the finish, but the bell sounds before it can end.
Rogers doesn't get up, even after the bell rings, and the doctor sees to him.
10-9 Mikkel Parlo
Mikkel Parlo vs. Brian Rogers Round 2
Rogers seems refreshed after the break, and lands a huge leg kick followed by a body kick. Parlo is getting worked over in the clinch, and eats a knee against the cage. Rogers is slowing down, though, and winds up on the bottom after attempting a takedown.
Parlo on top in half-guard. He is softening Rogers up with ground and pound, and steps into mount position. Parlo works him a bit, but gets sent back into half-guard. He continues to maintain top position, but lands very little of consequence.
Regardless, Rogers seems completely lost as he soaks up punishment from the bottom. The round ends after being spent almost entirely on the ground.
10-9 Mikkel Parlo
Mikkel Parlo vs. Brian Rogers Round 1
Big fight for Rogers, one of the sport's good guys, who is unfortunately 2-3 in his last five. Bigger opportunity, though, for Parlo who can explode into popularity with a win here.
Rogers comes out hard, throwing huge hands. He slips on a takedown, gets up, and winds up eating a big right hand. Not sure if it rocked him or he just slipped again, but Parlo sure seemed like he was hurt.
Parlo has things pressed to the cage, and is landing some decent hands. He lands a solid right, but Rogers escapes after. Back in the center, Rogers lands a hard body kick, and chases with knees after. He lands a huge left and then a flying knee that must have rocked Parlo. He seems content letting him recover, but he takes a couple hard hits after.
Rogers might have a broken nose, as it bleeds while he sniffs out of it. Parlo lands a big left again, but chases to hard with a body kick that gets caught and returned with a punch. Roger continues eating hands, and seems to be slowing down on initiating after eating so many hard shots.
He turtles mightily as Parlo swings punches, and gets worked back to the cage.
Parlo attempts a takedown, but winds up on the bottom. He eats some light ground and pound before escaping. Ten second clap sounds and Parlo tries to go for a finish, landing some big knees from the clinch as the horn sounds.
10-9 Mikkel Parlo
Jason Butcher vs. Giva Santana Official Decision
Jason Butcher defeats Giva Santana by TKO via strikes at 1:12 of Round 2
Santana clearly established himself as the superior grappler early, but showed his age as things went on. Tough go for Santana, but Butcher shouldn't feel like much of a winner in the dreadful top.
Jason Butcher vs. Giva Santana Round 2
Butcher comes out much more active at this point, but backs up against Santana's remarkably slow hands. Santana actually seems quite tired, as Butcher goes for a takedown but gets stuffed.
Butcher is starting to open up standing, and chases him with hands. He lands a right to rock Santana against the cage. Santana goes down.
Butcher stays on him, landing some ground and pound. He gets the ref to end it shortly afterwards.
Jason Butcher vs. Giva Santana Round 1
This fight has had a fair bit of behind-the-scenes beef building up.
Santana throws a front kick. Butcher responds with a leg kick, but gets taken down for his efforts. Butcher holds onto an arm, but Santana uses it to turn around into side control.
Santana keeps working things around the ground, and threatens with a kimura, but completely ignores opportunities for ground and pound. Santana, seemingly without any fear of repurcussion, continues to weigh down on him. He jumps into mount, and begins to open up a bit.
Rather than dealing damage, Santana literally goes for the jugular, locking up a tight arm triangle choke. Santana loosens up after some time, and steps back into mount. He goes for an armbar from there, but Butcher defends and ends up in top position. The bell sounds with Butcher doing pretty much nothing to take cut and dry round for Santana.
10-9 Giva Santana
I know that was in round 2. Typos.
Can't fix it for some reason.
Justin Torrey vs. Brennan Ward Official Decision
Brennan Ward defeats Justin Torrey by TKO via punches at 3:28 of Round 3
Another nice third-round stoppage in the middleweight tournament. Again, not a technically marvelous fight, but still a great showing by Ward.
Justin Torrey vs. Brennan Ward Round 2
Torrey lands a front kick, but doesn't do much damage. He clinches up, but gets taken down by Ward. Ward lands some nice ground and pound, and hops between half- and full-guard.
Torrey holds on, but Ward slams him, gets some separation, and lands some major ground and pound. Torrey is opened up over his left eye badly. Ward rocks him hard from there, and Ward stays on him with a takedown into half-guard, and throws hands from there.
Torrey is a bloody mess who does little more than cover up, getting the ref to separate the two of them. Big come-from-behind win for Ward.
Justin Torrey vs. Brennan Ward Round 1
Our second middleweight fight is Justin Torrey against Brennan Ward. Ward gets a big cheer from his hometown crowd.
The bell rings and Torrey goes for a quick takedown, and gets things to the cage. Ward hints at a guillotine, but lets it go before getting a sweet throw and landing in half-guard. Ward maintains top position, and starts throwing hands. Torrey attempts a leglock, and uses it to wind up on top.
Ward ties him up, but hands still slip through. He tries for a triangle choke, but Torrey shrugs it off and gets into side control, throwing knees to the back. Ward seems to be content holding this position, soaking up minimal damage and going to the bell. Torrey, though, steps over into mount, and throws hands all over.
The bell rings before much damage is sustained, but Ward takes a serious hit on the scorecards.
10-9 Justin Torrey
Perry Filkins vs. Jeremy Kimball Official Decision
Perry Filkins defeats Jeremy Kimball by submission via rear-naked choke at 4:18 of Round 3
It wasn't a technical fight, but it was a pretty fun one. Have to believe that Filkins is going to stick around with Bellator, regardless of how this tournament plays out for him at this point.
Perry Filkins vs. Jeremy Kimball Round 3
Final round!
Kimball goes back to round 1, throwing various kicks and finding decent homes for most of them. Filkins presses through it, but he desperately needs to do more if he wants the win.
He throws an overhand right, but only finds air and Kimball continues landing fadeaway jabs and leg kicks.
Filkins may have punched himself out, but still musters up the energy to land a strong combo. Kimball shoots for a takedown, but Filkins turns the corner on him and winds up on top. Kimball again ties up his hands, but Filkins steps into side control after wrenching away.
Kimball tries to escape, but gives up his back to Filkins, who quickly begins to threaten a rear-naked choke. Kimball flips back over, and gives up mount. He flips back over again and Filkins quickly knots him up with a rear-naked choke that gets a fast tap.
Great win for Filkins, who may find himself a fan favorite in the near future.
Perry Filkins vs. Jeremy Kimball Round 2
Kimball actually already looks a bit exhausted while Filkins doesn't look like the fight has started yet. Kimball lands a sweet taekwondo low-high kick. Filkins tries to respond, but is pressed to the cage. Kimball tries to pull him down, but winds up underneath Filkins.
Kimball is doing great work tying up his hands, but Filkins jumps into half guard, and starts landing shoulder strikes. Kimball expertly sweeps, and againhas Filkins pressed to the cage, and lands numerous knees to the thigh. Filkins then goes for a takedown of his own, but Kimball threatens with a guillotine choke. Filkins waits him out and, once his grip loosens, he slams him.
The fighters break without much being landed on the ground, but Filkins scores a takedown of his own. He can't seem to escape Kimball's hooks, though, and he doesn't land anything of consequence. Kimball kicks him off, Filkins tries to throw a crazy 360 punch to the ground. Kimball gets back up but quickly gets taken back down. Filkins ends up in mount, raining down some serious ground and pound. Kimball does nothing but cover, and is ultimately saved by the bell.
10-9 Perry Filkins
Perry Filkins vs. Jeremy Kimball Round 1
Filkins actually got a rare chance at making a Bellator main card without ever fighting with the promotion before against a slightly-more-experienced Jonas Billstein at Bellator 81. That effort got him high praise from Bjorn Rebney, and apparently got him a spot in this tournament. Kimball is in a similar boat, and took a decision at Bellator 97.
Kimball opens with a headkick immediately, and follows it up with a few leg kicks. Filkins fires back with his own leg kick, but eats a turning kick and leg kick for his efforts. Kimball lands a solid right, but Filkins shrugs it off and begins taunting before pressing the action. Filkins is covering and eating some good shots, but is not doing much in return.
He continues pressing forward, and lands a good one-two punch combo, but Kimball again begins to open up, landing punches and a front kick. Filkins, unwisely, backs straight up and covers up with each attack from Kimball. Kimball lands a takedown. Filkins gets up quickly but is run into the cage.
Kimball breaks and throws at air. Filkins goes back to pressing the action. Kimball does a fluid fake right into a takedown that again lands. Filkins gets up and is worked to the cage, but again breaks away without taking much damage.
Both fighters swap leg kicks, but Filkins continues wading forward into jabs and kicks. He is again taken down with 34 seconds left, but again works back up quickly.Kimball lands a swet hook kick but Filkins responds with some anger, dashing forward in an attempt to steal the round. He lands a couple punches, but the bell rings before he can accomplish much.
10-9 Jeremy Kimball
Derek Anderson vs. Patricky Pitbull Official Decision
Derek Anderson defeats Patricky Pitbull by unanimous decision (29-28, 29-28, 29-28)
No clue why Pitbull and his corner look surprised by this call. Very little offense mustered by Pitbull, and no real reason to think he'd take a decision, as he spent 10 minutes of the fight with his back to the cage, eating jabs.
Oh well. Time for the Middleweight Tournament!
Derek Anderson vs. Patricky Pitbull Round 3
Pitbull comes out with more urgency in his stand-up, and initiates a bit with combinations. Nothing lands though, and it's back to square one with Anderson keeping his back to the cage with jabs. Anderson lands two nice lefts, but Pitbull responds with some stiff jabs of his own.
Anderson shows a high kick, but it is deflected easily, and Pitbull scoots away from the cage, and throws some planted haymakers, landing nothing. Anderson plods forward, landing glancing jabs and occasional straight rights. Pitbull is starting to look either tired or complacent. Anderson lands a bit of a kick, but nothing particularly devastating. Pitbull throws some kicks and shoots for a takedown, which Anderson literally brushes away.
Again and again, Pitbull lets himself get backed up to the cage and continues planting, only to be greeted with combinations and headkicks. Anderson, with a minute left, starts to open up to try and seal the round. Pitbull finally steps away from the cage, but can't seem to land anything of consequence.
Anderson lands a nice straight right, but Pitbull seems unfazed. With a few seconds left, Pitbull again goes for the takedown, but can't secure it before Anderson balances himself against the cage. The bell sounds.
Clear-cut round for Anderson there, who plain and simple did more work against the cage.
10-9 Derek Anderson
The two both show jabs until Anderson slips trying for a headkick. Pitbull takes the opportunity to take guard, and pulls Anderson down when he tries to wall-walk to his feet. He makes it back up, though, and eats some punches on the break.
Pitbull again wobbles Anderson with a good punch, but doesn't capitalize. Anderson recovers quickly, but eats a very stiff left to the teeth for his effort. Anderson, though, continues to be the one owning the center of the cage, as Pibull seems more than content enough to stand with his back on the wire.
Anderson finally lands a combination of his own, and his confidence is clearly building as he lands a nice left hook. Again, he continues to own the center of the cage. Pitbull shoots for a takedown, but it is easily shrugged off.
Anderson seems to land a solid uppercut, and Pitbull, after a few seconds, flops to his back to try to bait him into his guard. Anderson doesn't take it, and the ref separates them. Anderson again lands a strong combo, and keeps Pitbull's back to the cage, though he continues landing some solid shots.
The bell sounds with Anderson landing a solid overhand right.
A tougher round to call, but it feels like Anderson landed the harder shots, in addition to owning the center of the cage more.
10-9 Derek Anderson
Derek Anderson vs. Patricky Pitbull Round 1
And the main card begins with a lightweight non-tournament fight between Bellator vet Patricky Pitbull and newcomer Derek Anderson.
Pitbull quickly lands an early shot that floors Anderson. Anderson gets back up relatively quickly and returns the favor, but does very little damage. He throws some arbitrary spinning kicks.
Pitbull wobbles Anderson again, but Anderson clinches out of desperation and recovers well. Pitbull should be the more confident fighter, but he is coming out tentative, eating hands from Anderson. He eats a big left and that wakes him up, as he begins pressing forward with jabs.
Anderson lands a few more, and Pitbull shakes his head tauntingly before taking him down and stepping into mount immediately. Anderson tries to WWE-style flip out of it to no avail but flips Pitbull over. Pitbull, though, grabs hold of an arm and locks up a tight triangle choke from bottom position.
Anderson is still fighting, and slams out of it, much to his credit. Anderson postures and tries to land some elbows. He gives up, though, and with 10 seconds left in the round, stands up.
The bell sounds and gives us our first fight to leave the first round.
10-9 Patricky Pitbull
This article is
What is the duplicate article?
Why is this article offensive?
Where is this article plagiarized from?
Why is this article poorly edited?