Saturday's early games provided some much-anticipated matchups and individual stars, but not every ranked team emerged from the contests unscathed.
Most ranked teams have it easy in Week 2 with what is normally a tune-up contest. For example, No. 24 TCU redeemed itself after a Week 1 loss to LSU with a victory in an early matchup against the inferior Southeastern Louisiana, 38-17.
Other ranked teams entered what should have been victories against unranked opponents, but as is the case at any level of football, anything can happen no matter which team is favored.
Here is how some of the nation's ranked teams fared in their early Week 2 matchups.
Early Ranked Game Results

| | | |
| --- | --- | --- |
| Away | Home | Result |
| No. 12 Florida | Miami (FL) | Miami 21, Florida 16 |
| San Diego State | No. 3 Ohio State | Ohio State 42, SDSU 7 |
| Tennessee Tech | No. 21 Wisconsin | Wisconsin 48, Tennessee Tech 0 |
| SE Louisiana | No. 24 TCU | TCU 38, SE Louisiana 17 |
| Eastern Kentucky | No. 8 Louisville | Louisville 44, EKU 7 |
| No. 2 Oregon | Virginia | Oregon 59, Virginia 10 |
| South Carolina State | No. 4 Clemson | Clemson 52, S Carolina St. 13 |
| No. 13 Oklahoma State | UTSA | Okla State 56, UTSA 35 |
ESPN
Teddy Bridgewater Continues Heisman Chase in Big Way vs. Eastern Kentucky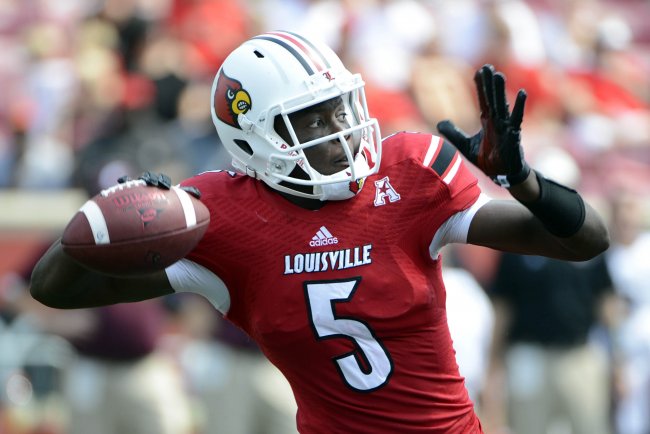 Jamie Rhodes-USA TODAY Sports
Louisville quarterback Teddy Bridgewater entered Week 2 the front-runner for the Heisman trophy after dismantling the Ohio Bobcats in Week 1 with 355 passing yards and five touchdowns.
Early on Saturday against Eastern Kentucky, Bridgewater would not only solidify that status, but improve on his passing yardage numbers from the previous week as SportsCenter so vividly recaps:
Teddy Bridgewater capped a 397-yard, 4-TD day with this 42-yard scoring strike to DeVante Parker. http://t.co/BXcAaYN6Ne

— SportsCenter (@SportsCenter) September 7, 2013
All in all, Eastern Kentucky from the OVC is not the stiffest of competition, but Bridgewater's alarming consistency against any level of opposition should be cause for concern for the rest of the ranked teams.
The other star of the show for Louisville was receiver DeVante Parker, who caught five passes for 134 yards and two touchdowns.
Maybe not the most shocking of outcomes, but Louisville is doing what it is supposed to do on the way to a potential championship run.
Wisconsin's Ground Game Cruises in a Big Way Over Tennessee Tech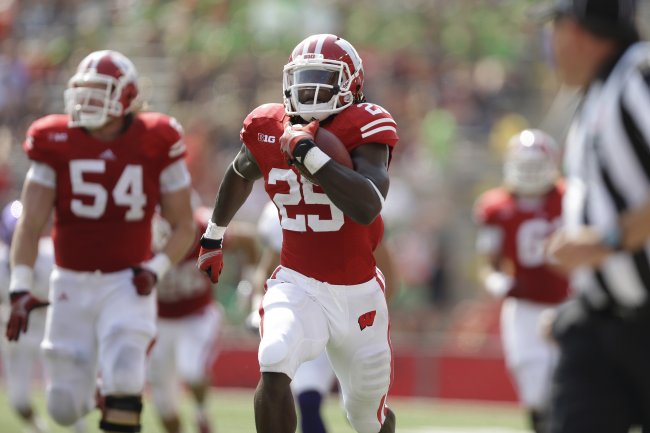 Mike McGinnis/Getty Images
Entering Week 2, it was hard to see Tennessee Tech of the OVC somehow overcoming Wisconsin. But the overwhelming domination by the Badgers seemed like something out of a video game.
Not only did Wisconsin pitch a shutout on defense, three running backs went for over 100 yards.
Running back Melvin Gordon was impressive to watch. He rushed just nine times for 140 yards and a touchdown. At the end of the first half, Gordon had more rushing yards than Tech had total yards. Bleacher Report's Ian Kenyon detailed just how dominant the sophomore has become:
In his past 75 carries (which dates to the beginning of last season), Melvin Gordon has gained 765 yards on 75 carries (10.2 ypc).

— Ian Kenyon (@IanKenyonNFL) August 31, 2013
Gordon wasn't alone. Cory Clement added 149 yards and two scores on just 13 touches, while James White toted the rock 22 times and turned it into 109 yards and a touchdown.
The Wisconsin running game has been dominant for the past few years. The school churns out quality offensive linemen and makes a variety of running backs look stellar. Once again it is clear the Badgers' running game will carry the team far in 2013 as they aspire for a Big Ten championship.
Florida Stunned by Miami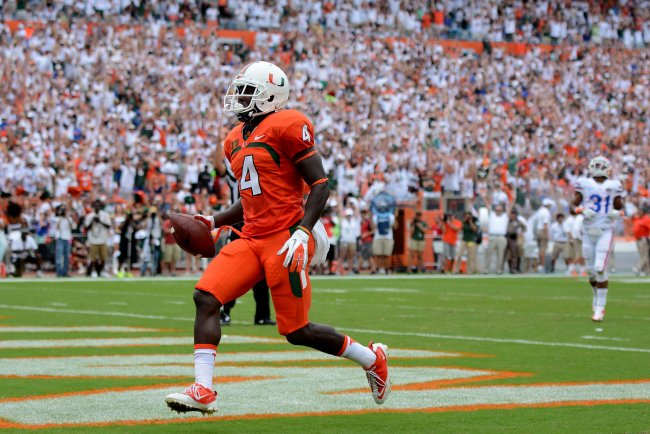 Brad Barr-USA TODAY Sports
Many of the games went as expected to start off Week 2, but one most fans had circled on their calendars as a game to watch not only ended up fulfilling its end of the bargain, but also resulted in an upset.
For the first time since 2008, Florida and Miami met in Sun Life Stadium. The unranked Hurricanes gave the Gators everything they could handle and more.
THE U!!! Miami Hurricanes take down the No. 12 Florida Gators 21-16 pic.twitter.com/JDTUFkq8oi

— Bleacher Report (@BleacherReport) September 7, 2013
Florida managed to rack up 413 total yards to Miami's measly 212, but it was the Hurricane's defense that came through and forced five turnovers.
Offensively Miami got it done behind the arm of quarterback Stephen Morris with his 162 yards and two first-quarter touchdowns, but it was the defense that caused two interceptions, a forced fumble and two turnovers on downs.
As ESPN points out, the result of the contest likely has major implications for the rest of the season:
Miami beats Florida. The winner of the previous 5 reg season meetings between these teams has finished in top 5 of final AP poll.

— ESPN Stats & Info (@ESPNStatsInfo) September 7, 2013
Miami was just outside the Top 25 entering the contest and will surely be ranked when next week's polls emerge. For Florida, it is back to the drawing board. SEC play begins next week against Tennessee.
All hope is not lost for the Gators since the loss comes early in the season, but there has to be extra salt in the wound after losing to a historic in-state rival.
Follow B/R's Chris Roling on Twitter for more news and analysis @Chris_Roling