Washington State vs. USC: Live Score and Highlights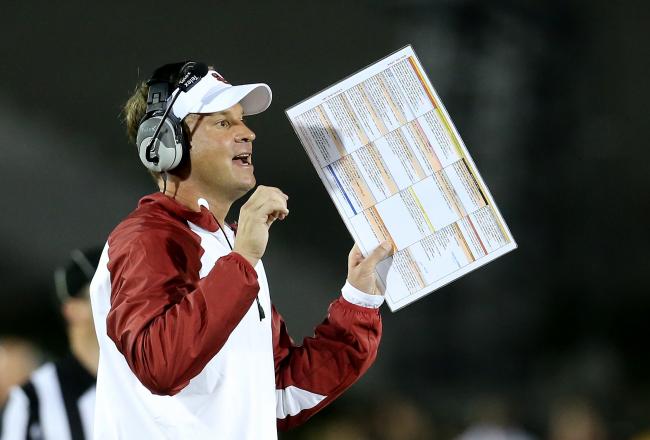 Stephen Dunn/Getty Images
USC - 7
Washington State - 10

Final

In an ugly contest between two Pac-12 teams, Washington State pulled off the shocking upset over USC. Despite picking up only 12 first downs, the Cougars were able to capitalize off of turnovers, missed opportunities and poor execution to win the game late in the fourth quarter.
Both teams are now 1-1 on the season, but it is USC that appears to be in the most trouble.
USC will look to bounce back next week against Boston College, while Washington State will take on Southern Utah.
Washington State is up three and USC has zero timeouts.
It's official. USC has somehow lost the game.
The eight-game losing streak to the Trojans has come to an end.
Wittek throws an interception.
Goodnight, USC.
Andrew Furney drills a 32-yard kick to give the Cougars a 10-7 lead with less than four minutes remaining.
Judging by what USC has done offensively, it may be safe to assume this game is over.
Thanks to a 49-yard pass to Dom Williams, Washington State is in field goal range with under four minutes left to play.
Uh-oh.
Washington State will now have a chance to take the lead with 6:18 left in the fourth. This is when USC's defense needs to force a turnover and end this game. This poor performance has gone on for far too long.
Back and forth we go.
USC's defense continues to bail the offense out.
However, will the Trojans score so we can all go to sleep at some point?
USC came up short on fourth down. Washington State will get the ball back with 9:03 remaining in the fourth quarter.
This is when it's time to panic, USC fans.
If USC finds a way to win this game, Tre Madden deserves a fruit basket. He's now over 120 rushing yards and is doing his best to spark the offense.
We're heading into the fourth quarter tied at seven. At this point, it's tough to keep the eyelids open due to constant punts, poor playcalling and missed field goals.
Somebody needs to score and end this game.
I'm not sure anybody could handle overtime.
Keep in mind, some of Southern California's top recruits are in the stands to watch this #USC game tonight.

— Lindsey Thiry (@LindseyThiry) September 8, 2013
Could the outcome of this game play a role in recruiting?
Heidari misses a 43-yard field goal and the game remains tied at seven.
Is it cool to pause the fourth quarter and try to restart this game tomorrow?
Tre Madden has been consistent in the second half, as he continues to pick up first downs. USC is driving for the first time in forever.
If the USC offense and Texas defense had a baby, that baby would probably go pro in something other than sports.

— Adam Kramer (@KegsnEggs) September 8, 2013
The tweet of the night...
USC's defense comes up with another stop and gives the ball back to the offense. Maybe this time there will be a big play that sets the team up for seven points.
Or it could be much of the same.
In case you're wondering, Marqise Lee has four receptions for 14 yards and Nelson Agholor has yet to catch a pass.
As we head into the midway point of the third quarter, there is a real possibility Washington State could pull off the upset.
Wait.
It was third-and-nine, and you run the ball?
Anyway, a 32-yard field goal attempt by Andre Heidari was blocked. When it rains it pours.
We have a Max Wittek sighting.
Let's see how this turns out.
Does USC turn it around? Can Washington State pull off the upset?
The second half kickoff will happen soon!
USC is trying to beat Wash St with a conservative, short pass, run-based O focused on limiting TOs and relying on defense. And LA hates it.

— Joe Schad (@schadjoe) September 8, 2013
Basically...
USC must open up the playcalling in the second half. Take more chances down field and find wide receivers Marqise Lee and Nelson Agholor. There's no reason to only have seven points against a defense that allowed 31 points last week against Auburn.
Wake up!
USC averaged 2.5 yards per play in the first half. 73 yards of offense.

— Bryan Fischer (@BryanDFischer) September 8, 2013
Simply no excuse...
Halftime Stats
Passing Yards: Washington State - 141 USC - 41
Rushing Yards: Washington State - Five USC - 32
Turnovers: Washington State - Three USC - One
Time of Possession: Washington State - 15:54 USC - 14:05
We head into halftime tied at 7-7, as USC fans are booing the players off the field.
I would love to be a fly on the wall in the locker room.
Yikes!
And there goes the lead.
Kessler throws a pick-six to Damante Horton.
We're tied at 7-7.
This is getting ugly, folks.
Washington State has to feel good about its chances. The Cougars have turned the ball over three times and are still down by only one possession.
This article is
What is the duplicate article?
Why is this article offensive?
Where is this article plagiarized from?
Why is this article poorly edited?

USC Football: Like this team?