Tennessee-Martin vs. Boise State: 10 Things We Learned in Broncos' Win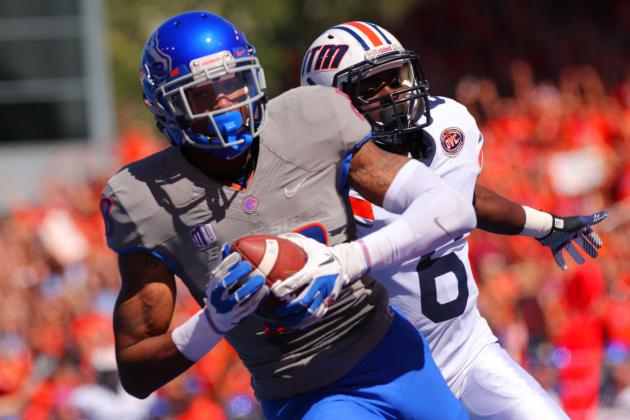 Brian Losness-USA TODAY Sports

Boise State limped into Week 2 of the college football season. However, the team looked more like the Broncos people are used to seeing.
It was messy at first, but once it started clicking for the Boise State offense, things got out of control in a hurry.
It was 49-7 at halftime in favor of the Broncos, and it only got worse from there. In the end, it was a 63-14 win for head coach Chris Petersen and his team.
Let's look at everything we learned in the Boise State victory over UT Martin.
Begin Slideshow

»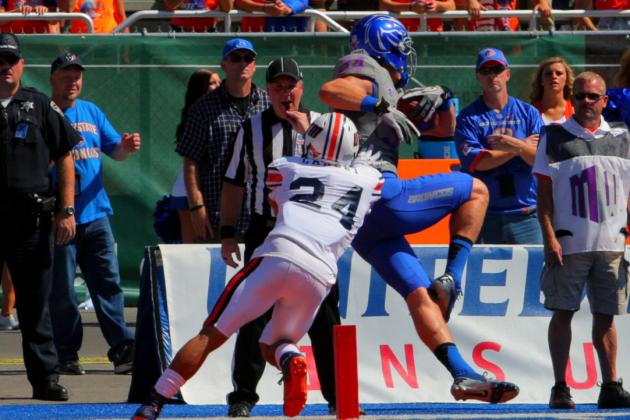 Brian Losness-USA TODAY Sports

Last week against Washington, the Boise State offense failed to score a single touchdown. However, against a much less talented team, the Broncos lit it up for 63.
Once the new offense started clicking, it was clear it could be powerful. If the Broncos can continue to do this against much better teams than UT Martin, they should be in great shape for a Mountain West Conference title.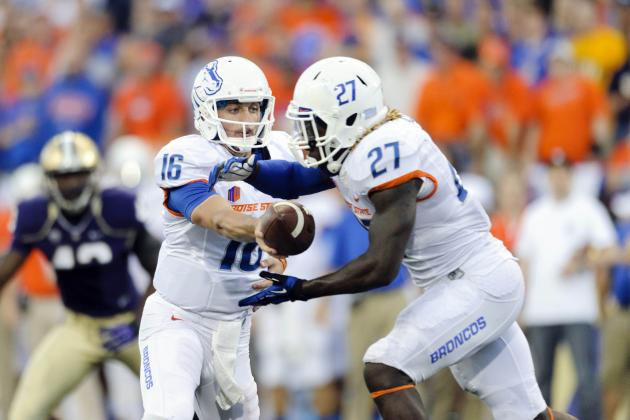 Steven Bisig-USA TODAY Sports

It is clear that Jay Ajayi is good, but he may be even better than is realized.
Several times during the game, it looked like Ajayi willed himself extra yardage by moving his powerful stubborn legs under the weight of a tackler.
His speed looks better than last season, and he looks stronger as well. If his conditioning is as good as it appears, he is going to only get better as the season rolls on.
On the day that was made short by the blowout, Ajayi carried 15 times for 80 yards and two touchdowns.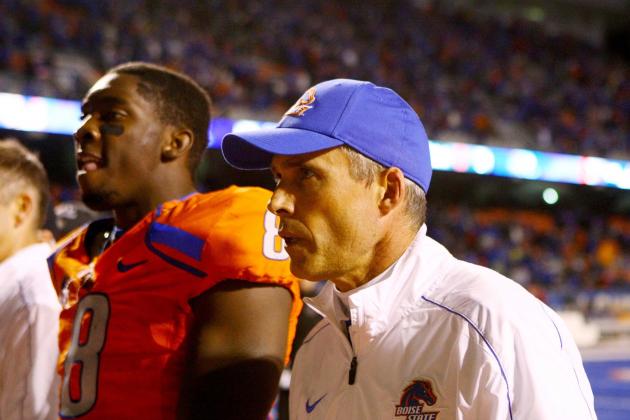 Brian Losness-USA TODAY Sports

Demarcus Lawrence was suspended again, per BJ Raines of the Idaho Press-Tribune. This is the third time he has been held out of a game, as he was suspended twice last season.
You have to wonder how long Petersen puts up with this?
No matter how desperate Boise State needs the defensive lineman, Petersen will remove him if he has to. For the sake of the team and fans, let's hope that doesn't happen.
Brian Losness-USA TODAY Sports

How fun is it to watch Shane Williams-Rhodes?
This guy is small, but hits like a much bigger player.
Not only that, but his moves are also absolutely mesmerizing. He cuts sharper than any player in recent memory, and his speed is deceptive. He is quick, spins like no other and can catch the ball.
A true sophomore, Boise State fans can be excited that this young player is a Bronco.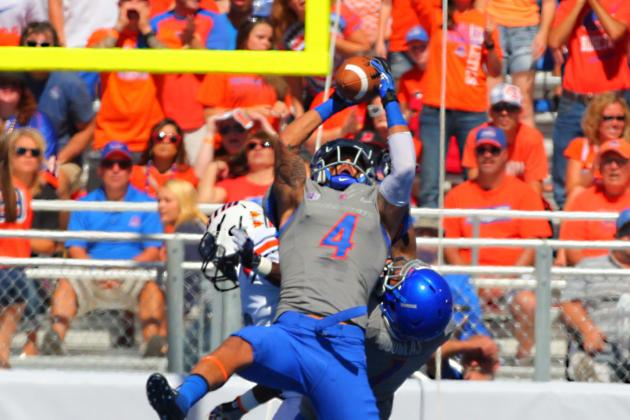 Brian Losness-USA TODAY Sports

This was a win against an FCS team, but if the Boise State offense plays like this down the stretch, they are going to be just fine.
There were a few hiccups, but overall, it was a truly impressive offensive performance.
On the day, Boise State had 472 yards of offense resulting in 63 points. That had to feel good for the players, the coaching staff and the fans.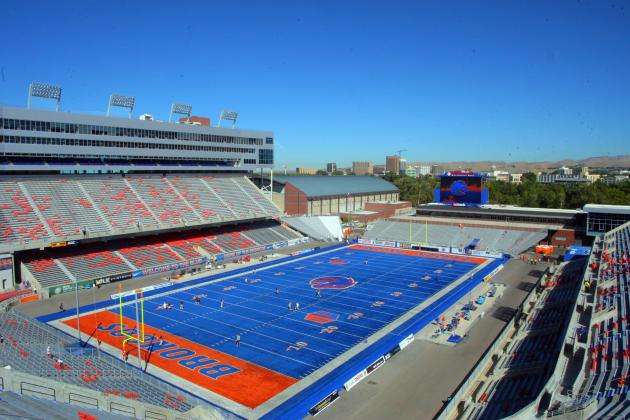 Brian Losness-USA TODAY Sports

The new football complex located just outside the north end zone of Bronco Stadium is truly impressive. The new giant video board above the complex is impressive as well.
The sound system has been upgraded, and the entire environment is becoming an incredible experience.
Now if the Broncos can just sell out their stadium. Next Friday, against Air Force, is the first Mountain West game for Boise State this season. It should be quite the game.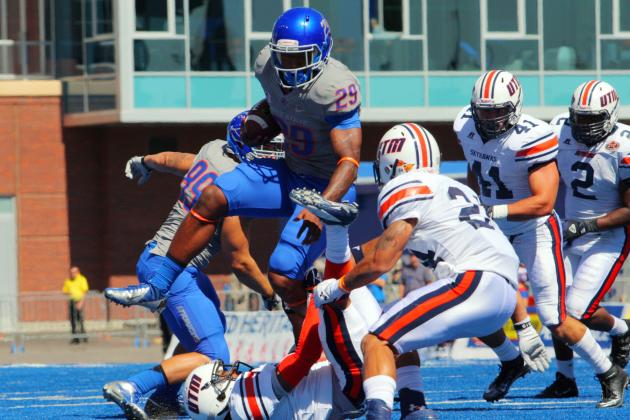 Brian Losness-USA TODAY Sports

True freshman running back Aaron Baltazar and sophomores Jay Ajayi and Shane Williams-Rhodes are just three of the very impressive underclassmen the Broncos have on their roster.
With over 40 freshmen on the team and 17 sophomores, the future looks very bright for "The Blue."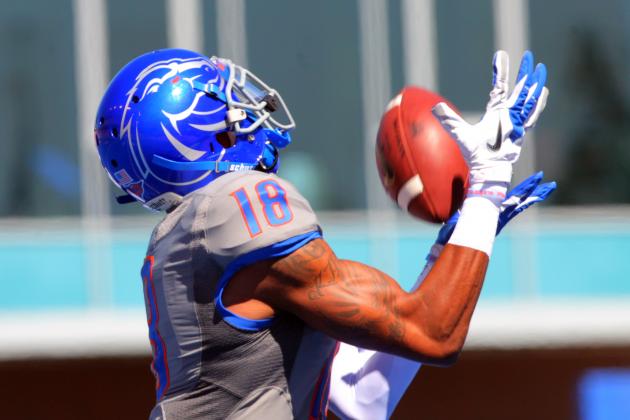 Brian Losness-USA TODAY Sports

Joe Southwick had a very good day.
The senior quarterback threw 25 passes and connected on 17 of them for 234 yards and five touchdowns. He also had a few key scrambles and made good decisions.
He didn't start off great, but he finished in fine fashion. If he plays like this every week, Boise State is going to be hard to beat.
Brian Losness-USA TODAY Sports

The frustrating thing about this game for Boise State fans had to be seeing more missed tackles.
Last week, against Washington, the Broncos missed several tackles. They did it again Saturday, but the offense was rolling, so it didn't hurt the team.
You know the defensive coaching staff is going to bring this issue up in practice this week. After all, Air Force and its option offense will be here Friday night.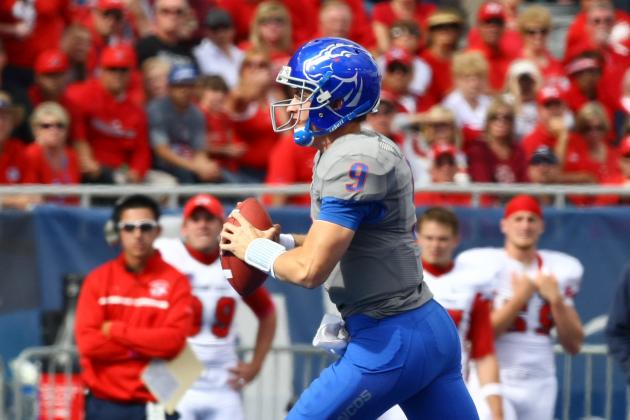 Brian Losness-USA TODAY Sports

Grant Hedrick came in for Joe Southwick in the third quarter and showed everyone why he is considered the backup ahead of Nick Patti.
Hedrick threw just four passes, but connected on two of them for 11 yards.
However, it was his ability to scramble that made an impression. Hedrick sprinted 50 yards for a touchdown, showing off his speed.
With this new offense, Hedrick may be better equipped than any other quarterback on the roster to win the job next season. However, Patti will have a lot to say about that.