Where Are They Now? Premier League's Last 10 Top Goalscorer Winners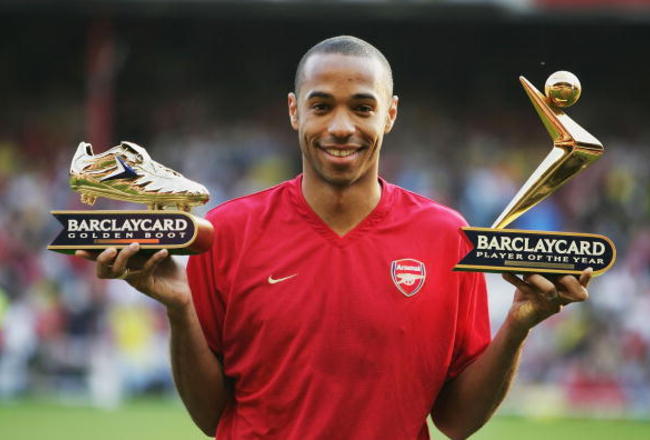 Clive Mason/Getty Images
The Premier League Golden Boot has long stood as one of the most prestigious of its kind in Europe, handed to the top goalscorer of each English first-tier campaign since the division's inception in 1992.
Down the years, some of the best forwards of this generation have graced the Premier League with their prolific presence, leaving their mark by way of silverware.
However, that quality can't be sustained forever and those who were once among the best scorers in the English top flight eventually move on.
Taking a quick trip down memory lane, read on to find out where the top scoring assets from the last Premier League decade are now.
Kevin Phillips
Age: 40
Current Club: Crystal Palace
Golden Boot: 1999/00
Ironically enough, though the first name to feature on our list, Kevin Phillips continues to ply his trade in the Premier League, a division in which he has heaps of experience.
In the 1999/2000 season, the journeyman striker, now at Crystal Palace, managed to net 30 goals in just 36 appearances with Sunderland.
Phillips is actually the last Englishman to have won the award, showing just how much the division's environment has changed over the last 10 years or so compared to the first decade of the Premier League's existence.
Even at the age of 40, the part-time pundit has proven himself to be a reliable source of goals and helped magnificently with the Eagles playoff promotion season that earned them a return to the nation's hierarchy.
Jimmy Floyd Hasselbaink
Age: 41
Retired
Golden Boot: 1998/99 (Shared), 2000/01
The second season in which Jimmy Floyd Hasselbaink had managed to come out on top of the Premier League's scoring ranks, 2000/01 saw a significant drop in the goal count among the league's best.
Now enjoying the service provided to him at Chelsea, even the Dutchman's 23 goals weren't enough to push the Blues to anything better than a sixth-place finish.
These days, Hasselbaink has gone into full-time management and has just entered his first full season at the helm of Royal Antwerp.
The veteran forward will attempt to better the 10th-place finish that the Belgian club managed in their nation's second tier last term, using his extensive knowledge of some of Europe's elite divisions to his advantage.
Ruud Van Nistelrooy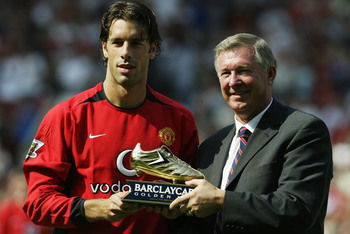 Alex Livesey/Getty Images
Age: 37
Retired
Golden Boot: 2002/03
For all his proficiency in front of goal during his career, it's surprising that Ruud van Nistelrooy only won a single Premier League Golden Boot title in his five years at Manchester United.
One of four seasons in which the ex-Netherlands international managed to net over 20 Premier League goals, it was the 2002/03 season in which Van Nistelrooy bagged his most impressive Red Devils tally.
Twenty-five goals in 34 outings for the Red Devils was a fine return for Van Nistelrooy in a season that saw the former Hamburg sensation lead his side to another Premier League title along with the 19 goals he netted in all other competitions.
Since his days at Old Trafford, the Dutchman went on to have four successful years with Real Madrid before a stint at Hamburger SV and then finishing his playing career with Málaga.
Since retiring, Van Nistelrooy has taken the first steps in his coaching career after undergoing an internship at former club PSV Eindhoven, although the former star is yet to take on his first managerial challenge.
Thierry Henry
Age: 36
Current Club: New York Red Bulls
Golden Boot: 2001/02, 2003/04, 2004/05, 2005/06
The current record holder for most Premier League Golden Boots accrued, Thierry Henry won the award on four separate occasions, three of which were consecutive between 2003 and 2006.
It was during this era that the Frenchman led the Gunners to a Premier League title, one FA Cup and a Champions League final.
This would prove to be Arsenal's last consistent run at numerous trophies, yet to completely recover from the absences that soon popped up in the years following.
Henry's smallest goal tally in a Golden Boot-winning campaign was 24 (2001/02), while his personal best was the 30 Premier League strikes accrued in the 2003/04 term.
Currently of New York Red Bulls, the 36-year-old is enjoying what would appear to be the final phase of his career in Major League Soccer and has been one of the United States' biggest advertising assets in recent years.
Cristiano Ronaldo
Age: 28
Current Club: Real Madrid
Golden Boot: 2007/08
In the 2007/08 season, Cristiano Ronaldo recorded a total of 31 goals, the highest amount the division had seen scored by one player since Alan Shearer in the 1994/95 campaign.
What's more, having racked up such a number in just 34 appearances, the Portuguese averaged a goal-to-game ratio of 0.91, the joint-highest rate of the Premier League era.
It's no secret that Ronaldo has since gone on to do great things at Real Madrid, taking his fine scoring record along with him and constantly going back and forth with Barcelona's Lionel Messi in the power scales.
Just recently, the forward saw his world record £80 million transfer fee overtaken by the £86 million deal for Gareth Bale, but the 28-year-old continues to reap great benefits in front of goal and should do again this season.
Nicolas Anelka
Age: 34
Current Club: West Bromwich Albion
Golden Boot: 2008/09
Forever regarded as a journeyman first and foremost, Nicolas Anelka has taken a roundabout route back to the Premier League since leaving Chelsea at the end of the 2011-12 season.
It was with the West London outfit that the Frenchman managed to notch 19 goals in the 2008/09 season, which was enough to see him finish as top scorer.
However, the tally is the second-lowest number of goals ever scored by a Premier League Golden Boot winner, showing that competition in front of goal was perhaps quite poor at the time.
After winning the award, Anelka has experienced a gradual decline in his prominence, enduring unnoticeable spells in China and on loan with Juventus, before making his way back to the English top flight this summer to help West Brom in their cause.
Didier Drogba
Age: 35
Current Club: Galatasaray
Golden Boot: 2006/07, 2009/10
Another Chelsea striker who lit up the league while he called it home, Didier Drogba's accomplishments with Chelsea were myriad.
The Ivorian continues to be a constant scoring threat with Galatasaray nowadays, helping the Turkish club both domestically and in Europe.
Winning the Premier League Golden Boot on two occasions, Drogba stood out as the spearhead of Chelsea's attack, netting 20 and 29 goals in the 2006/07 and 2009/10 campaign, respectively.
The 35-year-old is also very involved with charity work in his native Cote d'Ivoire and continues to play for his national side, currently helping them on their way to the 2014 World Cup.
Carlos Tevez
Age: 29
Current Club: Juventus
Golden Boot: 2010/11 (Shared)
In almost fateful circumstance, the 2010/11 season saw Manchester United and Manchester City players share the Premier League Golden Boot.
Both Carlos Tevez and Dimitar Berbatov, former teammates at Old Trafford, managed to net 20 goals in the campaign, although the Bulgarian's contribution arguably mattered more as the Red Devils ran to the title.
Either way, Tevez had reason to be proud of his considerable achievement, growing to become a vital component of the Citizens attack.
However, things turned sour at the Etihad Stadium and after months of apparent uncertainty between player and club, 2013 brought about a transfer to Serie A giants, Juventus.
With the Old Lady, the Argentine has the chance at more domestic silverware but should also be able to make a better go of things in the Champions League.
Dimitar Berbatov
Age: 32
Current Club: Fulham
Golden Boot: 2010/11 (Shared)
Another player to have moved on since his Golden boot season, Berbatov now finds himself at Craven Cottage.
Despite his prolific form in front of goal during the 2010/11 season, the Bulgarian was barely used the following season and eventually opted to take his business elsewhere.
Just as well in hindsight, too, as the former Red Devil has since gone on to thrive under Martin Jol, apparently overjoyed with the stature of being a team's attacking focal point once again.
In West London, Berbatov has been fairly impressive, pocketing 15 goals in his first season with the Cottagers.
Robin Van Persie
Age: 30
Current Club: Manchester United
Golden Boot: 2011/12, 2012/13
As things stand, Robin van Persie would look like the only viable candidate to break Thierry Henry's record of three consecutive Golden Boot triumphs.
The Dutchman has won the last two races to finish as top scorer, doing so with Arsenal in the 2011/12 term and scoring 30 goals in the process before following that up with a 26-goals campaign with Manchester United.
Now beginning his second term as a Red Devil, the 30-year-old still has the necessary time left in his career to break yet more records and is part of a club that can viably make that happen.
Perhaps more settled in his Old Trafford surroundings now, it's possible that the 2013/14 season will go on to be an even more fruitful endeavour for the striker, now playing his first term under the tutelage of David Moyes.
Keep Reading