Derek Jeter Injury: Updates on Yankees Star's Ankle, Potential Return Date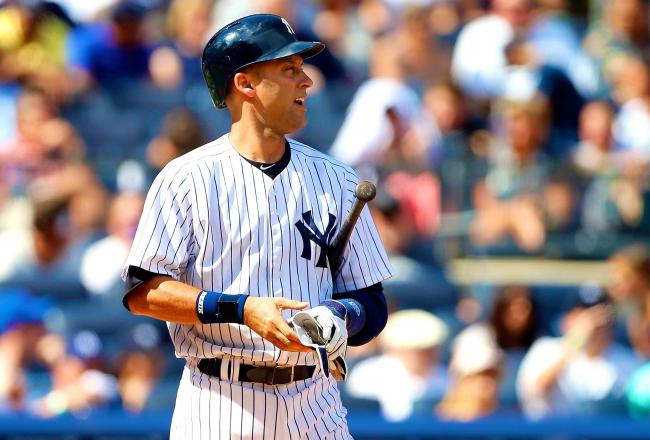 Derek Jeter's issues with the injury bug don't appear to be coming to an end anytime soon. The New York Yankees' 39-year-old shortstop was pulled from Saturday's game against the Boston Red Sox with an apparent ankle injury.
On Wednesday, Jeter was placed on the 15-day DL, all but ending his season.
UPDATE: Thursday, Oct. 17
Derek Jeter talked to Bryan Hoch of MLB.com about his ankle injury and expectations for 2014:
"I haven't been able to work out my legs or lift my legs since October of last year," Jeter said before the end of the regular season. "The first time it broke [in the American League Championship Series], you can't do anything weight-bearing and you can't work out.

"Then I was cleared in Spring Training and it was only a couple weeks before I had the second incident. I really think it's just from a lack of strength. ... I think just having a normal offseason, getting back to being able to work out -- no one foresees any other issues."
UPDATE: Wednesday, Sept. 11
From Bryan Hoch of MLB.com:
Derek Jeter is going on the DL. His season is over.

— Bryan Hoch (@BryanHoch) September 11, 2013
Cashman: "This was a much more difficult rehabilitation situation than we ever expected."

— Bryan Hoch (@BryanHoch) September 11, 2013
Dr. Anderson told Jeter that resting a week to 10 days wouldn't heal the weakness in his ankle, according to Cashman.

— Bryan Hoch (@BryanHoch) September 11, 2013
"This is what's best for Derek. ... Something's going to give at some point the more we run him out there." - Cashman

— Bryan Hoch (@BryanHoch) September 11, 2013
Mark Feinsand of the NY Daily News added:
Cashman said Jeter would not return for the postseason if the Yankees get there.

— Mark Feinsand (@FeinsandNYDN) September 11, 2013
UPDATE: Tuesday, Sept. 10
From Jack Curry of YES Network:
Girardi said Jeter is "still in a holding pattern" and won't do any on field activities. Wasn't sure if he could use Jeter in emergency.

— Jack Curry (@JackCurryYES) September 10, 2013
UPDATE: Monday, Sept. 9
According to GM Brian Cashman, the Yankees will not be shutting down Jeter for the rest of 2013 anytime soon (via ESPN New York):
"Right now it's just a day-to-day thing. It was a little sore the other day, something he wasn't really speaking to, but you could see the way he was moving around, so we pulled the plug on it.

I just know we don't want to be in a situation we were in in March where it's sore and you're trying to play through soreness and something else happens. Bottom line is, when he's feeling better he'll be moving better."
UPDATE: Monday, Sept. 9
From Andy McCullough of The Star-Ledger:
No baseball activity for Jeter today. Girardi doesn't know if he can play tomorrow.

— Andy McCullough (@McCulloughSL) September 9, 2013
UPDATE: Sunday, Sept. 8
While Jeter is out indefinitely according to Andrew Marchand of ESPN New York, manager Joe Girardi sounded optimistic he'll play again this season:
"I don't think you will ever get him to concede. I believe that one of the things that have made him great for so long is his ability to fight through things and to find a way to get it done even when it has looked like he might be too nicked up.

I know he is frustrated. He wants to be out there. It is tearing him up inside. But as much as he doesn't like it and wants to be out there, I think he understands. We are trying to give it a couple of days to calm down."
UPDATE: Sunday, Sept. 8
From Anthony McCarron of the New York Daily News:
Jeter's ankle is sore and he'll probably have a few days off and be reevaluated, Girardi said

— Anthony McCarron (@AnthonyMcCarron) September 8, 2013
Andrew Marchand of ESPNNewYork.com passes along a statement from Yankees manager Joe Girardi confirming that Derek Jeter isn't expected to be shut down just yet:
With the season ending three weeks from Sunday, Girardi could not be sure that Jeter will play again this year. However, Girardi did say there is no plan yet to shut down the shortstop.

"Not right now," Girardi said.
UPDATE: Sunday, Sept. 8
MLB.com's Bryan Hoch confirms Derek Jeter is not in the Yankees' lineup today:
Yankees lineup vs. Boston: Ichiro 9 Wells DH Soriano 7 Cano 4 Rodriguez 5 Reynolds 3 Granderson 8 Nunez 6 Stewart 2 Kuroda RHP

— Bryan Hoch (@BryanHoch) September 8, 2013
UPDATE: Saturday, Sept. 7
From the New York Yankees:
Preliminary results on Derek Jeter's CT scan are negative; results will also be sent to Dr. Anderson, who performed Jeter's ankle surgery.

— New York Yankees (@Yankees) September 7, 2013
Original Text:
Ken Rosenthal of Fox Sports provided the initial news:
As I just reported, #Yankees' Jeter left game due to issue with or near surgically repaired left ankle.

— Ken Rosenthal (@Ken_Rosenthal) September 7, 2013
Rosenthal provided more details:
Girardi told Jeter: "I don't like the way you're running. I'm going to protect you." Confirmed issue is with ankle.

— Ken Rosenthal (@Ken_Rosenthal) September 7, 2013
Jeter's apparent injury is just the latest development in his ongoing battle to get healthy. He has only played in 17 games this season after spending much of the 2013 season on the disabled list for issues with his quad and calf after recovering from surgery for the broken ankle that he suffered in the 2012 ALCS.
Even when the star has been healthy this season, he hasn't played like himself. He's hitting just .190 with one home run and seven RBI in 63 at-bats. Jeter has played in at least 119 games for the Yankees in every season since 1996 until this year.
Eduardo Nunez has been the Yankees primary shortstop, hitting .260 on the season with one home run and 23 RBI, but he has dealt with injury issues of his own as he attempts to rehab a knee injury.
Jeter's return to the lineup as a healthy asset would be a huge boost for the Yankees as they approach the end of the season. The Bronx Bombers sit three games out of the American League wild-card race, but are on a three-game skid.
With Jeter out of the lineup yet again, the Yankees are in serious danger of missing the playoffs altogether.
This article is
What is the duplicate article?
Why is this article offensive?
Where is this article plagiarized from?
Why is this article poorly edited?

New York Yankees: Like this team?