Florida vs. Miami: 10 Things We Learned in the Gators' Loss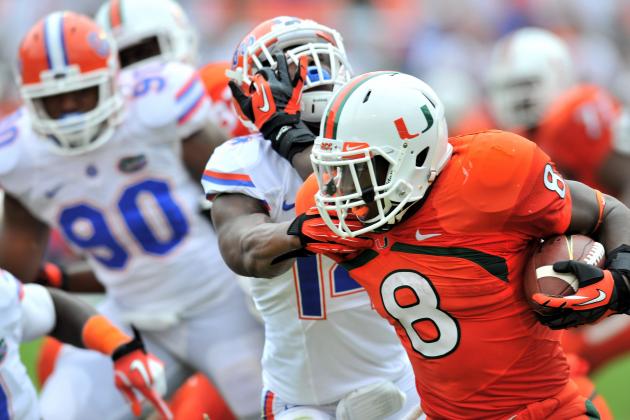 Steve Mitchell-USA TODAY Sports

Most expected the game to be a down-to-the-wire thriller, and it lived up to that billing. However, the Florida Gators should be feeling nothing but frustration after practically giving away a 21-16 victory to the Miami Hurricanes.
The Gator offense struggled in all aspects, and it ultimately failed to put enough points on the board.
There were a few positives to take from the loss, but there were also plenty of problems that need to be corrected.
Begin Slideshow

»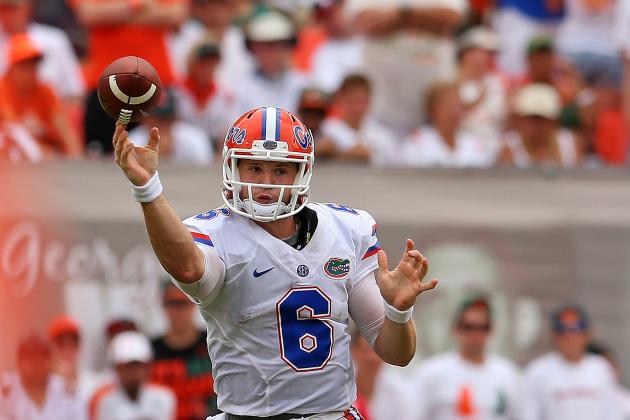 Mike Ehrmann/Getty Images

Driskel had his worst game as a Gator, and he deserves a lot of the blame for the loss.
Much like he did against Georgia last year, he threw an ugly interception near the goal line in the first half that proved to be critical.
Rather than respond, however, he faltered.
He looked lost in the pocket, bouncing around as opposing linemen closed in around him. His timing was atrocious, and he overthrew a number of passes.
The only positive to take from his performance was his ability to run the read-option. Other than that, it was ugly.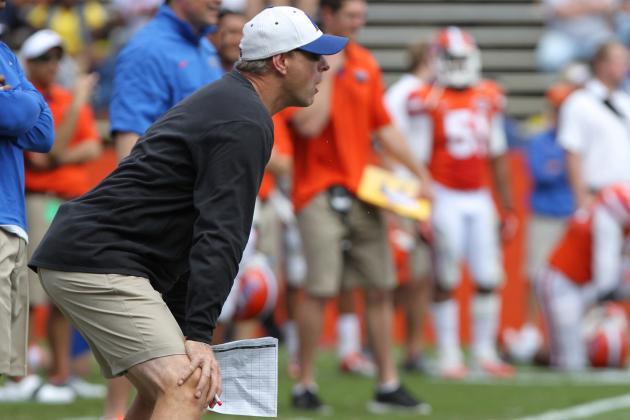 Kim Klement-USA TODAY Sports

Brent Pease called his worst game as the Gators' offensive coordinator.
Florida ran on almost every single first down. Anyone at home could predict what was coming, let alone the Miami players and coaches.
A few plays were head-scratchers. The Wildcat play inside the 10-yard line and quarterback sneak on fourth down in the second quarter are the two that really stand out.
He continuously forced Driskel to convert 3rd-and-long and never gave him the chance to get comfortable and find a rhythm.
Pease and the coaches definitely need to go back to the drawing board after this one. Sometimes adjustments at halftime are necessary to kick-start the offense, and Pease has not proven that he can make them.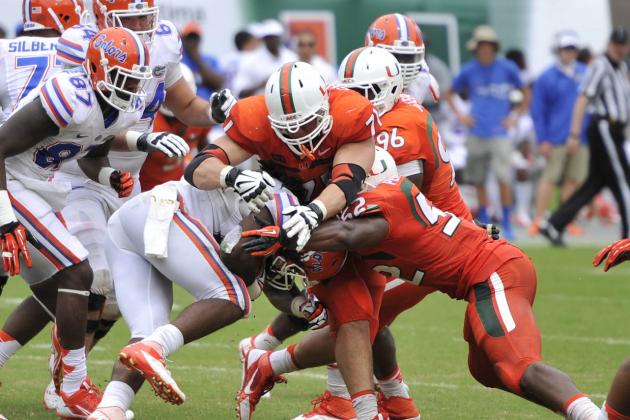 Brad Barr-USA TODAY Sports

The performance of the Gator running game today would indicate that Mack Brown's success against Toledo will be harder to rekindle than originally thought.
His fumble aside, Matt Jones did not play well. He didn't seem to hit the holes with the same vigor that he did last season. Hopefully, he has fully recovered from the viral infection and just had a bad game.
The Wildcat was not a factor, and Driskel could not make any big plays with his feet either.
Injuries to the offensive line are a big factor, but Florida's rushing attack has not looked this bad in a long time.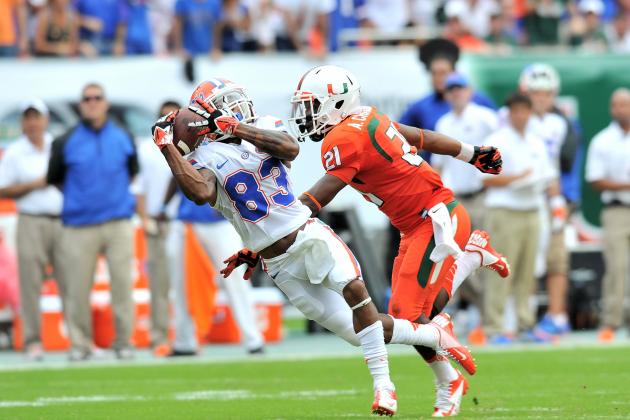 Steve Mitchell-USA TODAY Sports

Solomon Patton is the only offensive player Gators fans should be proud of after this game.
He made a number of plays, including a huge 46-yard catch late in the first quarter.
Overall, he had 118 yards and caught Driskel's only passing touchdown of the game. He may be one of the smallest players on the field, but Patton proved today that he can be an impact player for the Gators.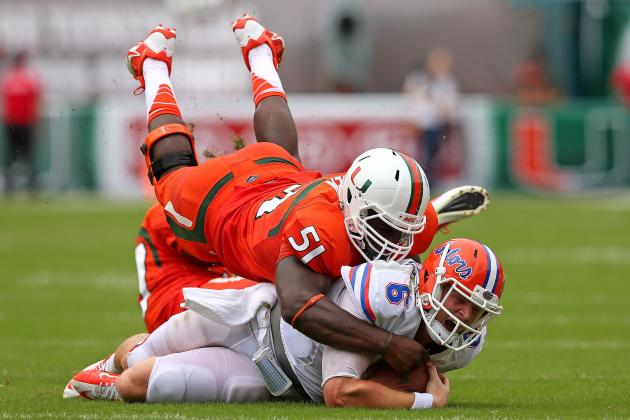 Mike Ehrmann/Getty Images

The red zone is turning into the danger zone for the Gators.
Four of their trips inside the Hurricanes' 20-yard line resulted in no points. Everything from the play calls to ball security seemingly became inept when the Gators reached the red zone.
If they could have even put a couple of field goals on the board, they would now be 2-0 instead of making a long and depressing trip back to Gainesville.
If the Gators cannot correct their problems in the red zone, the 2013 season will get out of hand really quickly.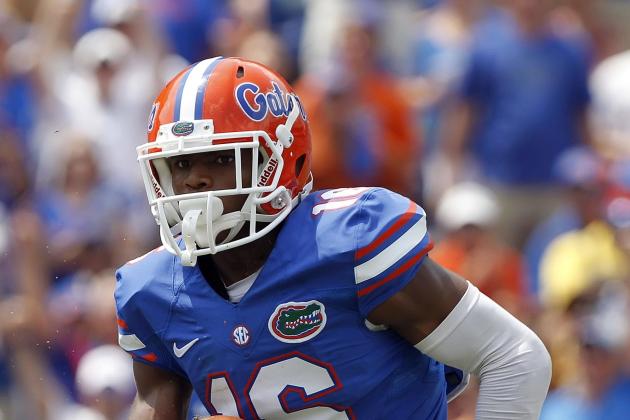 Kim Klement-USA TODAY Sports

Vernon Hargreaves nearly won this game for the Gators by himself.
If he had stayed another foot to the right on an interception return with 10 minutes remaining, he would have scored and put the Gators ahead.
Still, that's two interceptions in his first two games. He held his own when Marcus Roberson left the game, and he made a number of plays.
Hargreaves, at least after eight quarters, appears deserving of the hype.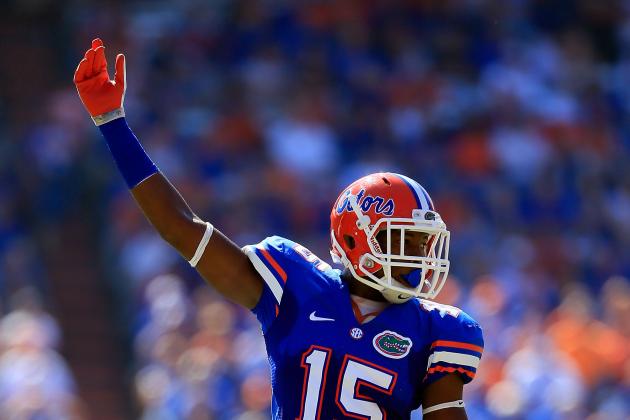 Sam Greenwood/Getty Images

Purifoy makes mistakes here and there, but you can always count on him for one big play. He delivered with a blocked punt that set up Florida's first touchdown.
He is always one of the first defenders to reach the return man down the field as well.
Purifoy's return paid immediate dividends for the Gators today, and he will continue to be one of the best special teams players in the country.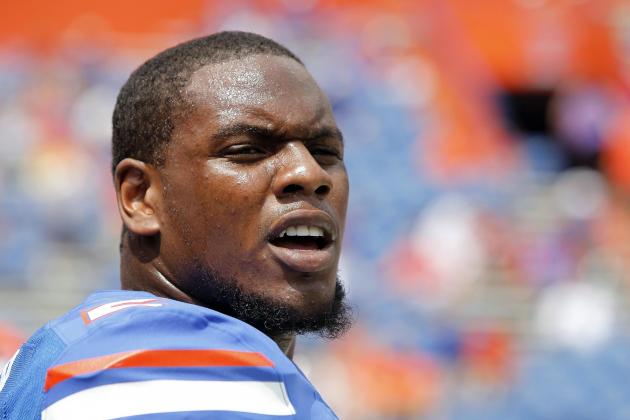 Kim Klement-USA TODAY Sports

As poorly as Florida's offense played in this game, the defense was excellent in nearly every aspect.
Aside from a couple of personal fouls, there was little to complain about.
Stephen Morris was visibly affected by the pass rush and made a number of terrible throws. Dominique Easley was a monster in the backfield.
Duke Johnson was repeatedly stuffed in the second half. In reality, the entire Hurricane offense was continuously foiled as the game wore on.
Driskel and the offense were given plenty of opportunities to win this game by their teammates on defense. They just failed to capitalize on them.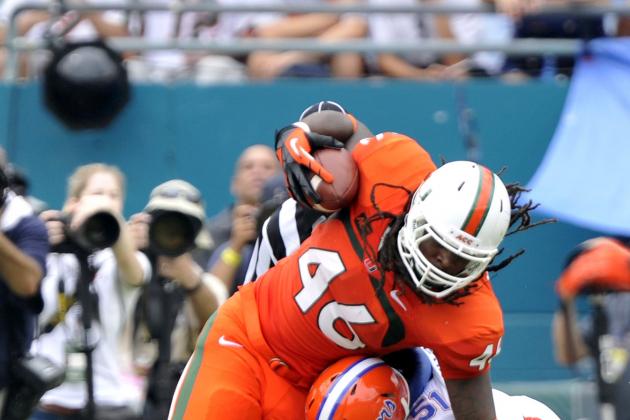 Brad Barr-USA TODAY Sports

There were so many terrible penalties.
Tyler Moore was called for at least two holds. Clay Burton's personal foul stalled one of Florida's early drives. A roughing-the-passer violation kept Miami's first drive of the game alive.
Not to mention, the Gators continuously pushed and shoved after the whistle.
Penalties have been a problem for the Gators for years, and it doesn't seem as though that will change in 2013.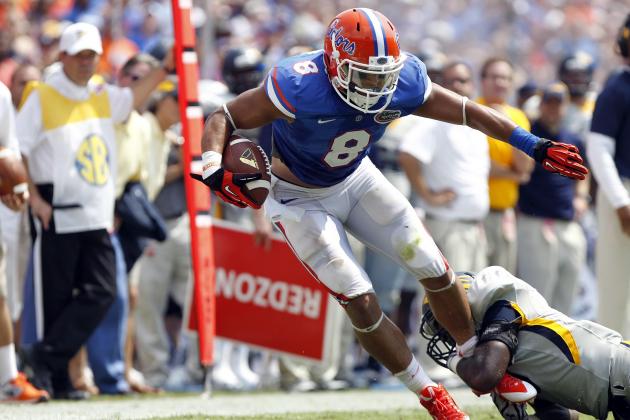 Kim Klement-USA TODAY Sports

First, Georgia.
Then Louisville.
Now, Miami.
In big games, the Gators crumble and commit crippling turnovers.
Driskel had three of them by himself on two poor throws and a fumble in the pocket. Trey Burton took likely points off the board with his fumble in the second quarter. Matt Jones also immediately swung momentum in Miami's favor with his fumble on the first drive of the game.
Two or three turnovers in a road game is a bad day. But five? That's inexcusable. The Gators had no chance with their faulty ball security.