Florida vs. Miami: 10 Things We Learned in Hurricanes' Win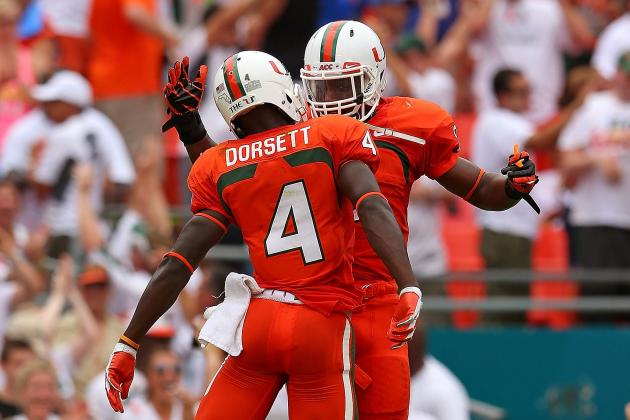 Mike Ehrmann/Getty Images
The 'Canes can celebrate a huge win against a top-ranked team.
The Miami Hurricanes welcomed the No. 12 Florida Gators into Sun Life Stadium for the first appearance between the two schools since 2008, and the 'Canes sent their in-state rivals home thinking about a loss.
Al Golden's defense played a magnificent game, ultimately forcing six turnovers en route to a 21-16 victory.
Quarterback Stephen Morris tossed two early touchdowns, and Duke Johnson added the game-clinching score late in the fourth quarter, but Miami's offense was largely held in check throughout the day.
Miami heads into its bye week with a 2-0 record after the enormous win, and there were quite a few things learned during the heated battle against Florida.
Begin Slideshow

»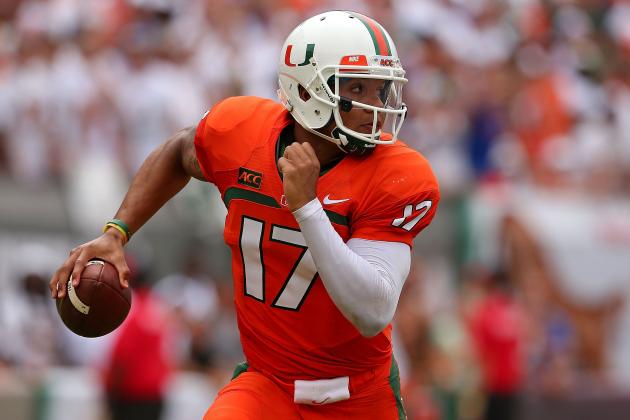 Mike Ehrmann/Getty Images
Morris definitely has to improve against great defenses.
Stephen Morris looked like an all-world quarterback during the first quarter, but he struggled throughout the final three periods.
After gorgeous touchdowns to Herb Waters and Phillip Dorsett, Morris was 6-of-8 for 103 yards with those two scores.
But the Florida defense stepped up, and Morris looked frazzled the rest of the game, missing open targets and miscommunicating with receivers. He finished the final three quarters going 6-of-17 for 61 yards and also threw an interception.
Miami may have come away with the win, but the senior gunslinger will need to step up his game if the 'Canes want to seriously contend in the ACC this season.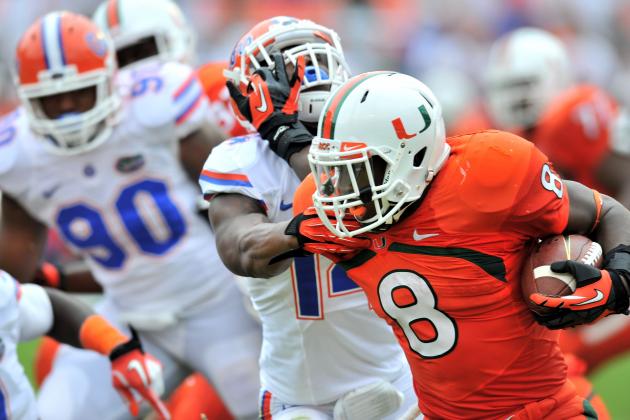 Steve Mitchell-USA TODAY Sports
Duke Johnson still made a few plays, but he didn't have many holes to run through.
The Hurricanes O-line can dominate weaker defenses like the unit did to Florida Atlantic, but running back Duke Johnson had little room against Florida.
Johnson showed a few signs of his trademark explosive runs, but Florida's defensive line was outstanding.
Miami's O-line, essentially, was dominated by the Gators front seven, and the sophomore carried the ball 21 times for just 59 yards, though he did have the game-sealing touchdown.
Ereck Flowers (twice) and Malcolm Bunche were both called for holding penalties.
The Hurricanes gained 212 yards on offense, which simply won't cut it against a team like Florida State.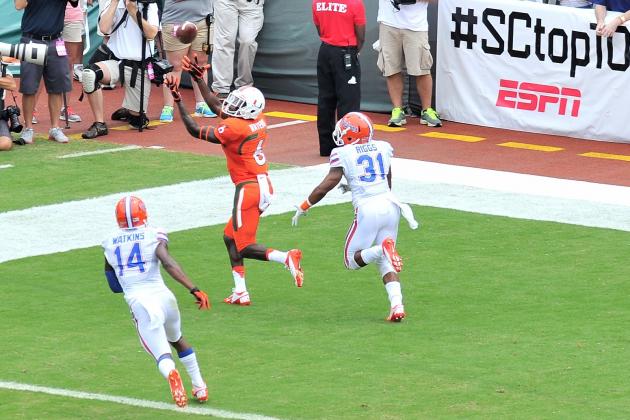 Steve Mitchell-USA TODAY Sports
Waters made a great catch for his touchdown.
Phillip Dorsett scored a touchdown from 52 yards out, but it was his only catch of the day. Plus, he was flagged for holding.
Allen Hurns made four catches for 60 yards, but he was gifted nearly half of that mark due to a missed tackle.
Herb Waters hauled in a seven-yard touchdown, but he only grabbed two more passes for a combined seven yards.
With Rashawn Scott sidelined for four to six weeks, the Hurricanes need a receiver or two to become a threat in the passing game. True freshman Stacy Coley could be the guy, and Malcolm Lewis—when he returns from injury—will be a great addition, but the breakout receiver must emerge quickly.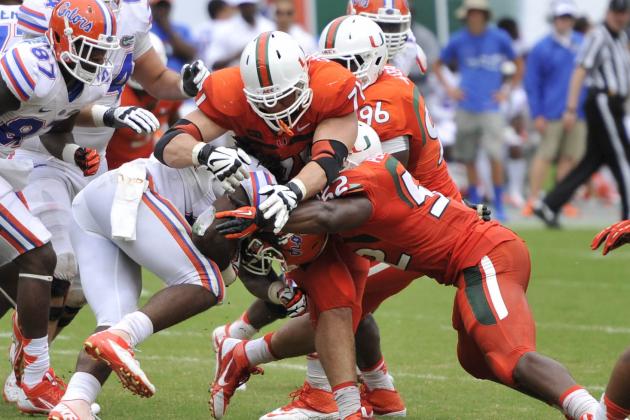 Brad Barr-USA TODAY Sports
The Hurricanes swarmed to the ball on nearly every play.
I would have fearlessly called anyone who predicted that the Hurricanes defense would force six turnovers an unbelievable homer.
Miami picked off two passes, forced four fumbles (recovered three) and held on 4th-and-inches to cause a turnover on downs.
The Gators were just 6-of-15 on third down, but most importantly for the 'Canes, Florida scored just 16 points despite entering the red zone seven times.
Granted, the UF offense is not heralded as a great unit, but then again, neither is Miami's defense.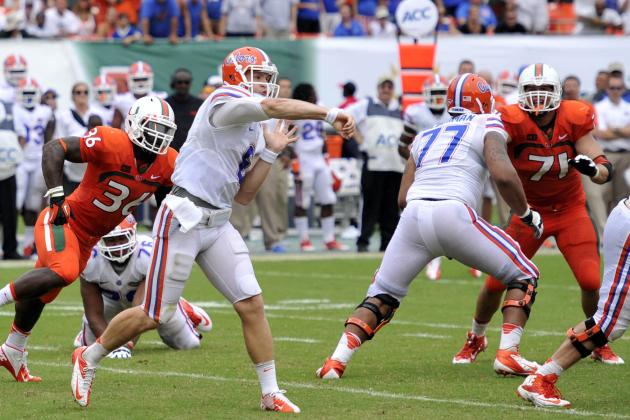 Brad Barr-USA TODAY Sports
Driskel had plenty of time to throw on many occasions.
As stellar as the 'Canes defense was at forcing turnovers, the Gators still tallied 413 yards of total offense and reached the red zone seven times.
Now, any Miami fan loved the results on Saturday, but seven red-zone possessions typically result in more than 16 points.
Although Jeff Driskel completed 22-of-33 passes for 291 yards, the 'Canes secondary is not to blame. Miami's D-line failed to consistently pressure the quarterback yet again, and Driskel made a few great throws because of the time allowed.
But the unit sure was great overall on Saturday, wasn't it?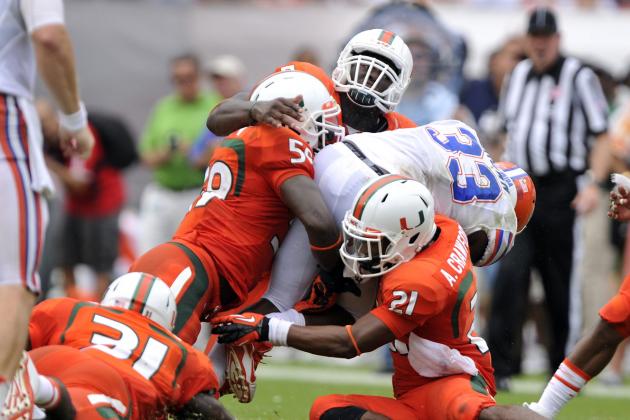 Brad Barr-USA TODAY Sports
Florida RB Mack Brown didn't have much space, nor did Matt Jones.
Yes, Miami allowed 412 yards. Yes, the 'Canes forced six turnovers.
But Florida's offense controlled the ball for a staggering 38 minutes and 20 seconds.
Miami's defense, however, never looked tired from the physical battle and allowed just 2.8 yards per rushing attempt. Al Golden has his team in top physical condition.
Plus, the Hurricanes finally have plenty of talented depth—not just depth—and are not simply substituting bodies.
Justin Renfrow and David Gilbert transferred from Virginia and Wisconsin, respectively, and both players are making a noticeable impact. True freshman Alex Figueroa is flying all over the field, and other outside linebackers like Tyrone Cornelius and Thurston Armbrister are also stepping up.
Tyriq McCord, who isn't even listed on the depth chart, made the biggest play of the day, forcing a turnover at Florida's 5-yard line in the fourth quarter.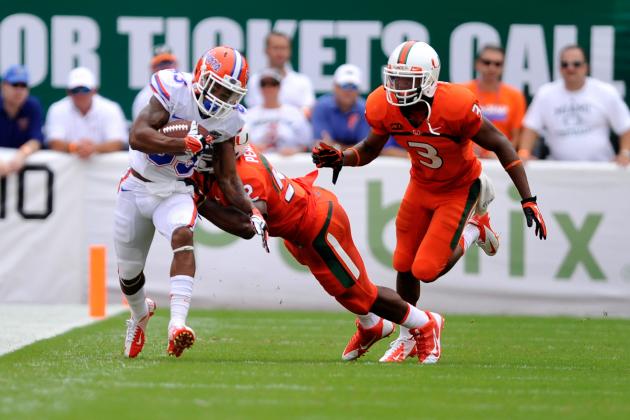 Brad Barr-USA TODAY Sports
Denzel Perryman was the key to Miami's win.
Denzel Perryman was literally everywhere.
From sideline to sideline, Perryman was making plays.
The junior outside linebacker had a fantastic freshman season but struggled through injuries as a sophomore.
On Saturday, Perryman stepped up against a top-ranked team. He racked up 13 tackles, forced a fumble and unquestionably was the MVP for the 'Canes.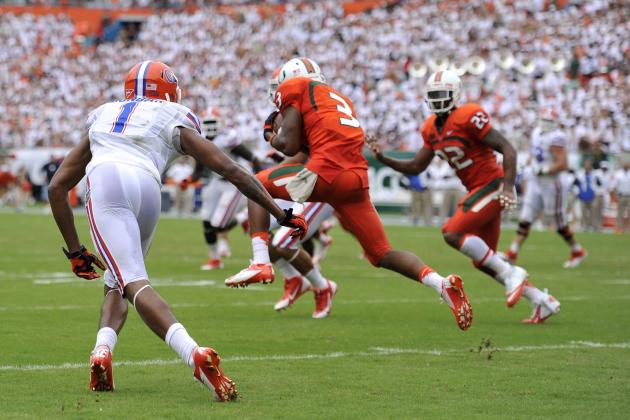 Brad Barr-USA TODAY Sports
Howard intercepted a Driskel pass at UM's 12-yard line.
Tracy Howard guarded the single receiver in one-WR sets, locked down his man and came up with a huge play late in the game.
Howard officially silenced all the stat-lovers with an enormous interception—the first of his young career—and returned it 36 yards.
Constantly harassed for not making scorebook-plays, Howard will no longer be associated with ridiculous criticism that he is not making an impact. He did allow a 20-yard completion on 2nd-and-20, but Howard had a solid day against Florida's speedy receivers.
As expected, the true sophomore is emerging as Miami's defensive back this season.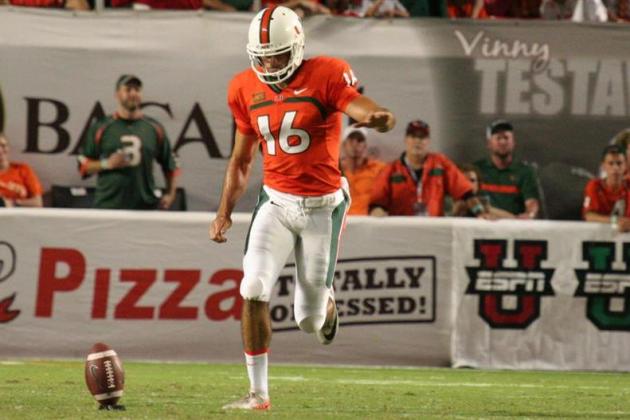 Pat O'Donnell via 247Sports
The college football free-agent market has been great to Miami.
Punter Pat O'Donnell graduated from Cincinnati and transferred to the 'Canes this offseason, and he has been spectacular in two games so far in 2013.
On Saturday, O'Donnell punted the ball—save for the blocked kick—eight times and blasted a 60-yarder. His average punt was 49 yards—which, quite frankly, is incredible.
O'Donnell is changing field position one kick at a time, and the 'Canes will need that from him, especially when the offense is struggling.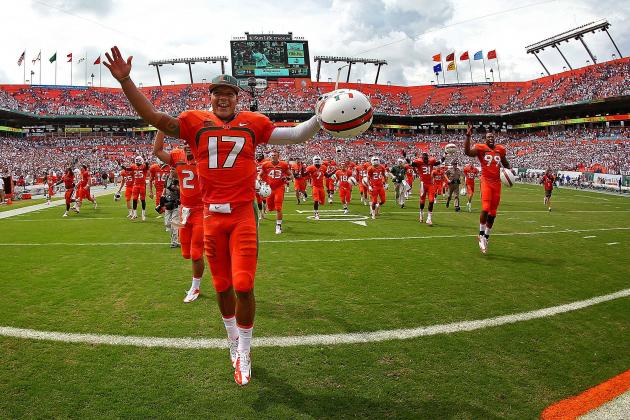 Mike Ehrmann/Getty Images
Stephen Morris has his signature win, even if it wasn't his best day.
One win at a time.
Miami wants to win a conference championship, and a 10-win season would be a monumental improvement over recent six- and seven-win campaigns.
The 'Canes proved they can grind out wins against great competition, but the team has a long way to go.
Not since 2009 has Miami started 2-0, and the Hurricanes beat three ranked opponents that season, so the 2013 squad has started on a melodious note.
Expectations for this team are rising, but it's only Game 2, and Savannah State is up next.
The 'Canes must turn their focus to the Tigers, because, well, one win at a time.