The International Olympic Committee has tabbed Tokyo, Japan, as the host city for the 2020 Summer Olympic Games. The announcement came from IOC President Jacques Rogge on Friday during the 125th IOC Session.
Tokyo beat fellow finalists Istanbul, Turkey, and Madrid, Spain, for the honor.
NBC Sports had the tweet as the decision hit the airwaves:
TOKYO will host the 2020 Summer Olympics. The city also hosted the 1964 Games. @NBCOlympics

— NBC Sports (@NBCSports) September 7, 2013
Tripp Mickle of the Sports Business Journal expanded on what Tokyo's win means for the country and the IOC:
Tokyo wins the 2020 Olympic Games, beating out Istanbul and Madrid w/ promises of a celebratory, dependable, financially lucrative event.

— Tripp Mickle (@trippmickle) September 7, 2013
Although Tokyo was the ultimate choice for the IOC, it's hard to deny that any of the three cities in contention would have been excellent hosts for the 2020 Games.
CDN Olympic Team provides some insight as to why each finalist was chosen:
Who do you think should host the 2020 @Olympics? ReTweet = Istanbul Favourite = Madrid Reply = Tokyo pic.twitter.com/ubIJqfdgHr

— CDN Olympic Team (@CDNOlympicTeam) September 7, 2013
Madrid and Istanbul were involved in a runoff vote to determine which city would face Tokyo in the final decision. With 49 votes to Madrid's 45, it was Istanbul that survived the first round of cuts.
Earlier in the afternoon, Madrid was eliminated from contention. BBC Sport and USA Today Olympic analyst Kelly Whiteside confirmed that it was officially a two-horse race:
Madrid finish third and eliminated from contest to host the 2020 Olympics. Host city will be either Tokyo or Istanbul. Decision at 2100BST

— BBC Sport (@BBCSport) September 7, 2013
It's between Istanbul & Tokyo for 2020 Olympics

— Kelly Whiteside (@KellyWhiteside) September 7, 2013
The Twitter account responsible for drumming up support for Madrid's 2020 bid expressed disappointment in that decision soon after:
Madrid 2020 was not a bid of dreams, but winning the Games would have been a long awaited dream for the people of Madrid".

— Madrid 2020 (@Madrid2020ES) September 7, 2013
NBCOlympics later posted that voting between Istanbul and Tokyo was closed:
Voting for the 2020 host city is closed. We'll find out at 4pm ET whether it'll be #Tokyo or #Istanbul.

— NBCOlympics (@NBCOlympics) September 7, 2013
An elaborate ceremony held at the Buenos Aires Hilton then provided the world with the news that Tokyo would be given a second chance to formally host the Summer Olympic Games.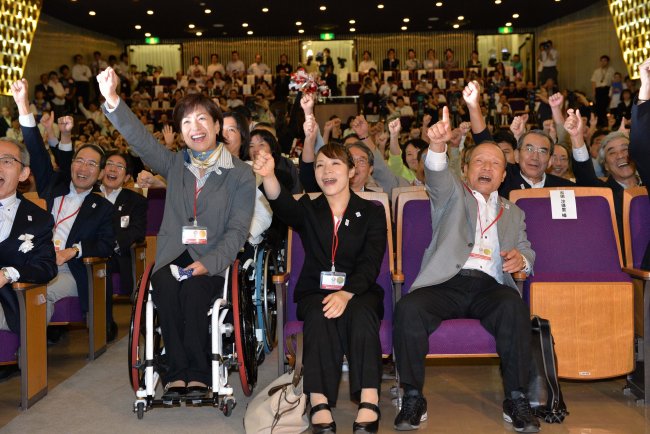 Atsushi Tomura/Getty Images
Tokyo joins Sochi, Russia (2014 Winter Olympics), Rio de Janeiro, Brazil (2016 Summer Olympics), and Pyeongchang, South Korea (2018 Winter Olympics) as confirmed sites for future international competition.

Which city was the right choice for the 2020 Games?
Tokyo previously hosted the Summer Olympics in 1964. It was scheduled to host the 1940 Games, but World War II derailed those plans. Additionally, Japanese cities Sapporo and Nagano have hosted the Winter Olympics.
Start making your hotel reservations now, sports fans.

Follow B/R's Ethan Grant on Twitter.