Oregon vs. Virginia: Live Score and Highlights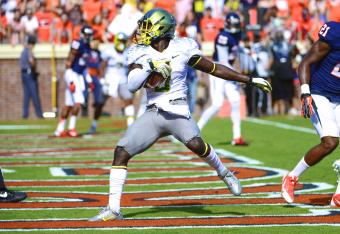 Oregon 59 Virginia 10—Final
The No. 2 Oregon Ducks jumped out to a 21-0 first-quarter lead against Virginia and cruised to a 59-10 victory in a battle between Pac-12 and ACC powers.
Mark Helfrich's high-powered offense showed why it is one of the country's most potent units, with quarterback Marcus Mariota and running back DeAnthony Thomas both topping the century mark on the ground.
The Cavaliers offense struggled mightily, turning the ball over four times and consistently hurting itself with penalties and miscues throughout the game.
Oregon improves to 2-0 and will host Tennessee next weekend, while Virginia drops to 1-1 and will get a bye next week before hosting VMI on Sept. 21.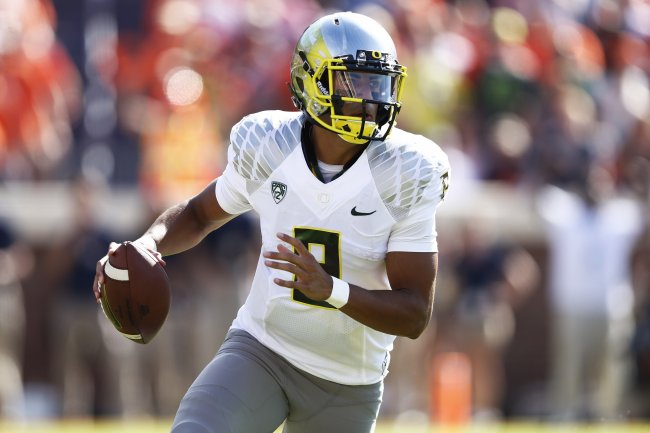 Joe Robbins/Getty Images
Thanks to all the Oregon and Virginia fans for following along with the blog. Here's a link to my postgame piece on the Ducks big win.
And this one is in the books. Oregon wins, 59-10.
Good gracious. Ducks linebacker Issac Ava unloaded a vicious hit on Cavaliers running back Kyle Morgan.
Just what Oregon needs: another dynamic running back. Tyner starts his Ducks career off with a bang, racing 31 yards for another score. Ducks up 59-10.
Oregon scores pretty fast. This is pretty much a known fact.
However, it appears that the fine folks at ABC are struggling to keep up with the Ducks.
B/R's Ken Dorset notes the faulty math from their graphics team.
Uhm, who scored the safety?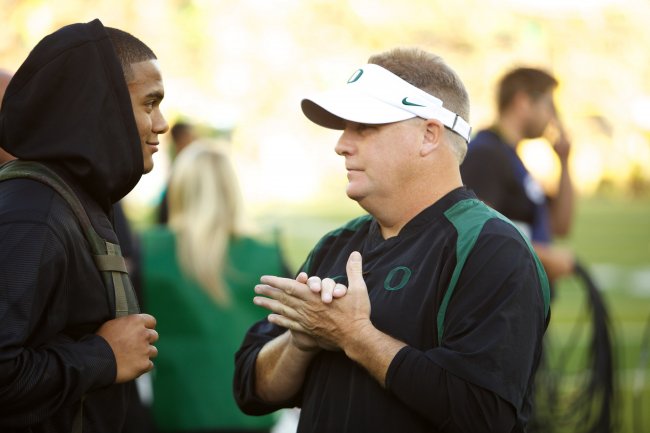 Craig Mitchelldyer/Getty Images
Wow. Dior Mathis picks off Watford in the end zone and weaves his way for a 98-yard return to the Cavaliers 2-yard line.
One play later, star freshman running back Thomas Tyner plunges in for the score. Ducks up 52-10. That's a lot of push-ups for the cheer squad.
Virginia has finally managed to put together a drive on offense. However, the Cavaliers just had a touchdown called back due to penalty.
The Ducks continue their trend of either scoring or punting in a hurry. This time, UVA forces a three-and-out, and the final quarter is about to begin.
The announcers keep calling for Virginia to go for it every series. I understand their rationale, but at the same time, it's 45-10, and you know that Oregon would score in a hurry if you don't get it. It's easy to say go for it, but Coach London can't hang his defense out to dry like that.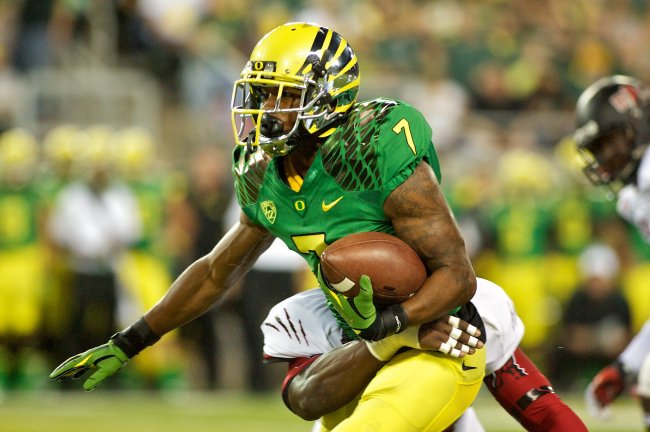 Craig Mitchelldyer/Getty Images
Keanon Lowe joins the fun, taking a screen pass into paydirt from 11 yards out. Ducks rolling 45-10.
Colt Lyerla needs some stick'em. Third drop today.
Tony Washington just channelled his inner Dion Jordan. Sack, strip, fumble and the Ducks are poised to deliver a knockout blow.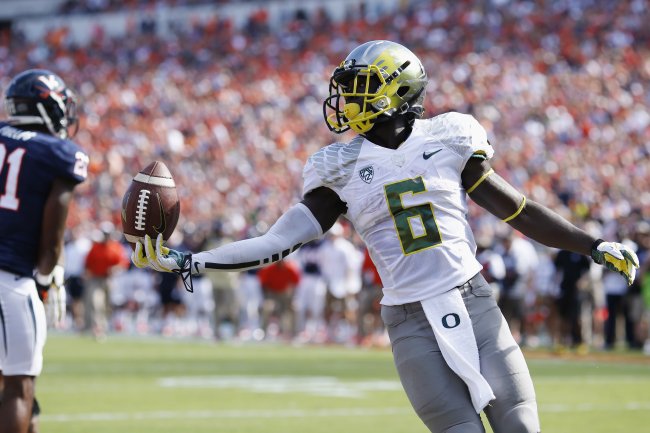 Joe Robbins/Getty Images
Oregon's offense is turning up the heat after a few series in which they bogged down.
Thomas makes a sick cut and saunters into the end zone from eight yards out. That's his third score today, and Oregon goes up 38-10.
After being picked apart by tight ends Jake McGee and Zachary Swanson, Oregon finally decided to cover the middle of the field. Ducks linebacker Rodney Hardrick picks off Watford on 4th-and-long, and the defense gets its second pick of the afternoon.
Considering that Shepherd made the big play for Virginia in the first half, it's kind of shocking that he's only touched the ball five times as of now.
Oregon's drive bogs down in the red zone, and Alejandro Maldonodo boots a short field goal to extend the Ducks lead to 31-10.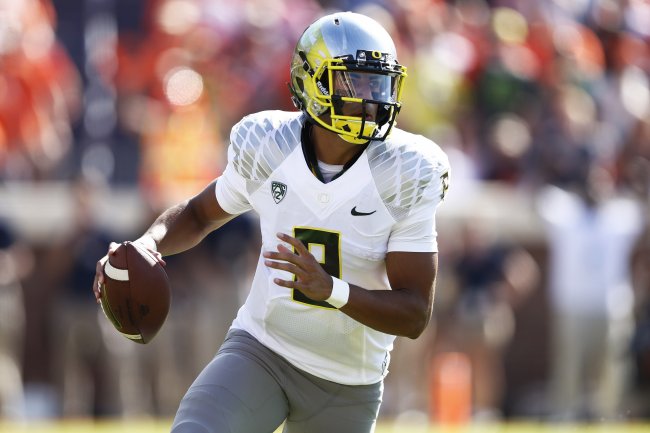 Joe Robbins/Getty Images
Mariota's footwork in the pocket is pretty impressive. It's downright scary when he decides to take off and run with it, too.
According to Jeannine Edwards of ABC, Oregon is running a play every 14 seconds. Edwards said that UVA coach Mike London said that was two seconds faster than what the Cavs saw against BYU last week.
Is it me, or does Oregon's offense seem to get plays off faster than every 14 seconds? I know that is quick, but it just seems like they snap a play every 10 seconds or so.
Virginia gets the ball to start the second half. If it wants any shot at remaining in this game, it needs to put together a scoring drive with this series.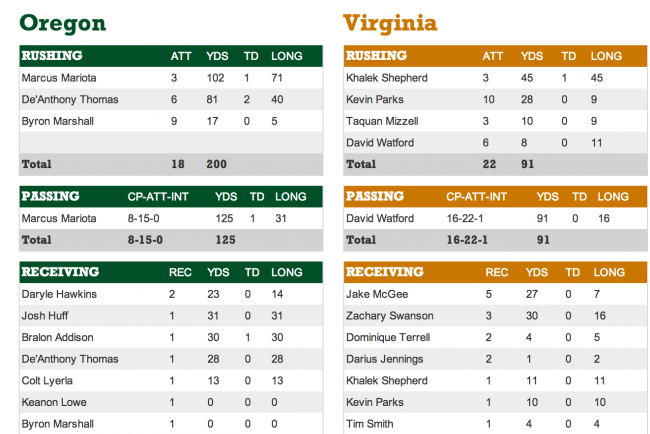 Some halftime stats, per NCAA.com.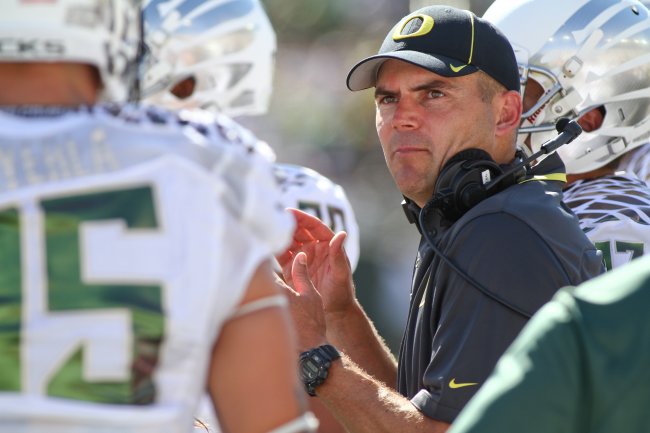 Christopher Barth/Getty Images
Oh. That's what Mark Helfrich looks like. For a while, he was almost like one of those wrestling characters that wear masks.
That nugget aside, his offense is getting it done six quarters into the 2013 season.
A minor victory for the Cavs to close the first half, as they shut the Ducks down on fourth down on the doorstep of the end zone. Virginia should run the clock out on the first half here.
All this woofing going on is pretty comical. If you are Oregon, beating a team which was 4-8 last season is what you are supposed to be doing. If you are Virginia, you're pretty much getting your hats handed to you on your home field. Cut the tomfoolery!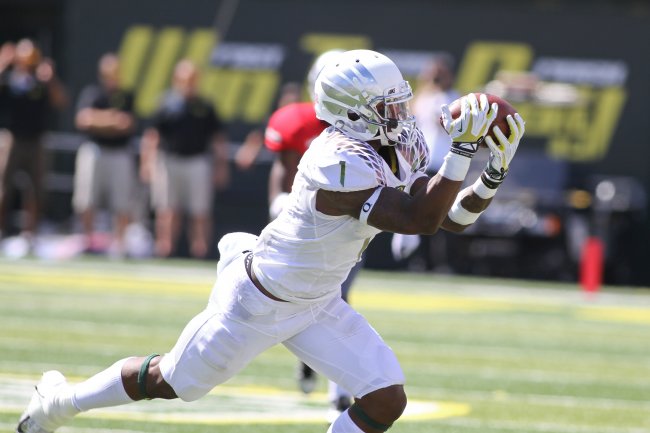 Christopher Barth/Getty Images
Wow. Josh Huff just Moss'ed a poor Virginia corner. This is video game stuff at this point.
Two minutes for Oregon's offense is like an eternity.
This article is
What is the duplicate article?
Why is this article offensive?
Where is this article plagiarized from?
Why is this article poorly edited?

Oregon Ducks Football: Like this team?