Italian Grand Prix 2013: Live Lap-by-Lap Updates, Highlights, Recap from Monza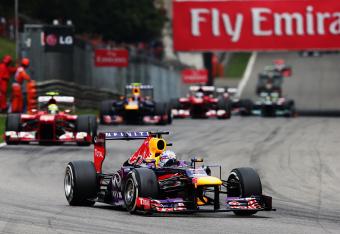 Clive Mason/Getty Images
2013 Italian Grand Prix, Monza
Sebastian Vettel extended his championship lead with a routine pole-to-flag victory at the Italian Grand Prix.
Once the German had made his way to the first corner in front, he was rarely challenged, with Fernando Alonso in second more concerned about Mark Webber behind him than the world champion ahead.
It was a procession, and met with boos from the Ferrari faithful who had hoped to see a home victory.
Felipe Massa took a creditable fourth, though Nico Hulkenberg—tipped by some to replace him at Ferrari—next year, may have overshadowed him with fifth.
The rest of the top 10 was made up of Nico Rosberg, Daniel Ricciardo, Romain Grosjean, Lewis Hamilton and Jenson Button.
The story was at the front, however, where Vettel collected his 32nd GP win, the third of his career at Monza, and moved 53 points clear of Alonso in the championship race.
A fourth straight title appears to be only a matter of time.
Here's how the race unfolded:
Here's the top 10:
Vettel
Alonso
Webber
Massa
Hulkenberg
Rosberg
Ricciardo
Grosjean
Hamilton
Button
WINNER! Sebastian Vettel leads the Italian Grand Prix from pole to flag. Very easy afternoon for the German.
53/53: Doesn't look like Webber is going to be able to find a way through, into second...
52/53: Vettel begins the penultimate lap, and there's no sign that his gearbox worries are going to cost him. The losers now are McLaren, because Raikkonen can get ahead of Button and steal the last point.
51/53: And it does get him into the points! Hamilton follows up by passing Perez, and Button is next... He can't hold him off for long.
50/53: Some praise for that Hamilton pass:
Hamilton finally gets past though, using KERS to move around the outside of Curva Grande. Took guts! #F1onNBC

— F1® Racing on NBC (@F1onNBCSports) September 8, 2013
49/53: Hamilton past Raikkonen! Great scrap, even if it's not for points...
48/53: Hamilton tries to pull off a move to get ahead of Raikkonen, but has to back out at Parabolica. Time running out to eke out those points.
47/53: All the while Nico Hulkenberg is having a quietly effective race in fifth. Better than Massa, the man he might replace at Ferrari next year, in fourth?
46/53: There's no apparent effect on performance on the Red Bulls—Vettel leads by 12 seconds, Webber is still on Alonso's tail—but it must be preying on their minds.
45/53: Raikkonen up to 11th—Hamilton follows him into 12th by ripping past Sutil.
44/53: Both Red Bull drivers now warned about the gearboxes...
Vettel is now being told to short-shift in fifth and sixth as more gearbox worries develop at Red Bull. #F1

— AUTOSPORT Live (@autosportlive) September 8, 2013
43/53: With ten laps to go, here's the top 10:
Vettel
Alonso
Webber
Massa
Hulkenberg
Rosberg
Ricciardo
Button
Grosjean
Perez
42/53: Hamilton has new tyres and a new fastest lap of 1:26.607. There's still hope for some exciting final laps with Raikkonen and Hamilton slicing through the field. But it will be minor points they're fighting for.
41/53: Just as he's catching Alonso, there's bad news for Webber:
Webber is told that he has an issue and needs to short-shift on the exit of turn two #F1onNBC

— F1® Racing on NBC (@F1onNBCSports) September 8, 2013
40/53: Meantime Alonso is being reeled in by Webber—the gap around a second now—while Raikkonen's 1:27.0 is the quickest lap of the race.
39/53: Not such a disaster for Hamilton, then, who does come in this time around and rejoins in P14:
Mercedes still struggling to get messages to Hamilton. He's told to pit but does the fastest lap instead #F1

— ESPN F1 (@ESPNF1) September 8, 2013
38/53: Mercedes tell him to come in, Hamilton stays out another lap. In the meantime Grosjean pulls off a crisp, clean move to get ahead of Perez. The Lotuses are quick, but they risk missing out on the points today.
37/53: Hamilton still has to make a second stop: When will he go, and what's a realistic target? He's still closing on Massa...
36/53: Not a vintage Grand Prix so far, as this tweet sums up:
Monzzzzzzzza.

— Grand Prix Diary (@GrandPrixDiary) September 8, 2013
35/53: Meantime Rosberg is closing right up on Hulkenberg too and will fancy his chances of using a DRS/KERS combination to grab sixth place.
34/53: Pep talk for Hulkenberg, who despite losing a place to Hamilton is told that the last lap time was "perfectly on target".
33/53: Vettel's lead now all of 11 seconds, and it looks like barring a technical issue he's coasting to this victory.
32/53: Hamilton on the charge! Beats Hulkenberg into fifth place and next up on the road is Massa.
Wheel-to-wheel action with Hamilton and Hulkenberg as a fine move comes off at Curve Grande. #F1

— AUTOSPORT Live (@autosportlive) September 8, 2013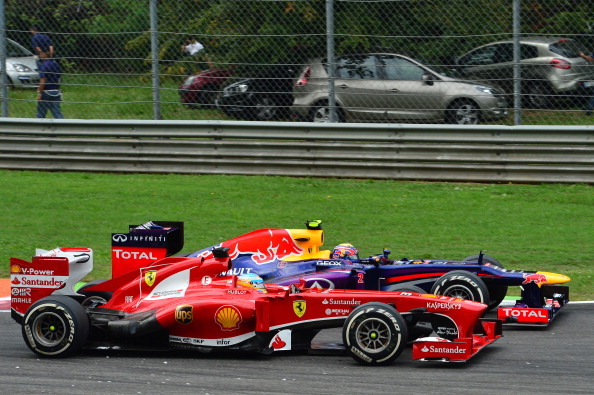 32/53: A look at the Alonso/Webber pass earlier in the race. It was really masterful from both drivers to race so close and not take each other out.
This article is
What is the duplicate article?
Why is this article offensive?
Where is this article plagiarized from?
Why is this article poorly edited?