Miami earned a statement win in Week 2 of the college football season when it defeated No. 12 Florida by a score of 21-16.
Turnovers were the big story of the game between in-state rivals as the Gators gave the ball away five times, many of which were in terrible position on the field. The Hurricanes took advantage and did enough offensively to come away with the win.
The giveaways hurt Florida very early in the game, as running back Matt Jones fumbled on the opening drive, giving Miami the ball at about midfield. The Hurricanes then took nine plays to get into the end zone thanks to a great catch at the goal line:
The U strikes first! Herb Waters with the pretty toe-tap TD catch gives Miami a 7-0 lead over No. 12 Florida.

— SportsCenter (@SportsCenter) September 7, 2013
Miami quarterback Stephen Morris made a perfect toss to Herb Waters on an out pass, and the receiver managed to get his feet in bounds to complete the touchdown, giving Miami a 7-0 lead.
While the Gators continued to struggle on offense, they were picked up by the special teams with this blocked punt: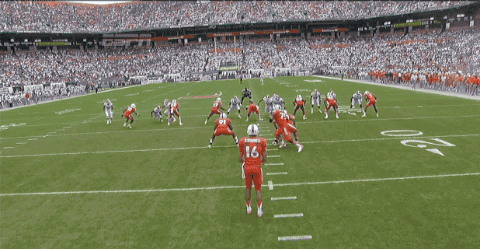 Two plays later, Gators QB Jeff Driskel ran nine yards for a touchdown to make it 7-6. Florida went for a two-point conversion and missed.
This momentum did not last long though, as Miami was able to answer right back with a 52-yard touchdown pass from Morris to Phillip Dorsett: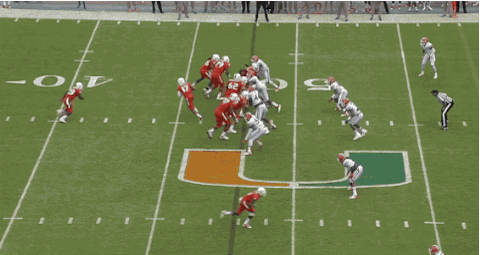 The play brought on some interesting notes courtesy of Tim Reynolds of the Associated Press, and ESPN Stats and Information:
Morris' 52-yard TD is the longest pass TD allowed by the Gators since Oct. 30, 2010. And secondary is their strength. He's shredding them.

— Tim Reynolds (@ByTimReynolds) September 7, 2013
Stephen Morris (Miami) now has 11 completions of at least 50 yards since last season, tied for most in FBS #UFvsMIA

— ESPN Stats & Info (@ESPNStatsInfo) September 7, 2013
Florida had a chance to get a second touchdown in the first half when it had a first down at the offensive 7-yard line. However, the quarterback found a way to mess it up, as noted by Brandon Tierney of CBS Radio:
Back-to-back awful throws by Driskell. Missed on sure TD, locked in on one WR on pick...not a pretty sequence. #Canes #Gators

— Brandon Tierney (@BrandonTierney) September 7, 2013
CBS Sports' Eye on College Football also agreed it was a bad play by Driskel:
So that was not good at all, Jeff Driskel. Throws into sextuple-coverage at goal-line, picked. Gators waste 1st-and-goal, still down 14-6

— Eye on College FBall (@EyeOnCFB) September 7, 2013
The Gators had yet another fumble later in the first half, but they were fortunate to go into halftime only trailing 14-6.
Things slowed down in the second half as the defenses started to step up their efforts. The only scoring in the third quarter was a Florida field goal after another stalled drive deep in Miami territory.
Of course, the story once again returned to turnovers in the fourth quarter. Florida had a chance to take a lead following an interception by Vernon Hargreaves III. However, ESPN ACC provided a description of what happened:
Florida in the red zone can only mean a turnover. Tracy Howard with a huge INT for the Canes. Miami up 14-9, 6:41 to go. #UFvsMIA

— Dinich/Adelson (@ESPN_ACC) September 7, 2013
When the Gators got the ball deep in its own territory on the next drive, Miami lineman Tyriq McCord sacked Driskel and forced a fumble that was recovered by the defense. Duke Johnson then ran in a two-yard touchdown a few plays later.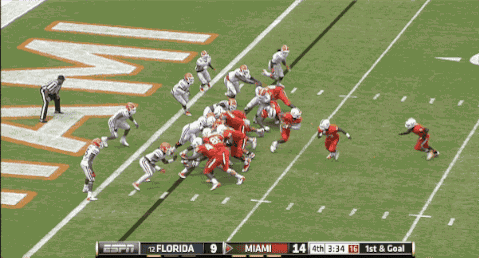 Florida finally got another touchdown against the prevent defense to cut the score to 21-16, but it was too little, too late, and Miami came away with the win.
This victory gives the Hurricanes bragging rights in a rivalry game that used to be an annual event. However, these two teams had not played each other since 2008 when Florida won 26-3.
Still, Miami showed that it is at least one of the best teams in the ACC and possibly the country, while Florida must go back to the drawing board before the start of conference play.
Grades
Stephen Morris, Miami: B-
Mike Ehrmann/Getty Images
Morris had two beautifully thrown passes in the game, each of which ended up being touchdowns. Other than these and a few more solid plays, the quarterback struggled to find his receivers.
He finished 12-of-25 for 162 yards, and his fourth-quarter interception could have cost his team big. Fortunately, his defense came through with enough big plays to help him get a win.
Obviously, winning is the most important thing; however, Miami will struggle later in the season if Morris does not become more efficient.
Miami Defensive Line: A+
The goal coming into the game was to stop the Florida rushing attack that totaled 262 yards on the ground against Toledo.
While it was not an easy task, they did extremely well, holding the Gators to only 2.8 yards per carry. They also forced fumbles and put pressure on the opposing quarterback when he dropped back to pass.
Football is usually won in the trenches, and Miami earned the win with its defensive line.
Jeff Driskel, Florida: C+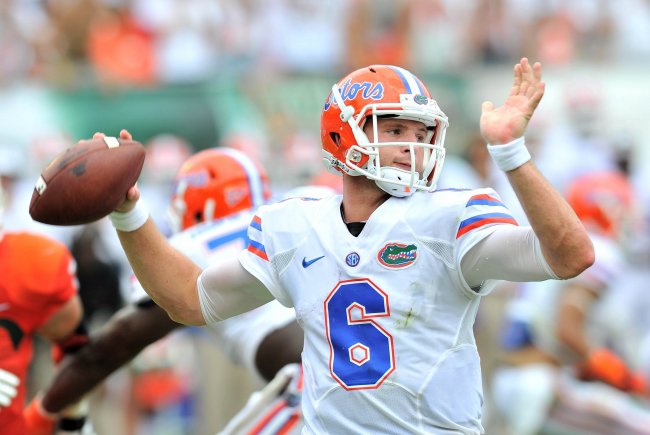 Steve Mitchell-USA TODAY Sports
Driskel's play in the game reflected mostly what he has displayed throughout his career. He made a few good plays to give Florida the advantage, and then a few poor ones to hurt the team.
He finished 22-of-33 for 291 yards and a touchdown, but that only told half the story. The biggest problem was his decision-making ability, which led to two red-zone interceptions that could have tied or won the game.
A third turnover deep in his own territory was the final nail in the coffin as Miami scored shortly thereafter. This type of effort will not win many games in the SEC this year.
Loucheiz Purifoy, Florida: A
The do-it-all cornerback was suspended for the team's first game against Toledo, but he did his best to make an impact in this matchup.
Purifoy blocked the punt early in the game to help set up the first touchdown. He also was extremely active against both the run and the pass on defense while keeping it a low-scoring game.
While he might not always show up in the box score, he certainly makes a huge difference when he is on the field.
What's Next?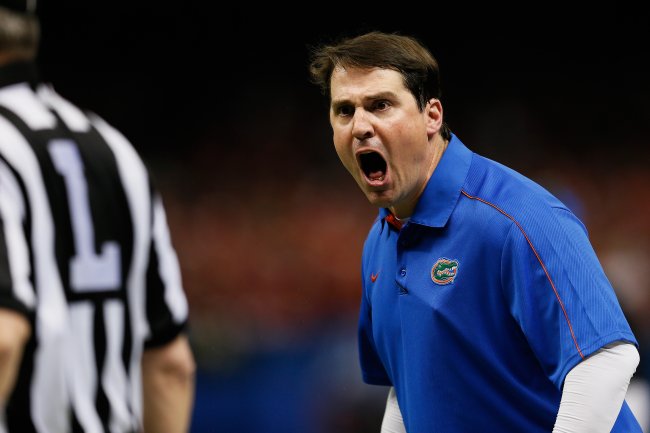 Kevin C. Cox/Getty Images
Both teams get a much-needed bye week to rest up after such a physical game. After that, things get much easier for Miami as it hosts Savannah State in what should be a blowout win.
Florida will return home for a game against Tennessee to start the SEC season.
Follow Rob Goldberg on Twitter for the latest breaking news and analysis.