Ricky Burns Retains Title with Controversial Draw Against Raymundo Beltran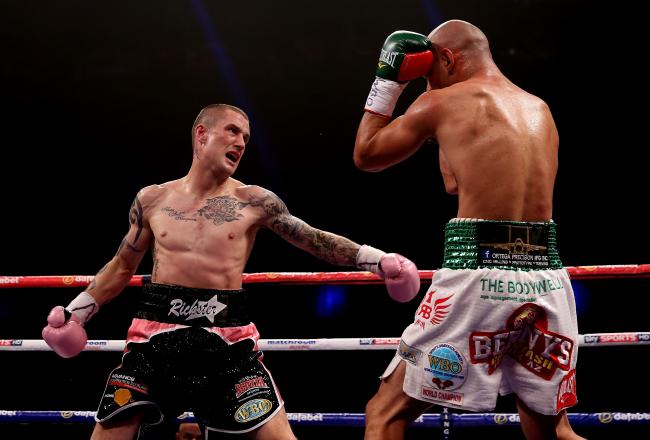 For the second straight fight, Ricky Burns is extremely fortunate to leave with his title.
Scott Heavey/Getty Images
Yet another exciting night of boxing ended with a bad verdict Saturday night, as Ricky Burns retained his WBO Lightweight Championship with a hotly disputed split-draw against challenger Raymundo Beltran.
To most observers at ringside and watching at home, it appeared that Beltran, who landed the harder, cleaner shots and scored a knockdown, had done more than enough to earn the decision and the title.
Scores were 115-112 for Burns, 115-113 for Beltran and 114-114.
Burns (36-2-1, 11 KO) began the fight well, and seemed determined to use his jab and volume punching to prevent Beltran from getting into an offensive rhythm. But the second round proved to be a better indication of how the remainder of the fight would go.
Beltran (28-6-1, 17 KO) landed a flush left hook right on the button that staggered the champion and forced him to cover-up along the ropes. The challenger would land that punch almost at-will for the remainder of the night, and used it to floor Burns in the eighth round.
It was an entertaining scrap, with many ups and downs, but it appears to most that the wrong man left the ring with the title.
That'll do it for us tonight fight fans.
We hope you enjoyed our live coverage of Ricky Burns highly controversial draw with Raymundo Beltran.
As always, stay tuned to us here at Bleacher Report for all your post-fight coverage!
Beltran on the verdict:
"A draw is bulls***. That belt is mine."
Well said, and I think most people who watched, would agree with you.
If Im Top Rank, I treat Beltran as if he won and try to get him a meaningful fight on HBO and hopefully HBO takes notice #boxing

— Steve Kim (@stevemaxboxing) September 7, 2013
That's exactly what I'd do...the wrong guy walked out with the belt tonight.
Travesty. Feel bad for Beltran, who deserved to win this fight and the title.
That's an absolutely AWFUL decision.
I had it for Beltran by a point, but I feel that was generous to Burns. An absolutely ridiculous decision.
And we go to the scorecards...
115-112 (Burns), 115-113 (Beltran), 114-114
A DRAW!!!
I had it 114-113 for Beltran, but with Burns winning the final two rounds.
The knockdown was the difference for me...but we now await the scorecards...
Must be tense moments in both corners...
That Beltran left hook has been automatic all night.

— Tim Starks (@tqbr) September 7, 2013
He's got some thunder in that punch.
Burns needs a knockout in the final 90 seconds.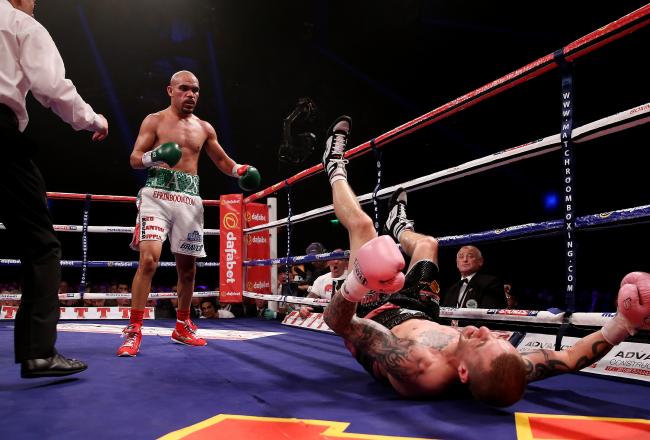 Gave Ricky Burns the 11th round. But he'll need a knockdown/knockout to win the fight on my card.
105-103 Beltran going into the final stanza.
Burns just throwing wildly at this point and trying to see if he can catch Beltran.
Just don't see that happening at this point.
Beltran is winning clearly. Just won the 10th. Kept Burns pinned on the ropes and just banged away. #boxing

— Dan Rafael (@danrafaelespn) September 7, 2013
Story of the fight.
Ricky Burns needs these last two rounds, and possibly some home cooking to take this fight.
Burns seemingly fighting through broken jaw.... yeah European boxers are soft #NeverUnderestimate

— Martin Mulcahey (@MartinMulcahey) September 7, 2013
Burns seems to have an injured jaw...tough kid...but he's losing the fight.
Beltran takes the 10th and is pulling away now at 96-93.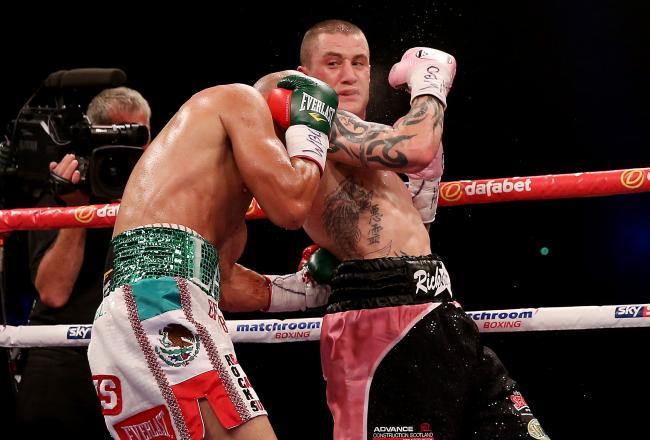 If Raymundo Beltrain is doing this to Ricky Burns...what the hell would Adrien Broner have done...
Beltran like a boulder going downhill. Wins rd 9 and I have him up 86-84. Burns title slipping away it seems. Can he rebound? #boxing

— Dan Rafael (@danrafaelespn) September 7, 2013
Got the exact same card, but it is Scotland, and Ricky is the house fighter.
Another round there for Beltran in the ninth. He's got the lead, but as many are pointing out, can he win a decision in Scotland?
It's a good question.
"Get your hands up, Ricky, PLEASE!", yells Watt, embodying the unbiased commentary ideal.

— BoxBet (@Box_Bet) September 7, 2013
Well...yeah...there's that...
Burns makes it thru 8th but that's a 10-8 rd for Beltran. #Boxing

— Dan Rafael (@danrafaelespn) September 7, 2013
Boy, that turned on a dime. Ricky looked to be getting some measure of control back, and then BOOM!
Absolutely devastating eighth round for Ricky Burns.
Called that left hook knockdown earlier in the fight. That was a huge shot and had Ricky in HUGE trouble.
But he found a way to survive the eight round.
10-8 for Beltran
He pulls back ahead 76-75.
KNOCKDOWN!

— Tim Starks (@tqbr) September 7, 2013
Simple, but accurate.
Ricky needs to survive another minute to get to the corner, but he's weathered it well thus far.
Burns need to weather two more minutes of this to get back to the corner.
Saw that knockdown coming earlier in the fight, and Beltran got it.
That's HUGE.
Burns DOWN and in big trouble in the eighth round!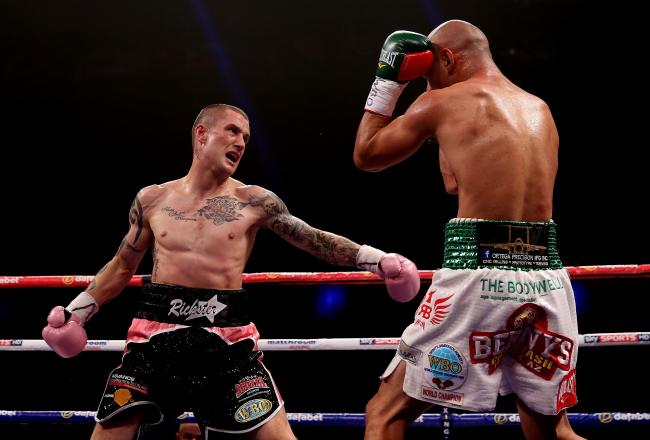 Burns takes the seventh and pulls back ahead on my card at 67-66.
But this fight is far from over.
Burns controlling the seventh round with his jab.
He's able to keep Beltran at bay with that punch and he's seized the momentum back.
This article is
What is the duplicate article?
Why is this article offensive?
Where is this article plagiarized from?
Why is this article poorly edited?