New Jersey Nets: Five Burning Questions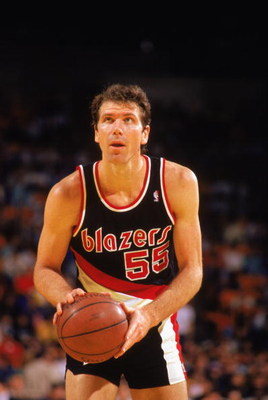 The New Jersey Nets have plenty of issues. After finishing 34-48 last year, it's obvious work needs to be done.
But there were a few high notes, and if the Nets can build on those they'll have a good foundation for future success.
Here are the top five burning questions GM Kiki Vandeweghe and the Nets need to address this offseason.
5. Who's the Back-up Point Guard?
Devin Harris was an All Star. Yet, when he needed in-game rest or was injured, they had no pure point guard to spell him.
In the 2008-09 season, Keyon Dooling generally was the first off the bench when Harris got a break. Dooling responded with the best season of his career after coming over from Orlando.
Yet Dooling was playing partially out of position, and might be better suited to be a versatile sixth man on the Nets.
Vince Carter also got some time at the point. Although it opened up many new offensive possibilities for the team, it's not Carter's regular position either.
The Nets need to find someone that can step in and run the offense in Harris's absence. If there's an inexpensive option in the free-agent market, you may see the Nets making a move.
One interesting option is former Net Anthony Johnson, who played in a career-high 80 games for Orlando this season backing up Jameer Nelson and Rafer Alston. Johnson is a free agent after the year, but could fit in the Nets' rotation for a cap-friendly $2.5 million.
4. How Can We Get a Home-Court Advantage?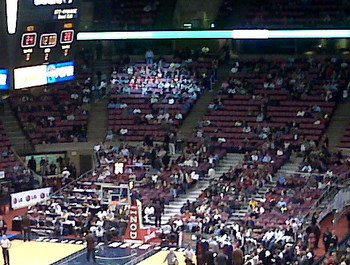 The Nets were the first team in NBA history to be five games above .500 on the road while being five games below .500 at home. Nets players did not have the crowd behind them at the Izod Center, because fans stayed away in droves.
It was common for some opponents to have more vocal rooters than the home Nets. The Knicks always have fans when they come to Jersey. Boston, Cleveland, Orlando, and Philadelphia also had vocal supporters when they were visiting.
Nets' ownership is attempting to build an arena in Brooklyn, and it is expected to be completed within three years. In the meantime, they have alienated much of their existing fan base.
The Nets' marketing team did a fantastic job drumming up interest with half-priced tickets and other special promotions, yet the Nets had the sixth-lowest attendance in the league.
For a lame-duck team that was not going to contend, I don't think they could have expected better, but it's still not a good situation.
Of course, trading Vince Carter for a popular player (Marcus Camby? Tracy McGrady?) could change everything.
3. Where Will Our Young Supporting Players Wind Up?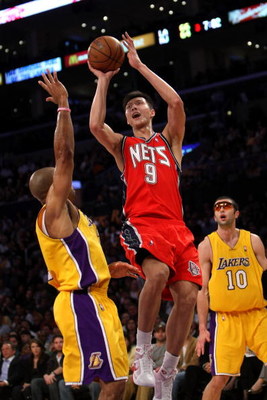 Brook Lopez made the All-Rookie first team, and will be the centerpiece of this club for years to come.
Devin Harris came over for Jason Kidd, made the All-Star team as a reserve, and then was robbed in Most Improved Player voting by Danny Granger.
Everyone else? It's up in the air who remains with the team. Especially the young players who can be looked at as trading chips.
The Nets' rotation featured rookies Chris Douglas-Roberts and Ryan Anderson, and second-year player Yi Jianlian. These players were wildly inconsistent, but all had some positive contributions.
It's possible one or more of this group can be moved in a trade, so the Nets need to determine what they can expect from this group in the long term.
2. What's Our Best Play in the Draft?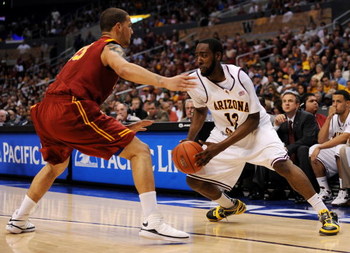 The Nets have plenty of holes in their lineup, but if they can get a good defensive player at shooting guard, now's the time to draft him.
Carter won't be around forever, and a young impact player to go with their young corps would be welcome. If he can shoot, too, that would be a welcome attribute.
Unfortunately, this year's draft class is overwhelmingly mediocre. So the Nets have options. This writer is enamored with James Harden, an explosive SG out of Arizona State, but the Nets would need to trade up five or so spots to select him based on most mock drafts.
At the 11th pick, the Nets have their pick of a number of guards, including Wayne Ellington of UNC and Chase Budinger of Arizona, and a couple of interesting SF selections like Earl Clark from Louisville and James Johnson of Wake Forest.
Or they could trade down without sacrificing talent, maybe receiving a pick next year in return.
1. Why Do We Suffer on Defense?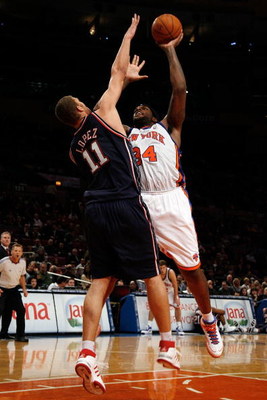 The picture on offense for the Nets is not bleak. The Nets were 19th out of 30 teams on offense last year, but giving more playing time to Chris Douglas-Roberts and Ryan Anderson (and less to Trenton Hassell and Bobby Simmons) would have improved the Nets' 98 point-per-game average.
On defense, however, it doesn't look so good. The Nets had trouble defending the perimeter and Nets' opponents had the second-best success from three-point range in the league. They were also a poor rebounding team, fifth from the bottom in the NBA.
Coach Lawrence Frank is on the hot seat, and will be looking for work if the Nets fail to meet expectations early in the season. He needs to focus on defense in every practice, and ship out some of the worst offenders.
Obviously, Nets management shares this concern.
The Nets have coveted Marcus Camby of the Clippers, the 2006-07 NBA Defensive Player of the Year. They were also reportedly near a blockbuster deal at the trade deadline, sending Vince Carter to Houston for Ron Artest (2003-04 Defensive Player) and Shane Battier.
Wrapping Up
The New Jersey Nets are a team in transition, and will attempt over the next few years to create a supporting cast around Devin Harris and Brook Lopez.
The team has put themselves in a difficult position, losing money due to poor attendance, so they're not expected to be a buyer on the trade front.
It's likely a small trade or two might occur, and the Nets might have a couple of new faces next year. But these will not be superstar-caliber players.
Vince Carter will be difficult to move due to his salary, and the Nets wouldn't realize similar value in return. Bobby Simmons is likely untradeable as well.
The Nets do have a small trade exception, but they're not obligated to use it. A body who's logged time at point guard might be a requirement, but the Nets will get that on the cheap.
We can't expect the Nets to become a 50-win team next year, but if they can win 38 next year (an increase of four) it will be the tangible progress this team needs to show for their fans.
Keep Reading

Brooklyn Nets: Like this team?