Michigan 41, Notre Dame 30 (Final)
The final chapter of Michigan-Notre Dame at The Big House was written Saturday night, and the outcome was favorable for the host Wolverines, who defeated the Irish, 41-30, in front of a record crowd.
That's a national football record, not just a college or stadium record.
Michigan Wolverines Game Grades

| | | |
| --- | --- | --- |
| Position Unit | First Half Grade | Second Half Grade |
| Pass Offense | B | C- |
| Run Offense | C- | C |
| Pass Defense | B | C |
| Run Defense | C | B- |
| Special Teams | B+ | B |
| Coaching | B | B- |
vs. Notre Dame in Week 2
Second-Half Analysis for the Wolverines
Pass Offense
Devin Gardner could do no wrong in the first half. However, despite a 27-13 lead at the half, the Wolverines quarterback got a bit sloppy in the second half. His pick-six to Notre Dame's Stephon Tuitt was the main factor in this category's grade drop. Considerably looser with the ball, Gardner didn't seem to have the same focus he did in the opening quarters.
If not for Jeremy Gallon, Michigan's passing offense would have suffered greatly Saturday night. Gallon had eight catches for a career-high 184 yards and three touchdowns. Coming in second, Fitz Toussaint finished with 31 receiving yards.
Run Offense
Other than Gardner, the Wolverines had little to nothing in this category. While he continues to look better, Fitz Toussaint still has a lot to prove in terms of durability and consistency. He rushed for 71 yards, the most of any Michigan running back. Gardner led the team with 82 yards.
Pass Defense
In the first half, Notre Dame appeared timid while throwing the ball. Quarterback Tommy Rees never found a rhythm. However, in the second half, Rees threw for 130 of his 314 total yards. Threatening late in the game, Notre Dame's air attack was the sole reason the Irish weren't blown out of the water Saturday night.
Run Defense
Played through the air, Michigan versus Notre Dame featured minimal fireworks on the ground. Amir Carlisle led the Irish with 12 carries and 64 yards on the ground. George Atkinson III averaged 7.4 yards per tote (five carries, 37 yards).
Special Teams
Joe Reynolds and Dymonte Thomas got things rolling in Week 1. Week 2, though, wasn't as spectacular in the special teams department. Brendan Gibbons nailed each of his three field-goal attempts and the Wolverines did a respectable job of containing the big play.
Coaching
Al Borges' variety of plays in the first half was refreshing. With its offense no longer looking bland, Michigan will likely continue to elaborate each week. Defensive coordinator Greg Mattison, as usual, was aggressive, sending blitzes from all corners and keeping the Irish O-Line on its heels for most of the game. Mattison's decision to send safety Jarrod Wilson toward Rees late in the fourth quarter paid dividends; it stalled a drive and saved a shootout.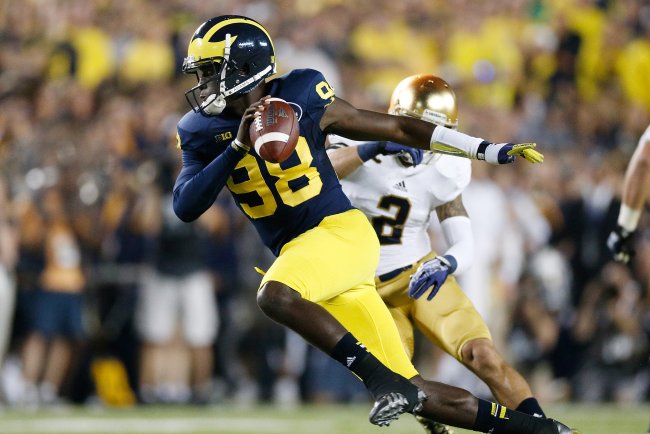 Gregory Shamus/Getty Images
First-Half Analysis for the Wolverines
Pass Offense
Devin Gardner wasn't quite comfortable during his first drive, but his confidence grew as he connected with Jeremy Gallon for a 61-yard touchdown at 6:27 in the first quarter. As the game progressed, so did Gardner's downfield throws. The offensive line allowed Gardner time to adjust on the fly (and on the run) prior to completing a nine-yard pass to tight end Jake Butt.
Gardner threw a 12-yard touchdown prior to the half to Gallon, leading Michigan to a 27-13 advantage.
Run Offense
Minus Gardner, the Wolverines' running attack lacked punch in the first half. Fitz Toussaint led all running backs with nine carries for 24 yards. Gardner scored a two-yard touchdown in the second quarter. By using his feet, Gardner routinely kept drives alive for Michigan.
Pass Defense
The Irish gained over eight yards per completion. Rees completed 10 of 17 attempts for 146 yards. Thus far, T.J. Jones and DaVaris Daniels have been the biggest threats for the Wolverines' secondary. Jones had 52 yards and a score at the half, Daniels had 46 yards.
Rees moved the ball well in the first half when targeting Michigan safety Jarrod Wilson, who's in the midst of his second collegiate start.
Run Defense
The game is being played through the air. Drawing from a strong Week 1 showing, Michigan's defense hasn't allowed much on the ground. Notre Dame rushed for 53 yards in the first half.
Special Teams
Brendan Gibbons has been automatic, knocking down two field goals; he's made 16 straight.
Coaching
Michigan offensive coordinator Al Borges broke out the tricks with a reverse in the first half, a much different look than the bland offense from Week 1.
Follow Bleacher Report's Michigan Wolverines football writer Adam Biggers on Twitter @AdamBiggers81