Florida vs. Miami: Live Score and Highlights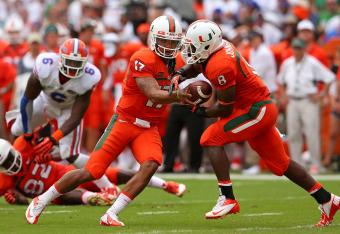 Mike Ehrmann/Getty Images
Miami 21, Florida 16—Final
The Miami Hurricanes hosted the Florida Gators in a nonconference battle at Sun Life Stadium on Saturday, Sept. 7.
Here on Bleacher Report, we provided live scoring updates and analysis throughout the game.
Please share your thoughts in the comments section below!
Final Stats
Jeff Driskel: 22-of-33, 288 YDS, 1 TD, 2 INT; 9 CAR, 23 YDS, 1 TD
Matt Jones: 18 CAR, 56 YDS
Quinton Dunbar: 7 REC, 97 YDS
Solomon Patton: 6 REC, 117 YDS, 1 TD
Florida: 2 INT, 3 fumbles lost, 1 turnover on downs
Stephen Morris: 12-of-25, 164 YDS, 2 TD, 1 INT
Duke Johnson: 21 CAR, 57 YDS, 1 TD; 3 REC, 20 YDS
Phillip Dorsett: 1 REC, 52 YDS, 1 TD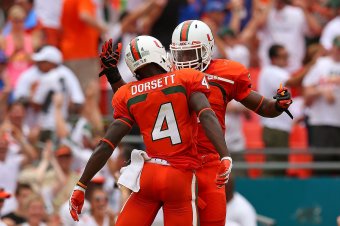 Mike Ehrmann/Getty Images
It's over! The Miami Hurricanes have pulled off the upset over the No. 10 Florida Gators by a score of 21-16.
What a game we had at Sun Life Stadium.
The 'Canes improve to 2-0, and Florida drops to 1-1.
Very, very questionable decision to run a passing play, and the penalty did not help, either.
Miami lost important yardage and clock there.
Onside kick recovered by the 'Canes.
If Miami gets one first down, it's over. Otherwise, the clock will almost be run out, but Florida will have approximately 20 seconds to try to score a miraculous touchdown.
Miami 21, Florida 16
It's not over yet. Two great passes by Driskel, and Solomon Patton grabs that touchdown.
Onside kick upcoming.
Miami 21, Florida 9
The upset is almost here. Duke Johnson takes a handoff and scampers in for a short touchdown run.
What can the Florida offense do during these last 210 seconds?
As noted earlier, the Hurricanes offense was supposed to be the better unit for Miami.
This defense has been unbelievably spectacular today.
Florida's offense was supposed to be the weak unit. And it is.
The 'Canes can basically put this game away with a touchdown, but this Florida D has barely allowed a single yard lately.
Florida's defense just came up huge again.
That story remains the story of the game.
Tracy Howard just lived up to his No. 1-recruit billing.
That's it. That's the story.
Morris had a man wide open. Just sailed it.

— Jeff Greer (@jeffgreer) September 7, 2013
The Miami offense has shown flashes of we-can-do-it but is very much struggling today.
I'm not sure if the sun is shining in Miami right now, but Duke got hit where it doesn't, I believe.
Looks like Miami defensive lineman David Gilbert was lined up as a linebacker for the 'Canes. Interesting little personnel wrinkle by defensive coordinator Mark D'Onofrio.
Holdsies and dropsies are not what the Gators want here. #analysis

— Tim Reynolds (@ByTimReynolds) September 7, 2013
Hard-hitting analysis is always appreciated.
Miami announces 76,869, a new Sun Life record for a Canes game. Probably 4-5,000 less than that here.

— Matt Porter (@mattyports) September 7, 2013
Today's crowd set a Sun Life Stadium record for a Miami home game.
FOUR FINGERS IN THE AIR

— Miami Hurricanes (@hurricanesports) September 7, 2013
It's time for the fourth quarter, everyone.
Miami leads 14-9 and has the ball near midfield.
By the way, I'm pretty sure Denzel Perryman has eleventy-bajillion tackles today.
He has been everywhere for the 'Canes defense.
Ronald Powell made the Miami offensive line look silly on that sack.
He is an impressive specimen.
Loucheiz Purifoy hates punt returners. That's all.

— Thomas Goldkamp (@Goldkamp247) September 7, 2013
Phillip Dorsett was absolutely hammered by Loucheiz Purifoy.
That was an eyebrow-raising collision. What a hit!
The halfback draw was a relatively predictable play call right there from the Gators, and it was well executed. Miami only had five or six in the box at the snap since Florida was in a spread formation.
Big 3rd-and-3 coming up for both teams.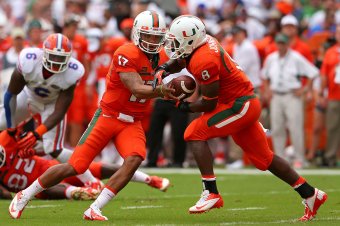 Mike Ehrmann/Getty Images
Credit the Hurricanes for not abandoning their strength in Duke Johnson, but the Miami running game—let alone the offense—is going nowhere.
Miami 14, Florida 9
Austin Hardin nails a 33-yard kick. The Gators needed that score, but they are still leaving lots of points on the board.
Miami's offense needs a first down on this drive to prove it can move the ball at least 10 yards.
Florida is into the red zone again, or as it's known today, the let's-not-score zone.
Let's see if Driskel can take over.
Miami tried to establish Duke Johnson on that drive, but this Gators defensive line has been very, very impressive since the first quarter ended.
This article is
What is the duplicate article?
Why is this article offensive?
Where is this article plagiarized from?
Why is this article poorly edited?