Eastern Michigan vs. Penn State: Live Score and Highlights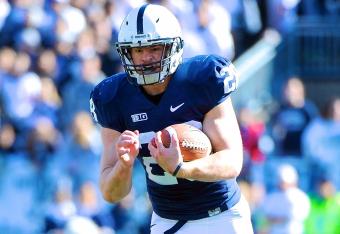 Penn State 45, Eastern Michigan 7—Final
Despite a shaky start and a feisty Eastern Michigan team, Penn State was led by freshman quarterback Christian Hackenberg to an impressive 45-7 win over the Eagles.
In the process, Penn State's running game was equally as impressive as Hackenberg's record-setting performance. Penn State improves to 2-0 in 2013 after starting 0-2 a year ago.
Stay tuned to Bleacher Report for postgame analysis and all of your football Saturday highlights!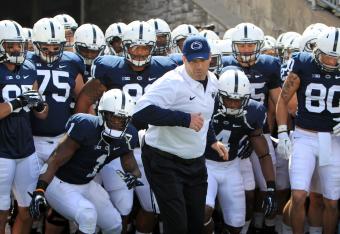 Christian Hackenberg was a little shaky to start the game. He began with only one completion on his first five passes, but was 22-of-28 after that. In the process, he became the most prolific freshman passer in a single game in Penn State's history.
Hackenberg wasn't the only Nittany Lion putting up big numbers today, however. Bill Belton and Akeel Lynch each had 108 rushing yards on the day. Belton and Zach Zwinak also added two touchdowns apiece via the ground, while Lynch added another.
Depsite EMU hanging around early, Penn State pulled away in the second half to finish with a decidedly lopsided score—which will have most PSU fans forgetting about the first-half miscues.
That's going to wrap it up for our live blog of Eastern Michigan at Penn State.
Make sure you keep checking Bleacher Report throughout the weekend for all of the college football coverage you could ever need!
Some final stats:
| | | |
| --- | --- | --- |
| | EMU | Penn State |
| Score | 7 | 45 |
| Total Offense | 183 | 574 |
| Pass Yards | 122 | 323 |
| Rush Yards | 61 | 251 |
| Turnovers | 0 | 2 |
| 3rd Down Conversions | 3/16 | 1/10 |
| Time of Possession | 31:36 | 28:24 |
Final Score: Penn State 45, Eastern Michigan 7
Stay tuned for some wrap-up and final thoughts!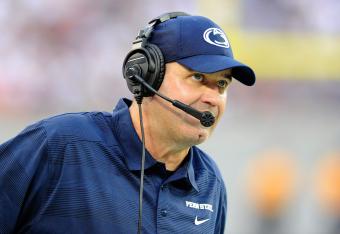 Penn State takes over with two minutes remaining, and this game is all but concluded.
After last week against Syracuse, Bill O'Brien wanted to see improvements from all three phases of the game. With a 45-7 lead late in the fourth, it's probably safe to say BOB is happy with what he's seen today.
Now EMU brings in its second offense to run out the rest of this game...
Penn State's running game has gained almost 200 more yards today against Eastern Michigan than it did last week against Syracuse—with two fewer carries.
That's the kind improvement Bill O'Brien was talking 'bout.
Penn State with another touchdown.
Akeel Lynch bounced off tacklers for 18 yards and a score, and Penn State is dominating, 45-7.
Christian Hackenberg's day will finish after he goes 23-of-33 passing for 311 yards, one touchdown and one interception.
Those 311 yards are also a freshman single-game record at Penn State.
Another three-and-out for EMU, and Penn State can start to think about resting the starters.
And as if on cue, Tyler Ferguson comes in to take the snaps under center for Penn State.
Christian Hackenberg was the story coming into this game—really, coming into the whole season—but there are plenty of offensive weapons Bill O'Brien has at his disposal.
We're definitely seeing many of them put to good use today.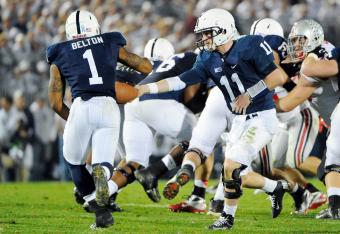 Touchdown, Penn State.
Bill Belton scampers for 51 yards and six points, and PSU is now ahead of that spread that once seemed insurmountable.
Penn State leads, 38-7.
Expect a lot of running from here on out. EMU just wants to run the clock, and PSU wants to ensure a victory without injuries.
Hackenberg has now pushed his passing-touchdown number to equal his interception number (three apiece this season, one each today).
All while setting a Penn State freshman record in single-game passing yards (292 thus far).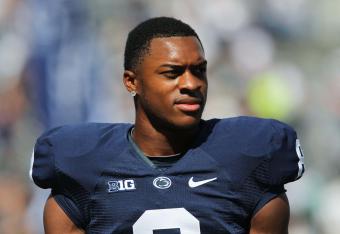 Touchdown, Penn State!
Allen Robinson from Christian Hackenberg, and Penn State is in command, 31-7.
Maybe the Nittany Lions will cover that spread after all.
Penn State loving the run game with the lead in the fourth.
Christian Hackenberg: 20-of-30 for 237 yards through three quarters. Pretty good.
But no touchdowns and a pick...
Penn State 24, Eastern Michigan 7—End of the 3rd Quarter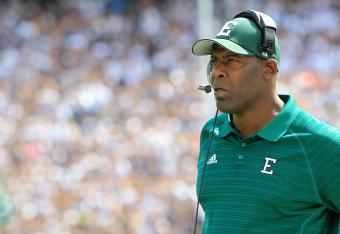 EMU keeping it simple, going back to the short pass—taking what Penn State gives up.
Probably at this point, the Eagles want to keep the clock moving to prevent this game from getting any worse.
Touchdown, Penn State!
Zach Zwinak gets into the end zone for the second time today. Penn State now leads 24-7.
Can't make it on third down? No matter. Penn State converts the fourth down, and it's now 1st-and-goal for the Nittany Lions.
After picking up a first down, Hackenberg goes down behind the line on two straight plays. Now Penn State has almost no net yards on this drive.
The difference in talent level between Penn State's starting defensive line and Eastern Michigan's starting offensive line is beginning to show.
EMU has to put the ball back on the foot of its punter, this time from his own end zone.
#PennState is winning, and it's going to win. That's the good news. But this performance by the offense should be disappointing to everyone.

— Cory Giger (@CoryGiger) September 7, 2013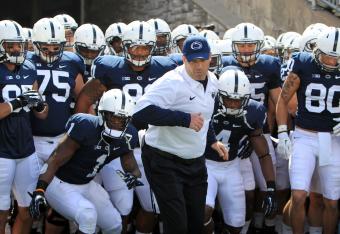 Another failed third-down conversion for Penn State, and, yep, you guessed it, another punt!
Well, at least the special teams are getting some practice. Didn't Bill O'Brien say his special teams needed to improve? There will be plenty of game tape to go over this week.
Penn State is winning the field-position battle. Can the Lions capitalize and actually score some points this time?
This article is
What is the duplicate article?
Why is this article offensive?
Where is this article plagiarized from?
Why is this article poorly edited?