Ranking the 5 Worst Offseasons in New York Rangers History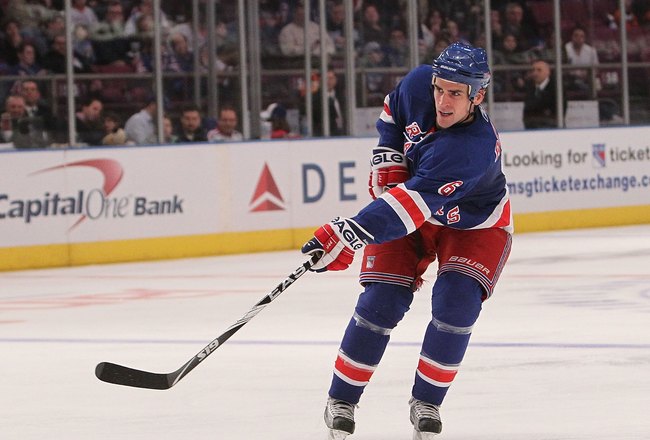 Nick Laham/Getty Images
While the New York Rangers have made some shrewd offseason moves in their history, they have also made some downright dumb decisions.
Most of these decisions have come in the last 15 years, and they have set the franchise back.
Which were the five worst offseasons in New York Rangers history?
Read on to find out.
5. 2001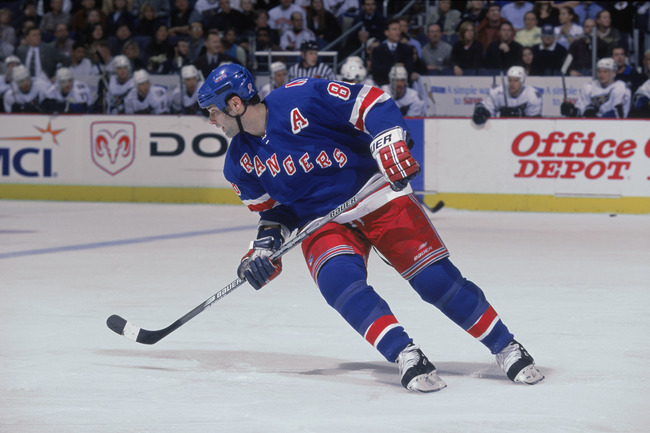 Doug Pensinger/Getty Images
In the summer of 2001, the Rangers traded Jan Hlavac, Kim Johnsson, Pavel Brendl and a draft pick to the Philadelphia Flyers for Eric Lindros.
Lindros was an absolute superstar, and he was going to make the Rangers contenders.
Not so much. Lindros did score 37 goals and added 36 assists in his first season in New York. But in the next season, he scored just 19 goals. In 39 games in the 2003-04 season, Lindros scored just 10 goals.
Hlavac never again scored more than 10 goals, but we don't know if he would've continued the success he had in New York had he stayed with the team. The season before he was traded, he scored 28 goals.
Kim Johnsson became a really solid defenseman with the Flyers, scoring 40 goals in four seasons.
The Lindros trade was supposed to change the franchise. Quite simply, it did not. Lindros' whole career was marred by injuries, and he never quite lived up to his incredible potential. He was supposed to be the 'Next One'. He ended up being just another one.
It was a disastrous trade for the Rangers, and they're lucky they didn't give up more.
4. 2003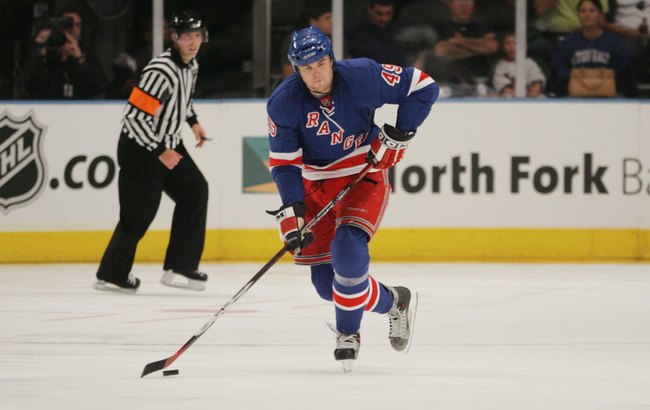 Bruce Bennett/Getty Images
It's almost impossible to predict how drafts are going to go. For example, Patrik Stefan, drafted first overall in 1999, was an absolute bust. But Henrik Zetterberg, selected 210th overall in that same draft, is one of the best players in the league.
So maybe we can forgive Glen Sather for drafting Hugh Jessiman. After all, Jessiman did put up good numbers at Dartmouth, and 6'6" power wingers are always in vogue. Maybe it just was a quirk that he didn't work out.
On the other hand, let's take a look at some of the players drafted after Jessiman in the 2003 NHL draft:
Dustin Brown
Brent Seabrook
Zach Parise
Ryan Getzlaf
Brent Burns
Ryan Kesler
Mike Richards
Corey Perry
Loui Eriksson
Patrice Bergeron
Shea Weber
David Backes
Jimmy Howard
Yikes. Yeah, Sather is going to have this blunder on his record forever. Imagine if the Rangers had just one of those players? Imagine Shea Weber patrolling the blue line with Ryan McDonagh? What about Patrice Bergeron anchoring a lockdown line with Ryan Callahan? Or how about Ryan Getzlaf dishing to Rick Nash? The Rangers would be unstoppable.
Instead, they landed Jessiman, who has played in just two NHL games, both with the Florida Panthers. He's currently in the KHL.
3. 2007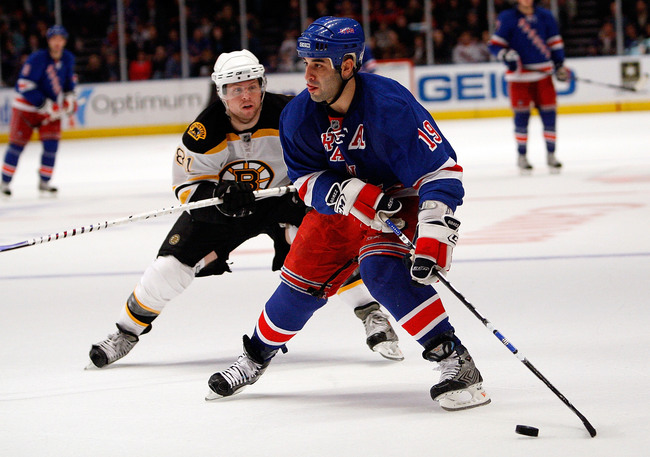 Nick Laham/Getty Images
The 2007 offseason was supposed to put the Rangers over the top. After all, every Rangers fan was absolutely thrilled when the team signed Scott Gomez to a seven-year, $51.5 million deal and Chris Drury to a five-year, $35.25 million deal.
It didn't work out that way. Gomez lasted just two seasons, scoring 32 goals and never reaching the lofty heights that were promised. He was inconsistent and didn't always seem to play with the best effort.
Drury is a slightly different story. While he was a terrific defensive forward, an awesome penalty-killer and a fine captain, his skills were just rapidly declining. It was kind of sad to see him struggle in his last season.
Gomez's best contribution was off the ice. He was shipped to Montreal, and in that trade, the Rangers received Ryan McDonagh.
Spending big money on players is always a risk, and the Rangers put all their chips in with Drury and Gomez. It didn't work out. And while the Rangers have recovered, they've done so on the strength of homegrown players, like Henrik Lundqvist, Ryan Callahan, Dan Girardi and Derek Stepan.
2. 2002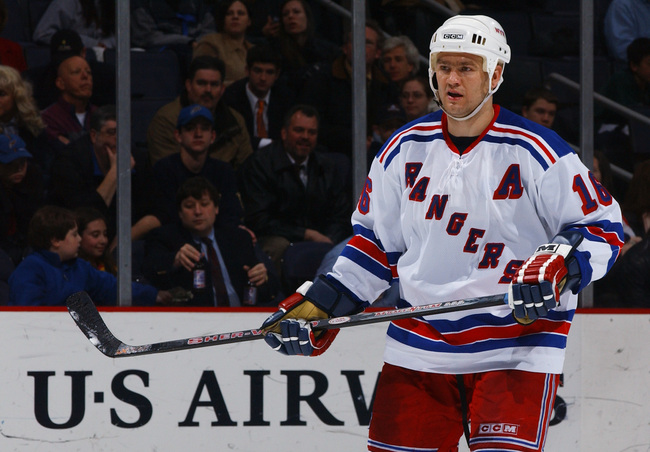 Mitchell Layton/Getty Images
Bobby Holik and Darius Kasparaitis, in their prime, were really good players. Let's just say that their primes were not with with the Rangers.
In the summer of 2002, the Rangers signed Holik to a five-year, $45 million deal. The team also signed Kasparaitis to a six-year, $25 million deal.
Neither lasted through the entirety of their contract. Holik was bought out after two years, while Kasparaitis was waived in 2007.
These two deals were so emblematic of the early part of the decade for the Rangers. While Holik and Kasparaitis were once productive players, they were signed to contracts that were way too large. The duo had no chance of living up to them. Holik scored 41 goals in two seasons—not terrible, but not nearly worth the money. Kasparaitis was a disaster in his own zone.
To make matters worse, the Rangers drafted Lee Falardeau with the 33rd overall pick in the draft. He has never played in the NHL. Drafted after him? Take a look at this depressing list:
Jarrett Stoll
Duncan Keith
Jiri Hudler
Johnny Boychuk
Tomas Fleischmann
Frans Nielsen
Valtteri Filppula
Any one of those players—but especially Keith—would be welcome additions to the Rangers. Instead, the 2002 offseason was about spending huge money on washed up players and drafting a guy who is still toiling in the ECHL.
1. 2008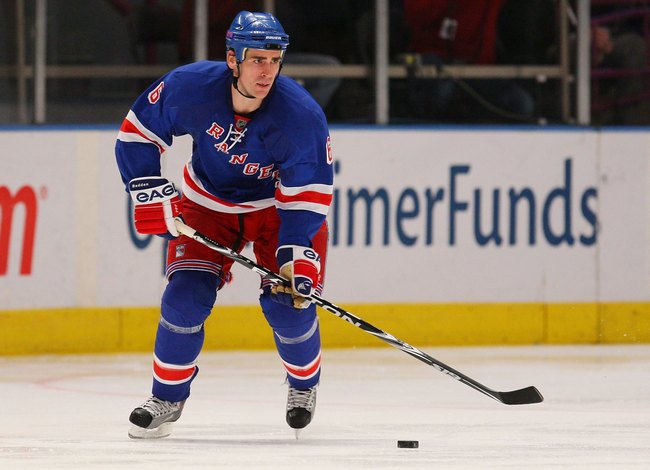 Mike Stobe/Getty Images
Wade Redden was once a really good player.
He was not one in New York. Redden signed a six-year, $39 million deal with the Rangers in 2008. What did that get them?
Redden scored just five goals in his two seasons with the Rangers, one less than in his last season in Ottawa. He was an absolute disaster in his own zone and was eventually sent down to the minors.
It may end up being the worst deal in hockey history.
To make matters worse, the Rangers also traded Fedor Tyutin—a steady, productive defenseman—for Nikolai Zherdev. While Zherdev was an electric offensive talent, he was incredibly enigmatic. He scored 23 goals, but eventually departed for the KHL. The Rangers would love to have Tyutin on the roster today.
Keep Reading

New York Rangers: Like this team?