Ever since the Seattle Seahawks advanced deep into the playoffs with an 11-5 regular-season record, fans and media members alike have placed supersized expectations on the organization for the 2013 season. Many top-notch NFL analysts even have the Seahawks representing the NFC in the Super Bowl.
The heightened forecast for the team is fair based on the fact that it added key players at key positions during the offseason. Not to mention, quarterback Russell Wilson is entering his second season as the team's signal-caller.
However, we all know the Lombardi Trophy isn't won on paper. It's won in the trenches on a week-by-week basis.
The NFL is a league that is predicated on parity. On any given week, a winless team could take down an undefeated team. It happens every year. That's why Seattle needs to learn how to not only manage its expectations for the entire season, but for Week 1 against the Carolina Panthers.
Don't let the Panthers' record from 2012 fool you; they were much better than their seven wins indicated. And of their nine losses, seven were decided by six points or less. If one or two plays had gone their way, they could have easily finished with a 9-7 or 10-6 record. Nevertheless, hindsight is always 20/20.
Carolina Panthers Close Losses From 2012

| | | |
| --- | --- | --- |
| Week | Opponent | Final Score |
| 1 | Tampa Bay Buccaneers | 10-16 |
| 4 | Atlanta Falcons | 28-30 |
| 5 | Seattle Seahawks | 12-16 |
| 7 | Dallas Cowboys | 14-19 |
| 8 | Chicago Bears | 22-23 |
| 11 | Tampa Bay Buccaneers | 21-27 (OT) |
| 13 | Kansas City Chiefs | 21-27 |
NFL.com
To ensure that losses of that nature won't happen again in 2013, first-year general manager Dave Gettleman spent all of his time during the offseason upgrading the defensive side of the ball. He added two interior defensive linemen on draft day, and he signed veteran safety Quintin Mikell to shore up the back end of defensive coordinator Sean McDermott's defense.
The only area Gettleman failed to address was the wide receiver position. But it's hard to address every area of need in one offseason.
Still, it's safe to say the club has high expectations for 26-year-old wideout Brandon LaFell. LaFell is a sure-handed receiver who was rated as one of the top 50 players at his position, according to Pro Football Focus (subscription required). Last year, he hauled in 44 passes for 677 yards and scored four touchdowns.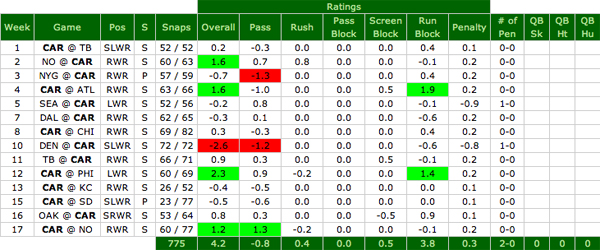 As you can see, Sunday's matchup won't be a walk in the park. The Seahawks have to go on the road, the Panthers are much improved and they held the 'Hawks to 16 measly points at Bank of America Stadium last year.
Head coach Pete Carroll knows this week's game will be a dogfight. Additionally, he knows what pundits from around the NFL expect to see out of his team on game day. This past week, he spoke about Seattle's outlook heading into Week 1, via Jerry Brewer of the Seattle Times:
We understand that there's high expectations, and I've tried to help these guys really understand that and embrace it and understand that we want that to be normal. That's where we want to be, so we don't look to duck from that or to try to get out of that at all. That's part of what happens when you get to be pretty good. And managing that is important.
Being normal isn't easy to do in a league that is full of abnormalities. Nonetheless, the Seahawks' normalities have consistently been the same since Carroll arrived in 2010. He likes his offense to milk the clock by pounding the rock, and he likes his defense to physically impose its will.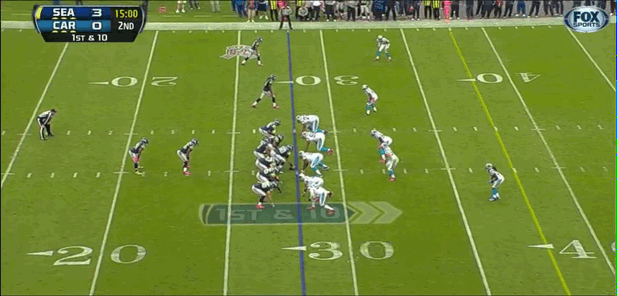 Coincidentally enough, the Seahawks beat the Panthers in 2012 by pounding the rock and shutting down quarterback Cam Newton. On the ground, All-Pro running back Marshawn Lynch accounted for 27 percent of the team's total yards.
By going back to the tape from last year's game, we can analyze how Seattle's run game can utilize some of the same concepts to have guaranteed success on the ground against Carolina in Week 1.
On this second-quarter play, offensive coordinator Darrell Bevell's offense deployed a "12" personnel look. Two wide receivers were split out wide, two tight ends were on the right side of the line and there was one tailback in the backfield.
As soon as Lynch took the handoff, center Max Unger (No. 60) and right guard Paul McQuistan (No. 67) had already opened up two massive holes. From there, Lynch could have either cut the run back up inside toward the middle of the field or he could have gone left toward the sideline.
Lynch wisely chose to cut the run back to the right.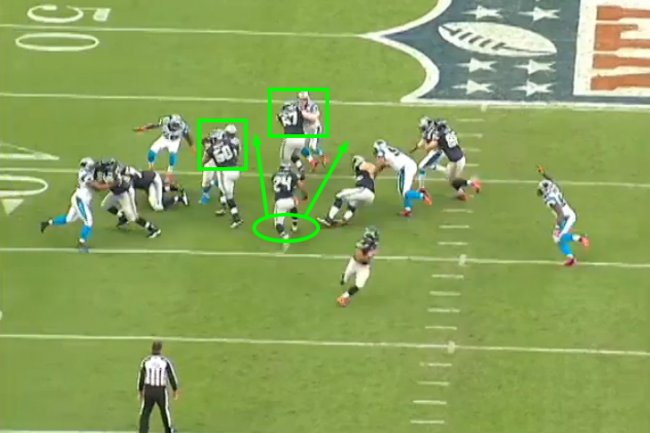 After he hit the hole, he slipped one tackler and rattled off 13 extra yards.
All in all, it was a great run by Lynch. But he wouldn't have had the opportunity to pick up additional yards without great blocking up front. Moreover, the design and execution of the play was spot on.
Heavy personnel sets are essential to a sound rushing attack.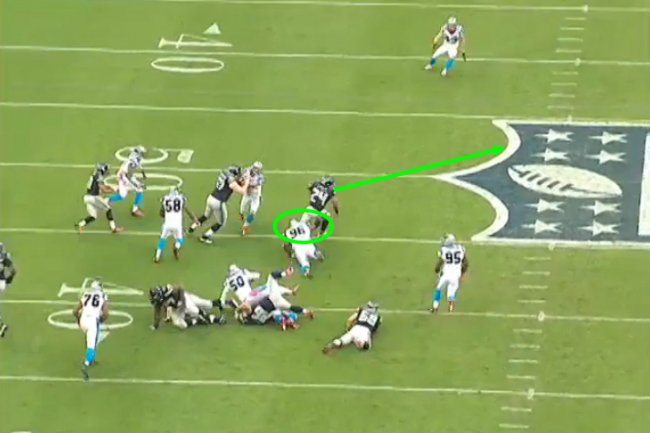 This next play hones in on the Seahawks' ability to effectively run the ball out of 11 personnel.
Wide receivers Doug Baldwin and Sidney Rice were stacked on the left side of the formation, Golden Tate was split out wide to the right, Robert Turbin was the lone back and Zach Miller was the tight end.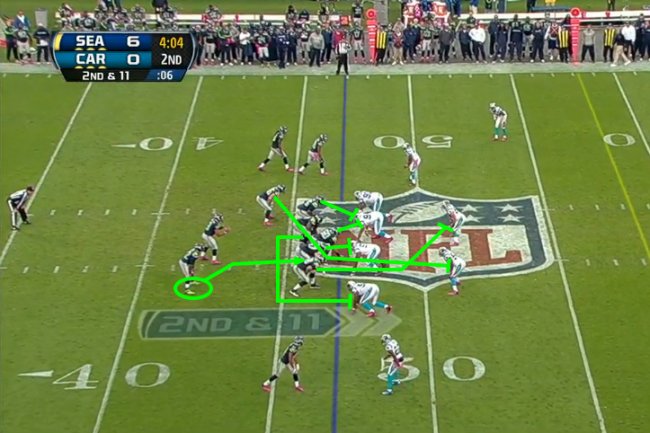 Just like on the first play, the Seahawks offensive line carved up the Panthers' front seven. Miller came around from the backside and out-muscled linebacker Thomas Davis, and McQuistan locked up defensive tackle Frank Kearse.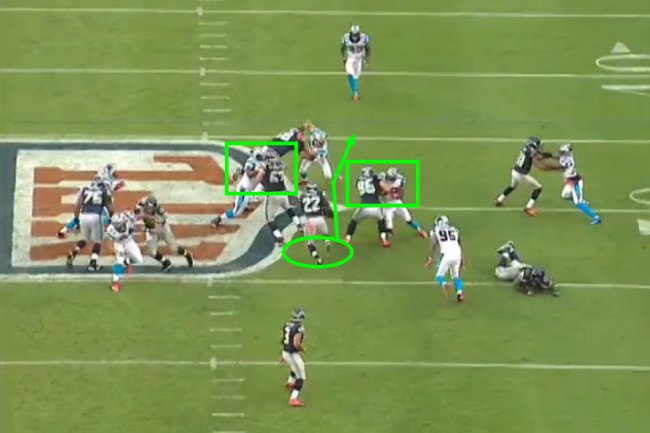 The two key blocks helped Turbin net five yards on the draw play. Sure, a five-yard gain isn't as flashy as a 20-yard gain; however, it's equally important. His run set up a third-and-manageable situation for the very next play.
If the Seahawks mimic their plan of attack on the ground from last year and run out mixed personnel groupings, they won't have any problems managing their expectations against the Panthers. They are still a run-first team. That won't change even when wide receiver Percy Harvin is in the lineup.
Good ballclubs don't try and get cute. They stick with what works, and they beat you the way they want to beat you.
There's a reason Seattle averaged 161.2 yards rushing in 2012. It wasn't by blind luck. Offensive line coach Tom Cable is one of the best in the business and so is Lynch.
Expect the Seahawks to rush their way to a 1-0 record while keeping their eye on the ultimate prize.