Pre-Training Camp Player Power Rankings for New York Knicks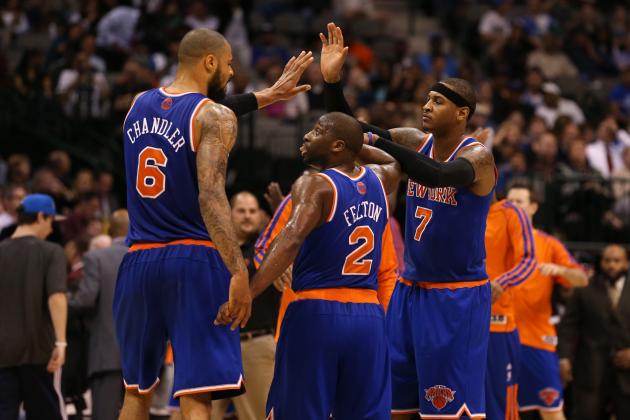 Matthew Emmons-USA TODAY Sports
Carmelo Anthony, Raymond Felton and Tyson Chandler set the tone for the New York Knicks.
The New York Knicks won the Atlantic Division in 2012-13, but fell short of their goal of winning a championship. Management acquired some solid new pieces this summer, and Coach Mike Woodson will alter his lineup in an attempt to get more out of his team.
New York's power structure is determined by more than just talent and statistics. Several factors, including the players' dependability, specific skills, how they fit into the team's system, the depth at their position and whether they are respected by their coach and teammates, are taken into consideration.
These power rankings will vary from game to game, depending on matchups and who has the hot hand, and are sure to change over the course of the season. Injuries or poor play can knock a player down the depth chart. Youngsters may take on a larger role as the season progresses, while veterans can earn more minutes by developing chemistry with a certain unit.
Begin Slideshow

»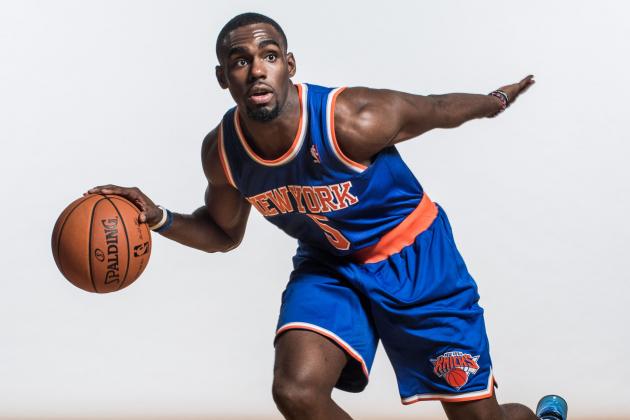 Nick Laham/Getty Images
Tim Hardaway Jr. will see limited action in his rookie season.
14. C.J. Leslie
The Knicks signed Leslie to a partially guaranteed contract after no team selected him in the June draft. The 6'9'' forward is an explosive athlete and averaged 15.1 points, 7.4 rebounds and 1.2 blocks during his junior season at North Carolina State. Leslie has a strong chance of making the team, but is considered a project and is unlikely to see much playing time in his rookie season.
13. Jeremy Tyler
Tyler earned a partially guaranteed contract with the Knicks after an impressive showing at Summer League and appeared to be a near-lock to make the team before foot surgery in early September sidelined him for eight to 10 weeks. There is still a good chance the Knicks will hold on to the third-year forward for frontcourt depth. At 6'10", 260, Tyler brings a nice combination of size and athleticism.
12. Tim Hardaway Jr.
New York's first-round draft pick can do several things well, though he does not excel at any one aspect of the game. Given the Knicks' depth at 2 guard, he will probably be limited to mop up duty, barring any injuries to one of the veterans. If called upon, the former Michigan Wolverine has the maturity and experience to make an immediate impact.
Robert Mayer-USA TODAY Sports
Beno Udrih gives the Knicks a steady and reliable backup point guard.
Beno Udrih will fill Jason Kidd's role in the Knicks rotation. His ability to handle the backup point guard duties will allow Coach Woodson to continue to use the two-point guard lineup that was successful last season.
Udrih is not the defensive stopper the Knicks desired, but he knows how to run an offense and protects the basketball. The veteran's three-point shooting ability (35 percent for his career) will come in handy for a team that set a record for three-pointers last season.
Ultimately, Udrih's minutes may be determined by how frequently Woodson plays two point guards together. With the offseason additions of Andrea Bargnani and Metta World Peace, the coach may opt for a bigger lineup.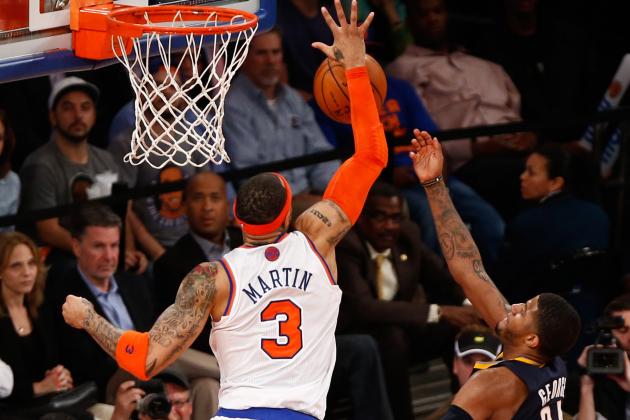 USA TODAY Sports
Kenyon Martin is the defensive anchor for the Knicks' second unit.
Kenyon Martin provided the Knicks' second unit with some much-needed interior defense after joining the team late last season. The former No. 1 overall pick proved that he still has some hops at age 35, blocking 2.4 shots per 36 minutes during the playoffs.
K-Mart returns for another season in the Big Apple as Tyson Chandler's backup. New York has plenty of scorers off the bench, which will allow Martin to focus on what he does best, defend the rim.
The Knicks frontcourt is crowded after the additions of Andrea Bargnani and Amar'e Stoudemire. However, Woodson is unlikely to play the two defensively challenged big men together and may want Martin on the floor to cover their back. K-Mart should play about 15 minutes per night.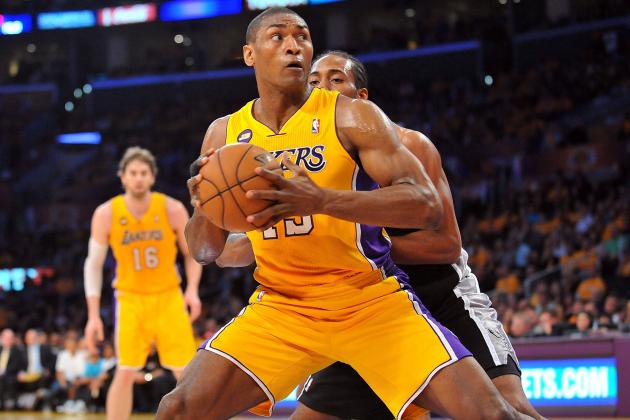 Gary A. Vasquez-USA TODAY Sports
Metta World Peace brings defensive toughness to the Knicks lineup.
Fourteen years after the Knicks passed up Metta World Peace to draft Frederic Weis, the Queensbridge product is finally coming home to play in Madison Square Garden. World Peace brings toughness and defensive intensity to a Knicks team that was pushed around by a more physical Indiana Pacers squad in the playoffs.
It is not yet clear what World Peace's role will be. The former Laker could start at small forward or augment what is already a formidable second unit.
World Peace is no longer a lockdown defender, though he can still push scorers off of their favorable spots. His strength and ability to guard multiple positions will allow the Knicks to match up better against bigger Eastern Conference teams like the Pacers, Chicago Bulls and Brooklyn Nets.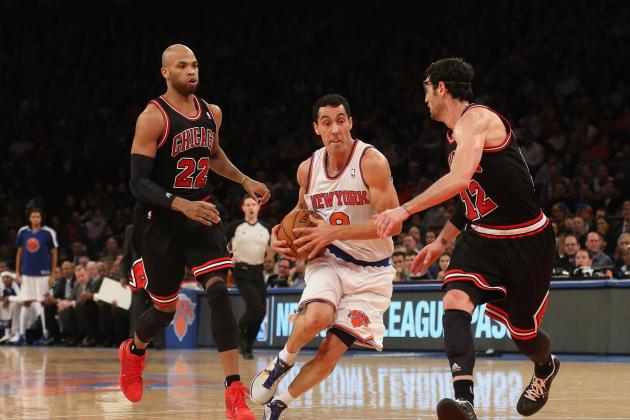 Bruce Bennett/Getty Images
Pablo Prigioni could be Mike Woodson's starting shooting guard.
Pablo Prigioni was a pleasant surprise for Mike Woodson's club last season. The Knicks' ball movement improved dramatically when he was on the floor. The Argentinean is a pesky defender and shot an impressive 40 percent from behind the arc.
By the end of the season, the 35-year-old rookie had worked his way into the starting lineup and played an integral part in the team's 13-game winning streak. Mike Woodson has not revealed whether Prigs will be a starter once again this season.
The coach has several options for a fifth starter, including Metta World Peace and Andrea Bargnani. Prigioni could end up fighting Beno Udrih for minutes at the backup point guard spot. However the lineup shakes out, it appears certain that Woodson will find minutes for Prigioni based on the veteran's success last season.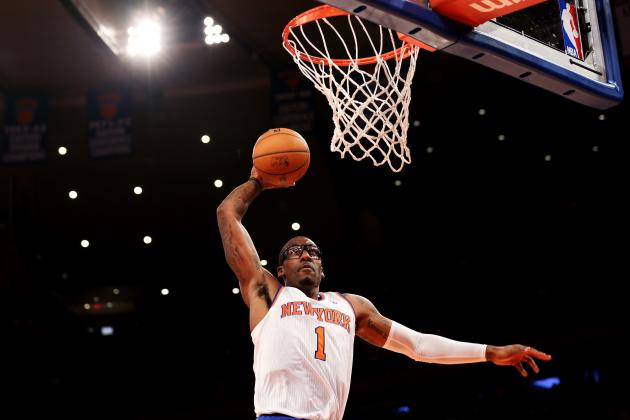 Nick Laham/Getty Images
The Knicks do not know what to expect from Amar'e Stoudemire.
Three years ago Amar'e Stoudemire was billed as the savior of the franchise. Now general manager Glen Grunwald cannot give him away. Back and knee injuries limited the six-time All-Star to just 76 games over the past two seasons.
Despite a lack of explosiveness, Stoudemire was extremely efficient when he did play last season, scoring 14.2 points per game on 58 percent shooting in just 23.5 minutes. Yet, the team did not play particularly well when he was on the floor. He remains a defensive liability and his new found post game is not a natural fit for the Knicks offensive system.
Most importantly, New York cannot depend on STAT to remain healthy. Coach Woodson indicated that he will limit Stoudemire's minutes and may even rest him in back-to-back games, but it is still hard to imagine Amar'e staying in the lineup all season. His playing time could be squeezed further by the addition of Andrea Bargnani.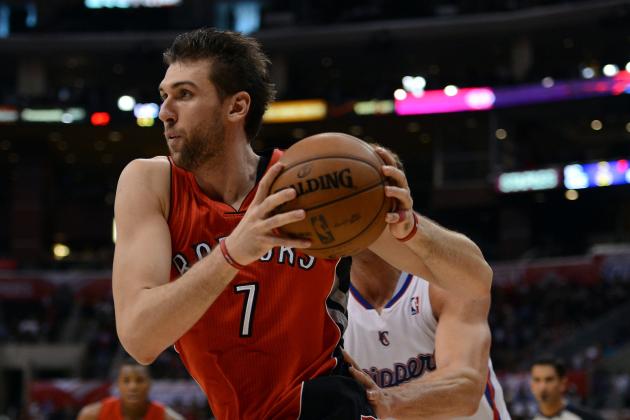 Harry How/Getty Images
Andrea Bargnani could have a major impact in a reduced role with the Knicks.
Andrea Bargnani never lived up to expectations in Toronto after the Raptors selected him first overall in the 2006 draft. The seven-footer's game appeared to regress over the past couple of seasons, as his shooting percentages from the field and behind the arc plummeted.
Still, Bargnani averaged 21.4 points per game just three seasons ago and there is reason to be optimistic that the Italian can regain his form in New York. His recent struggles were due in large part to his shooting elbow and lack of confidence. He will have much less pressure on him in New York, where he will not be asked to carry the offensive load.
Bargnani's perimeter oriented game is well suited for the Knicks offense. If he regains his touch, he should jump Amar'e Stoudemire on the depth chart and could find himself in the starting lineup.
Like Stoudemire, the biggest concern about Bargnani is his defense. He also needs to improve on his career average of 4.8 rebounds per game.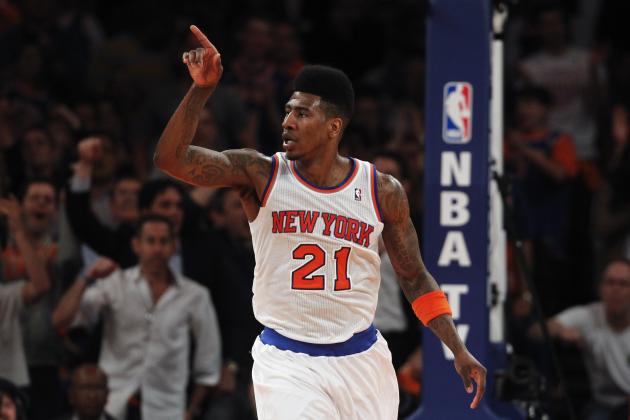 Jeff Zelevansky/Getty Images
Iman Shumpert is the Knicks best perimeter defender.
Iman Shumpert has just scratched the surface of his potential and could climb as high as No. 3 on this list by the end of this season. The 23-year-old has yet to go through a full NBA training camp. (His rookie year was cut short by the lockout and he missed the first two months of last season while recovering from ACL surgery).
Shump is an elite on-ball defender and will draw the assignment of trying to shut down the opposing team's best perimeter scorer on a nightly basis. His shooting percentage from downtown jumped from 31 percent in his rookie year to 40 percent last season. He will be a dangerous weapon for the Knicks if he can maintain that level of accuracy.
However, Shump shot just 40 percent from the field in 2012-13. He must continue to improve his shot selection and do a better job of finishing around the rim. The athletic guard missed an inordinate amount of dunks and layups last season, which could have been a result of tentativeness after the knee surgery.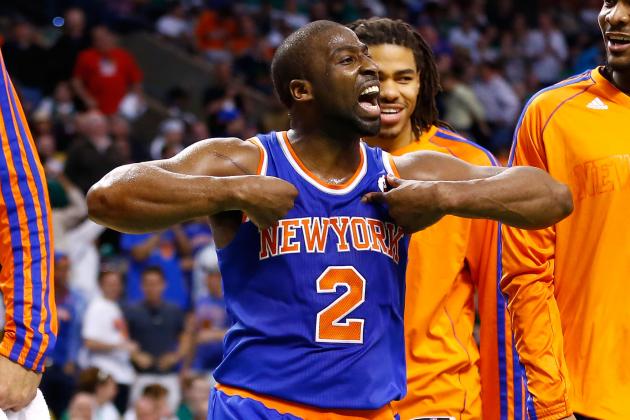 Jared Wickerham/Getty Images
Raymond Felton's pick-and-roll game is a key component to the Knicks offense.
Raymond Felton really struggled to keep point guards out of the lane last season, but he was crucial to the team's offense. The Knicks went into a nosedive when he was out of the lineup for an extended stretch with a broken finger. The fiery point guard has the respect of his teammates, which is important on a team full of veteran scorers.
New York's first option on offense is to get the ball to Carmelo Anthony on the wing or in the post. Option No. 2 is to spread the floor and allow Felton to create shots for himself and his teammates in the pick-and-roll. He has developed nice chemistry in the two-man game with Tyson Chandler in particular.
The former Charlotte Bobcat's assist numbers (5.5 per game) are a bit deceiving, as it was often the second pass off of his penetration which led to the basket. His shooting is streaky, though he knocks down enough to keep defenders honest.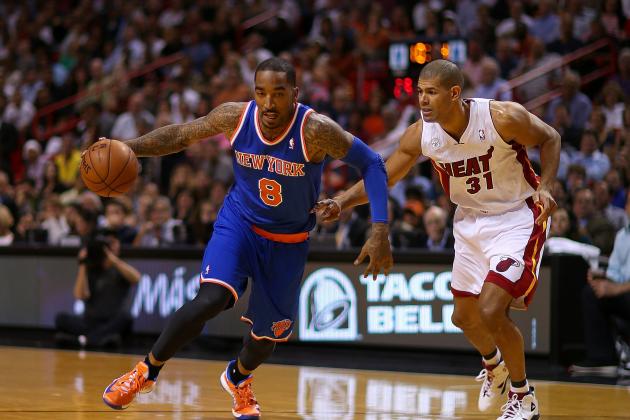 Mike Ehrmann/Getty Images
The Knicks need J.R. Smith to build on his success in 2012-13.
It is a major red flag for the Knicks that J.R. Smith is their third-most important player. The past year serves as a microcosm of his bizarre career.
Smith averaged a career-high 18.1 points and 5.3 rebounds per game last season on his way to being named Sixth Man of the Year. He hit two game-winning shots and averaged 23.2 points per game on 49 percent shooting during the team's late-season 13-game winning streak.
Then J.R. shot a dismal 33 percent from the field and 27 percent from behind the arc during the playoffs and was suspended for one game for elbowing Jason Terry in the face.
After signing a new three-year deal, he underwent surgery on his left knee in July, which is expected to keep him out three-to-four months. Once healthy, he will be suspended five games for violating the league's drug policy for a third time.
The Knicks desperately need the J.R. Smith who was focused on basketball and took over games by driving the ball to the basket instead of settling for outside shots. He is the only player on the team other than Anthony capable of consistently creating his own shot.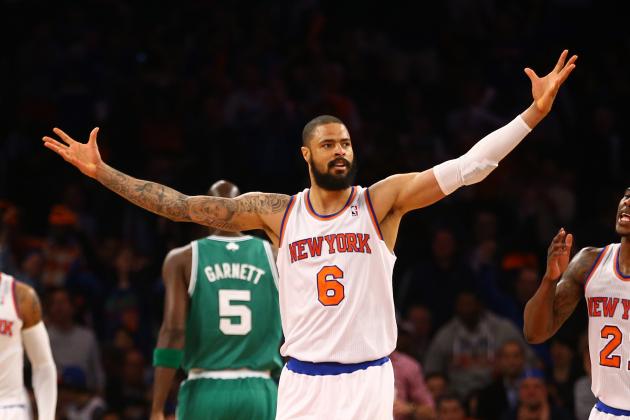 Al Bello/Getty Images
Tyson Chandler is the Knicks defensive anchor.
Tyson Chandler transformed the Knicks team with his defensive intensity when he arrived in New York in 2011. The center protects the rim and has the quickness to switch onto guards off of pick-and-rolls. Coach Woodson relies on him to cover up for the defensive deficiencies of Raymond Felton, Carmelo Anthony and Amar'e Stoudemire.
Chandler is not an offensive threat beyond five feet, yet he makes substantial contributions on that end of the floor. His hard dives to the basket on pick-and-rolls are crucial to the Knicks' spacing and he has mastered the art of the back tap on the offensive boards.
There is reason for concern that Chandler, who turns 31 in October, may be slowing down. The Knicks center looked a step slower last season at times on his defensive rotations and was a no-show in each of the past two post-seasons (though last season's dreadful performance against Roy Hibbert could be attributable to a bulging disc in his neck.)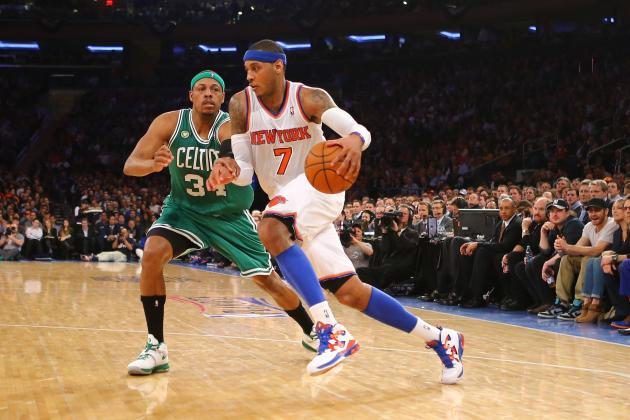 Al Bello/Getty Images
Carmelo Anthony is coming off what was arguably the best year of his career.
The New York Knicks are Carmelo Anthony's team. The former Syracuse University star carried New York to 54 wins with a league-high 28.7 points per game and would have been an MVP candidate had he not missed 15 games due to injury.
Anthony is a virtually unstoppable offensive force. He can overpower small forwards on the block, use his quickness to blow by bigger defenders and has developed into a dangerous three-point shooter. He increased his efficiency last season by making quicker decisions with the ball.
The Knicks hope that Andrea Bargnani and a healthy Amar'e Stoudemire will take some of the scoring load off of Anthony's shoulders, though New York is going to continue to lean heavily on its superstar.
Anthony will likely opt out of his contract next summer. The Knicks success this season could go a long way towards determining whether or not he remains with the team.