Saturday's game between Auburn and Arkansas State has been a long time coming.
It's been a long, winding road for each team since the game was scheduled more than a year ago.
On Saturday, Auburn head coach Gus Malzahn will face his former team, the Arkansas State Red Wolves—the same team he left after just one season in 2012.
Arkansas State doesn't forget the day Malzahn left, splitting Jonesboro, Ark., for the greener pastures of the SEC, leaving without coaching the Red Wolves' bowl game.
Malzahn hasn't forgotten about last season, either, and Saturday he'll be forced to face the ghosts of a season past in his former players on the opposite sideline.
But the biggest story of the day doesn't just go back to a year ago. It didn't begin when the game was scheduled. It won't begin when the Tigers and Red Wolves kick off in Jordan-Hare Stadium on Saturday night.
This is a story that goes back several years. It's the story of a head coach and his home state—of a Hall of Fame career and an offensive philosophy that swept the nation.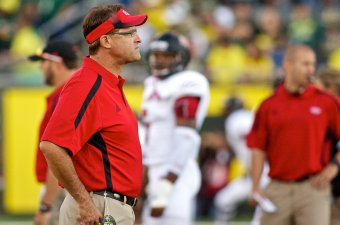 Craig Mitchelldyer/Getty Images
It starts on the high school football fields of northwest Arkansas, during Malzahn's career as a high school head coach in the late 1990s and early 2000s. Using his hurry-up, no-huddle attack, Malzahn tore down state records, won multiple state championships and garnered national attention for his unorthodox schemes.
He also built quite the reputation within the state of Arkansas.
Before long, in 2005, Malzahn was hired by Houston Nutt and the University of Arkansas to serve as the Razorbacks' co-offensive coordinator.
The season was highlighted by the introduction of Malzahn's brainchild—the Wildcat formation—and by an upset on the road against then-No. 2 Auburn. But nothing about the Razorbacks' offense throughout the season resembled Malzahn's wide-open spread. Malzahn left at the end of the season, and his relationship with Nutt ended less than amicably.
Malzahn darted from Fayetteville and headed to the University of Tulsa and then to Auburn as the Tigers' offensive coordinator from 2009 to 2011.
When the Arkansas State job opened in 2012, it was a dream scenario for Malzahn. The Arkansas expatriate took a pay cut from being the country's highest paid coordinator at Auburn to join the Red Wolves in his first opportunity as head coach.
Malzahn was home, he was winning and he was running his offense, his way, in the state where it all began, and where he would later be inducted into the Arkansas High School Coaches Association's Hall of Fame.
The only way Malzahn would leave that dream job is if another one opened.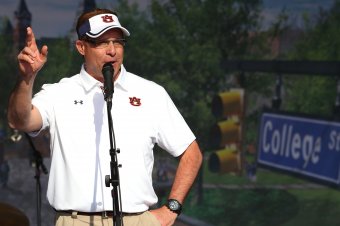 Mike Zarrilli/Getty Images
Malzahn fled the state of Arkansas again on Dec. 4, 2012, when he was named as Gene Chizik's replacement as head coach at Auburn. It was Malzahn's chance to return to the place where he had been a part of a national championship season as a coordinator just two years before, and an opportunity to take the helm at a major SEC program in just his second year as a head coach at the collegiate level.
Who can blame him for leaving Jonesboro?
The Red Wolves can. And Saturday, they'll try their best to make their former head coach regret his decision.
For Malzahn, Saturday will simply be another chapter written in his long history with the Red Wolves, the Razorbacks and the state of Arkansas.
No matter where Malzahn goes, his legacy in his home state seems to follow him.
Malzahn just wants to move forward and put the past behind him.
This week, he'll have a chance to do it on the field.