We're coming down to the wire at the 2013 U.S. Open.
Serena Williams and Victoria Azarenka have set the stage for the women's singles final with their wins on Friday, and the four remaining men, who a chance to do the same, will take to the court with that goal in mind on Saturday.
As you can see from visiting the U.S. Open's official Twitter account, what Day 13 lacks in quantity, it more than makes up for in quality:
Men's semis & women's doubles final (Day 13) #usopen schedule released: http://t.co/gL9lOvjreu #Nadal #Gasquet #Djokovic #Wawrinka

— US Open Tennis (@usopen) September 6, 2013
For starters, top seeds Novak Djokovic (1) and Rafael Nadal (2) have a chance to join their women counterparts in the men's final with victories over Stanislas Wawrinka (9) and Richard Gasquet (8), respectively.
We know what Djoker and Nadal bring to the table. Wawrinka stunned defending U.S. Open champion Andy Murray in straight sets to punch his ticket out of the quarterfinals, while Gasquet is making his first appearance in a Grand Slam semifinal since Wimbledon in 2007.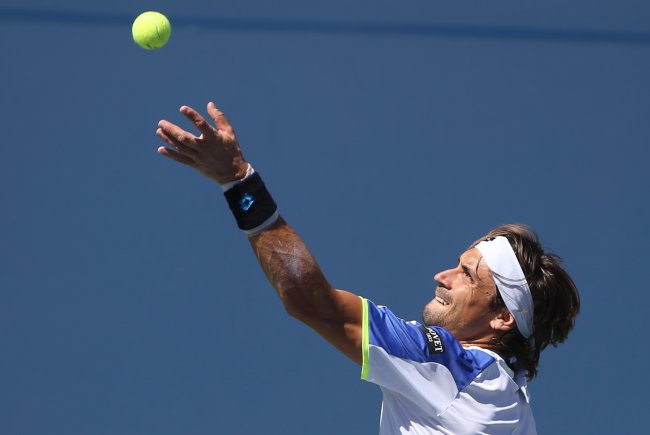 Jerry Lai-USA TODAY Sports
Additionally, Andrea Hlavackova and Lucie Hradecka are prepared to duel with Ashleigh Barty and Casey Dellacqua for the women's doubles crown. Hlavackova and Hradecka beat Serena and Venus Williams on Friday night to deny the sisters a 14th Grand Slam doubles title.
Quality trumps quantity every time. In preparation for one of the last days, the ATP Tour will make Flushing Meadows its home this year.
Here's a complete primer for Day 13.
Day 13 Schedule of Play
Arthur Ashe Stadium

| | | |
| --- | --- | --- |
| Time (ET) | Round | Matchup |
| Noon | Men's Singles-Semifinals | Novak Djokovic (1) vs. Stanislas Wawrinka (9) |
| Next; Not Before 2:50 p.m. | Men's Singles-Semifinals | Richard Gasquet (8) vs. Rafael Nadal (2) |
| Next; Not Before 3:30 p.m. | Women's Doubles-Final | Andrea Hlavackova/Lucie Hradecka (5) vs. Ashleigh Barty/Casey Dellacqua (8) |
*via USOpen.org.
Day 13 Viewing Guide
Where: USTA Billie Jean King National Tennis Center in Flushing Meadows, N.Y.
When: Saturday, Sept. 10, starting at Noon ET
Watch: Tennis Channel, CBS
Live Stream: US Open Live
Day 13 TV Listings

| | | |
| --- | --- | --- |
| Time (ET) | Program | Broadcast |
| 7 a.m.-11 a.m. | US Open Daily Match Encores | Tennis Channel |
| Noon-6 p.m. | Men's Singles Semifinals/Women's Doubles Final | CBS |
| 6 p.m.-8 p.m. | US Open Daily Match Encores | Tennis Channel |
| 9:30 p.m.-3:30 a.m. | US Open Daily Match Encores | Tennis Channel |
*via USOpen.org.
Predictions
Novak Djokovic (1) vs. Stanislas Wawrinka (9)
Elsa/Getty Images
Djokovic holds a career 14-2 record in head to head matches against Wawrinka. In hard-court matches, the Djoker is a flawless 5-0. Both matches the No. 9 seed won occurred in 2006. Needless to say, Djokovic has Wawrinka's number.
But as we learned from Roger Federer—previously 10-0 against Tommy Robredo until the fourth round—records mean less and less when the underdog is playing good tennis and coming off an impressive victory in the previous round.
Wawrinka qualifies in both categories.
In what was probably the most impressive individual victory at the 2013 U.S. Open to date, Wawrinka made Murray look like just another tennis pro during their quarterfinal match. He kept one of the best returners on the ATP Tour at bay, not giving Murray even one break chance during his service games.
To put it simply, Wawrinka dominated one of the hottest tennis stars in the world. To steal a word from this U.S. Open tweet, the Swiss player was in command:
.@StanWawrinka in command against @Andy_Murray. #Ashe #usopen WATCH INCREDIBLE WINNER: - http://t.co/0OhUONWNc8

— US Open Tennis (@usopen) September 5, 2013
Speaking of domination, Djoker is living up to his World No. 1 ranking. Through five matches in New York, Djokovic has won 15 of 16 sets and limited his opponents to winning just two games or less in a set for a staggering 12 times.
Against Mikhail Youzhny, he was dominant with the serve. Jeff Sackmann of TennisAbstract.com pointed out the stat on Twitter:
IBM insight via http://t.co/8NM4cP5nu1: "Djokovic was nearly flawless on his first serve, winning 32 of 28 points." http://t.co/PFnsQGJOPw

— Jeff Sackmann (@tennisabstract) September 6, 2013
As this tweet from ESPN's Stats & Info might suggest, there's a reason Djokovic will be playing in his seventh straight U.S. Open semifinal on Saturday:
Novak Djokovic: reaches 7th straight US Open semifinal (4-2 in those matches)

— ESPN Stats & Info (@ESPNStatsInfo) September 6, 2013
The last time Djokovic and Wawrinka met, sparks flied. According to BBC's David Law, the 2013 Australian Open fourth-round tilt was the match of the year to date:
Tomorrow, #Djokovic vs. #Wawrinka live on @bbc5live at 5pm UK time. Last time they played, Djokovic won 12-10 in 5th set. Match of the year.

— DavidLaw (@DavidLawTennis) September 6, 2013
Only Saturday will tell us if a trump card is in order for Law's assertion.
Both men have avoided a long match so far, but expect that trend to change on Day 13. Just like in Australia earlier this year, expect a five-set thriller. Wawrinka is playing great tennis, but Djokovic has been more dominant than any man in New York. As a result, the Serb moves on to the final.
Prediction: Djokovic wins, 3-6, 6-4, 6-2, 7-5, 6-4
Richard Gasquet (8) vs. Rafael Nadal (2)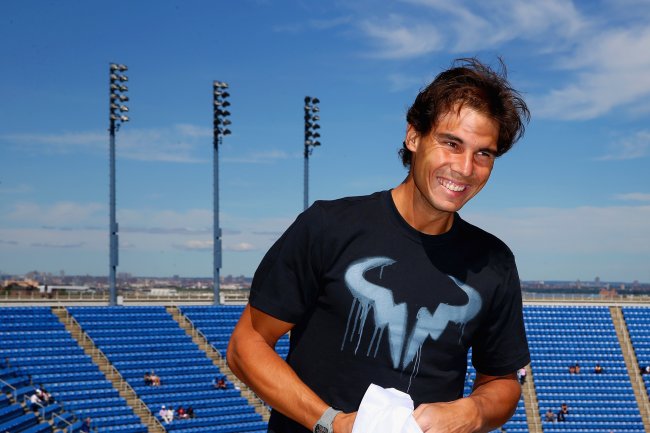 Joe Scarnici/Getty Images
Like Federer with Robredo and Djokovic with Wawrinka, Nadal has a strong career record against Gasquet.
As a professional, the Frenchman has never beaten the Spaniard. Nadal has won all 10 matches. In fact, Nadal has conceded only four games in that span and his lone loss—in 2003—came via retirement.
As teenagers, though, it was Gasquet that got the best of Nadal.
Tennis journalist Matt Cronin managed to find an appropriate picture to set the stage for that image:
Hilarious photo of Nadal and Gasquet together when they were kids pic.twitter.com/JRn7clhILx

— Matt Cronin (@TennisReporters) September 4, 2013
Naila-Jean Meyers of The New York Times had an in-depth look at the pubescent matchup after both men sifted through their quarterfinal matches unscathed, noting the rarity of such a circumstance in preparation for the U.S. Open semifinal.
There's even a video to chronicle the youth match that is now much more significant in retrospect than any fan in attendance probably wagered all those years ago.
But that was then, and this is now.
Which is most likely to happen?
Nadal is on an absolute tear at Flushing Meadows, taking down Tommy Robredo in straight sets during the quarterfinals as the latest example of his prowess. Gasquet has been solid, but Nadal is in rare form.
Personal records are given less importance in a match of this magnitude, but Nadal stays perfect against Gasquet and does in straight sets, to boot.
Prediction: Nadal wins, 6-3, 7-6, 6-1
Follow B/R's Ethan Grant on Twitter.