A lot of people have wasted a lot of time thinking about who they want Lamar Odom to be rather than appreciating him for who he is. I always look back at where he started. In stories like his, you don't see a lot of happy endings. So when you do see one, I think it should be celebrated.

- Jeff Van Gundy, ESPN analyst and former NBA coach, on Lamar Odom, to Lee Jenkins of Sports Illustrated in 2009
It wasn't all that long ago that Lamar Odom appeared to be well on his way to the happy ending that his tale of tragedy and triumph so deeply deserved. There he was, proudly accepting a bronze statuette acknowledging his selection as the NBA's Sixth Man of the Year for the Los Angeles Lakers in 2010-11.
Odom had achieved something in his career that seemed both fitting for and foreign to a player once touted as one of the most talented ballplayers to ever emerge from New York City. On the one hand, being the best reserve in basketball seemed a backhanded compliment for Odom, whose size and skill portended bigger and better achievements than one recognizing his work off the bench.
On the other hand, the award perfectly captured Lamar's life. He'd persevered through a litany of family tragedies and personal struggles that would've long ago derailed lesser men. He was basketball's answer to Job, the biblical figure who was beset by unspeakable horrors and eventually rewarded for his faith and persistence through it all. He had a family, a prominent place on the most famous basketball team in the world, and an overall outlook that was far rosier than any kid from Queens, raised by his grandmother after his mother's untimely death and amid his father's addiction to heroin, would've otherwise expected.
Odom's painful past makes the recent—and all-too-public developments—in his personal life that much more disheartening. He's already lost his way out on the basketball court, after two forgettable years with the Dallas Mavericks and the Los Angeles Clippers, but still appears to be searching for rock-bottom in his personal life after months marred by a car crash, a DUI, a disappearance, an intervention, a short stint in rehab and now a public feud with his father, among other things.
Odom's story may seem schizophrenic in scope and pattern, but, in truth, the intermittent suffering and success of his life not only inform one another, but weave together to form a tragic tapestry.
The Rise
Early Life and High School Stardom
We're all products of our environment. The key is not to fall.

- Lamar Odom, 2003 (via ESPN)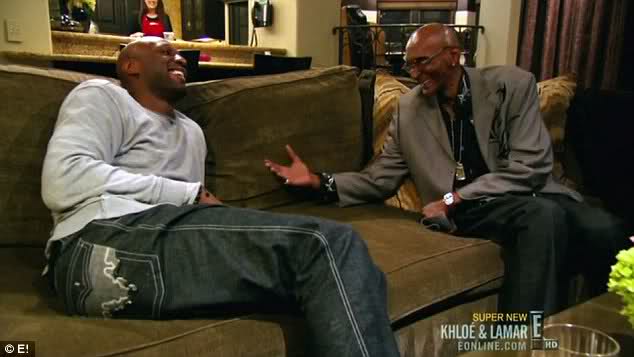 Odom's upbringing was rife with the sorts of obstacles to which young people in his position so often fall victim. His mother, Cathy Mercer, a corrections officer at Rikers Island, succumbed to colon cancer when he was 12. His father, Joe Odom, was a disabled veteran and a heroin addict, incapable of taking care of his son and largely absent from Lamar's life.
That left Odom in the care of his grandmother, Mildred Mercer. Said Odom of his grandmother back in 2009 (via Lee Jenkins of Sports Illustrated): "My grandmother was always upbeat, a naturally happy person. I think I got that from her."
Such a sunny disposition would serve Lamar well as he navigated through his troubled upbringing in Jamaica, Queens. His bright, friendly personality became an intrinsic part of his play on the blacktop. Like any tall kid with handles and a knack for sharing, Odom looked up more to Magic Johnson than he did to Michael Jordan.
But, more than anyone, Odom patterned his game after that of Lloyd Daniels. The man known to most as "Sweet Pea" was a legend in New York City, a 6'8" guard-forward hybrid whose ability to play the point at his size made him both a spitting image of Magic and a model for Lamar. As Odom told Sports Illustrated: "People used to call me Little Lloyd."
Unfortunately, Lamar's life off the court also came to mirror that of Daniels. Like Odom, Daniels came from a home torn apart by his mother's death and his father's drug addiction. Daniels, whose own drug problems landed him in rehab three times, attended more high schools (five) than did Odom (three), though both clearly had their academic issues along the way.
Odom spent the bulk of his prep career at Christ the King Regional High School in Queens. It was during his three years there that Odom established himself as one of the top prospects in the country. He was an unselfish, cerebral player who understood how to pass the ball with aplomb and get his teammates involved.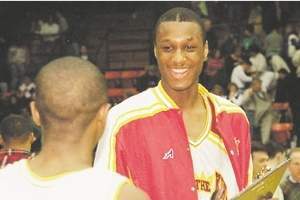 By the time his sophomore season rolled around, Odom had shot up seven inches, thereby transforming the 6'2" point guard into a rail-thin 6'9" forward with the skills of a floor general. Odom cemented his local legacy—and saw his national profile explode—with a record-tying 36-point performance to lead Christ the King to the Catholic High School Athletic Association championship. Odom's Royals lost to Stephon Marbury's Lincoln High School squad in the Federation tournament shortly thereafter.
College scouts flocked from all over to see Odom play—and when they did, he was even more pass-happy than usual, hoping to help his teammates earn scholarships as well. That selfless spirit would come to define Lamar in many ways, both on and off the court, though not without obstacles intervening.
Basketball, long Odom's saving grace, had become his biggest distraction. Lamar's commitments on the court and the attention and fame he gained from them distracted him from his studies and left him ineligible to take the court for Christ the King. The game that had comforted him in the dark hours after his mother's death and placed him on a path out of Queens now seemed an obstacle.
But even these storm clouds bore a silver lining, in the form of an important, lifelong connection that Odom was soon to forge. He played his last year of high school ball at Redemption Christian Academy in Troy before finishing up at St. Thomas Aquinas High School in New Britain, Connecticut.
Jerry DeGregorio, the coach at St. Thomas Aquinas, had met Odom at the ABCD basketball camp the previous summer and decided to take Lamar under his wing. He helped to get Odom back on the academic straight and narrow and would eventually follow Lamar from place to place in his hoops career, with jobs on the University of Rhode Island coaching staff and in the Los Angeles Clippers' front office along the way.
Odom's own transience didn't cost him much (if anything) in his basketball life. He cleaned up on the awards circuit in 1997, when he was named Parade Magazine Player of the Year, elected to USA Today's All-USA first team, and chosen to play in a pair of prep showcases (Magic's Roundball Classic and the McDonald's High School All-American Game) alongside fellow future NBA players like Tracy McGrady, Ron Artest, Elton Brand, Shane Battier, Baron Davis, Larry Hughes and the Collins twins (Jason and Jarron).
The Long and Winding Road...through College and to the Pros
The problem with Lamar is that things came too easy, too fast. To some degree you can classify him as a victim—but he was a willing victim.

- Jerry DeGregorio, former assistant coach at the University of Rhode Island and one of Odom's closest mentors, per Don Markus of The Baltimore Sun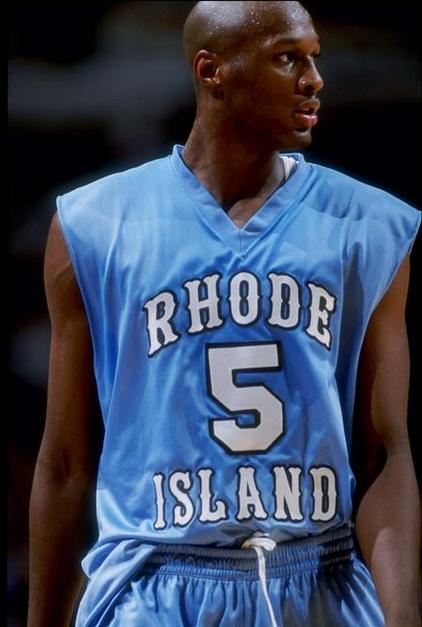 Like any elite recruit, Odom essentially had his pick of the litter when it came to deciding where he'd continue his basketball career, including a potential leap to the NBA. Odom flew to Los Angeles to consult with Kobe Bryant, who'd jumped to the NBA after preceding Lamar as Parade's Player of the Year, about the pros and cons of turning pro.
Odom ultimately opted to play NCAA ball at UNLV, once again following in Lloyd Daniels' footsteps. According to Sports Illustrated, Daniels even attempted to play a part in Odom's decision.
"I remember he rolled up in a white Benz," Odom said. "I told myself, 'I want a car like that.'"

Unfortunately, Odom, like Daniels, never suited up for the Runnin' Rebels. A Sports Illustrated story questioning the validity of Lamar's ACT score and an arrest for soliciting a prostitute provided the school reason enough to revoke Odom's scholarship. UNLV landed in even more hot water later on, when an NCAA investigation revealed that Odom had received $5,600 in illicit payments from one of the school's boosters.
Lamar considered his pro options, including million-dollar offers in Europe and an unheard-of $100,000 salary in the CBA, before DeGregorio guided him to the University of Rhode Island. DeGregorio connected Odom with Rams head coach Jim Harrick, who'd led UCLA to a national championship in 1995. DeGregorio joined Harrick's staff as an assistant, while Odom spent the 1997-98 season catching up on schoolwork as a non-matriculating student and preparing to regain his eligibility in time for the following campaign.
Odom once again contemplated entering the NBA draft, but he was dissuaded by Gregorio, who insisted that teams wouldn't risk spending a first-round pick on Lamar this time around. Instead, Odom was admitted into URI as a full-time student and granted his eligibility by the NCAA.
Odom was hardly worse for the "wear" of his long layoff from competitive play. He averaged 17.6 points, 9.4 rebounds and 3.8 assists while leading the Rams to their first Atlantic 10 Tournament title, by way of his own game-winning three in the championship tilt.
At long last, Lamar seemed ready to leave for the NBA, though even that turned out to be a complicated process. He left school without notifying anyone, after Harrick ditched Rhode Island for the top job at the University of Georgia. Odom forfeited his remaining college eligibility when he hired Jeff Klein as his agent, but he saw Klein resign after Lamar skipped out on the NBA Draft Combine and multiple meetings with interested teams.
After an unsuccessful attempt to return to school, Odom officially put his name into the draft pool. He hired another Jeff—Jeff Schwartz—to represent him, even though Schwartz's experience at that time had been limited to working with tennis players.
The move worked out for everyone. Schwartz went on to become one of the more prominent agents in the NBA, while Odom was taken fourth overall in the 1999 draft by the Los Angeles Clippers. Despite lingering concerns about his attitude, Odom had still earned rave reviews from scouts across the NBA, including this one from Jeffrey Burgoyne:
What Odom will bring to the court game in and out is versatility. While comparisons to Magic Johnson are completely unfair, its not hard to imagine Odom playing the point or center in the NBA, although its unlikely he will play any position other than SF. He has the court sense and vision of a player several years his senior, and is a solid passer and ball handler, especially for someone his size. At times last year he seemed to be at a different level than his competition (and teammates) but did not overextend himself trying to do it all himself.
Stormy Seas With the Clippers
It's ridiculous that it's happening. It shouldn't be happening. We're very disappointed.

- Alvin Gentry, former Clippers head coach, on Lamar Odom's drug-related suspensions, to J.A. Adande, then of the Los Angeles Times, in November of 2001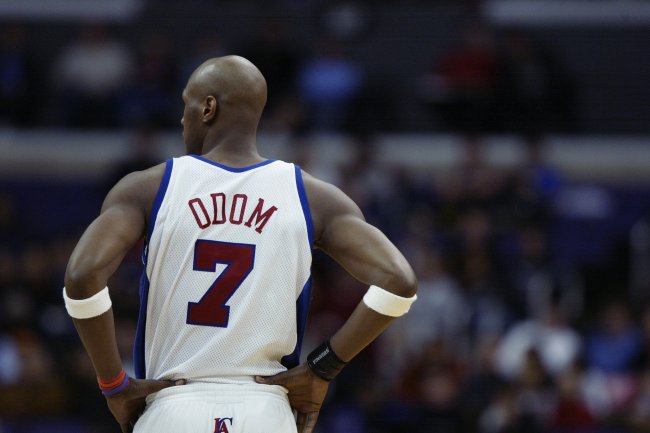 Lisa Blumenfeld/Getty Images
Wins were slow to come for Odom in L.A., at least from the outset. The Clippers came away with just 15 victories in 1999-2000.
Lamar, though, was far from the main culprit. He averaged 16.6 points, 7.8 rebounds, 4.2 assists, 1.2 steals and 1.3 blocks in 36.4 minutes, including a 30-point, 12-rebound, three-assist masterpiece in the Clippers' Staples Center-opening loss to the Seattle SuperSonics. For his efforts, Odom was named to the All-Rookie first team and, after an offseason overhaul, was granted the Clippers' captaincy right around his 21st birthday.
For better or worse.
The "new era" started off well enough for Odom and the Clippers. Lamar improved his productivity nearly across the board while playing alongside a promising nucleus that included Darius Miles, Quentin Richardson, Corey Maggette and Keyon Dooling. They were touted as the ones that would deliver the Clippers from laughingstock status, especially after the team doubled its win total, from 15 in 1999-2000 to 31 in 2000-01.
Odom, though, was unmistakably the heart and soul of that enticing squad. As Miles told Sam Smith, then of the Chicago Tribune, in January of 2001:
"If the Clippers keep Lamar Odom, they will keep all of us. If they let Lamar go, I'll be gone after that."
Odom's second season as a pro, while encouraging, wasn't without its blemishes. The league suspended Odom for five games in March of 2001 for testing positive for marijuana. The same concern cropped up again the following December, when Odom was docked eight games for failing another drug test.
To their credit, the Clippers stood by Odom through thick and thin. As Michael Olowokandi, Odom's teammate at the time, told the LA Times in November of 2001: "When families slip, you go there and try to help them out. This isn't the time to be judgmental at all."
That stretch of substance use spelled the beginning of the end for Odom in LA. He played in just 29 games during the 2001-02 season amid myriad injuries (and a disturbing disappearance from the team in February) following his suspension.
On the whole, though, the Clippers still managed to improve their standing in the league. They went 39-43 in 2001-02, finishing just five games behind the eighth-seeded Utah Jazz, thanks in no small part to the efforts of Elton Brand, who the team had acquired from the Chicago Bulls prior to the season.
LA may well have gotten over the hump the following year if not for Odom's continued struggles. He was limited to just 49 games by injuries as the Clippers stumbled to a 27-55 record in 2002-03.
And Odom, as it happens, was on the way out. That June, Odom's grandmother, who'd raised him after his mother's death, passed away. With his grandmother gone, Odom was left to serve as as one of the heads (if not the head) of his family, at the tender age of 23.
Finding His Way
This is a dream come true. This is the Yankees of basketball. The big stage.

- Lamar Odom, upon joining the Lakers in 2004 (via Chris Ballard of Sports Illustrated)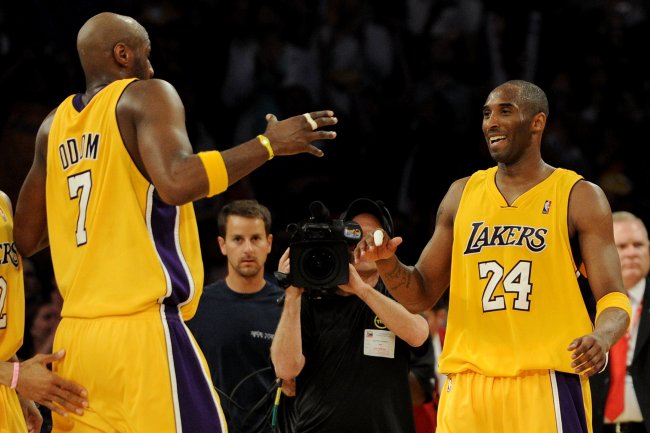 Harry How/Getty Images
Odom entered restricted free agency in July with a heavy heart and a wandering mind. He joined the Miami Heat once the Clippers declined to match Pat Riley's six-year, $65 million offer, on the heels of a similar bidding war between the two teams over Elton Brand's services. Riley spoke glowingly of Odom's new-found maturity at the introductory press conference (via ESPN):
He's mature enough now to take care of business. His health, his family and his team, that's what this is about. He has a great opportunity here to show what he believes he can become.
Odom, for his part, seemed to understand and appreciate the opportunity for a fresh start that lay before him:
I thought it was time to find something new. Being here is a great opportunity for me to prove all the doubters wrong. I don't think nobody's doubting I can play basketball. They're making doubts on other things.
The move proved to be a productive one for Lamar. He put together arguably his best year as a pro (17.1 points, 9.7 rebounds, 4.1 assists) while helping the Heat, along with a rookie by the name of the Dwyane Wade, not only crack the Eastern Conference playoffs, but advance to the second round. In his first taste of the postseason, Odom averaged 16.8 points, 8.3 rebounds, and 2.8 assists.
Lamar wasn't long for his new home, though. On July 14, 2004, Odom was traded to the Los Angeles Lakers—along with Caron Butler, Brian Grant, and a pair of draft picks—in exchange for Shaquille O'Neal. Odom returned to LA a different man, one who'd grown during his single season on South Beach.
"I became a better player and a better man in Miami. I grew up a lot," Odom said (via Sports Illustrated).
Odom's first year back in LA wasn't much to write home about. He was a key role player on the USA Basketball squad that failed to win gold at the 2004 Athens Olympics. During the NBA season that followed, his Lakers fell short of the playoffs for just the fifth time in franchise history.
Granted, these shortcomings were hardly Lamar's fault. Team USA was beset by dysfunction, much of it relating to its dependence on the likes of Allen Iverson and Stephon Marbury for leadership. As for the Lakers, the shift into the post-Shaq, post-Phil Jackson era was anything but smooth, with Rudy Tomjanovich's mid-season resignation sealing LA's fate for the 2004-05 season.
Phil Jackson's return to the bench in 2005-06 was no walk in the park for Odom, either. The lingering effects of Odom's shoulder surgery combined with the steep learning curve of the Triangle offense resulted in an inconsistent start for Lamar.
By the end of the season, though, Odom had begun to hit his stride. He logged back-to-back triple-doubles in mid-April and posted a line of 19-11-5 during LA's seven-game defeat at the hands of the Phoenix Suns during the first round of the playoffs.
Another Hole, Another Climb
Lamar is one of those hard-knock kids. We just keep saying, 'You're a good person, good things will happen to you.' There are times when it doesn't look that way, but we tell him there's a karmic action in life that will work for you.

- Phil Jackson, to Liz Robbins of The New York Times in December of 2006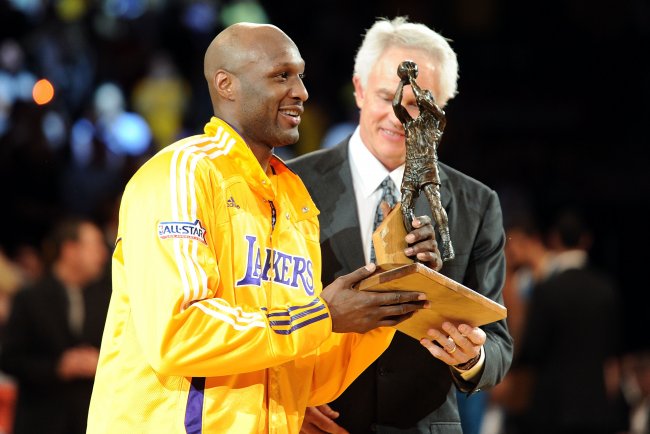 Harry How/Getty Images
Lamar's late-season successes were tempered by yet another tragic turn in his life. Odom was at home in New York to bury his aunt when death visited him once again, in the most harrowing way imaginable. On June 28, 2006, his seven-month-old son Jayden fell victim to Sudden Infant Death Syndrome (SIDS) in his crib at Odom's home in Atlantic Beach.
Three years to the day that Lamar's grandmother, Mildred Mercer, passed away.
Doctors at the local hospital tried unsuccessfully to revive Jayden, leaving Odom with one son less, his children—Destiny, 8, and Lamar Jr., 5—short a younger sibling, and the family as a whole grieving once again.
Odom spent most of the summer at home with his family, trying to sort through the pain and anguish of yet another tragic loss in his life. It was there and then that Lamar had his own near dance with death, when he was mugged at gunpoint in Queens by a teenager, who fired off a warning shot before taking Odom's watch and wallet. Said Odom of the incident (via the LA Times):
When this kid put a gun to me and held it to my face and, first he shot it, then pointed it at me, I thought he was going to harm me. I was thinking, 'Help me brace for this bullet.' I'd never been in this kind of situation before. When that happened, I said, I've got to get a little closer to the biggest icon in the world. It ain't Michael Jordan. It ain't Bob Marley, Che Guevara, even John Lennon. It's Jesus. Nobody's got more followers.
Odom sought solace on the court and on the couch after returning to LA. Over the next two years, he worked through his emotional distress with William Parham, a psychologist at UCLA. As Odom told Broderick Turner of the Los Angeles Times in August of 2011: "When I had to bury my child, I probably didn't start grieving until a year and a half later."
Meanwhile, Lamar put together another strong year for the Lakers in 2006-07, averaging 15.9 points, 9.8 rebounds and 4.8 assists. The Lakers, though, were once again bounced in the first round by the Suns.
LA had no such troubles with Phoenix the following year. The Lakers made it all the way to the 2008 NBA Finals, buoyed by the arrival of Pau Gasol during the season. With Kobe and Gasol doing the heavy lifting, Odom was relegated to third banana—a role that he performed with surprising aplomb.
With Andrew Bynum's return to health in time for the 2008-09 season, Phil Jackson opted to move Odom to the bench on a full-time basis—except, of course, when Bynum was hurt. It was a decision that took time for Lamar to grasp, and for good reason. Once regarded as an elite talent, Odom had seen his role in the NBA diminished, year by year and team by team, to the point where he'd no longer be starting. As he discussed with the Los Angeles Times in November of 2008:
I think mentally it was different. It humbles you. But being humbled has been a part of my life for a long time. . . . But for these guys in this locker room, this great organization, a great coaching staff, if that's what it has to be, that's what it has to be.
More importantly, Odom was facing free agency after the season and wasn't too keen to see his value diminished by a coaching maneuver.
In time, though, Odom adapted to his new role. He became the focal point of the Lakers' second unit while holding his ground as an all-around glue guy in crunch time. As Phil Jackson told Lee Jenkins in 2009: "He's distracted at times. We try to work with him a lot on focus."
The Lakers flourished with Lamar coming off the bench. Odom and his teammates became NBA champions after ousting the Orlando Magic from the 2009 Finals in five games. The following summer, Odom re-signed with the Lakers for four years and $33 million, despite some intense overtures from the Heat.
With his professional life secure, Odom tied up another knot in his personal life, this time by marrying his reality TV girlfriend, Khloe Kardashian. The two were introduced at Ron Artest's "Welcome to LA" party in August of 2009. Less than a month later, Odom and Kardashian exchanged vows in front of family, friends, and a TV crew for a Keeping Up With the Kardashians wedding special that would air the following November.
Odom once again spent the 2009-10 season shuttling between the bench and the starting lineup whenever Bynum's knee problems (inevitably) cropped up. His versatility, along with transcendent seasons from Kobe and Gasol, propelled the Lakers to a successful title defense, this time with the rival Boston Celtics catching the short end in seven games.
Now a two-time champion, Odom took his act to Turkey during the offseason. He led Team USA to a gold medal at the 2010 FIBA World Championships, taking on a leadership role and manning all five positions for Mike Krzyzewski.
Odom returned stateside with more confidence than ever, and it showed. He put together his most efficient campaign to date, with new personal bests as a shooter (.530 from the field, .382 from three) and strong raw numbers (14.4 points, 8.7 rebounds, 3.0 assists). For his efforts, Lamar was named the NBA's Sixth Man of the Year for the 2010-11 season.
With Odom's help, the Lakers skated to 57 wins and the second seed in the Western Conference. However, they fell well short of extending their run of titles to a three-peat, with the eventual-champion Dallas Mavericks playing the role of spoiler in the second round.
The Fall
Bad Times in Big D
"Death always seems to be around me. I've been burying people for a long time."

- Lamar Odom, to Broderick Turner of the Los Angeles Times in August of 2011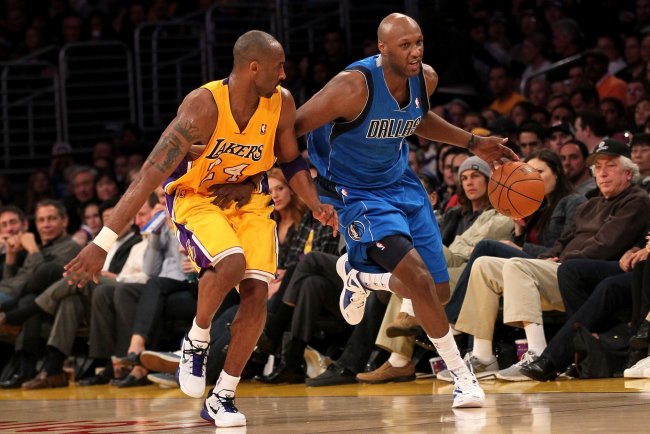 Stephen Dunn/Getty Images
Despite the early playoff exit, Odom finished the season on a high. He'd come away with his first distinction as a pro since his rookie season and was now featured on a Kardashians spinoff show with his wife, entitled simply Khloe & Lamar.
The lockout that followed, though, was none too kind to Lamar. In July of 2011, Odom returned home to New York to shoot a commercial for Nike. Before Lamar left, word got around that his cousin had been killed. The day after the funeral, the SUV in which Odom was riding was involved in an accident that killed a 15-year-old by the name of Awsaf Alvi Islam.
Odom described the events in tragic detail for the LA Times later that summer:
A man doing "wheelies" on a motorcycle "had jumped in front of us," Odom said, coming toward them so fast that it was impossible to avoid the crash.

"When he [the motorcyclist] slid, I thought it was two people on the bike. But what actually happened is that [after] the guy that hit us, as the motorcycle was sliding, he ran into someone else.

"And when I saw him run into someone else, I heard another 'ka-boom!' I looked at the person that was hit by the motorcycle and I kind of knew that 'this kid just received death.' I'm sitting in the car looking him right in the face. I'm like, 'I think he's gone.'"
That experience, of dealing with death on consecutive days, exacted a deep toll on Odom, who added:
I think the effects of seeing [my cousin] die and then watching this kid die, it beat me down. I consider myself a little weak. I thought I was breaking down mentally. I'm doing a lot of reflecting.
That turn of events, combined with the uncertainty surrounding the upcoming season, led Odom to consider taking a hiatus from basketball, which he did, to a large extent, in the months that followed. Shortly after the lockout ended, Odom was traded to the New Orleans Hornets as part of a blockbuster deal that made Chris Paul a Laker.
Or would've, if not for commissioner David Stern's infamous intervention. Lamar came into camp out of shape and distraught, demanding that the Lakers trade him. The team ultimately obliged by shipping Odom to Dallas in exchange for a draft pick and a trade exception.
The Lakers made out poorly from the whole fiasco. The Purple and Gold failed to advance past the second round of the playoffs in 2012 and were swept out in the first round in 2013, after a disastrous season in which Mike D'Antoni replaced Mike Brown as head coach, Dwight Howard passed through on the way to Houston, and Bryant, Gasol and Steve Nash all suffered significant setbacks.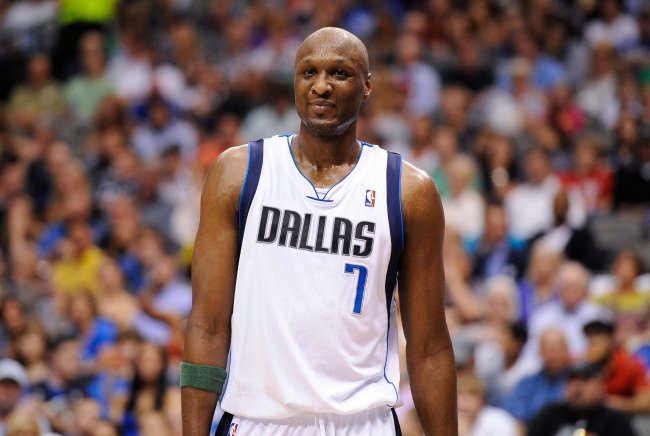 Jerome Miron-USA TODAY Sports
The move away from LA proved disastrous for Lamar in nearly every respect as well. Neither Odom's mind nor his body were in proper condition when he arrived in Dallas. He played in just 50 games (with four starts) for the Mavs, during which he posted career-worst numbers in nearly every category (6.6 points, 4.2 rebounds, 1.7 assists, .352 from the field, .252 from three in 20.5 minutes). He showed up late to meetings and practices, went through the motions on the court, played with very little (if any) passion or effort, and wasn't particularly engaging with his teammates.
Lamar Odom, From Sixth Man of the Year to Afterthought

| | | | | | | | |
| --- | --- | --- | --- | --- | --- | --- | --- |
| | Games | Mins | Pts | Rebs | Ast | FG% | 3P% |
| '10-'11 | 82 | 32.2 | 14.4 | 8.7 | 3.0 | .530 | .382 |
| '11-'12 | 50 | 20.5 | 6.6 | 4.2 | 1.7 | .352 | .252 |
Basketball Reference
In other words, Lamar was far from his old self.
What was clear, though, was Dallas' disdain for Lamar's delinquent behavior. According to ESPNDallas.com, Odom and Mavs owner Mark Cuban had a heated discussion in the team's locker room during halftime of a game against the Memphis Grizzlies in April of 2012. That shouting match, along with Lamar's prior pattern of poor behavior, led the Mavs to dismiss Odom from the team for the remainder of the season. Said Cuban of the split between the Mavs and Odom (via ESPNDallas.com):
Everybody goes through ups and downs. Every player does. We tried to put him in a position to succeed. You guys saw it, saw what we did. It didn't work."

Did I get my money's worth? No. I don't know that the word's 'cheated.' But did I get my money's worth? No.
The following October, Odom attempted to apologize for his failure in Big D (via NBA insider Ric Bucher):
Lamar Odom, unprompted, told me he'd like to apologize to Mark Cuban and Mavs fans for not being himself. Felt it was beyond his power.

— Ric Bucher (@RicBucher) September 28, 2012
A Hapless Homecoming
"Life is good."

- Lamar Odom, to TMZ in September of 2013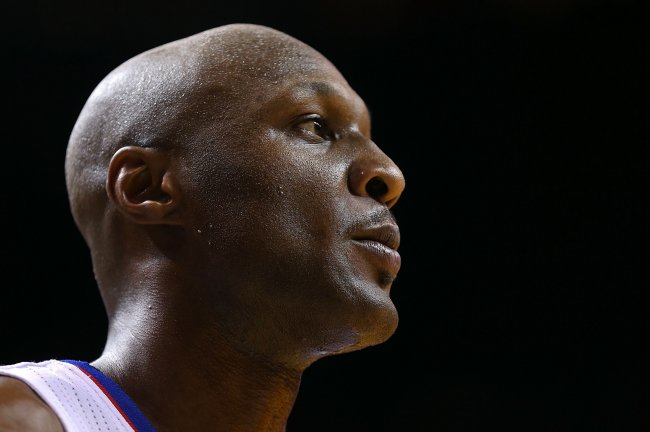 Mike Ehrmann/Getty Images
Come late June, the Mavs had washed their hands of Lamar by way of a four-way trade with the Utah Jazz, the Houston Rockets and the Clippers. Odom returned to LA to play for the team that drafted him more than a decade earlier. He was greeted by plenty of fanfare and a talented team, with Blake Griffin and Chris Paul—for whom he was supposed to be traded—at the fore, that was fresh off its first playoff appearance (and series victory) since 2005-06.
Odom's homecoming didn't turn out to be as restorative as he and the Clips had likely hoped. The team did just fine, setting a new record for wins in a season (56) and capturing the Pacific Division for the first time in franchise history.
Lamar, though, wasn't exactly responsible for the Clippers' success. To be sure, he wasn't the nuisance he'd become in Dallas, but Odom's production (4.0 points, 5.9 rebounds, 1.7 assists, .399 from the field, .200 from three) remained well below his career norm.
This, despite Odom having less on his proverbial plate outside of his basketball-related duties. Production had halted on Khloe & Lamar prior to Odom's return to the Clippers. The couple claimed that the show hadn't been cancelled, but rather put on hold to grant Odom and Kardashian a reprieve from their hectic schedules, be they on the court or in front of the camera (skip to the 1:30 mark in the video below):
Not surprisingly, Odom's putrid play at his age (33) didn't inspire many (if any) overtures from prospective teams in free agency this summer. There were whispers of interest from the Lakers and the Clippers, but neither seemed to bite.
Even less so once word broke that Lamar's personal life had once again devolved into a real-life soap opera. TMZ (among other outlets) reported in August of 2013 that Odom reluctantly spent three weeks in rehab in San Diego last year, his wife staged an intervention last month to force Lamar to confront his issues with drugs, and Odom allegedly disappeared for three days.
On the heels of that chaos came even more troubling news about Lamar. According to the Los Angeles Times, Odom was arrested on Friday morning of Labor Day weekend for suspicion of driving under the influence. Odom's license was suspended for one year after he refused to submit to a drug test.
All of this after Lamar had previously been involved in an incident involving a paparazzo in July:
Odom may or may not have entered rehab for a day shortly after his most recent arrest. What we do (think we) know is that Lamar isn't currently in a facility.
Whether he should be is another story. Polina Polonsky, a criminal defense attorney and a roommate of Odom's for six weeks this past June and July, told TMZ that she spotted Lamar smoking crack, among other things.
Some, like Odom's father Joe, have located the blame for Lamar's problems within the Kardashian household. As Joe said of the famous family's influence on his son during an interview with Radar Online:
They haven't been a good influence on my son. It's been the curse of his life. He hasn't really accomplished anything since he's been with them. Without them, he'd still be in the NBA playing basketball. He'd be playing for the Lakers and be one of the top players in the league.
Shortly thereafter, Lamar took to Twitter to defend the Kardashians as "the ONLY FAMILY that has loved (him) without expecting anything in return" and to pin the blame for his own demons on his addict, absentee father:
Won't continue 2 speak on this but I have got 2 let this out real quick. I have let this man and many others (cont) http://t.co/ACFVHjkevg

— LAMAR ODOM (@RealLamarOdom) September 25, 2013
At this point, Odom would appear to be done in the NBA. He's well into his 30s and hasn't been a productive NBA player since 2010-11. Moreover, his life has fallen so far off the track that no team would likely consider so much as inviting him to training camp any time soon, lest that team welcome all unwanted attention in its facilities.
But basketball is secondary here, to say the least. The greater and more pressing concern lay with Lamar's health and well-being. A man whose life has been marked (and marred) by tragedy and hardship appears to have run into yet another rough patch, if not the roughest one yet. As Jordan Farmar, a former teammates of Odom's with the Lakers, recently told Bleacher Report:
"Nobody's immune to tough times. It can come in any form to all of us, but people who love and care about you will be there regardless.
"I'm somebody who loves and cares about Lamar. He's been great to me. He's been an amazing teammate, friend, person. I think he's one of the most incredible people you'll ever meet, and I told him, 'If you ever need anything from me, you can always reach out.' And I hope that whatever he's going through, he gets through it healthy and fine and lives a great, happy life after."