Pre-Training Camp Player Power Rankings for Utah Jazz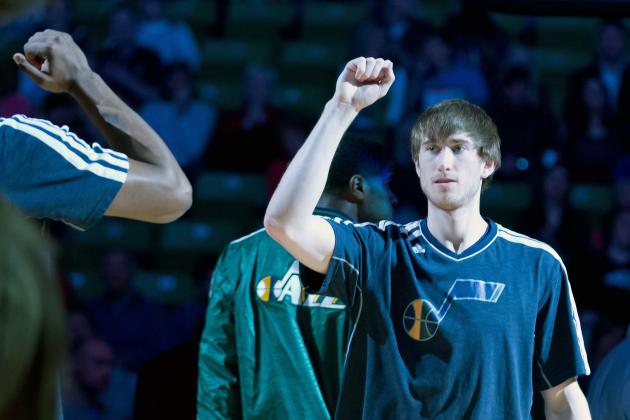 Russ Isabella-USA TODAY Sports

Though making the playoffs may be a long shot (understatement?), there are plenty of individual players to be stoked about this year if you're a Utah Jazz fan.
The presumed starting five is made up entirely of lottery picks and the average age is less than 22. While that may not translate to a ton of wins right away, there should be plenty of exciting plays that will serve as glimpses into the future.
Who's going to make the majority of those plays? Who will provide some scoring off the bench? Who's the defensive ace?
Sorting out those questions and ranking all 14 players on Utah's roster is the order of business here and will be based on the performances of each over the last year, their development (or decline) and my opinion on talent.
Certain guys may develop more than others over the course of the season, but this list represents where the roster is right now.
All stats courtesy of Basketball-Reference unless otherwise noted.
Begin Slideshow

»
Mike Stobe/Getty Images

14: Andris Biedrins
It's difficult to believe that there was once a time when Biedrins looked to be on his way to becoming a solid NBA center.
He was a double-double machine during the 2008-09 campaign, when he averaged 11.9 points and 11.2 rebounds. The year before, he led the league with a field-goal percentage of 63.
Well, obviously those days of promise are long gone for the 27-year-old Latvian big man—otherwise, he wouldn't be the 14th rated player on a team almost certain to be in the lottery next year.
The Jazz agreed to take on Biedrins' expiring deal just to land draft picks as part of the trade that sent Denver's Andre Iguodala to Golden State.
Unless he dramatically improves on his numbers from last year—a whopping 2.9 rebounds and 0.5 points—this will be his first and last season in Utah.
13: Jerel McNeal
McNeal spent the majority of last season leading the D-League's Bakersfield Jam with 18.1 points and 5.5 assists a game.
The 6'3" guard was a big-time scorer in college as well and his production in the assist column with Bakersfield suggests that aspect of his game may be catching up.
With only two true point guards on the roster in Trey Burke and John Lucas III, McNeal may be able to sneak onto the floor a few times in 2013-14.
12: Ian Clark
After thriving for the Warriors' summer team, the Jazz signed 6'3" sharpshooter Ian Clark. He scored 33 points while hitting 7-10 from three-point range during the championship game of the tournament in Las Vegas—good enough for MVP honors.
Clark is one spot ahead of McNeal because his shooting range gives him the potential to contribute to a team that hasn't hit a ton of threes the last couple years.
He shot over 40 percent from downtown in each of his four years at Belmont, including a 46 percent senior season.
11: Rudy Gobert
Gobert earns this spot largely on intrigue. How can you not be curious to see what this 7'2" with a 7'9" wingspan center can do?
Summer league play gave us a look at some of the possibilities. He hit 10-of-19 from the field and blocked three shots on three different occasions.
Just like we saw in Orlando, the most Utah will probably get out of him as a rookie this year is dunks and blocks. But he looks more likely to back up Enes Kanter than Biedrins.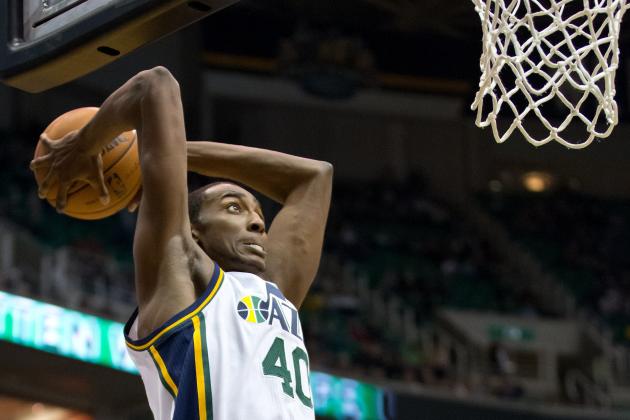 Russ Isabella-USA TODAY Sports

Position: PF
Height: 6'9"
2012-13: 2.0 points and 1.6 rebounds
Jeremy Evans averaged 3.6 points and 2.0 rebounds a game as a rookie in 2010-11, and it's been all downhill from there. His production dipped in each of the following seasons.
He's not devoid of marketable skills though. The 2012 dunk contest winner is bouncy, plays hard and does a decent job protecting the rim. He was second on the Jazz behind Derrick Favors in block percentage last year.
He may be able to show off some of that skill on a more regular basis this season as his minutes should almost certainly increase after the departures of Al Jefferson and Paul Millsap. He and Marvin Williams can both play power forward off the bench.
Tom Szczerbowski-USA TODAY Sports

Position: PG
Height: 5'11"
2012-13: 5.3 points and 1.7 assists
John Lucas has spent the last eight years in professional basketball—in Italy, Spain, China, the D-League and, of course, the NBA.
He'll bring experience to the role of backup point guard, but not a whole lot else. He's never finished an NBA season with a field-goal percentage over 40 and he's probably more of a shoot-first 1 than a distributor.
Alec Burks spent some time at point guard last year and may see more minutes there with Lucas and Trey Burke as the only options on the roster at that position.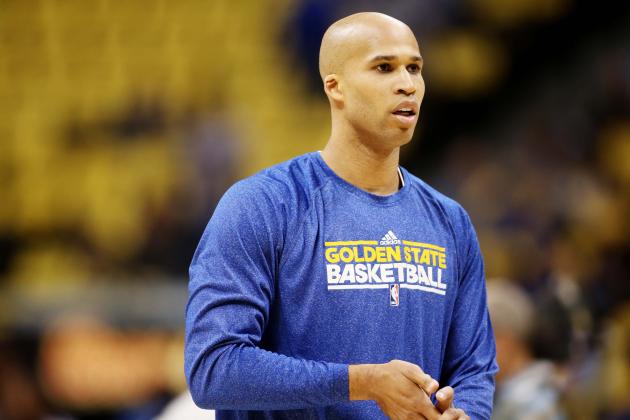 Chris Humphreys-USA TODAY Sports

Position: SF
Height: 6'7"
2012-13: 3.1 points and 1.5 rebounds
The steady decline of Richard Jefferson has taken him from a starting forward averaging 22.6 points (his last year in New Jersey) to a benchwarmer averaging 3.1 (last season in Golden State) in just five years.
Is it possible that a player's skills could diminish that much and that quickly from age 28 to 33? Certainly. But I think Jefferson's lack of production has a lot to do with situation as well.
I don't think he was that much worse with the Spurs and Warriors than he was with the Nets and Bucks. There was just more depth at his position in San Antonio and developing young players on a rising team in Golden State.
His situation in Utah will be similar to what he faced last year, in that the team will value minutes for younger wings like Alec Burks and Gordon Hayward over Jefferson because their development means more for the future of the franchise.
But Jefferson could still carve out a role as a veteran presence on the second unit. He shot 44 percent from three-point range during his last full year in San Antonio and has obviously played in more big games than anyone else on the roster.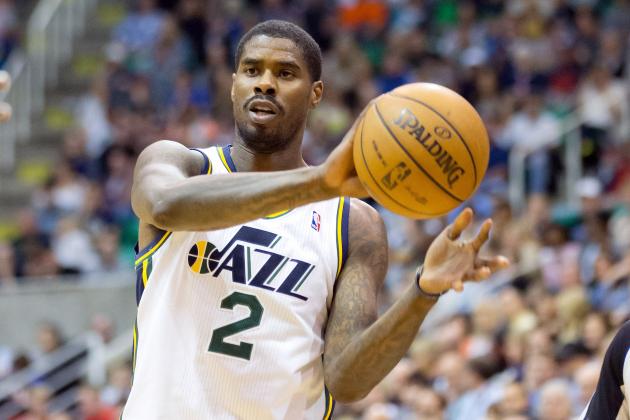 Russ Isabella-USA TODAY Sports

Position: SF/PF
Height: 6'9"
2012-13: 7.2 points and 3.6 rebounds
In his first season in Utah, Marvin Williams was the starting small forward and had his worst year in the NBA. He posted career lows in points, rebounds and field-goal percentage.
I can't think of a reason he'd start over Hayward again, but I couldn't think of one this past season either.
Williams makes a lot more sense off the bench, maybe even at power forward. That was his position at North Carolina. And that's where he showed the potential that made him the No. 2 pick in the 2005 draft.
The only backup bigs on the roster as presently constituted are Biedrins, Gobert and Evans. With his quickness and ballhandling ability, Williams would create more mismatches than any of them.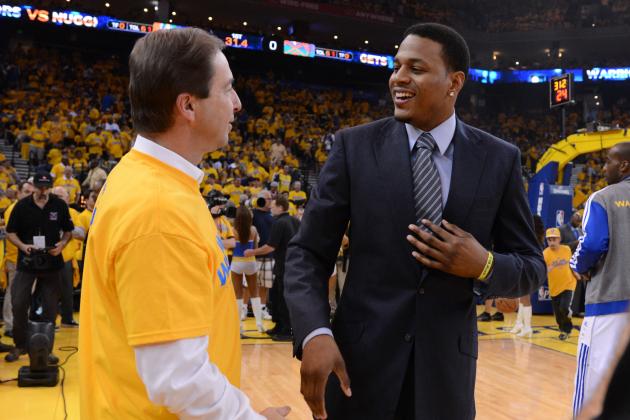 Kyle Terada-USA TODAY Sports

Position: SF/SG
Height: 6'6"
2011-12: 9.8 points and 45 percent three-point shooting
Count me among those who think Brandon Rush can end up being more than just a throw-in from the big Warriors trade this summer.
Three-point shooting is valued more than ever before in the NBA (look up Kyle Korver's deal with the Hawks) and the new horribly overused cliche among basketball bloggers is "3 and D guy."
As sick as I am of hearing that, I'm going to apply the label to Rush. He's a career 41 percent three-point shooter and plays a physical brand of defense similar to former Jazz wing Wesley Matthews.
He may deserve the starting nod over Alec Burks, but since youth is being served in Utah this year, he'll likely settle into the role of a solid sixth man.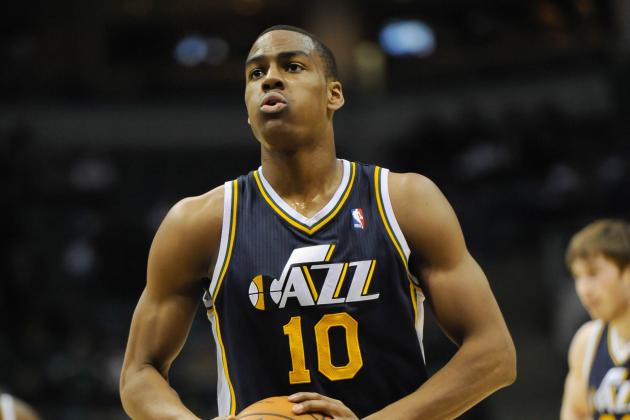 Benny Sieu-USA TODAY Sports

Position: SG/PG
Height: 6'6"
2012-13: 7.0 points and 2.3 rebounds
Alec Burks should finally get an opportunity to show off the scoring ability that made him a lottery pick in 2011.
After averaging less than 17 minutes a game over his first two seasons in the NBA, Burks has to be excited for the opportunity he stands to receive this year.
Utah parted ways with four starters this summer, including shooting guard Randy Foye. That opening will be occupied by Burks.
He enters Utah's starting lineup as a different player than the one they drafted two years ago. He's improved a suspect three-point shot (hitting 36 percent last year) and can now shoulder some playmaking ability after spending time at point guard in his second season.
He won't average 20.5 points like he did at Colorado, but I wouldn't be surprised to see Burks become a double-digit scorer this year.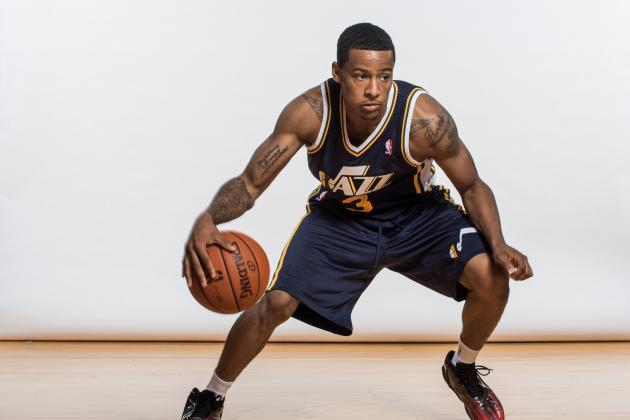 Nick Laham/Getty Images

Position: PG
Height: 6'1"
2012-13: 18.6 points and 6.7 assists (at Michigan)
There's no getting around it—Trey Burke had an awful summer league showing in Orlando. You've heard about it ad nauseam for the last couple months, so I won't rehash the details.
Instead, let's look at the strengths of Burke's game.
He was drafted for his playmaking ability, because the Jazz still believe in the traditional definition of a point guard.
During the summer and in college, Burke was able to get to the rim easily. The difference was once he found himself surrounded by NBA size inside, scoring became much more difficult than it was against college bigs.
When he learns to drop it off to Derrick Favors or Enes Kanter or kick it out to Gordon Hayward or Alec Burks in those situations, the game will come much easier. That will force defenses to respect the pass more and they won't be able to collapse on him at the end of his drives.
Sharp decision-making may take some time to develop, but I think Burke will adjust on the job and lead all rookies in assists.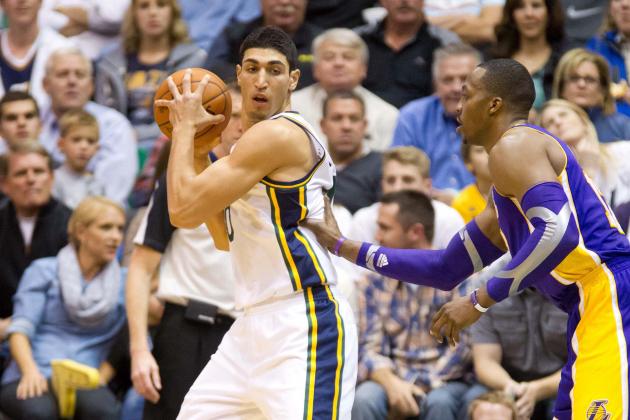 Russ Isabella-USA TODAY Sports

Position: C
Height: 6'11"
2012-13: 7.2 points and 4.3 rebounds
Enes Kanter is the first of three Jazz players that have a legitimate shot to win Most Improved Player in 2014.
After patiently waiting on the bench for the last three years (two in Utah and one at Kentucky where he was ineligible for playing overseas), Kanter will finally get his shot after the departure of Al Jefferson and Paul Millsap.
Possessing an awesome balance of power and finesse, the 260-pound center doesn't mind banging inside. His offensive rebounding percentage of 14.5 (third in the NBA behind Reggie Evans and Roy Hibbert) is evidence of that.
As for the finesse, Kanter has shown shooting touch that nearly extends out to the three-point line. He shot 47 percent from beyond 16 feet (on 53 attempts) and 54 percent overall.
A lot of his scoring opportunities were created by feet that seem wise beyond their years. Somewhere along the way, someone taught the 21-year-old big man the fundamentals of footwork in basketball. He's ahead of a lot of his peers in that regard.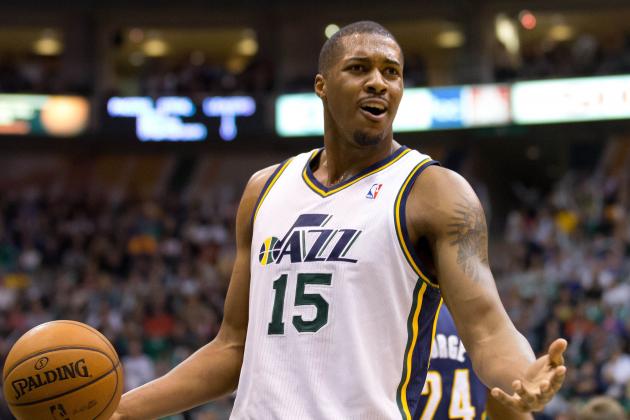 USA TODAY Sports

Position: PF/C
Height: 6'10"
2012-13: 9.4 points, 7.1 rebounds and 1.7 blocks
I almost wish I could rate these top three players as 1A, 1B and 1C. And if that was the case, Favors would be 1B—barely edging Kanter because I feel his ceiling on defense is a bit higher.
The Turkish center is a much more polished offensive player, but Favors will still score plenty of points because of the way he runs the floor and finishes above the rim. And while he doesn't appear to be quite the offensive rebounder Enes Kanter is, he'll still get his fair share of putbacks as well.
What makes Favors the slightly more important piece of the frontcourt is what he does defensively. He gave up six fewer points per 100 possessions than Kanter and blocked shots at nearly three times the rate.
Favors has also shown the potential to be a beast on the boards. He was in the top 20 in both defensive and total rebounding percentage last year and averaged 11 per 36 minutes.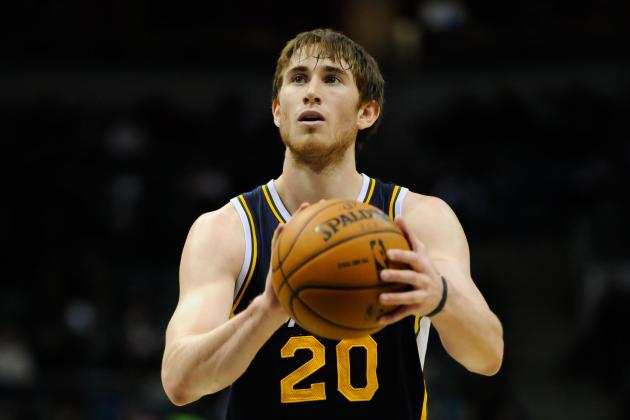 Benny Sieu-USA TODAY Sports

Position: SF/SG
Height: 6'8"
2012-13: 14.1 points, 3.1 rebounds, 3.0 assists and 42 percent three-point shooting
Though I think Hayward's ceiling is slightly lower than both Derrick Favors and Enes Kanter, he should be their best player this upcoming season.
He's the most polished scorer on the Jazz, efficiently focusing his attack on the rim and at the three-point line—the two spots where points add up the fastest.
Part of what helps Hayward score is his ability to handle the ball. For that same reason, he could be effective in a point forward role in bigger lineups. Last year, he was fourth on the team in assist percentage behind the three point guards who are all gone.
He's also much more experienced than any of the other four starters. The other two who've been introduced as such in the NBA are Favors and Kanter, and their 46 combined starts are less than half of Hayward's career total. He's the only one who's averaged double-figures in the league as well.