WWE Worst of the Week: HHH, Big Show and More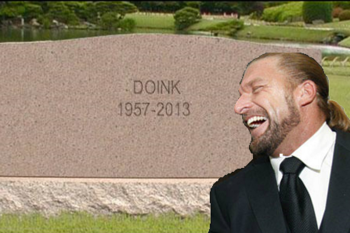 photos via jcchandler.com and wwe.com
WWE Worst of the Week is what's "best for business."
Or maybe watching HHH open Raw and SmackDown, and dressing down the entire roster is what's best for business.
It's hard to tell.
Night of Champions starring Hunter Hearst Helmsley is coming up soon, and WWE is doing its best to make the titles seem relevant. It's too bad that the title of COO is the most important one in the company.
Besides HHH this week, we had more Daniel Bryan beatdowns, the departure of Cody Rhodes and Rob Van Dam and Ricardo Rodriguez doing their best to make wrestling's most forced pairing seem slightly less forced.
With that out of the way, it's time to get down to business, and sort through the "worst for business" moments of the week.
No. 5: Sandow Loses Some More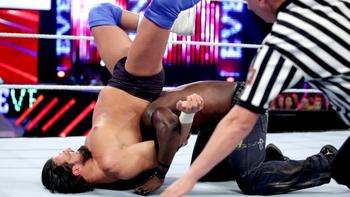 photo via wwe.com
Call me crazy, but maybe WWE could spice things up and do something a little different.
Maybe the Money in the Bank contract holder for the Heavyweight title could actually win his matches.
I know, I know, it sounds insane, but hear me out.
Instead of having the guy holding the briefcase lose every single match he's in, maybe he could win them instead. Then, when he cashes in and wins the title, people actually buy him as an in-ring threat.
This in effect makes it more interesting when he defends the title. People may then buy him as credible champion, and pay money to watch him finally get his.
Nah, it would never work. Losing to R-Truth makes a lot more sense.
No. 4: Goldust Really Isn't Goldust?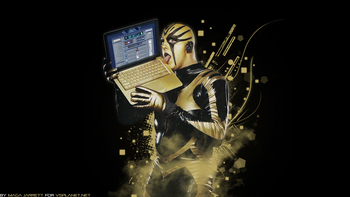 You're saying they made him do this? (photo via vsplanet.net )
Cody Rhodes cut a great promo on Raw.
On his way out the door, he showed some fire that we'd never seen from him before. But the actual content of the promo went too inside.
I absolutely hate when wrestlers talk about how WWE made certain wrestlers play the part of someone else. It breaks its own reality, and creates a huge mess.
Cody mentioned how when his father went to WWE, they put him in polka dots and made him dance. Later, the company slapped a wig and gold paint on his brother Dustin and turned him into Goldust.
Why does WWE admit on its own show that the gimmicks are created by the company and not the wrestlers themselves? Aren't we supposed to believe that gimmicks are an extension of the person behind them? Shouldn't the only thing management does behind the scenes (in the context of the story) is promote the fights between these colorful characters?
Following that logic, we must assume that Fandango isn't actually a ballroom dancer, 3MB aren't really a band and Damien Sandow is forced to put on a robe and talk down to the audience.
But then, are we also supposed to believe within the reality that WWE presents, that the company also asks the guy playing Fandango to dance and get distracted in his matches and have it backfire?
How deep does it all go? It's best to just leave the talk of gimmicks aside to create a consistent narrative.
No. 3: The Day the Clown Died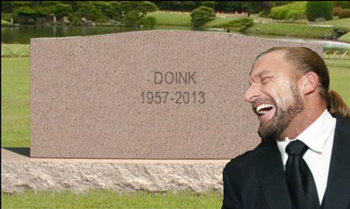 photos via jcchandler.com and wwe.com
Doink is dead. Long live The Doink.
There were hundreds of names HHH could have chosen instead of Doink on Raw to insult Daniel Bryan, but he chose the most recent wrestler death to make fun of.
Why not instead bring up Duke the Dumpster Droese, The Goon, The Repo Man, Man Mountain Rock, Beaver Clevage, Simon Dean, The Boogeyman, Aldo Montoya, Max Moon, Abe "Knuckleball" Schwartz, Fake Kane, Fake Diesel, Fake Razor Ramon, Dr. Isaac Yankem, Dink, Wink, Pink or the absolute worst of them all: Terra Ryzing.
The other problem with his promo is the reasoning as to why Doink wasn't the top guy in the company.
Is Hunter saying that Doink wasn't the top guy because management didn't push him as the top guy? I always thought that he wasn't because he couldn't beat the top talent. He had matches against Bret Hart, and Bret Hart won. Therefore Bret Hart earned title shots while Doink doesn't.
Again, just pretend that wrestling is real within the actual show!
HHH is great at burying talent, but he should stick to wrestlers who are above ground next time.
No. 2: Yeah It's the Big Tears, It's a Big Fat Crybaby Tonight Y'all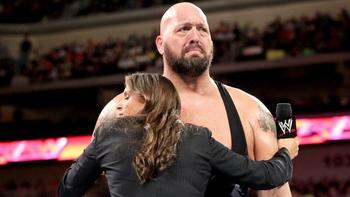 photo via wwe.com
The Big Show owned a strip mall?
I hope his pizzeria and salon are still in business.
Even though Big Show has appeared in TV shows and movies over the years, he either has to work at a gas station or be in WWE for a living.
He couldn't just go to TNA, ROH, Japan, try out some UFC or do personal autograph sessions?
How about going to college and getting a degree?
Nah, it's getting paid millions of dollars to be in WWE, or living in a refrigerator sized cardboard box behind his local Wendy's.
Besides the logic holes, Big Show's tears are just getting annoying. They're about 30 times less annoying than Stephanie McMahon crying, which still makes them insanely, ungodly annoying.
Right now, he's the ultimate sell out, and completely unlikeable as a character. But it got even worse with him this week...
No. 1: Bryan Can't Beat the Show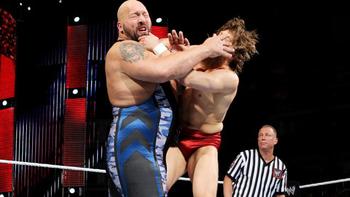 photo via wwe.com
Why is WWE trying to undo all the good it's accomplished with Daniel Bryan?
In the past couple months, we've seen Bryan defeat Sheamus, Randy Orton and John Cena cleanly! That's every top babyface besides CM Punk.
So why does The Big Show get to toss him around like a rag doll?
Cena barely ever loses cleanly and Bryan conquered him. That should be a huge story. It should be the story of Raw. The Big Show has never done that. Shouldn't he be more scared of Bryan than vice versa regardless of the size difference?
Fans have already accepted Bryan as an in-ring threat. WWE is the only one that doesn't, so they parade Show out there to dominate their new star.
This just piles on more reasons not to like Show. And no, manhandling the 3MB on SmackDown doesn't make up for that.
I'd rather watch Dusty Rhodes and Hornswoggle in a dance off on Raw, with Mae Young and her hand son as the judges than have to sit through another 3MB handcap match.
Time to kick out!
That's all for this week. What was your worst moment of the week? Sound off below and thanks for reading!
Keep Reading