Italy took a big step toward qualifying for the 2014 World Cup with a 1-0 win over Bulgaria.
The win gives the Azzurri a seven-point advantage in Group B of UEFA qualifying over Bulgaria, who remain in second place thanks to Czech Republic's earlier loss to Armenia. It would likely take three losses in a row for Italy to be topped in the group.
Italy was without three top offensive players, as Mario Balotelli, Pablo Daniel Osvaldo and Riccardo Montolivo were all suspended for the match, according to Matthew Rogerson of Goal.com.
At the start of the match, it appeared as though this would cause a major problem since neither side could get much going on the attack. There was a lot of passing without purpose, and it seemed as though the teams were comfortable going for the draw.
However, Italy finally got on the board shortly before halftime thanks to great play by the front line. Antonio Candreva dribbled down the left side of the pitch and then crossed it right in front of the net for Alberto Gilardino to head it in at the 38-minute mark.
As David Swan of Football Italia pointed out, this was an important score:
Needed that goal. Italy weren't creating anything until then. Bulgaria v.happy to take the point

— David Swan (@DavidLSwan) September 6, 2013
This changed after halftime, when Bulgaria finally got a great opportunity to score right at the net. However, the shot could not get behind Gianluigi Buffon, who made a fantastic save to hold onto the lead.
Those watching along could not help but express their admiration for the play:
What a miraculous save from Buffon who just saved a certain goal from Bulgaria

— Azzurri (@ItalianNT) September 6, 2013
Absolute wonder save by Buffon. Absolutely ridiculous.

— Carlo Garganese (@carlogarganese) September 6, 2013
Buffon should have no critics. RT @terrenceKC Recently Buffon has been making his critics look foolish.

— Raffaele (@ItalianoCalcio) September 6, 2013
Bulgaria had a few more opportunities in the final 20 minutes, including a pair of corner kicks in stoppage time, but the squad could not get anything across the net and Italy held on for a 1-0 win.
This was a hard-fought victory for the home team against a quality opponent. More importantly, it puts the squad seven points clear of second place with three to play. Even with a relatively difficult remaining schedule, Italy is very likely headed to Brazil.
Meanwhile, Bulgaria remain in second place in the group, but are now in tougher shape after the loss. It will hope to remain in that spot to reach the qualifying playoff.
Until then, the team will only be able to reflect upon the missed opportunities in the loss.
Grades
Alberto Gilardino, Italy: A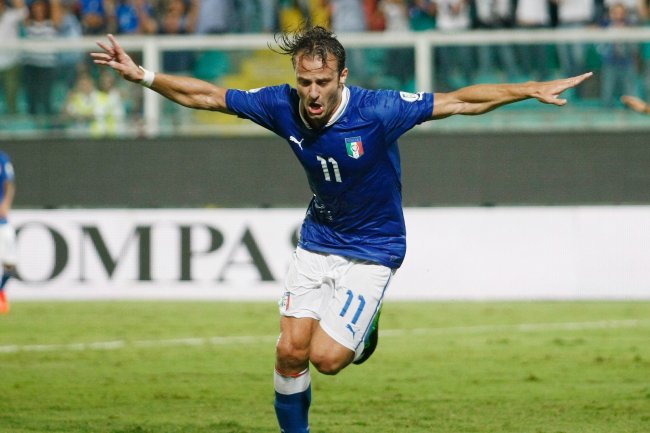 Maurizio Lagana/Getty Images
Filling in for some bigger names on the front line, Gilardino made the most of his start and proved that he can still help out on the international level.
The Bologna veteran has a knack for finishing when he gets the ball around the net, and at the very least should remain a quality sub for Italy for the remainder of qualifying and beyond.
Who was the man of the match for Italy?
Gianluigi Buffon, Italy: A+
It is clear that Buffon is still one of the top goalkeepers in the world despite being 35 years old. He made a couple of outstanding saves in this match that few others would have been able to get to.
While keepers are not always entirely responsible for clean sheets, Buffon deserves most of the credit thanks to a great showing in this one.
Aleksandar Tonev, Bulgaria: C+
Bulgaria has been solid offensively throughout qualifying, but it will need more consistency in order to compete with the better teams in Europe. Aleksandar Tonev had three goals in this stage entering the match, but he was hardly seen against Italy.
He needs to become a bigger part of the attack and find a way to get involved against top defenses.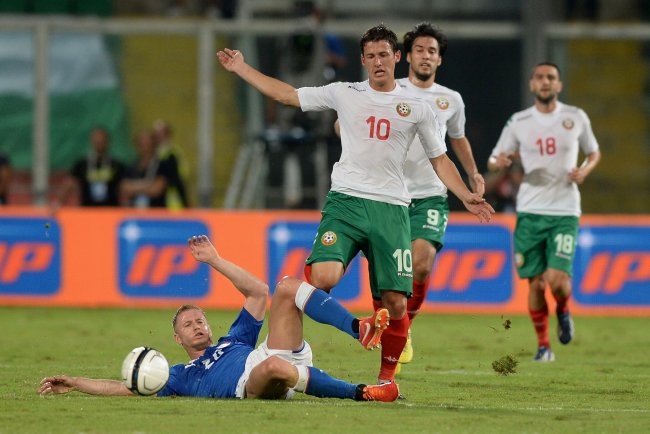 Claudio Villa/Getty Images
Todor Nedelev, Bulgaria: B+
Despite being only 20 years old, Todor Nedelev appeared to be the best player on the pitch for Bulgaria at times in the match. He was making solid passes and was aggressive with a couple of shots against a tough defense.
Although he could not help much against Italy, he provides a lot of promise going forward.
Italy Grades

| | | |
| --- | --- | --- |
| Position | Player | Grade |
| G | Gianluigi Buffon | A+ |
| D | Giorgio Chiellini | A |
| D | Luca Antonelli (Off 63') | B- |
| D | Leonardo Bonucci | A- |
| D | Ignazio Abate (Off 80') | B |
| M | Thiago Motta | B+ |
| M | Daniele De Rossi | B |
| M | Andrea Pirlo | A |
| F | Antonio Candreva | A- |
| F | Alberto Gilardino | A |
| F | Lorenzo Insigne (Off 64') | B |
| | Substitutes | |
| D | Davide Astori (On 63') | B+ |
| M | Emanuele Giaccherini (On 64') | C+ |
| D | Christian Maggio (On 80') | B |
Roster info via ESPN
Bulgaria Grades

| | | |
| --- | --- | --- |
| Position | Player | Grade |
| G | Nikolay Mihaylov | A- |
| D | Nikolay Bodurov | B- |
| D | Yordan Minev | B |
| D | Veselin Minev | B- |
| D | Ivan Ivanov | B |
| M | Stanislav Manolev (Off 55') | C+ |
| M | Ivelin Popov | B |
| M | Todor Nedelev | B+ |
| M | Vladimir Gadzhev | B+ |
| M | Svetoslav Dyakov (Off 76') | B |
| F | Aleksandar Tonev (On 61') | C+ |
| | Substitutes | |
| M | Georgi Iliev (On 55') | B |
| F | Dimitar Rangelov (On 61') | B |
| F | Spas Delev (On 76') | B- |
Roster info via ESPN
What's Next?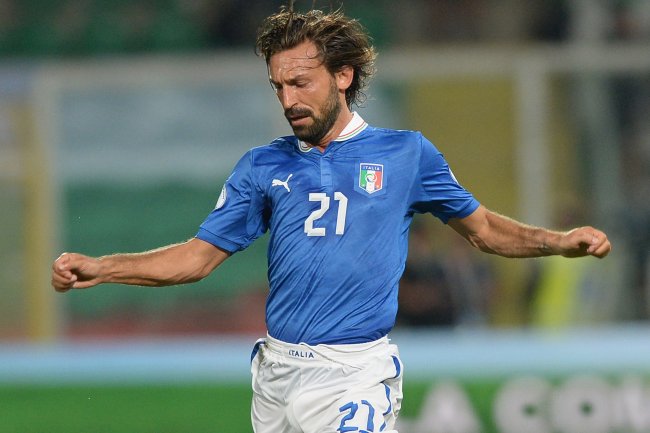 Claudio Villa/Getty Images
Italy will continue its quest to qualify for Brazil when it faces the Czech Republic at home on Sept. 10. Bulgaria has a much easier match against Malta on the same date, although it is also on the road.
With only three more matches remaining in qualifying, everyone will be coming out with something to prove.
Follow Rob Goldberg on Twitter for the latest breaking news and analysis.