Jordi Alba got Spain on the scoreboard early and Alvaro Negredo topped it off in the waning minutes, as the defending World Cup champions recorded a critical result in their qualifying effort for 2014, defeating Finland 2-0 on Friday evening before a disappointed crowd in Helsinki.
Alba ended the initial deadlock with a goal in the 18th minute. He took a beautiful through pass from Cesc Fabregas, breaking down his defender in the box and squirting a difficult ball under Nikki Maenpaa's legs to put the Spaniards on the board.

Negredo's goal in the 86th minute culminated a series of missed opportunities for the Spanish side. Jesus Navas provided the set-up, and Spain walked away with a one-sided victory that was perhaps even more lopsided than the score.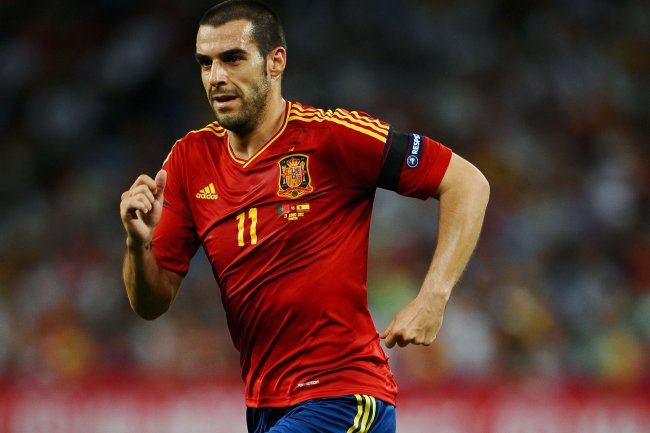 Laurence Griffiths/Getty Images
After Alba's goal gave them control of the contest, Spain went about systematically sucking the life out of the home crowd.
They worked the ball around the midfield playing their patented, controlled style while taking advantage of breakdowns in the Finish defense. Controlling possession for 68 percent of the contest and suffocating the Finnish attack, the Spaniards dribbled the ball on multi-minute possessions that were an exercise in both precision and borderline monotony.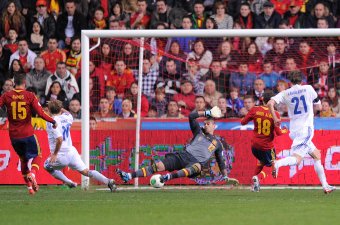 Denis Doyle/Getty Images
Friday night's result also marks a critical atoning for the Spaniards. The world power suffered a critical blow to its qualifying effort in the first tussle with Finland, as the underdogs were able to get a clutch goal from Teemu Pukki in the 79th minute in Gijon earlier this year, then desperately clung to a 1-1 draw.
Although the scoring effort was the same for Spain until the waning moments, Finland were not able to get that late goal this time around. The Finnish side were unable to shoot a ball on goal during the first half, attempting shots just twice. They finished with only one on-goal attempt and had few attacks that amounted to anything other than a quick turnover back to the favorites.
The home country's top opportunities came in the second half, starting in the opening moments when a promising run to the Spanish box finished with a blocked shot attempt. They also had another chance in the 63rd minute when Teemu Tainio had a good look at the goal on a corner attempt but meekly struck it off the side netting.
The chance that will likely keep Finland manager Mixu Paatelainen up at night came on a blown 2-on-1 break. Alexander Ring took a deep pass over the top of the Spanish defense and had one step on his defender and was trailed by a teammate. The Finnish midfielder needed just a square pass to set up an easy goal-scoring opportunity but instead lost his balance and sent a wild shot going into the seats.
Finland would never get such an opportunity again. In fact, the Spaniards probably feel like they left multiple goals on the board in both halves.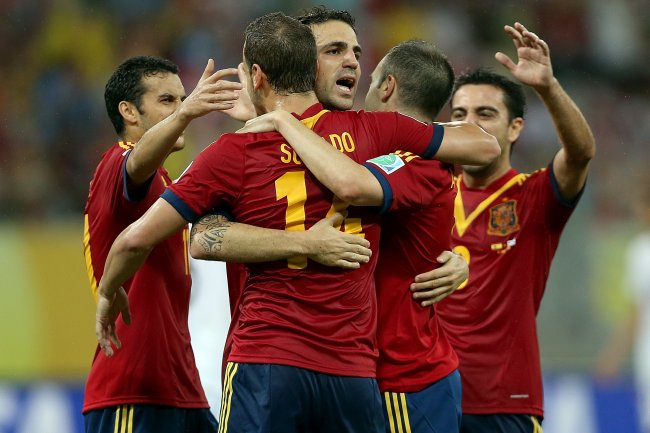 Jasper Juinen/Getty Images
Fabregas narrowly missed making the score 2-0 in the first half with a ball that just trickled past the right post, and the Spaniards spent a majority of their evening hovering around the Finnish box. They also had seven different opportunities on corner kicks to put a match clincher past Maenpaa but continually came up just short.

David Villa had two attempts in the first half that went off target, Alba narrowly missed scoring his second goal in the 61st minute and Negredo was a clutch challenge away from doubling the victory margin just minutes later.
While Spain were satisfied to come away with the win by possessing the ball and staying conservative, Vicente del Bosque was likely experiencing deja-vu at points to the last match, where Spain controlled everything but couldn't buy a second goal.
Luckily Negredo came through in the waning minutes to allow everyone back in Spain to exhale.
With the win, Spain retains their first-place standing in Group I of World Cup qualifying with 14 points through six matches. They now hold a three-point lead over top-rival France, who got only one point after playing to a 0-0 draw earlier Friday.
The Spaniards have two games remaining in their qualifying slate, tilts next month against Belarus and Georgia. Should Spain win both matches as expected, they will lock up their first-place performance in Group I and qualify for a trip to Rio de Janeiro without incident.
Player Grades
Finland

| | | |
| --- | --- | --- |
| Player | Position | Grade |
| Nikki Maenpaa | GK | C |
| Joona Toivio | DR | B |
| Niklas Moisander | DC | C+ |
| Petri Pasanen | DC | B |
| Kari Arkivuo | DL | B- |
| Teemu Tainio | DMC | C+ |
| Markus Halsti | DMC | C+ |
| Alexander Ring | AMR | C+ |
| Roman Eremenko | AMC | C |
| Rasmus Schüller | AML | C+ |
| Teemu Pukki | FW | B- |
| Substitutes | | |
| Erfan Zeneli | FW | C |
| Riku Riski | DMC | C |
| Kasper Hamalainen | AMR | C |
Spain

| | | |
| --- | --- | --- |
| Starter | Position | Grade |
| Iker Casillas | GK | B- |
| Koke | DR | B- |
| Raúl Albiol | DC | B |
| Sergio Ramos | DC | B |
| Jordi Alba | DL | A |
| Andres Iniesta | MC | B- |
| Xavi | MC | B- |
| Mario Suarez | MC | A- |
| Pedro | FWR | C |
| David Villa | FW | B |
| Cesc Fabregas | FWL | B |
| Substitutions | Position | Grade |
| Jesus Navas | FW | B- |
| Alvaro Negredo | FWL | A- |
| Santi Cazorla | FWR | C |
Man of the Match: Jordi Alba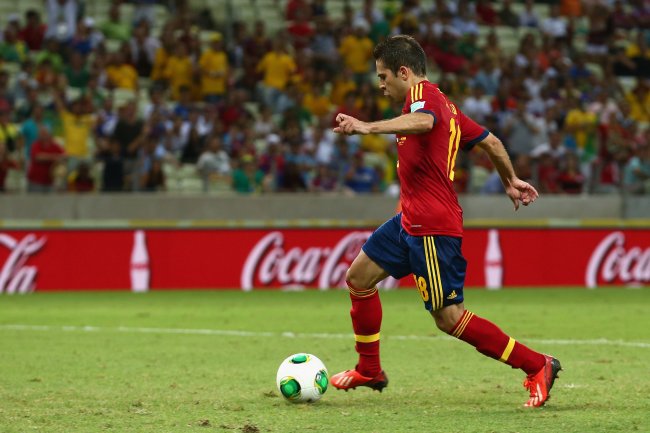 Robert Cianflone/Getty Images
For those who watch Spain on a regular basis, it should go without saying what Alba's goal in the 18th minute meant to his side. Although they're largely considered the most complete country in the world, Spain sometimes struggles to put the ball in the back of the net.
Their relatively conservative style, in which del Bosque emphasizes constant working of the ball around the perimeter, leads to a drove of clean sheets. But Spain are perhaps the best front-runner in the entire world, though, with their style lending itself to holding possession and playing keep-away from aggressive opponents.
Alba's goal allowed Spain to do that Friday—and it wasn't his only contribution. The 24-year-old Barcelona star was active on both ends of the pitch, creating six interceptions of Finnish attacks and proving a menace moving the ball up the field on passes.
There are times on this talented roster where "Man of the Match" becomes a difficult award. This wasn't one of those times.
What's Next?
Spain won't have long to bask in the glory of their win Friday, as they are due at Stade de Geneve for an international friendly against Chile on Tuesday. They are back in World Cup qualifying mode on Oct. 11 with a match at the Bernabeu against Belarus.
Finland's qualifying run won't have much of a break whatsoever, with their next scheduled match against Georgia due Tuesday. They will need to win that match and their critical Oct. 15 head-to-head with France to have any chance to keep their qualifying hopes alive.
Follow Tyler Conway on Twitter: