17 Athletes and Teams We Hear About Way Too Much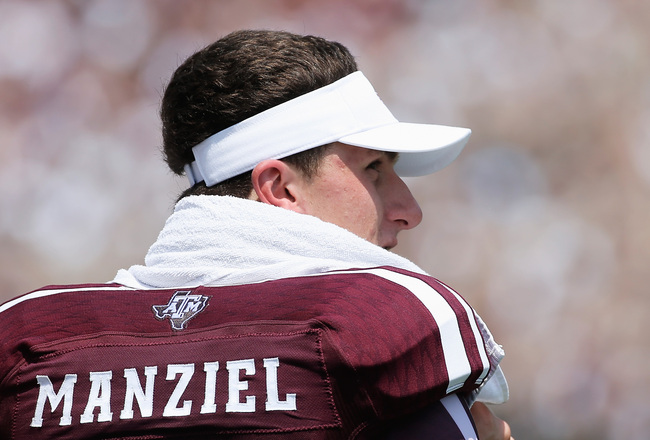 Scott Halleran/Getty Images
It's hard to avoid buying into hype. Hype is exciting. Hype makes sports fun.
But what makes it even more fun is when the players who come with the most hype fall flat on their faces.
No, failure in the face of great expectations is not fun for them—but it's fun for their rivals. And the people who love rooting for underdogs. Usually, when some over-hyped "phenom" fails, it means that someone else shocks the world with their own unexpected greatness.
And that's way more fun than, for example, watching the same guy contend for the Heisman over and over again.
AJ McCarron
Source: CollegeSpun.com

If anyone on the college sports spectrum should be generating tons of hype, it's AJ McCarron.
He has, after all, led Alabama to back-to-back national titles, and he's done it while playing in the most competitive, most formidable conference in college football.
Yet somehow, McCarron has managed to fly under the radar just about as much as a back-to-back national champion quarterback can.
He doesn't make headlines for deplorable off-the-field behavior. He doesn't sell autographed merchandise (that we know of). For the most part, he does his talking on the field, and you don't hear about him anywhere near as much as you hear about Johnny Manziel or Aaron Murray.
But then, something like this happens, where "AJ McCarron's girls"—meaning his mom, Dee Dee Bonner, and his girlfriend, Katherine Webb—pose on the cover of Access Magazine.
Should McCarron be faulted for the fact that his girlfriend and his mom generate more hype than he does—or for the fact that most of the hype he does receive is because of them?
Jeremy Lin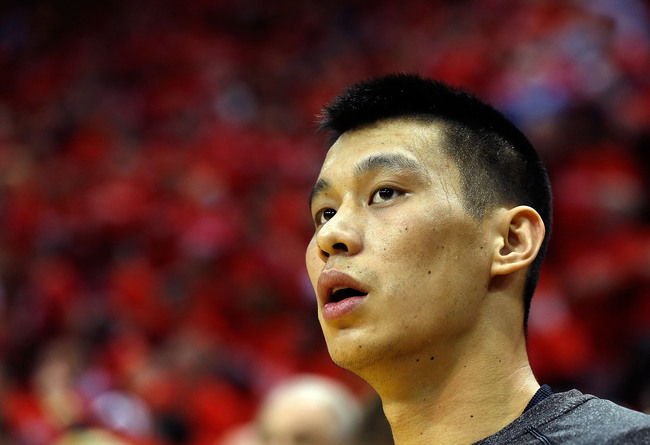 Scott Halleran/Getty Images
The hype surrounding Jeremy Lin during the 2011-12 season was unstoppable. It was impossible not to root for him.
He, an unlikely hero, gave life to the New York Knicks. Filling in for an injured Baron Davis, he somehow became one of the best point guards in the NBA, embarking upon a seven-game winning streak as Linsanity took over the entire city.
Then, the Knicks lost a game. Lin committed a whole bunch of turnovers. Not too much later, he got hurt and ended up missing the rest of the 2011-12 season as well as the playoffs.
And then, in the offseason, when he accepted the Houston Rockets' offer sheet and the Knicks declined to match it, Linsanity had come to an end in New York.
The speed at which Lin became a household name was mind-blowing.
The speed at which he faded back into relative obscurity was also mind-blowing.
No, Lin's 2012-13 season wasn't bad by any means—he averaged 13.4 points and 6.1 assists per game—but his play didn't spark the fanfare and hysteria that it did in New York. In 2012-13, we basically forgot about him, despite the fact that we spent most of the summer obsessing over where he would end up.
Manti Te'o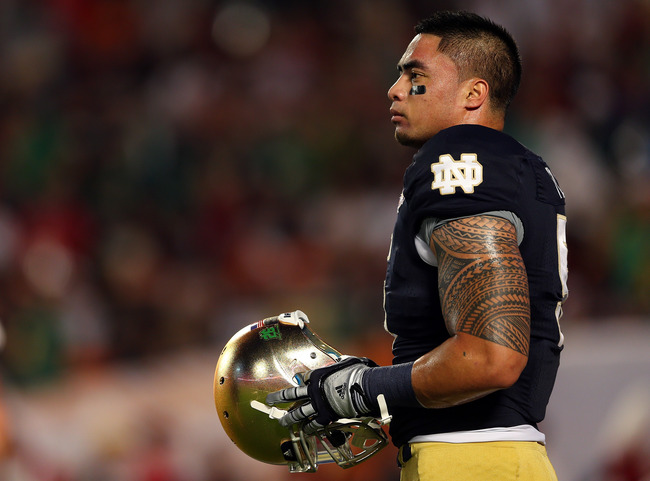 Mike Ehrmann/Getty Images
Remember that time when Manti Te'o was the most talked-about player in college football because of the story about his fortitude and determination in spite of the fact that his girlfriend had recently died a tragic death in the middle of his season?
And remember that time when Manti Te'o was the most talked-about player in college football because Deadspin discovered he either made up his dead girlfriend or was duped in a way that nobody in the 21st century should be duped?
In both cases, after about three minutes, we were all sick of hearing about it.
Te'o was regarded as a sure-fire first-round pick in the 2013 draft—maybe even a top-10 pick. Then, the consensus was that he either had character issues or, if he was capable of falling for such a hoax, he didn't have the brainpower necessary to conquer an NFL playbook.
Te'o also got painfully exposed in the national championship game against Alabama, and thus, he dropped to the Chargers in the second round.
Let this be a lesson to all: Don't make up fake girlfriends, or, if you meet your "girlfriend" online, make sure you meet her before you obsess over her to ESPN on College GameDay.
Sloane Stephens
Elsa/Getty Images
The hype surrounding Sloane Stephens is easy to understand.
There haven't been a whole lot of great American tennis players lately—a number on the men's side, but other than Serena Williams, there haven't been many dominant women.
Enter Sloane Stephens. She's peppy, she's cute, she has an alliterative name and she's pulled off just enough solid upsets to get people thinking that maybe she is the next Serena.
This year, she managed to advance to the Australian Open semis, the Wimbledon quarterfinals and the fourth rounds of the French Open and the U.S. Open.
When it came time for Stephens to face Serena at Arthur Ashe Stadium earlier this week, we couldn't help but ponder the possibilities. What if Stephens managed to beat Serena? What if she took her first step toward seizing Serena's throne? It was exciting to think about.
Until Serena took down Stephens 6-4, 6-1. Back to reality.
The Tampa Bay Rays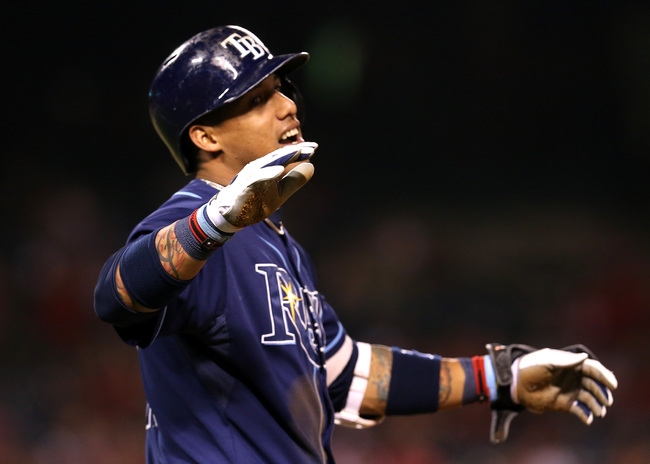 Stephen Dunn/Getty Images
Since 2008, Joe Maddon's magical Devil Rays have become an unstoppable force in the AL East. No longer were they the laughingstock of baseball. They were an actual contender.
It was a given that it was going to take the small-market Rays a while to compete with the big boys because they didn't have the money to sign any premiere free agents. Instead, they had to wait for their draft picks to develop, and once they did, there has been no looking back, and the hype has skyrocketed.
Since 2008, the Rays have won no fewer than 84 games in a season (this year excluded). Four times in that span, they have won 90-plus games, and three times, they have made the playoffs.
They even advanced to their first-ever World Series.
So this year, when the Rays appeared to be embarking upon their post-All-Star break push and making all AL East opponents quake in their boots, the hype began to build once again…until the Rays stopped pushing.
To put it lightly, the month of August was not kind to Tampa.
After going 21-4 in July—the best July record since the 1941 Yankees went 25-4—the Rays went 11-15 in August. They have embarked on losing streaks of six games and five games, and they have lost nine of their last 12 games.
Guess all that July hype was worth it, huh?
Tiger Woods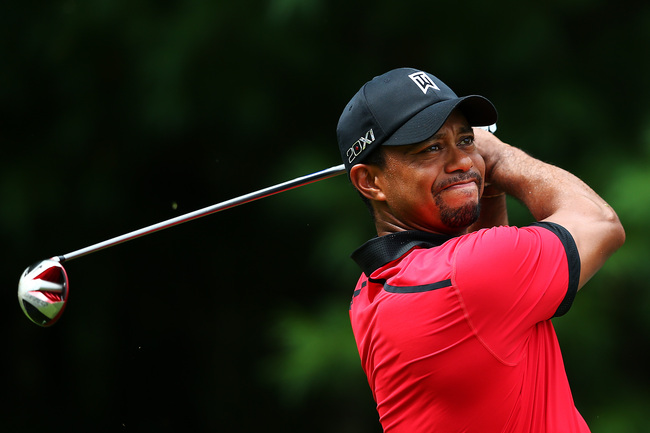 Andy Lyons/Getty Images
Ever since Tiger Woods returned to the PGA Tour in the aftermath of the events of Thanksgiving 2009, he has been projected as a viable contender in each and every major in which he has participated.
Yet still, Tiger has won zero of those majors. Zero. And in most of them, he hasn't even been close.
In Tiger's defense, 2013 has been kinder to him than 2012, 2011 or 2010. This year, he has at least managed to emerge victorious in five events, including The Players Championship and the Bridgestone Invitational.
Still, though, he disappears when it comes time to hold strong in the majors.
He tied for fourth at the Masters, tied for sixth at the British Open, tied for 32nd at the U.S. Open and tied for 40th at the PGA Championship. It was the same story in 2012, but slightly worse.
Somehow, though, I bet that we'll still consider him a favorite at all of next year's majors, too.
Danica Patrick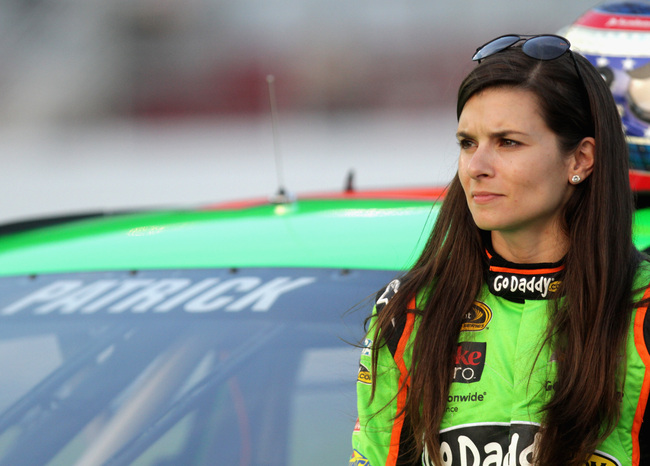 Jerry Markland/Getty Images
There was bound to be far too much hype surrounding Danica Patrick. She is an attractive female who competes against redneck men.
But it's just unfortunate that she has had such a difficult time living up to her looks-generated hype with her performance on the racetrack.
Earlier this year, our very own website designated Danica Patrick and Dale Earnhardt Jr. as the two most overrated NASCAR drivers. In Patrick's case, it's not difficult to see why: Since moving up to stock car racing (a rapid ascent that has left many fans puzzled), she's been inconsistent at best, awful at worst.
It's not hard to see why Danica still maintains a massive following. But nobody said it was about the racing.
Xander Bogaerts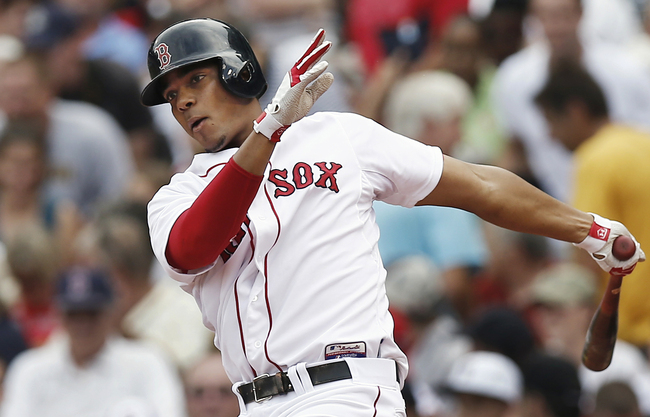 Winslow Townson/Getty Images
Baseball is a tough sport. How many stellar players have come out of the gates hitting bombs and have managed to maintain that level of play throughout the course of a lengthy career?
Very few.
It's difficult to expect any organization's top prospect to emerge into the majors as a superstar (unless that person is Bryce Harper—but we'll get there). That's why the Red Sox fan base (or what's left of it) should have tempered its expectations for the arrival of Xander Bogaerts, the alleged shortstop of the future.
Earlier this season, Bogaerts was hitting .306 in Double-A Portland with 35 RBI in 56 games. He was hitting .284 in Triple-A Pawtucket. Since getting called up to Boston, he has hit .300 in nine games—which is solid—but with a single RBI. He's posted an 0-fer in five of his nine appearances, very few of which have been complete games.
Was he expected to come up and hit a homer in every at-bat? Probably. But that's not his fault.
Gareth Bale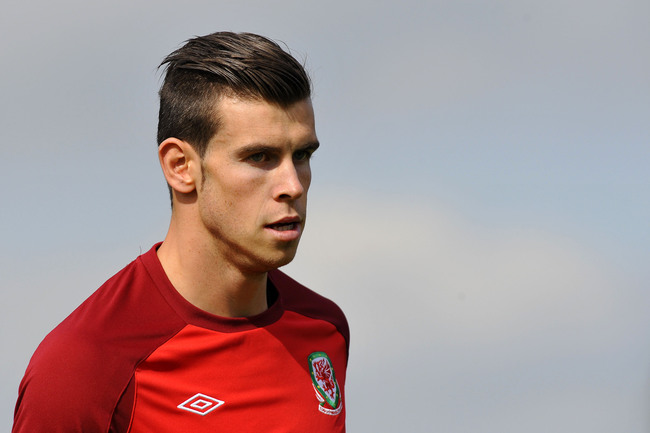 Matthew Horwood/Getty Images
Real Madrid is certainly excited to welcome Gareth Bale to the fold.
That's the understatement of the century. Real Madrid better be excited to have him after making him the highest-paid player in the world, bringing him in via a €100-million transfer (according to this particular outlet).
When you commit that much money to a single player, how can he do anything but fail to measure up?
In October 2012, Grantland composed a breakdown of all of the reasons why Bale is completely overrated—including the all-important fact that he is "almost completely one-footed," he can't play out of position and the fact that this could prove to be a colossal problem with Real Madrid, given Cristiano Ronaldo's existence.
Obtaining a player who registered 42 goals from 2007-13 with Tottenham Hotspur is appealing.
But that's no reason to overlook why committing hundreds of millions of pounds to him (allegedly) could go horribly, horribly wrong.
Bryce Harper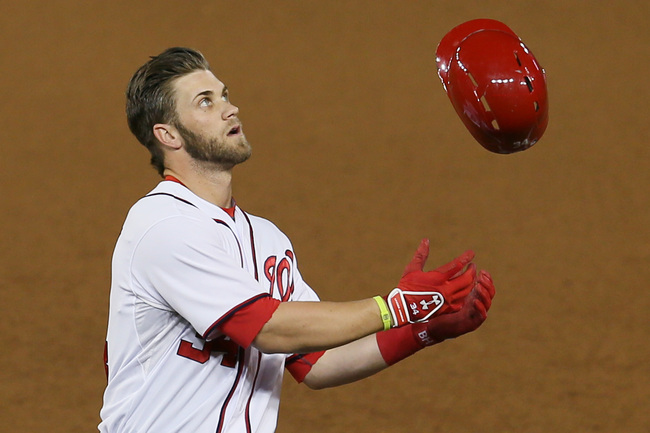 Rob Carr/Getty Images
Like Andrew Luck, or perhaps like Johnny Manziel, Bryce Harper has managed to live up to the hype he has generated.
Before Bryce Harper came along, the Washington Nationals (in their current, non-Montreal iteration) had never made the playoffs. They had never even finished higher than third place in their division.
Post-Bryce Harper, the Nationals are one of the big men on the NL East campus. They won 98 games last year, and Harper—as a rookie—hit 22 homers with 59 RBIs in 139 games. Obviously, he was named Rookie of the Year and made the All-Star team.
It's hard to not be considered over-hyped when your swing has been compared to that of Babe Ruth, or when you're one of the only top draft picks ever to have actually panned out in the majors.
But just like the Washington Nationals seem to have dropped off a bit in 2013 and are slowly fading from the wild card picture, could Harper, too, fade away?
Probably not. But for him, finishing his career as anything less than the best player to ever play the game will probably be considered a failure.
'Kings' Edition: Robert Griffin III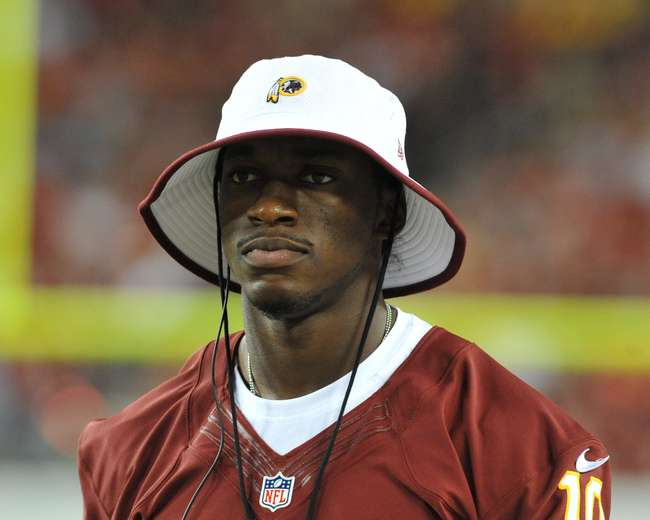 Al Messerschmidt/Getty Images
It's difficult to laud someone as one of the new "kings" of football when he hasn't even won a playoff game, never mind a Super Bowl (or when he wears a hat like that)—and yet that is the designation Robert Griffin III has somehow earned.
RG3's debut season was exciting.
As a card-carrying member of his fan club, I get that.
He took a terrible team that has only made the playoffs twice in this millennium and he somehow turned it into the NFC East champion. To do that, he pulled off a remarkable run over the final seven weeks of the season.
He won five divisional games after the bye week to put the Redskins in prime position for a postseason run.
But RG3, at this point, has had two ACL surgeries and he's only 23. He's also only won 10 professional games and zero in the playoffs. It's hard to qualify as a king with those numbers. A prince, maybe, but definitely not a king.
'Kings' Edition: Andrew Luck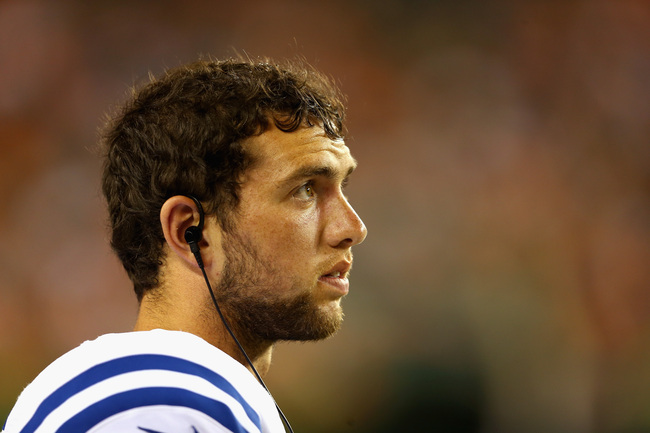 Andy Lyons/Getty Images
Like Robert Griffin III, Andrew Luck has been deemed one of the new kings of the NFL. Like Robert Griffin III, he has never even won a single playoff game.
Can't you see Peyton Manning/Tom Brady/Drew Brees/Aaron Rodgers/Joe Flacco shaking their heads from here?
It's fun to root for players like Luck. They're young and they're intelligent and they say all the right things and their passion for the game is infectious.
Rob Rang called him the best prospect he had ever scouted. He was the No. 1 overall pick in the 2012 draft. He has aptly filled in for Peyton Manning in Indianapolis, where he transitioned the Colts from the worst team in football to an 11-5 contender.
But it's been one season. Remember what Tim Tebow did with the Denver Broncos at a similar point in his career?
Remember where Tim Tebow is now?
'Kings' Edition: Colin Kaepernick
Harry How/Getty Images
If any of the three rookie quarterbacks mentioned here is a king, it has to be Colin Kaepernick.
He, at least, came out of nowhere to replace Alex Smith as San Francisco's starting quarterback and led the 49ers to an 11-4-1 record in his rookie year. He, at least, won a playoff game—more than one, actually.
He, at least, led the 49ers to the Super Bowl and almost helped them overcome a pre-blackout deficit to pull off a stunning victory.
Almost. But not quite.
It's been one season. One season. Kaepernick is spectacularly exciting to watch, and it's not every day that a rookie, in his first postseason start, sets the single-game record for the most rushing yards by a quarterback.
Hopefully, Kaepernick can replicate his success next season. That would be even more fun to watch.
But let's wait until he's at least registered another winning record before we guarantee him a spot in the Hall of Fame.
Aaron Murray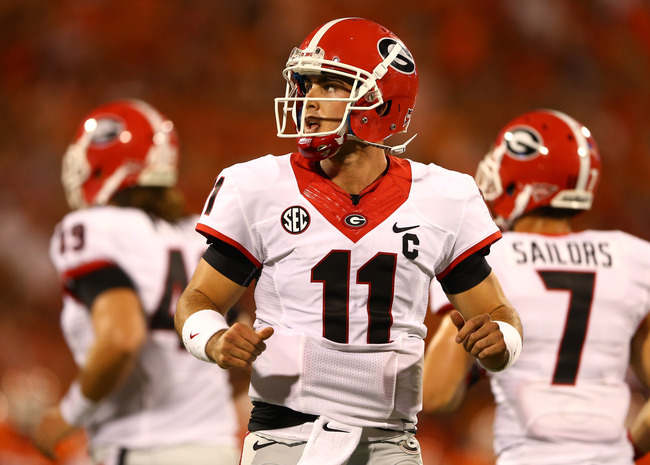 Streeter Lecka/Getty Images
People love hating on Johnny Manziel. Perhaps as a direct correlation to that, they shower an inordinate amount of love on Aaron Murray, his SEC quarterback counterpart.
In fact, so much love has been lauded upon Murray that he trumped Manziel and was named the SEC's preseason first-team QB—even though Manziel became the first freshman quarterback in the history of man to win the Heisman Trophy less than a year ago. No big deal.
Aaron Murray deserves respect.
He has strung together three stellar seasons under center for the Bulldogs. He's more experienced than Manziel, and because he has more than one season under his belt, he's proven himself to be more consistent by default.
But then the preseason SEC first-team QB came out against Clemson and dropped his first game of the season. He wasn't bad, but he didn't throw for a single TD pass and he did throw a pick while absorbing four sacks.
Given the hype that followed him into this game, most of us expected to see him connect for a touchdown pass at least once, right?
The Clemson Tigers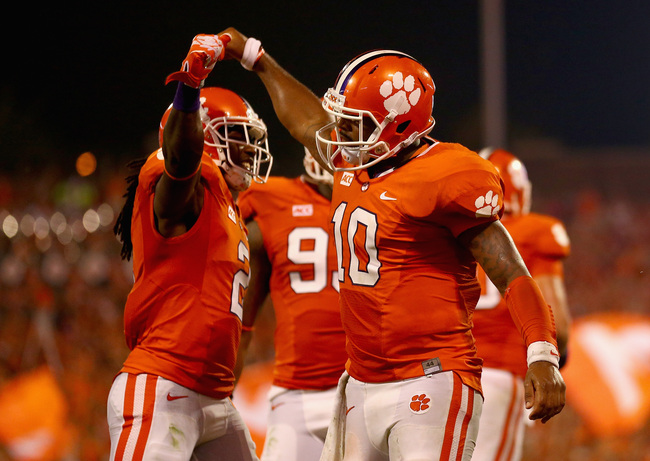 Streeter Lecka/Getty Images
It's hard to temper your expectations when your team pulls off an upset win or two—especially when that win comes against an SEC opponent.
But do we really think that three months from now, Clemson is going to be a viable national title contender? Really?
It doesn't help that coach Dabo Swinney seems to be buying into his own team's hype more than anyone, waxing poetic about the fact that his squad has knocked off two consecutive top-10 SEC teams (in two different seasons, which he failed to mention—but I digress).
Perhaps South Carolina came into this season a tad overrated. Perhaps the pundits have been unfairly critical toward the ACC, or perhaps Clemson is a big fish in a small pond somewhere along the Atlantic Coast.
Maybe this is the year the Tigers represent the ACC like it's meant to be represented.
But let's wait a few more weeks before we crown them as the heir apparent to Alabama's throne.
Johnny Manziel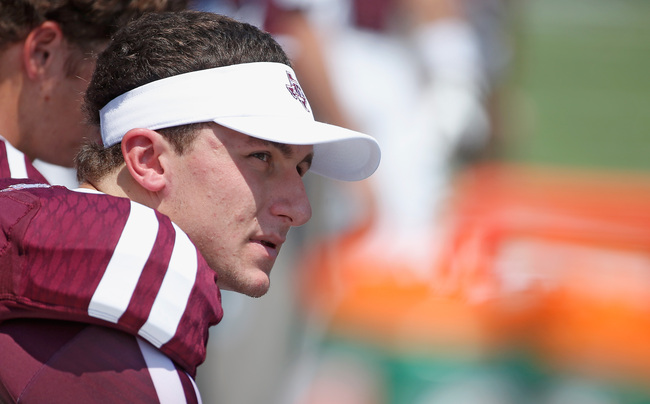 Scott Halleran/Getty Images
Johnny Manziel has earned the right to be over-hyped. He was spectacular last season.
In 2012, back when most college football fans either still liked him or were, at the very least, in awe of his talents, he threw for 3,706 yards and 26 touchdowns. As a freshman. He became the very first freshman in NCAA history to throw for 3,000 yards and rush for 1,000 in one season.
He won the Heisman, too—no other freshman had done that, either.
He had the numbers to back up the hype last year, but now, as a sophomore, the expectations are growing and growing and Manziel seems to be faltering a little bit, at least off the field.
He cannot, for the life of him, stay out of the headlines. He can't stop getting himself into trouble with Twitter, and he can't stop inciting the masses with his showmanship or his tendency to party a little too hard (allegedly, that is).
Then, there was that whole autograph-signing scandal.
Maybe Johnny Football is buying into his own hype, and that will bring about his ultimate downfall. Or maybe, by some miracle, he'll become the first person ever to live up to it.
Jadeveon Clowney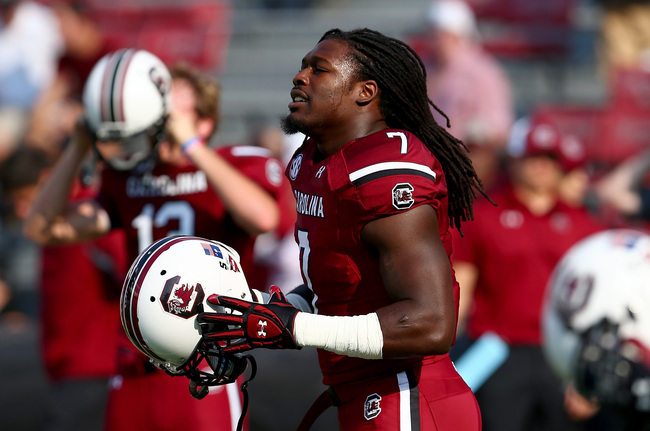 Streeter Lecka/Getty Images
Now. Before the entire South Carolina fan base riots in the streets, let me begin with a disclaimer: There is still plenty of time for Jadeveon Clowney to rebound.
But given all of the accolades that followed him into the Gamecocks' 2013 season, the way he kicked things off against North Carolina was the opposite of how he would have preferred to start.
Ever since last year's Big Hit on Denard Robinson, Clowney has been heralded as a freak with superhuman athleticism. He's been profiled by The New York Times, and he's been the recipient of ESPY awards.
He's already a shoo-in for the first pick in the 2014 NFL Draft.
But then, against UNC in prime time last Thursday night, he was so underwhelming that the media's first instinct was to question his conditioning (allegedly, he had struggled with a stomach virus earlier in the week). He looked tired and underprepared and drew uncharacteristic penalties.
Maybe we're expecting Clowney to register eight sacks per game at this point. But that's what hype does to you.
Keep Reading