Five Ways That Detroit Pistons Can Succeed in 2013-14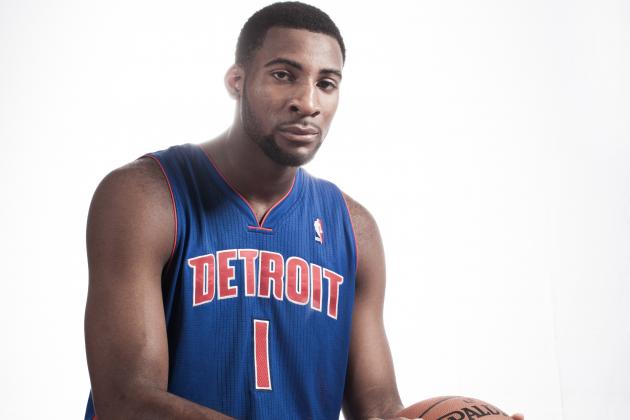 Nick Laham/Getty Images

Much has been made this offseason about the Detroit Pistons and the moves that they have made.
They completely rebuilt their engine, in a manner of speaking.
And while some of those pieces may appear, at least on the outside, to not be the best fits, the Pistons did effectively address their need to improve the overall talent level of the team.
So instead of dwelling on all the reasons why this year's version of the Pistons could fail, let's explore ways that this team as presently constructed could succeed.
Here are five ideal scenarios that will lead to a successful Pistons squad in 2013-14.
Begin Slideshow

»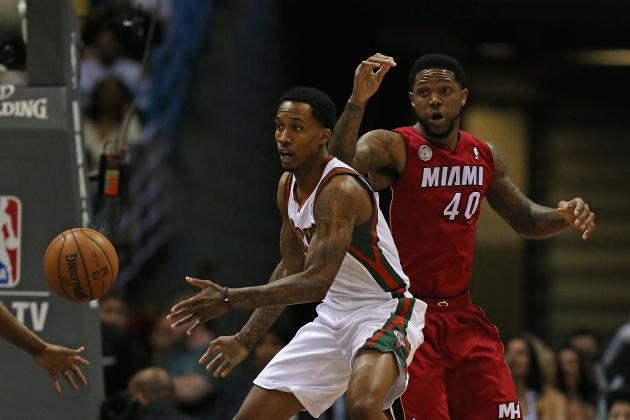 Jonathan Daniel/Getty Images

In his short time in the league, Brandon Jennings has proven that he can do one thing and one thing only. He can score.
He is a good shooter off the dribble, he can get to the hoop and he thrives on the one-on-one game.
And despite the fact that he isn't the best of finishers once he gets to the rim, he is very good at getting to the hoop.
However, one thing jumps out when you break down tape of Jennings over his first few years in Milwaukee, running the point for the Bucks. He really wasn't playing the game to improve his teammates chances for success.
This isn't entirely on Jennings. He was often on a team that was lacking in offensive talent, and so he had to take on that role nearly single-handed. It's tough figuring out when to pass the ball if on most occasions you are the best offensive option on the court.
But in Detroit, Jennings is going to have to unlearn some of those instincts. He will be tasked with initiating the offense and setting up his teammates.
If I were coach Maurice Cheeks, I would give Jennings a mix tape to view this offseason.
It would include clips of Isiah Thomas finding offensively challenged teammates like John Salley and Dennis Rodman and making them threats.
It would also include clips of Tim Hardaway making Chris Gatling look like an offensive weapon.
And as demeaning as it might seem, it would include incoming rookie Trey Burke's historic run with Michigan this spring and how he made Mitch McGary look like Shaquille O'Neal.
Jennings needs to set up his mates and get them easy hoops. Andre Drummond, Greg Monroe and Josh Smith all have the ability to finish well near the hoop and it will be on Jennings to get them set up to succeed.
If he learns to swallow his pride and embrace the role of a true point guard, the Pistons could be scary good this year.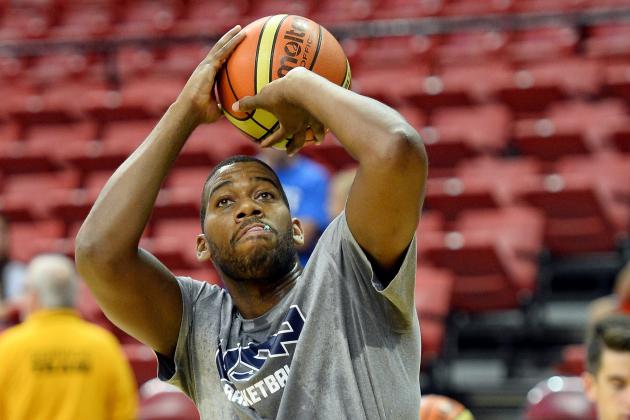 Ethan Miller/Getty Images

Much has been made this offseason about how ill-suited the Pistons front court is this year. They have certainly improved the level of talent across the board, but it isn't clear yet how well that talent will fit together, if at all.
The biggest question mark heading into this upcoming season is whether or not Greg Monroe and Andre Drummond can start alongside one another.
The defensive aspect is going to be challenging enough, as both Monroe and Drummond are essentially centers and would be best equipped banging down low. However, one of the two is going to be forced further from the hoop and up against a more athletic and quicker power forward.
But the biggest challenge is going to be spreading out the offense. Monroe is more of your traditional back-to-the-basket post center while Drummond is offensively-challenged and will likely only collect hoops on garbage plays and alley-oops.
The key for this pairing will be creating space, mainly for Drummond, down low.
The best way to create space will be for Monroe and Drummond to operate out of a high/low offensive set. Monroe possesses better than average basketball intelligence and is a skilled passer as a big man.
But the one aspect of his game that is lacking is his 15-20 foot jump shot, especially his 16-18 footer. With this added to his repertoire, or even the threat of it, would open up huge swaths of space for Drummond and the slashing wings.
Last year, Monroe knocked down only 29.8 percent of his shots outside of the paint (courtesy of vorped.com). That number needs to jump up considerably if the Pistons' new front court experiment is going to work.
If Monroe can't start knocking down those shots, it is going to be a very clustered and jumbled Detroit offense.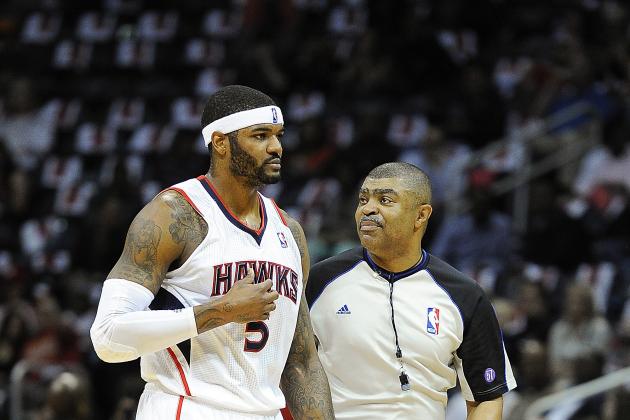 Paul Abell/Getty Images

It seems like the NBA world has been promised the emergence of Josh Smith for years.
Sure, he has good numbers and from time to time he has shown real flashes of brilliance. But he has yet to put it all together for a season and truly take his team on his shoulders and lead them.
Part of the problem with the Atlanta Hawks was that there was a load of pressure on the young forward. It was his hometown squad and he had played there since he was a teenager.
The hope around Detroit is that a change of scenery is going to unlock his massive potential.
Part of the trouble for Smith was that he was ill-suited to the offensive sets that the Hawks ran. Too often he was pushed outside due to the emergence of Al Horford as a post scorer.
In Detroit, Smith will have many opportunities to get low post scoring touches.
Sure, at the outset of the season Smith will likely be starting at small forward which should push him to the perimeter.
But Smith will likely get plenty of opportunities to play down low when either Monroe or Drummond hit the pine. Smith typically will be the big man that remains in the game when one of the other players takes a seat and then the Pistons can shift to a more traditional lineup.
When Smith is with Drummond, he will be able to take over the post and let Drummond play off the hoop like he did at Connecticut.
When Smith is with Monroe, Moose will continue his role as the 16-18 foot high post player and let Smith control the paint.
Either way, this year will be essential to Smith's development. He needs to take control of this team as the veteran star.
Given the fact that Smith has been working out with Rasheed Wallace this off-season, hopefully he learns from Wallace's example and does the opposite of his mentor's example.
Wallace was famous for refusing to be "the man". Smith needs to be the man on this team and it would be ideal if Wallace recognizes this.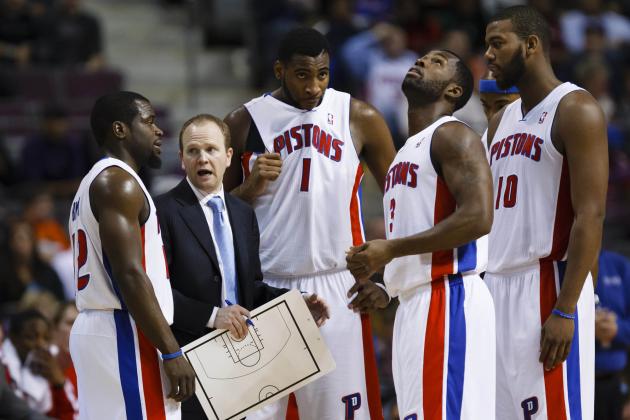 Rick Osentoski-USA TODAY Sports

I have to admit, despite my reservations about how the combination of Josh Smith, Andre Drummond and Greg Monroe would work both offensively and defensively, I can't help but get excited about the prospect of these guys owning the glass.
I personally love rebounds. I grew up rooting for Dennis Rodman and later Ben Wallace. Defense and rebounding are two of the more exciting aspects of basketball in my opinion.
And while time will tell if these three can work together on offense and defense, I can't help but salivate at the thought of these guys owning the glass.
Last year, Drummond was a beast in short minutes. He averaged over 13 rebounds per 36 minutes.
Monroe was similarly effective, grabbing over 10 boards in the same amount of time and Smith was near nine per 36.
The ideal scenario would have all three of these guys playing upwards of 30 minutes per game. It isn't outside the realm of possibility that each could average close to 10 per game.
Obviously each of these players will take some boards from one another, but having three highly skilled rebounding big men in the game at any one time will certainly cut down on the amount of boards that the other team gets, too.
This will lead to second-chance points and opportunities to get out in the open court in transition. Since the Pistons will boast a very young and athletic roster, this could make them a very fun team to watch.
But it all comes down to the boards.
I will be honest, I was absolutely shocked and miffed when the Detroit Pistons passed on Trey Burke and picked up Kentavious Caldwell-Pope in this year's draft.
When the Sacramento Kings were on the clock, I figured the Pisotns would either get Ben McLemore or Burke. It never even entered my mind that they would whiff on both of those guys.
And while time will tell if Burke ends up making the Pistons regret passing on him like Kemba Walker did a few years ago, the Pistons certainly have a nice consolation prize in Caldwell-Pope.
During the Summer League this year, Caldwell-Pope showed off the ability to get to the hoop and knock down perimeter jumpers.
Considering the Pistons lack another true shooting guard that is capable of bringing those things to the table, there is a lot riding on Caldwell-Pope.
The Pistons will need the rookie shooting guard to spread the floor. He also will likely draw some tough defensive assignments and will need to be a slasher as well.
Detroit will have other options on offense for sure, but they need at least the threat of a three-point shooter as well as a slasher.
He doesn't need to average 20 points per game. Instead, he needs to be able to knock down shots consistently and catch and drive.
A reasonable expectation for Caldwell-Pope would be around 10 points per game including 35-40 percent three-point shooting.
Anything more would be gravy, anything less would be tough to withstand.