High School WR Goes Behind the Back of a Defender for Amazing Catch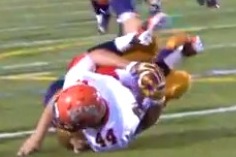 Nicholas Bokun, a senior at Hobart High School in Indiana, made this difficult grab (which was sadly ruled incomplete!) look pretty easy. It brought back memories of Tyrone Prothro, among others.
Hat tip to Guyism for the find.