Colombia and Ecuador battled out a World Cup qualifier in poor conditions due to a torrential rainstorm which delayed the kickoff by more than an hour, where the hosts were eventually victorious by a 1-0 scoreline.
Colombia v Ecuador next up. Kick-off delayed by an hour (as in Russia earlier) due to heavy rain. #WorldCup pic.twitter.com/9d0OBsAHCa

— Alex Stone (@AlexStone7) September 6, 2013
Early chances fell the way of Radamel Falcao—who saw his header saved from close range—and Enner Valencia, but the game's first big incident came on 28 minutes when Teofilo Gutierrez was brought down by Gabriel Achilier. The Ecuadorian was the last man, but at least 30 metres from goal—that wasn't enough, though, to stop the referee showing him a straight red card.
Colombia's numerical advantage soon showed as Falcao found space to run and let fly with a shot from range which keeper Maximo Banguera could only parry to his right side.
James Rodriguez was quickly onto the ball to turn and shoot low and left-footed, finding the far corner with a fine finish from a narrow angle to give Colombia the lead.
The home side were the stronger in the first half but failed to add to their advantage before the break.
The next holdup on the game came as the players came out for the second half, when a floodlight failure caused yet another delay—and shortly after the eventual restart, three hours after the game was originally supposed to begin, David Ospina suffered a head injury which meant another stoppage.
It should have started 3 hours ago, now delayed again due to a power outage...Colombia - Ecuador should count for the WC 2018 qualifiers.

— Argentina Previews (@ArgenPreviews) September 6, 2013
Colombia's keeper continued after treatment and soon he was facing a penalty, awarded to Ecuador after a foul by Carlos Sanchez, but Walter Ayovi steered his spot-kick horribly wide.
Only a moment later Colombia might have wrapped up the game, but Gutierrez struck the post after manoeuvring his body into position to deflect the ball goalward with his midriff.
Into the last 10 minutes of the game, Colombia thought they were going to win a penalty when Rodriguez and Pablo Armero combined with the later crashing to ground in the box—but he was booked for diving instead.
Chances late in the game were restricted to half-hearted long-range efforts, and Colombia saw out the game to record the three points.
Key Player Grades
Radamel Falcao: C+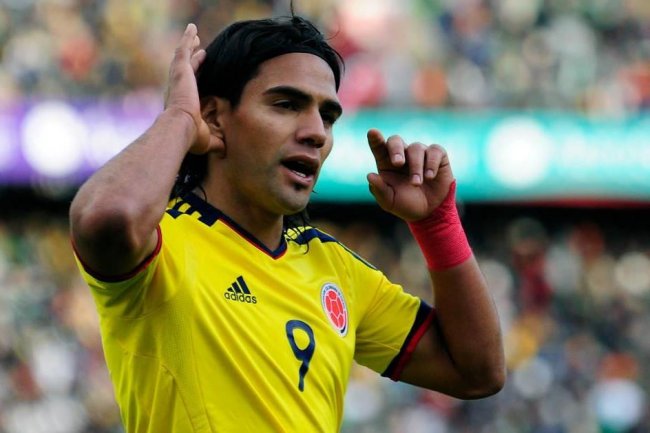 A quiet game overall for Falcao, though he saw plenty of the ball in the first half and tested the keeper with a few long-range shots. He certainly wasn't on top form, but he was involved in the move for the opening goal and occupied Ecuador's defenders nicely. A header after 73 minutes was almost headed in before clipping the keeper and flying over.
James Rodriguez: B
Rodriguez was a lively performer in the first 45 minutes before Ecuador saw more of the ball after the restart, but his finish for the goal was first-class. A low, firm finish on the turn was far from easy to execute, and it all but guarantees Colombia will end the qualifiers in the top two.
Pablo Armero: B
Armero played an advanced left-sided role for Colombia, and his ability to break at pace and race at the defence was a constant feature of his side's play. His delivery was often well-executed and inviting for his attacking team-mates, never more so than his dribble and cross midway through the second half which deserved a goal at the end. His dive near the end of the game, though, was farcical and rightly punished.
Colombia Player Grades

| | | |
| --- | --- | --- |
| Position | Player | Grade |
| GK | Ospina | B+ |
| DF | Perea | C+ |
| DF | Valdes | C |
| DF | Aguilar | C |
| DF | Zuñiga | B |
| MD | Torres | B |
| MD | Sanchez | C |
| MD | Armero | B |
| FW | Rodriguez | C |
| FW | Falcao | C+ |
| FW | Gutierrez | B+ |
| Subs | | |
| DF | Cuadrado | C |
| MD | Mejia | C |
whoscored.com
Ecuador Player Grades

| | | |
| --- | --- | --- |
| Position | Player | Grade |
| GK | Banguera | C |
| DF | Achilier | D |
| DF | Erazo | C |
| DF | Castillo | C+ |
| DF | Mendez | C+ |
| MD | Valencia | C+ |
| MD | Noboa | D+ |
| MD | Ayovi | C |
| MD | Paredes | C+ |
| FW | Valencia | B |
| FW | Montero | B |
| Subs | | |
| DF | Guagua | C |
| MD | Rojas | C |
| FW | Ibarra | C |
whoscored.com
What's Next?
Colombia's win means they go five points clear of Ecuador and will almost certainly finish the qualifiers in the top two places of the South American zone. Most importantly, they cannot be caught by any side outside the top four, meaning they have guaranteed their spot at the finals next month.
With three games to play, Ecuador have likely already done enough to secure a top-four spot themselves, meaning both of these nations should be at Brazil for the finals in 2014.